Forums are a critical piece of the web and this year, we felt it fitting to introduce a new category to our Critics Choice Awards,  Best Forum Solution. There has been a solid response this year and the nominees that were selected by our readers are great projects that are well deserving of the spotlight.
As a reminder, if you do not see your favorites in the list of nominees, please keep in mind that this is People's Choice and that means our readers have both nominated and voted for the various solutions in the list you see. While we strive to reach out to all vendors to let them know about the awards and to rally their troops, we can't hold their hands and make them all participate so the ones you see below are here because they've chosen to do so and we truly appreciate that.
Here is the list of nominees:
It was a hard-fought fight for the top place but the solution that rose to the top was the one and only…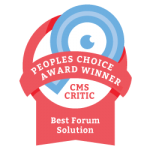 Vanilla Forums!
Vanilla allows you to create a customized community that rewards positive participation, automatically curates content, and lets members drive moderation. It provides cloud and open source community forum software that powers discussion forums on over 680 thousand sites.
Congratulations to the Vanilla Forums development team and to all those solutions that were nominated this year.
Learn more about Vanilla Forums

Don't forget, we have the Critic's Choice portion underway now, where a panel of judges select the winner of the Critics Choice awards so check back to see who gets picked as the cream of the crop by the Critics.