This year, we had a huge amount of competition for Best Free CMS and lots of communities were vying to get their favorites to the top.
The list of free content management systems is a huge one and with the number of products in the market, the list to filter during the nominations stage was very lengthy but it came down to 5 very impressive CMS platforms.
Let's review who was nominated for this year's People's Choice award for Best Free CMS.
Here are the nominees for those who were unaware:
And the winner is…
WordPress!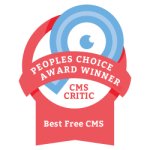 As you can see, this year, WordPress was nominated and as such, it didn't take long for the community to rally behind it. We all know how huge the WordPress community is and once they chose to back their platform of choice, it was pretty clear that WordPress would end up the winner of the 2013 People's Choice Award for Best Free CMS.
Congratulations to the WordPress development team and to all those CMS that were nominated this year.
Learn more about WordPress or visit them on the web.
Don't forget, we have the Critic's Choice portion underway now, where a panel of judges select the winner of the Critics Choice awards so check back to see who gets picked as the cream of the crop by the Critics.