This year, we had a large list of content management systems fighting to be in the nominees for Best Open Source CMS and considering how successful this category was last year, it's no surprise we've got a solid list of contenders for the award in 2013.
Last year, Concrete5 took home the People's Choice award but this year, we've got a whole new list of nominees to choose from. Remember, YOU chose this list of nominees and YOU chose who won with your votes. We're just happy that each year, we've got some fresh faces in these nominations.
As a refresher, here's the list of nominees for this year's People's Choice Award for Best Open Source CMS:
And the winner of the 2013 People's Choice Award for Best Open Source CMS won by a huge margin thanks to your votes. The winner is…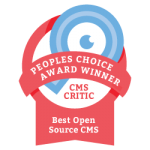 MODX!
MODX is an incredible CMS that offers an abundance of features for those looking for quality software for free. MODX Revolution starts as a completely blank slate. Start from scratch, or use the Package Manager to download and install Add-ons, Core Extensions, Templates, or even Content Pack Distributions.
Congratulations to the MODX development team and to all those CMS that were nominated this year.
Learn more about MODX or visit them on the web.
Don't forget, we have the Critic's Choice portion underway now, where a panel of judges select the winner of the Critics Choice awards so check back to see who gets picked as the cream of the crop by the Critics.