.NET Content Management Systems are a plenty and there are tons of great options out there for those in the market.
When it comes to free ones, you want something that's capable, secure and consistently updated to ensure it complies with the latest technology and security standards.
Today, we're going to share the winner of the 2014 People's Choice CMS Award for Best Free .NET CMS.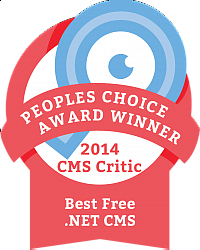 The contenders this year were Sageframe, DNN Platform and Umbraco.
This category was very hard fought but this year, DNN Platform rose to the top and took the win.

Congratulations to DNN on their win. They have shown that clearly their customers are willing to go to bat to make sure they get the attention they deserve. With an excellent platform that's been around for many years, DNN are well positioned in the .NET space in both free and enterprise level products.