Content management systems are an important part of business today and small to midsize businesses have a wide variety of solutions to choose from.
Today, we're going to announce the winner of the 2014 People's Choice CMS Award for Best Small to Midsize Business CMS (Other Languages).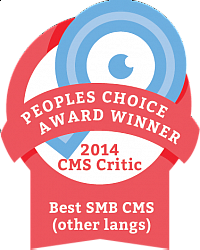 This year's contenders were Django CMS, Surreal CMS, and Movable Type.
The winner, in the end, was Django CMS.

Congratulations to Django CMS on their win. Check them out here: https://www.django-cms.org/en/