Today, we're going to announce the winner of the 2014 Critics' Choice CMS Award for Best Open Source PHP CMS.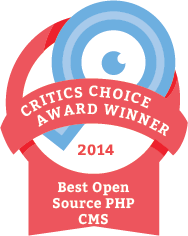 The winner this year will not be a surprise to anyone as it's the very CMS that has been taking over the world of content management of late. We would be remiss to not hand this award to the incredibly popular.

Congratulations to the development team at WordPress on their win. Check them out in our CMS directory here: WordPress.