Today, I'm going to announce the winner of the 2014 Critics Choice CMS Award for Best PHP CMS for Small to Midsize Business.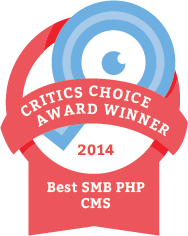 After much deliberation, the judges have chosen the winner of this year should be none other than…
Flexibility, simplicity, control. You've never seen them come together in a CMS like this before. At last, you can deliver a content management experience that is precisely tailored to meet the site's unique content needs, with a workflow that is incredibly simple and straightforward, all while maintaining complete control over your markup and styles.
Congratulations to the team at Craft CMS on their win. Check them out in our CMS directory here: Craft CMS.