When it comes to innovation, the world of Content Management is at the forefront. With ever changing requirements and technologies and the ever increasing power of social media, change is happening every day. These days, a CMS has to be agile and innovative to survive.
Today, we're going to announce our pick for Most Innovative CMS for 2014.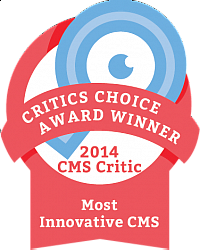 This year, one CMS showed us how truly innovative they were and that CMS was Sitecore.

With the introduction of Sitecore 8, we saw first hand how Sitecore aims to innovate and stay on top of the latest trends and this year, we feel they are on the top of their game and worthy of this award.
Sitecore 8 brings to the table a ton of new features such as:
Automated Testing & Optimization: Marketers can feel confident that the customer experience is being optimized constantly, in real time, through every interaction, over any platform. This confidence travels up through the marketing organization, all the way to the Chief Marketing Officer.
Resulting Focus: Because customer experience testing and optimization occurs effortlessly, marketers can now focus on other critical tasks. 
Customized for Each Business: The customer experience can be managed based on how the business runs, not how the software dictates. 
Consistent Customer Experiences: Sitecore 8 breaks down the silos among functions, enabling them to work together to create a consistent customer experience. 
The Whole Picture: Marketers gain a complete view of how customers are interacting with the company, even in other systems, websites, or with other permission-based, customer- facing functions. 
Insight Sharing: Marketers can provide insight about customer interactions to other organizations/functions within the company.
To get the full details on this release, check out their Sitecore 8 page: http://www.sitecore.net/Platform/Sitecore-8.aspx
Congratulations to the team at Sitecore. Keep innovating!