We've already explored Ingeniux as a web experience management, content management and social collaboration solution. Now though, it's time to look at the platform's Software-as-a-Service (SaaS) positioning.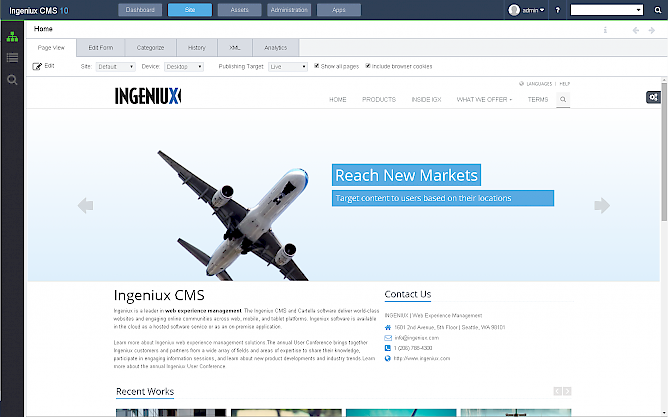 Ingeniux CMS is offered as an on-premise solution and as a software-as-a-service (SaaS) solution. The majority of Ingeniux customers use the SaaS solution, which provides full application and website management. Ingeniux has a global network with operations in the US, Canada, and Europe, and Asia.
Ingeniux was early to the SaaS market. With over ten years under its belt as a SaaS solution, ingeniux finds itself in a position to offer modern brands a streamlined entry and re-entry into an online market that's more demanding than ever before.
What is SaaS?
Before we delve into the benefits of Ingeniux as a SaaS solution, it may be wise to understand what SaaS actually is.
Software-as-a-Service, commonly known as SaaS, is typically a software that's centrally hosted and licensed on a subscription basis.
So, instead of having software installed and configured on-premise, end users can take out a subscription, and enjoy the benefits of readily hosted, automatically set up, automatically updated and vendor-managed software.
Ingeniux & SaaS
Ingeniux has been offering itself as a SaaS solution since 2005, Dave Hillis, the Ingeniux VP of Business Development, shed some light on how Ingeniux is positioned in the market:
"People often don't think of Ingeniux as a SaaS CMS, but Ingeniux is one of the leading SaaS options in content management. The platform has a very mature offering and strong Service Level Agreement. Ultimately SaaS is all about support.

It's a very different business model where Ingeniux and the customer have equal stakes in customer success. Ingeniux is part of the customer's team. It takes a long time to learn how to be good at SaaS and build the operations and capabilities to successfully manage complex websites and applications.

We feel that our track record, uptime, and service-level are unmatched in the industry ."
The Ingeniux SaaS program also includes website and CMS application management, cloud services, 24/7 support, disaster recovery, security, and fully managed upgrades.
Because of the high-level of service and security, Ingeniux has many large, regulated companies in its SaaS solutions, including financial services with AIG and Janus Capital, energy with Hawaiian Electric Company, Diamond Offshore and TransOcean, high scale media companies like Patheos, and large trade associations and Universities.
On top of the benefits mentioned above by Dave Hillis, brands who adopt a Software-as-a-Service product will see further advantages.
One such benefit can be found in the virtualization of the software. Virtualization provides dedicated networks that can be configured for the customer's needs, provides a high-level of security, enhanced performance without bad neighbor degradation, and easier multi-site set-up for disaster recovery and failover.
Ingeniux: Bringing it All Together
The Ingeniux SaaS architecture supports zero website down-time for upgrades. Upgrades are delivered when the customer is ready, and are fully tested in a UAT (User Acceptance Testing) environment before being moved into production.
Ingeniux CMS is architected for the cloud with a NoSQL database, a high performance mem-cache delivery system, native support for CDN, and decoupled architecture that supports multi-site deployment. Furthermore, the software has been certified by Microsoft for Azure Sites deployment with auto-scaling as a deployment option.
The aim of Ingeniux is to capture all of these combined benefits in the best way possible through their SaaS offering. And I have to commend them for that, because those are the benefits that every modern brand is looking for.
To find out more about Ingeniux, visit their website.