Drupal software & solutions specialists Acquia have announced the launch of Acquia Lift, an optimization platform that enables marketing teams to transform the digital experiences they offer customers into engines for revenue generation.
Acquia offers developer tools, cloud solutions and global expertise, helping over 4,000 companies and brands including Twitter, Mercedes Benz, Warner Music Group, and Stanford University.
For a quick look at what Acquia Lift can do, check out the introduction video below.
http://www.youtube.com/watch?v=u7Zx_rY5_6A
Built for Drupal, Designed for Easy Implementation
With Acquia Lift, marketers can easily create, iterate, and optimize content directly within Drupal, rather than toggling between multiple products and managing content in multiple systems.
That means that all of your personalized content including text, images, videos, etc, can all be managed within Drupal as per usual.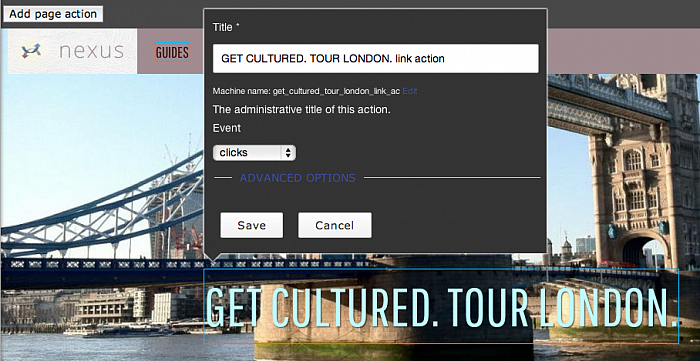 While the idea of creating and delivering personalized digital experiences isn't new, most existing solutions require marketing teams to create manual customer segments and rules.
This worked if marketers were only targeting a few segments, but it didn't scale to the one-to-one digital conversations which consumers have come to expect from using sites such as Netflix and Amazon.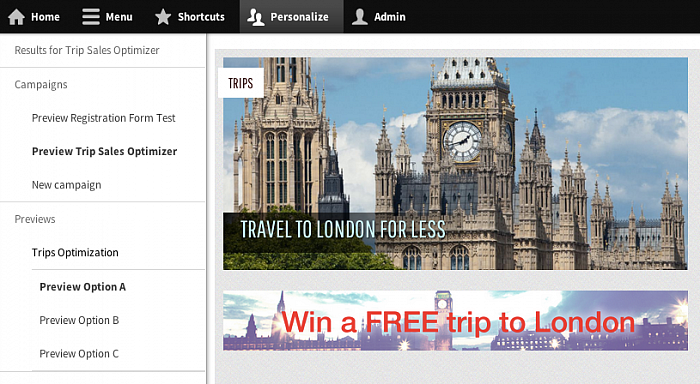 Furthermore, Acquia Lift is completely automated, based on unique learning algorithms that calculate the right digital experience to deliver to each user for optimal results and engagement.
You can simply select from a list of visitor attributes you'd like to test – such as demographic, location, daypart, user profile attributes, and Acquia Lift helps you to discover and implement the best experience for your users, all on its own.
Optimization, Personalization & More
Acquia Lift provides powerful optimization tools to get a campaign up and running with a single click, and tests content not only against consumer profiles but also against specific consumer attributes.
Using these new insights, Acquia Lift then automates the delivery of personalized content to each site visitor, inspiring actions like registration, subscription, purchasing, or improved engagement on both desktop and mobile devices.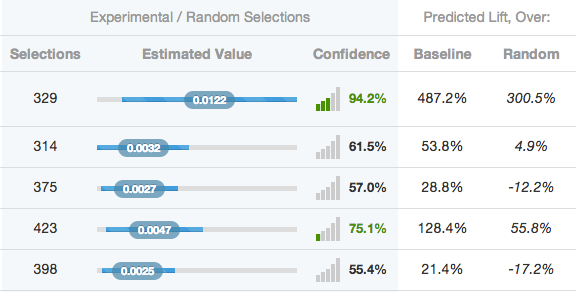 Additional features and benefits of Acquia Lift include:
Easy implementation: Designed to enable anyone within an organization to get testing and targeting functionalities up and running fast on their Drupal-based site.

Intuitive: Enables organizations to easily create, iterate, and optimize content within the same interface, rather than toggling between web content management (WCM) and targeting systems.

A/B and Multivariate Testing: Includes a variety of different testing and targeting options at the site owner's disposal natively within the Drupal interface. These options enable the site owner to do both simple A/B and more complex multi-variate testing and then report back the results.

Interoperable: With Acquia Lift, there's no need to focus on a single stack. The solution integrates easily with third party technologies, letting organizations have the freedom to leverage existing digital marketing tools, and explore emerging high value tools they may consider using in the future.

Measurable: Acquia Lift enables developers to define custom conversion goals for their sites and provides an easy-to-implement Drupal-specific personalization tool that automates the delivery of relevant experiences. Digital marketing teams can also create and track conversion goals, and gain real-time, granular insight into website conversion performance against KPIs.

Auditable Record of all Interactions: Enables the marketing team to gain insights from explicit information within the site, to anonymous user actions, to third party applications.

No "Instrumentation" Needed: Acquia Lift does not require developers to "instrument" a website HTML with Javascript tags, reducing the cost and time required while increasing web page load performance.
The launch of Acquia lift also prompted a response from the Acquia CEO, Tom Erickson. He had this to say:
"Until now, it's been tough for the millions of Drupal sites to easily incorporate robust personalization capabilities. Acquia Lift equips the digital marketer with powerful website testing and content targeting tools to optimize content for each visitor. As content, community and commerce converge, digital experiences are becoming more complex. Acquia Lift ensures that each interaction delivers a relevant, high-quality experience customers expect."
For more information on Acquia Lift, check out Acquia's official website .