This week was full of surprises from some big DXP players. A couple of days ago, Sitecore announced that it received $1.2 billion in capital investment to accelerate growth. Now, Acquia dropped another bomb by announcing Acquia Digital Commerce, which brings together Lucidworks' advanced AI-Driven personalization and recommendations with commercetools' headless commerce. Using Acquia Digital Commerce with Acquia Open Digital Experience Platform (DXP), marketers can drive real-time, personalized, shoppable experiences at every customer touchpoint.
After receiving a significant investment from Vista Equity Partners last year, Acquia had recently launched its Acquia Open Digital Experience Platform in July. With its new DXP, Acquia further leveraged the power of open-source Drupal CMS capabilities. The Acquia Open DXP comprises both the Acquia Marketing Cloud and Acquia Drupal Cloud and integrates their acquired technologies – including AgilOne, Mautic, and Cohesion – with their existing core. This integration aimed to bring marketers and developers together with an easy-to-use platform.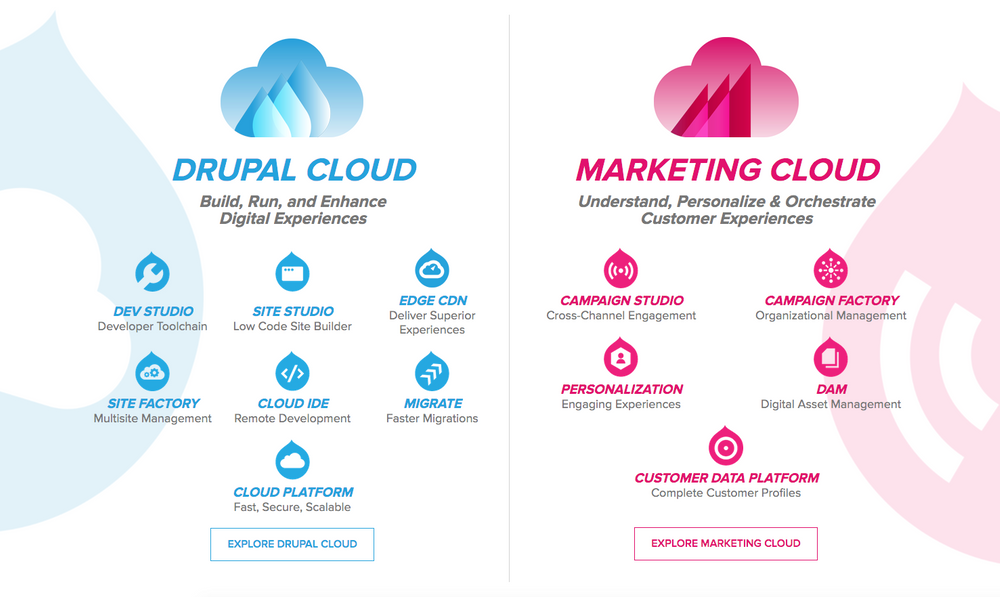 Now, together with partners commercetools and Lucidworks, Acquia has built Acquia Digital Commerce, creating yet another successful integration. While Acquia Open Digital Platform brought marketers and developers together, Acquia Digital Commerce seeks to make the commerce experience more personalized and user-friendly.
According to McKinsey, over 75% of U.S. consumers have changed shopping behavior and switched to new brands during the COVID-19 pandemic. Many have shifted to digital channels permanently. Using Acquia CDP's customer data profiles and advanced segmentation, retailers can gain a deeper understanding of new and existing customers – and serve up personalized, shoppable, content-driven commerce experiences with Acquia Digital Commerce. These experiences, combined with intelligent promotions, increase conversions and improve customer lifetime value (LTV).
"As retailers adjust to a hybrid of in-person and online commerce shopping behaviors, solutions like Acquia Digital Commerce become even more valuable," said Kevin Cochrane, SVP of product marketing at Acquia. "By understanding customer segments and serving the right content and products at the right time on the right channel, retailers can reach customers with personal experiences that drive revenue."
Acquia Digital Commerce
Acquia Digital Commerce is a solution that enables marketers to unify data, content, commerce, and digital merchandising into a single data layer to deliver a seamless omnichannel experience across the customer lifecycle.
Teams can maximize their commerce investments by integrating this headless, cloud-native shopping platform with Acquia Open DXP. commercetools provides an omnichannel shopping platform, and the Lucidworks AI-powered product discovery solution delivers personally relevant products and content to customers.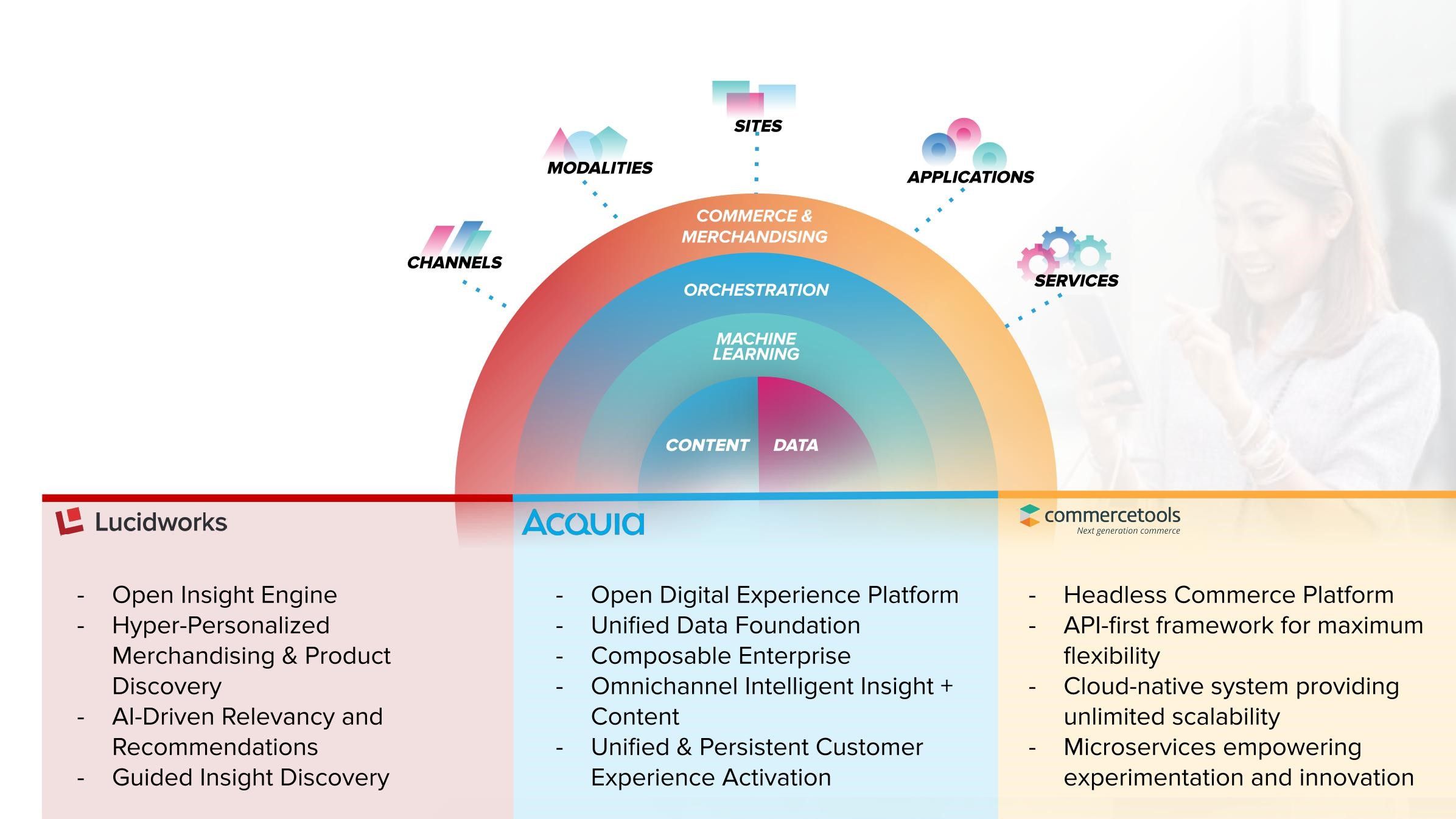 One of the most valuable features Lucidworks brings to the Acquia DX Alliance is its advanced machine learning capabilities. Lucidworks CXC utilizes one of the broadest combinations of machine learning techniques in the industry, including NLP, Named Entity Recognition, Deep Learning Sentiment Analysis, self-learning, and relevancy tuning. This allows them to deliver extremely relevant results to users and ensure the system continuously improves based on usage.
According to a study of 46,000 shoppers, 73% of consumers use multiple channels during their shopping journey. To provide a successful omnichannel experience for customers, brands need an API-first headless CMS. commercetools' headless commerce platform and API-first framework will give brands flexibility and scalability.
"By leveraging the market-leading solutions offered by commercetools, Acquia, and Lucidworks, retailers can quickly and effectively engage with end-consumers by composing relevant shopping experiences to meet customers on their own terms," said Kelly Goetsch, chief product officer at commercetools. "It's more important than ever to be able to pivot quickly, and our joint solution offers exactly that."
"Omnichannel personalization remains a top priority for brands; however, most companies lack the ability to optimize digital experiences in real-time, leading to missed revenue or loss of potential new customers," said Peter Curran, general manager of digital commerce at Lucidworks. "We're excited to be part of this best-of-breed solution to provide merchandisers and marketers with a single-layer view of all the information they need to make more informed decisions that serve their unique customer base. The value of Lucidworks advanced machine learning capabilities is compounded by Acquia Open DXP and commercetools Commerce Engine, ensuring that customers are maximizing their investments in the digital experience."
Creating a community with Acquia DX Alliance
Along with Acquia Digital Commerce's launch, Acquia also unveiled the Acquia DX Alliance, the company's open technology partner community, to drive collaboration through an ecosystem of leading technology vendors providing choice and jointly delivering interoperable solutions that extend Acquia Open DXP. Building a robust technology partner community enables Acquia and its partners to best support rapidly evolving customer needs.
About Acquia
Acquia is an open Digital Experience Platform designed to give enterprise companies the ability to build, operate, and optimize websites, apps, and other digital experiences. Acquia produces better business outcomes for CX leaders by enabling organizations to build, host, analyze and communicate with their customers at scale through websites and digital applications.
About commercetools
commercetools is the world's leading platform for next-generation B2C and B2B commerce. To break the market out of being restrained by legacy suites, commercetools invented a headless, API-first, multi-tenant SaaS commerce platform that is cloud-native and uses flexible microservices. Using modern development building blocks in a true cloud platform provided by commercetools, customers can deliver the best commerce experiences across every touchpoint on a large scale. commercetools has offices across the US, Europe, and Asia Pacific, with headquarters in Germany. Since its founding in 2006, commercetools software has been implemented by Fortune 500 companies across industries, from retail to manufacturing and from telecommunications to fashion. More information at commercetools.com.
About Lucidworks
Lucidworks offers the Connected Experience Cloud (CXC) that captures user signals from every action and applies them to omnichannel digital experiences everywhere. CXC combines the power of search and machine learning to personalize experiences that meet employees' and customers' unique intent. The world's largest brands, including Lenovo, Morgan Stanley, Red Hat, Reddit, and Cisco Systems rely on Lucidworks' suite of products to power product discovery, customer service, and knowledge management applications that delight customers and empower employees. Learn more at Lucidworks.com.