The concept of a "composable enterprise" is becoming more popular as digital transformation enters its next wave. And it makes sense: leading up to Covid, digital stacks were already becoming decoupled and less monolithic, all driven by the rise of the open API.
Add a global pandemic, and the hyper-accelerated pace of transformation resulted in more systems "talking" to each other – and integration driving innovation. 
In the simplest terms, composable enterprises are building digital solutions that leverage the API economy. This means businesses are assembling their offerings together in a highly modular way – breaking down components into smaller microservices or packaged business capabilities (PBCs).
I know, I know... more acronyms. But this is a good one because PCBs are becoming a bigger deal. According to Gartner, they encapsulate the concept of composable commerce and how fixed applications are becoming a thing of the past.
And that leads us to the latest news from Acquia, a leading Drupal-based digital experience platform. They just announced major updates to their Acquia Open Digital Experience Platform (DXP), which is powered by their Drupal Cloud and Marketing Cloud ecosystems. By embracing a new set of component features, Acquia is advancing the composable enterprise by enabling marketers, developers, and IT operators to assemble and deploy digital experiences for every point along the customer journey.
A tale of two clouds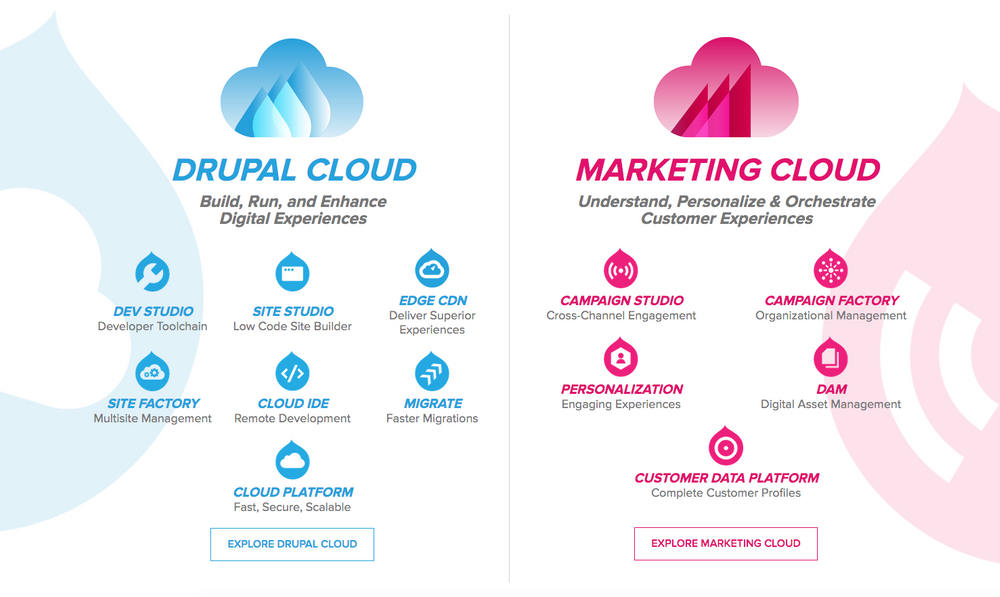 As part of an ambitious growth plan, Acquia is hanging its DXP hat on a bifurcated strategy with their Drupal Cloud and Marketing Cloud. While the former focuses on building and enhancing digital experiences, the latter provides a sandbox for personalizing and orchestrating campaigns and assets with cross-channel capabilities. 
In an age of composable enterprises, this approach is allowing businesses to focus resources while connecting data. Acquia's new version features enhancements to both of their cloud layers – each with its own composable attributes.
Acquia also announced a new China managed services offering with in-region security and support as part of their update package. 
Drupal Cloud updates focus on scalability
Acquia's improvements to Drupal Cloud are focused on helping companies build and scale their experiences in a number of key areas. This includes enhancements to the HR and employee experience, container-based hosting, advanced search functionality, and developer support. 
"With the accelerated demand for digital experiences, businesses need to continue to scale at greater capacities and speeds," said, Kevin Cochrane, Senior Vice President of Product Marketing at Acquia. "They need to be confident that their digital infrastructure and teams are able to perform without fail no matter when or where they're needed." 
The updates to Drupal Cloud include:
Employee Experience Platform:

Acquia's new

Employee Experience Platform

(EXP) is an HR-centric modern intranet powered by Drupal. It combines employee systems in applications via the API framework of Acquia's Open DXP. Acquia's EXP

integrates HR applications with dynamic site-building and hosting capabilities – creating a one-stop-shop for benefits and payroll, information access, discovery, cross-team collaboration, and more.
Acquia Cloud Next: 

Acquia made significant updates to their

Acquia Cloud Platform

services to create 

Acquia Cloud Next

– an enterprise-grade, Kubernetes-native Drupal hosting platform backed by Acquia's collaboration with AWS. With Acquia Cloud Next, customers benefit from the improved application and site performance along with nearly limitless storage volume, enhanced security and resiliency, and optimized resource utilization. 
Fully Managed Search:

Enhanced Apache Solr 7 search capabilities are now integrated into the Acquia Cloud Platform and fully managed by Acquia. Searches are faster across multiple servers and provide better results to keep site visitors engaged with content.
Acquia Cloud IDE and Developer Support

: 

Acquia Cloud IDE

improves developer productivity with a new cloud-based, fully integrated workflow between development, staging, and production environments. It provides a full stack of optimized development tools – including PHP, Composer, and Drush – readily installed and configured for a fast and simple onboarding process. As a browser-based source code editor and Drupal development stack based entirely in the cloud, Acquia Cloud IDE will help developers accelerate writing and deploying code without adding maintenance or security issues. Best-in-class support enhancements include a new Lando plugin and support for both PHP 8 and the latest version of Drupal.
Marketing Cloud gets new Unified User Interface
Enhancements to Acquia's Marketing Cloud will provide a simpler, more intuitive way for marketers to understand their business. New features are designed to help users build personalized experiences for customers and scale both operational efficiencies and smarter workflows across their organizations.
The new Unified User Interface (UI) for Acquia Marketing Cloud makes it easier to leverage the combined capabilities of Acquia Customer Data Platform (CDP), Acquia Personalization, Acquia Campaign Studio, and Acquia Campaign Factory. The main navigation provides a single view over all Marketing Cloud solutions, supporting a streamlined workflow across teams and regions. This will allow marketers to elevate their control and visibility – and run more effective, data-driven campaigns. 
Some of the other updates to Marketing Cloud include: 
Golden Template in Campaign Factory: 

To help marketing teams effectively govern their campaigns across hundreds or even thousands of brands, websites, and business units, Acquia Campaign Factory

 

is introducing a "Golden Template." This feature will enable users to change all downstream child instances across email, segments, complete campaigns, and more –

saving time and accelerating updates.

Machine Learning Center ("ML Center" ):

Acquia's new Machine Learning Center gives marketers and business leaders a dashboard that unifies all ML-driven intelligence into one view and allows marketers and business users to understand the impact of their campaigns (both online and offline). The new Metrics Launchpad dashboard provides easy-to-understand visualizations and is enabled for all Acquia CDP customers who use machine learning as part of the platform. 
To learn more about Acquia's Digital Experience Platform, click here.
About Acquia
Acquia is the open digital experience platform that enables organizations to build, host, analyze and communicate with their customers at scale through websites and digital applications. As the trusted open source leader, Acquia uses adaptive intelligence to produce better business outcomes for CX leaders.