Acquia continues to challenge the market with the recent launch of its new Acquia Open Digital Experience Platform (DXP). This is another bold step for the company, which continues to innovate on top of the open-source Drupal content management system. In recent years, they have invested in several strategic acquisitions that have fueled their transformation as a full-fledged customer experience platform.
When the company received a major investment from Vista Equity Partners last year, there was some uncertainty about the future roadmap. Customers were vocally concerned about Acquia's commitment to Drupal and the impact to the user experience. The concern was perhaps warranted given Vista's previous acquisition of Marketo for $1.79 billion, which led to led to significant changes across the company and the platform.
At the time of the transaction, Acquia's co-founder Dries Buytaert stated that the acquisition of Acquia would be beneficial to Drupal, and their mission to serve open source communities would remain firm. The plan was to grow Acquia's presence in the blossoming Digital Experience Platform (DXP) category, while staying loyal to the open source Drupal core at the same time. In a blog post, Buytaert said:
"This investment should be great news for the Drupal and Mautic communities as we'll have the right resources to compete against other solutions, and our deep commitment to Drupal, Mautic and Open Source will be unchanged. In fact, we will continue to increase our current level of investment in Open Source as we grow our business."
The New Platform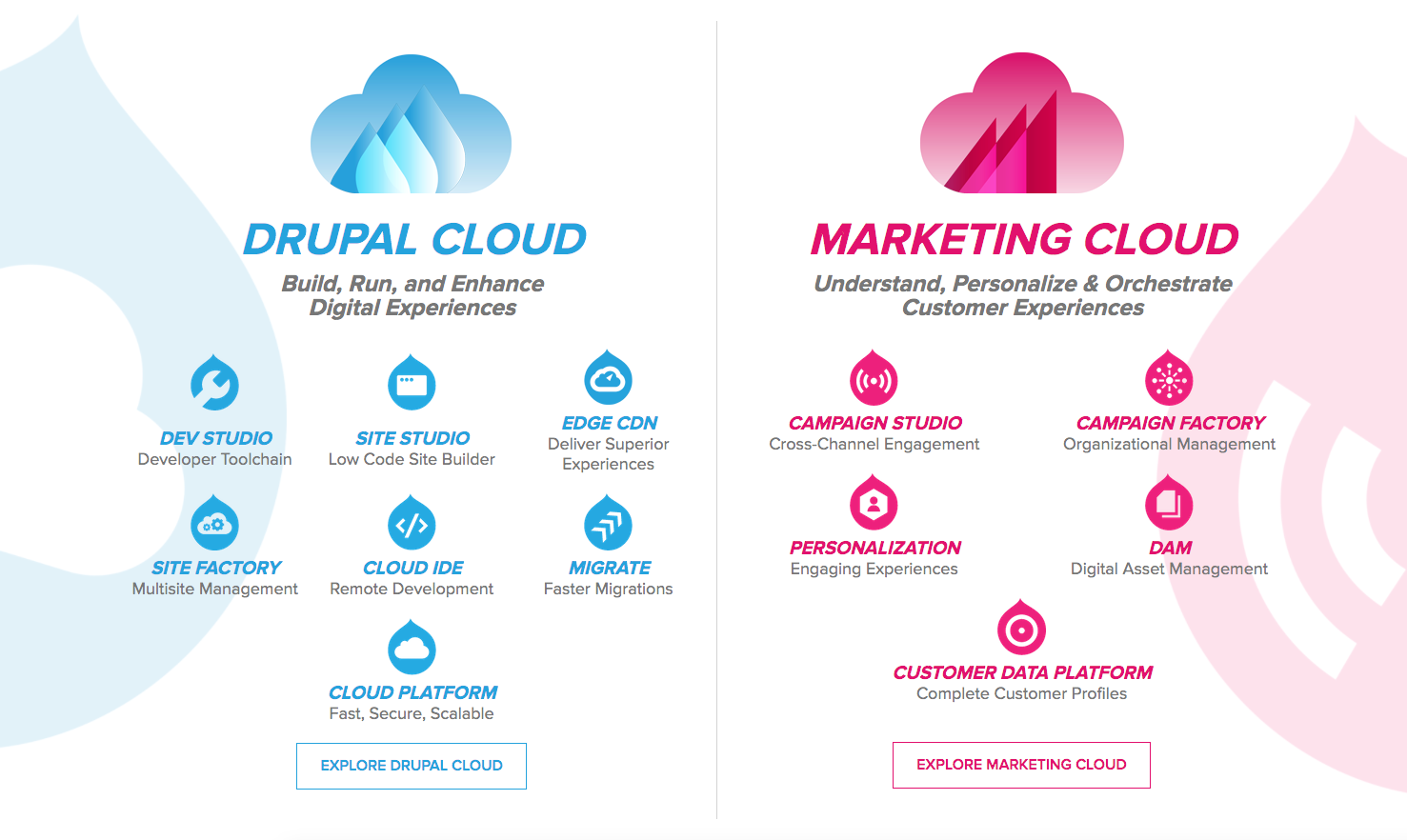 The Acquia Open DXP endeavors to bring marketers and developers together with an easy-to-use platform. It allows them to collaborate around building and orchestrating multi-user customer journeys across all models of customer interaction, such as touchscreens, chat, voice, and more.
The Acquia Open DXP is composed of both the Acquia Marketing Cloud and Acquia Drupal Cloud, and integrates their acquired technologies – including AgilOne, Mautic and Cohesion – with their existing core. The result is a single, open, easy-to-use platform that can be quickly deployed.
"The digital experience market continues to grow, and the subsequent need to create, manage, and deliver those high-quality digital experiences remains essential," said IDC's Jacob Groshek. "The impact of COVID-19 is only going to heighten that demand moving forward. Acquia's launch of their new Open DXP centers around empowering developers and marketers to collaborate in driving agile digital transformation across an organization. Their new Open DXP is both a timely and comprehensive response to the needs of the market."
The expansion of marketing automation is key to Acquia's strategy. The category has gained tremendous ground in the recent years, and is expected to grow to $25.1 billion by 2023. While big players like Hubspot and Salesforce dominate the industry, combining the features of a DXP with the enhanced capabilities of a customer data platform (CDP) will help Acquia reposition their value and compete more effectively.
Features
As mentioned, the Acquia Open DXP consists of both the Acquia Marketing Cloud and the Acquia Drupal Cloud. The combination provides a complete platform for building more personalized digital experiences that are powered by data.
The Acquia Marketing Cloud is the essential foundation for collecting and managing customer data and driving personalization strategies. Features include:
•  Customer Data Platform (formerly AgilOne): With a built-in CDP, users can create a 360-degree view of each unique customer by integrating data across back-end and front-end systems. With open, customizable machine learning models, marketers can gain insights into new customer segments based on observed behaviors and product affinity, leverage predictions to understand likelihood to engage and convert, and deliver next-best offers and actions.
•  Personalization (formerly Acquia Lift): Leveraging data from the CDP, users can develop targeted campaigns to deliver the next-best offer across all touchpoints of the customer journey.
•  Campaign Studio (formerly Mautic): With Campaign Studio, users now have access to rich marketing automation features that are powered by Acquia's CDP. Create email campaigns that meet your custom brand requirements while easing the process with drag-and-drop builders and other simplified capabilities. Like the Salesforce Marketing Cloud, Campaign Studio offers dynamic content features that allow for greater email personalization – all in one place.  
•  Campaign Factory (formerly Maestro): Campaign Factory gives administrators the power to centrally manage multiple, distributed Campaign Studio instances, helping you scale marketing operations across your lines of business – from brands to regions to localized teams. Campaign Factory provides a layer of critical governance over global digital marketing operations.
The Drupal Cloud has also evolved, and now offers a more robust set of tools. Developers can build and customize services while marketers can do more with minimal code and drag-and-drop capabilities. Some of the core features include:
•  Site Studio (formerly Cohesion): New for marketers, Site Studio introduces a low-code experience for designing websites for different devices and interaction types – without the need for an advanced developer.
•  Developer Studio: Built with more advanced developers in mind, the Developer Studio introduces Cloud IDEs (Integrated Development Environments) to build, stage, and deploy new Drupal sites and applications.
•  CMS Migrate: Includes newly added tools to accelerate migration to Drupal 9 from older versions of Drupal or any legacy CMS.
•  Site Factory: Newly updated to support Drupal 9, Site Factory enables organizations to centrally manage, deploy, and scale sites and applications.
•  Edge CDN: A global network of over 200 points-of-presence (PoPs), Edge CDN provides dependable delivery of digital experiences by continually optimizing availability and performance, and mitigating risk associated with increasing volatility in traffic due to more online customer engagement.
•  Edge Security: A new security-as-a-service solution, Edge Security mitigates catastrophic security threats in real time by leveraging data-driven insights to dynamically update and protect all sites and experiences from malicious attacks, helping to ensure brand trust.
About Acquia
Acquia is an open Digital Experience Platform to give enterprise companies the ability to build, operate, and optimize websites, apps, and other digital experiences. Acquia produces better business outcomes for CX leaders by enabling organizations to build, host, analyze and communicate with their customers at scale through websites and digital applications.