Adobe have adjusted their Digital Publishing Suite with some new features aimed at making the lives of Marketers easier.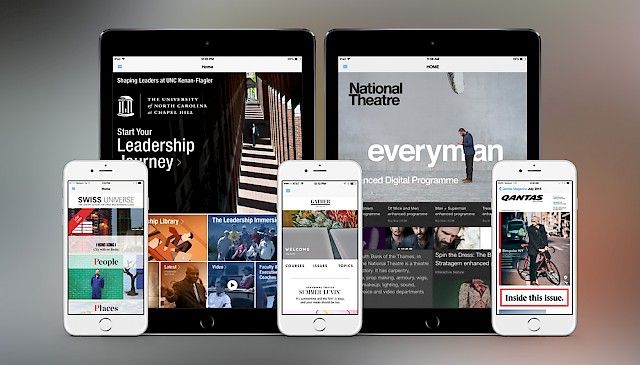 This new version of the Adobe DPS is titled the "Adobe Digital Publishing Solution". Which, conviniently, also fits the acronym.
From continuous publishing to new ROI measurement features, the all new Adobe DPS is built more for the marketer than it is for the publisher, reflecting the marketing-centric attitude that the enterprise market is leaning towards.
Adobe Tips Hat to Marketers & Designers
Here's a feature breakdown of the all new Adobe DPS.
Continuous Publishing. With capabilities to push fresh content live, readers now have more reasons to return frequently to DPS apps for fresh content and updates. DPS, as part of AEM Apps, offers brands seamless control over content. The solution integrates with other content management systems, such as Drupal and WordPress, and HTML design tools from Adobe and others, all while still supporting InDesign CC based workflows.
Engaging Experiences. Apps created with Adobe DPS deliver high-impact content to audiences in a uniquely intuitive way. With the new collections feature, content is now grouped together and delivered to smartphones and tablets on iOS, Android and Windows. DPS also offers all of the app services needed to acquire and retain audiences, including push notifications; in-app messaging; intuitive search and content discovery; and social network integration.
Measuring and Delivering ROI. Access built-in analytics, powered by Adobe Analytics Essentials for Publications, part of Adobe Marketing Cloud, which capture online and offline data and deliver retention analysis, acquisition tracking, funnel conversion and more. Adobe DPS also supports a variety of payment options for apps, such as single purchases, subscriptions and all-access models for publishers and enterprises who want to monetize content.
Built for Business. Adobe DPS now provides a new accounts control system that has been elevated to the enterprise level, enabling organizers to assign permissions to each person involved in the app creation process, including both employees and outside agencies.
A 30-day free trial of Adobe Digital Publishing Suite can be found here.
More information about the release of Adobe DPS, is on the Adobe blog.