Adobe is introducing new features to its Adobe Experience Cloud, including headless content management system (CMS) capabilities in their industry-leading Adobe Experience Manager (AEM) and updates to their Commerce Integration Framework (CIF).
The features were announced at the Adobe Developers Live Conference, giving their community a first glimpse of how these dynamic enhancements will streamline the development of headless content delivery via GraphQL APIs, as well as enable users to create shoppable, app-like experiences that combine content and commerce.
The announcements were made just as the Gartner 2021 Magic Quadrant for DXPs and the 2021 Forrester Wave for Agile CMSes were being released. Both reports position Adobe as the top vendor, and the addition of these new features reinforces their leadership role in a rapidly-evolving market landscape.
What is Adobe Experience Cloud?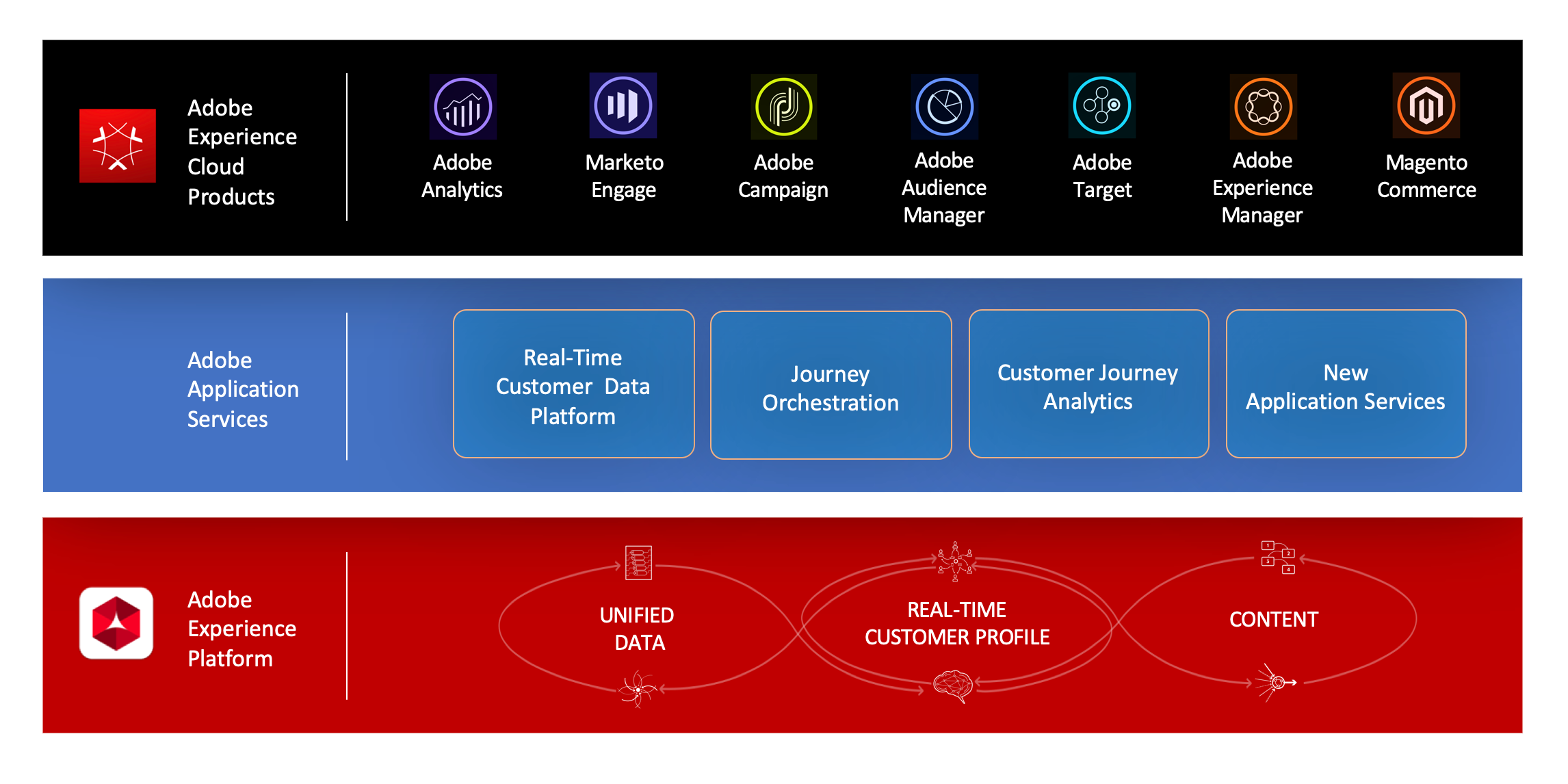 Adobe Experience Cloud is a comprehensive collection of integrated cloud applications and services that give enterprises the best-of-breed tools for marketing, analytics, advertising, and commerce. Adobe Experience Cloud also integrates with Adobe Creative Cloud, which features an industry-standard suite of digital publishing and experience design tools – including Photoshop.
Heading up the Leader quadrant of this year's Gartner MQ, Adobe reigns over the DXP landscape. Over the course of 2020, the Covid-19 pandemic elevated competition across the enterprise marketplace, forcing the CMS and DXP industries to accelerate their own transformation goals.
Adobe has remained in a solid leadership position because of its ubiquitous brand presence and continued commitment to innovation. The most recent enhancements to Adobe Experience Cloud reflect current market trends and elevated demand for headless and API-driven strategies – as well as a heightened need for integrating with customer data.
So, what's new with Adobe Experience Cloud?
New Headless CMS Capabilities
Headless platforms have seen a dramatic rise in the CMS and DXP enterprise market over the last few years. This includes Contentstack – which was positioned as a Strong Performer on the 2021 Forrester Wave Report for Agile CMSes.
To enable developers to distribute content across multiple touchpoints, Adobe is now introducing GraphQL APIs for headless content delivery. GraphQL is a data query language developed by Facebook and open-sourced in 2015 and is trusted by many big tech brands – including Pinterest, GitHub, Netflix, Shopify, Twitter, and more.
Facebook initially developed GraphQL because they needed a more powerful data-fetching API for their mobile applications. REST API has its limitations because whenever data requirements change, more endpoints are needed. GraphQL is typically served over HTTP via a single endpoint, which expresses the full set of capabilities of the service without the need for additional endpoints.
GraphQL also makes personalization much easier. For instance, using a REST API to retrieve a customer's information (like recently viewed products and purchases), you need to send a fetch request for three endpoints: USER, USER_PURCHASE, and RECENTLY_VIEWED. This makes data fetching slow and cumbersome. With GraphQL, all you need to do is fetch the user object to gather all the data.
By leveraging GraphQL, Adobe is giving developers the power to deliver content to any touchpoint and access data across the Adobe ecosystem. For example, a mobile app developer can query marketing content from Adobe Experience Manager and have personalized results sent to the app, which renders in its UI. From there, a marketer can use Adobe Experience Manager's authoring capabilities to add or edit marketing content across multiple devices and touchpoints – saving time and resources.
Siloing has been a significant problem in experience platforms. In the customer data (CDP) layer of the stack, Segment has been working to unify customer data from fragmented corners of the ecosystem. That's why Twilio dropped a whopping $3.2 billion to acquire Segment to build data-driven apps.
Likewise, Adobe has also recognized the deep gaps around siloed data. They are working to enhance their platform capabilities for creating personalized app-like experiences and leverage customer data from end to end.
Easy Integrations with Commerce Integration Framework
In addition to the headless capabilities, Adobe Experience Manager can now integrate and extend commerce services from Magento and other commerce solutions through Adobe's Commerce Integration Framework (CIF). CIF is built on rich APIs that can be easily extended, enabling a seamless storefront authoring experience in Adobe Experience Manager with faster-time-to-market at a lower cost.
Headless is quickly becoming a necessity for commerce platforms because it enables marketers and merchants to deliver world-class commerce experiences without the engineering burden. Nearly all the vendors who earned a place on the Gartner 2021 Magic Quadrant for DXPs offer headless capabilities; in fact, Adobe's largest competitors – Acquia and Sitecore – have been successfully advancing in the DXP Leaders quadrant by offering a headless play.
Headless in a hybrid world
While Adobe's addition of headless isn't a shocker, it represents the challenges that CMS and DXP platforms face. Content operators have multiple channels to contend with, and each consumes content in a different way. While one may access HTML, another requires JSON, and so on. These channels are also independent of one another, creating the aforementioned silo effect around content and data.
Adobe has always lead the way in CX and personalization, and headless is essential to every part of their experience ecosystem – specifically commerce. There are significant challenges with maintaining brand, message, and price consistency, as well as the cost of duplicating content from channel to channel. Now, Adobe provides more of a complete solution for managing the chaos.
One of the biggest issues that pure headless platforms face is the ability for content owners and marketers to visualize their channels. Adobe has clearly stated that developers are struggling to deliver cohesive content across every touchpoint (modern web, smartwatches, native apps, etc.) – and the limitations of headless are a big part of the pain.
By offering a hybrid platform, Adobe addresses some of the "multiverse" that exists by bringing websites and applications together with headless capabilities. That said, even Adobe doesn't have a solution for presenting digital signs, IoT devices, or other form factors within their CMS. At least not yet.
The real challenge for Adobe? Staying in the leadership position.