Agility CMS has rolled out an update along with several bug fixes to polish off 2015.
The cloud-based, enterprise-grade platform was the focus of a featured week here on CMS Critic earlier this year. I personally got to explore the community feeling within the Agility camp, as well as the platform's aversion to "feature bloating".
Here's a look at what's new.
Media, Documents, Reports & More
Notably, Agility's "Choose Files" fly-out has been updated with a "New Folder" button.

This fly-out appears when a user chooses to upload and insert a new image within a Rich Text Editor, for example, or chooses to upload/insert an image within any module.
According to Agility, this update gives users the option to create a Media folder for easy organization without having to navigate to the Media & Documents Section. Much simpler.
Also, Reports within the Legacy content manager are now available in Beta. These reports include; Recent Changes, Ready to Publish, Domain Status and Configuration Status.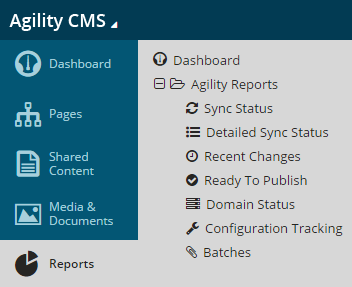 The Save Validation pop-up has been updated too. It now includes an itemized list of all fields that have been edited but not saved. So, when a user navigates away from a page, module and other Agility CMS elements, they will be made aware of exactly where their unsaved changes are.
Furthermore, Agility CMS has unveiled a fair few bug fixes that come bundled with this update. Those bug fixes revolve around URL validation, page re-ordering, multi-language copying, and more.
To find out more about Agility CMS, visit their website, or check them out through our CMS Directory.