Agility CMS has announced a new pricing model for their all-in-one headless content management system, aimed at helping a broad range of customers ­– from developers to the enterprise – expand their digital strategies.
Founded in 2002, Agility CMS has positioned itself as a "Content-First" SaaS headless platform, giving users a significant amount of flexibility over their digital experiences through powerful, lightweight APIs. This includes the full array of JAMstack (Javascript, API, Markup) and browser-based frameworks – including static React site generators like Gatsby – that simplify and accelerate website performance while acting as a unified content hub.
Agility's new pricing tiers reflect a shift in the CMS market, where platforms are offering both developers and enterprise organizations expanded options while simplifying the procurement process. As licensing has shifted to more subscription and SaaS-based models, many CMS platforms have raced to add more value to their offerings, including free entry points and streamlined pricing at multiple levels.
"We want to give [users] more, yet simplify things," said Jon Voigt, CEO of Agility CMS. "We kept hearing that people are upset with the complex pricing models out there; we wanted to provide a better free edition and an unlimited community-supported edition that was based on value."
The chief reason behind the pricing change is to provide greater access to the Agility CMS across the marketplace, allowing users to increase productivity and collaboration between marketing, sales, and development teams. In addition to their advanced headless capabilities, unmatched load speeds, rapid development, and low-code content management, each of Agility's paid packages are loaded with features.
The New Agility CMS Pricing Model
Agility is now offering four pricing tiers: a free Developer option, a Standard package for small teams, a Pro tier for high-performing businesses, and a custom enterprise option.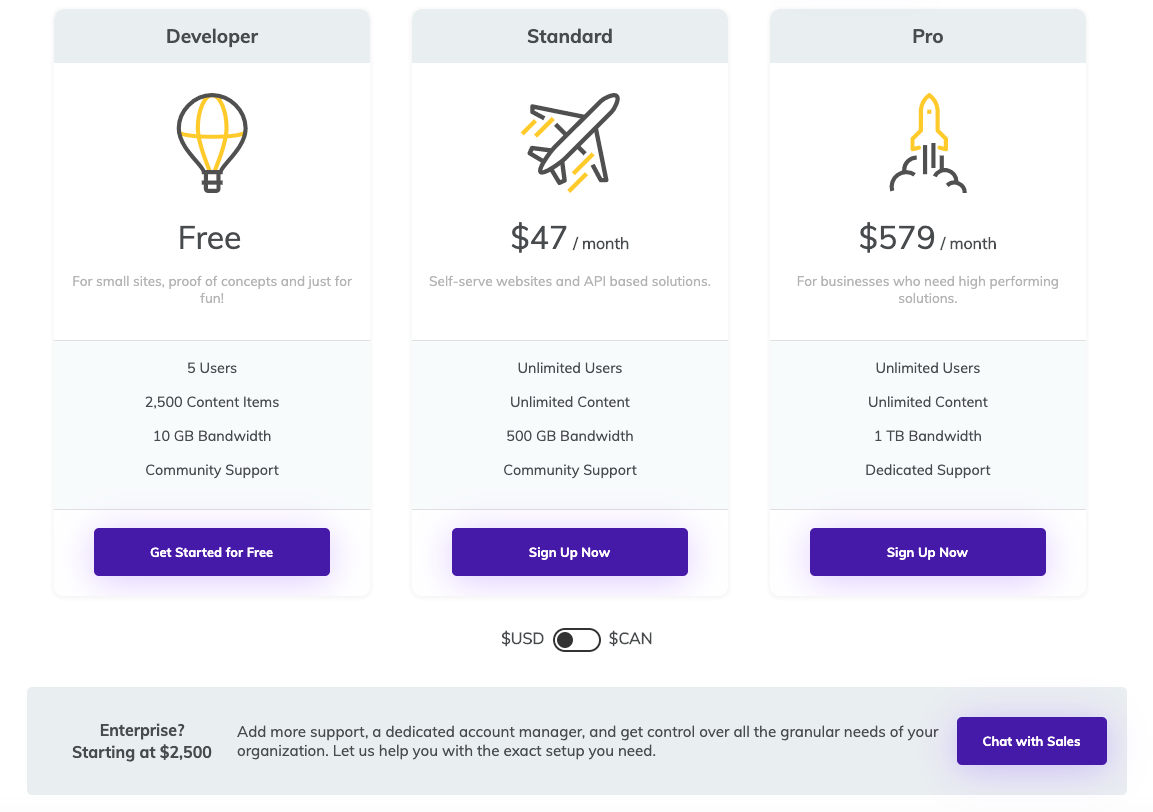 Let's take a look at these packages in more detail:
Free: Agility CMS offers a free package for web developers. This plan includes 5 users, 10GB bandwidth, 2,500 content items, and community support – and it's free forever. You can even sign up without giving your credit card information. This plan is ideal for users who want to learn web development and content management, do some general tinkering, and have fun building. If you feel like you reached the limits of the free package, you can easily upgrade.
Standard: For $47 per month, this package delivers unlimited users and content items. Community support and 500GB of bandwidth is also included. Starting with the Standard Package, every Agility CMS tier includes Content Management, Ecommerce, Ticketing, Search and User Generated Content. If you're running a small site with 500 pages or less, this package is ideal.
Pro: At $579 per month, the Pro package is designed for high-performance business websites and includes unlimited users, unlimited content items, 1TB of bandwidth, and direct support from the Agility CMS team. With Pro, you can sell more products with rich eCommerce, generate custom reports, manage federated search over multiple domains, and more.
Enterprise: Starting at $2,500 per month, the Agility CMS Enterprise package is for large-scale organizations that need highly customized setup with world-class support. Enterprise includes more direct support, a dedicated account manager, and greater control over the granular needs of your organization. Pricing varies based on the bespoke requirements of an organization; for a custom quote, contact their sales team.
All Agility CMS plans – including the free tier – include these features:
Roles & Permissions    
Approval Workflows
Content Modelling and Versioning
Rich Text Editor
RESTful API & Webhooks
Open Source SDKs (Javascript & .Net)
Single Sign-on (SSO)
24/7 Monitoring
Unlimited Languages/Locales
Unlimited Content Definitions
Unlimited Asset Requests
Unlimited API Requests
Focused on Developers
One of the best parts of Agility's pricing is its free tier for developers. Like most "freemium" models, it's limited in its scope and capabilities. But it can still power an actual production solution, including access to APIs. An enterprising coder can build a basic proof-of-concept for a project or even power a small website – all for free. But be warned: the API will not charge overages for this package, so if you hit your limits, your calls will be blocked.
With a path for easy upgrades – and even alerts to tell you when you're approaching your limits – Agility helps its users to scale more seamlessly based on their needs. As a headless platform, this is even more advantageous, as developers have more freedom to create in the language or framework of their choice and shape digital experience across a multitude of channels.
Because it's a multi-tenant SaaS-based solution, Agility appears to have more control and flexibility over their pricing, and they've endeavored to make it easier to understand. However, because it's a multi-tenant SaaS-based solution, it might be a limitation for organizations that require on-prem hosting or security governance for all of their websites and CMS platforms.
You can try Agility CMS for free here.
About Agility CMS
Agility CMS is a SaaS headless "Content-First" platform with fast, flexible development and familiar authoring tools. Designed for developers, marketers, and enterprise organizations, Agility CMS is trusted by customers in the US, Canada, and across the globe – including Visit Orlando, PepsiCo, Polaroid, Hockey Canada, California State University Long Beach, Cineplex Entertainment, Scotiabank and more.