The other day, I came across a new product that's focus it to allow you to quickly and easily build a website through your smartphone browser. Two things came to mind when I saw this; the first was why on earth would I want to design a website through my smartphone and the second was how good can this possibly be?
Let's find out.
First things first, I picked up my Samsung Galaxy S6 and went to the Binarta website to sign up for an account (no credit card required so signing up is easy to do).
You start by selecting one of three available designs:

And then sign up be selecting a username, password and website name: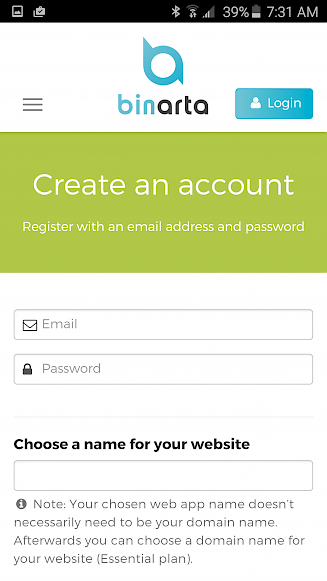 Once you've signed up, you'll see the following loading screen: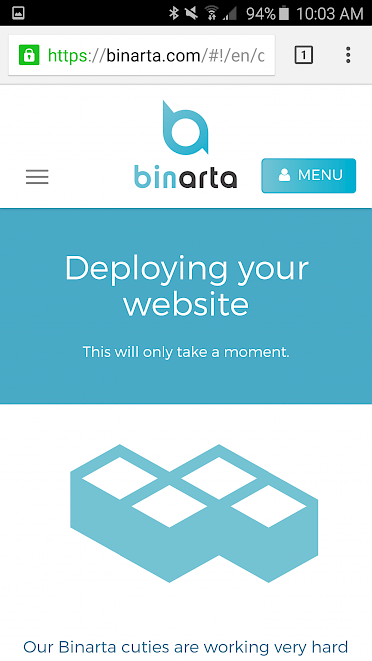 Upon completion, you will see this creepy creature that will forever haunt your dreams (just kidding, I assume this is a cutie?):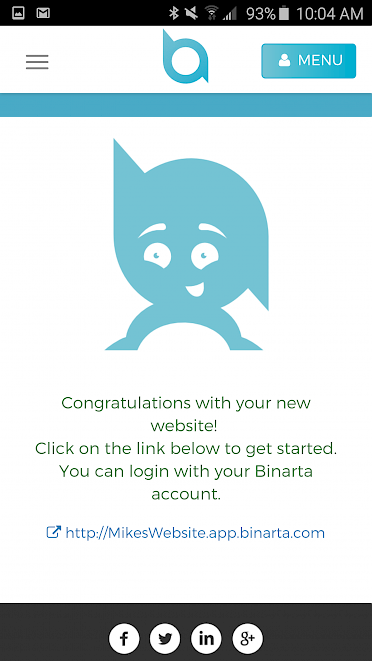 Let's log in and start customizing shall we?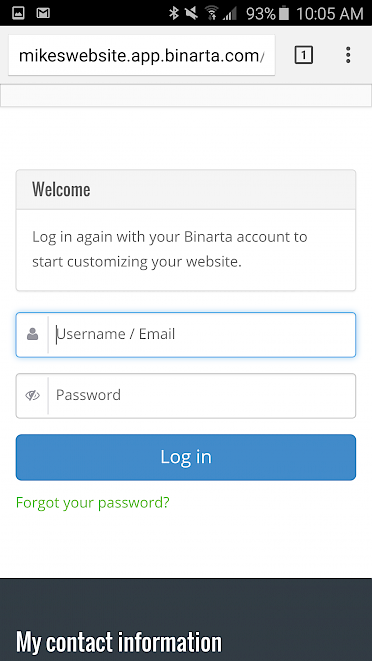 When you first are logged in, you are presented with your website based on the template you've chosen and a number of options along the top of your browser.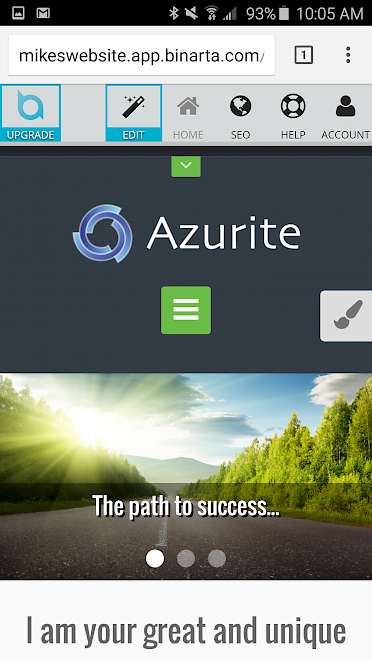 In edit mode, you can do basic things like change some of the colors of the menu drop down and other interface objects such as buttons by clicking on the paintbrush icon and selecting from a palette of colors.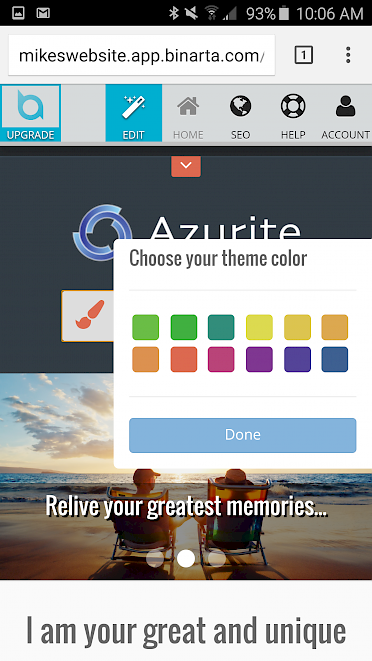 To change text throughout the site, simply tap on the text and you'll be given a quick popup where you an modify the text with your smartphone keyboard. All in all, very basic changes are easy to make.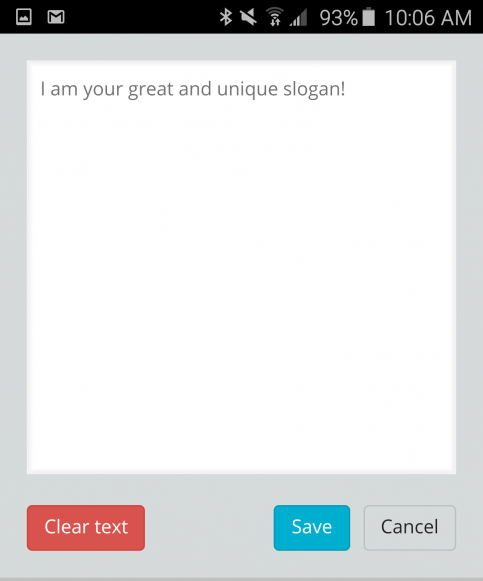 Depending on the box you click on, there may or may not be formatting options. The formatting toolbar does load on paragraphs for instance, just not on header text where the size is specified as part of the theme.
Here's how things look with the formatting toolbar enabled (clicking on standard paragraph text will give you this):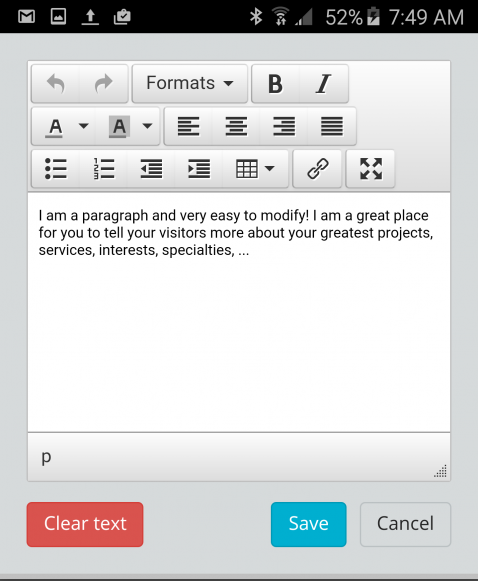 An issue I encountered here was when I went to try inserting a hyperlink by highlighting a word and clicking the link button.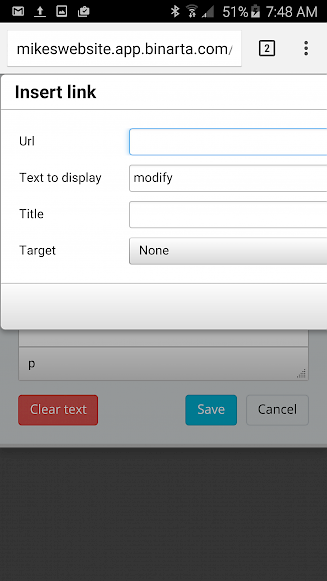 While everything popped up fine, It did not scale properly in Chrome and hitting the back button did not allow me to close the page, meaning I ended up having to close my browser tab and attempt again. On the second attempt, the same thing happened. Initially, I thought this was a CSS issue but given that it seems to freeze the tab, I'm not 100% sure. It doesn't seem to be an isolated issue either as I had my editor, Kaya test this on his iPhone with Chrome and the same issue occurred. Binarta is aware of this issue and looking into it so I'm sure it'll be resolved soon.
If you want to modify any images, you can click on them and you'll be prompted to upload from your phone gallery or documents (depending on the device). All in all, it's pretty straight forward and easy to do.
To make SEO changes such as meta descriptions and site titles, you have to upgrade your account to the Essentials package, currently priced at $29.99. This package comes with some other options as your own domain name.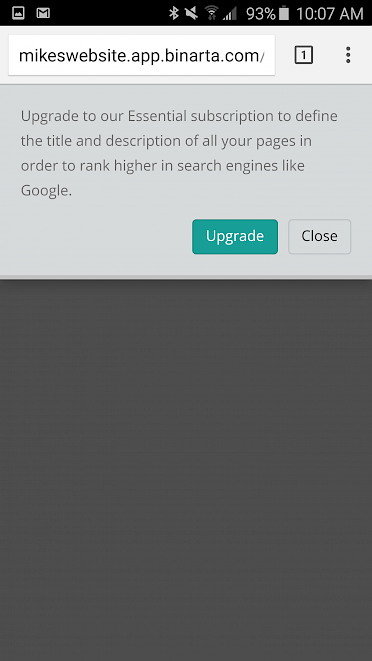 For support issues, there is a contact form within Binarta which I tried and had a reply within about 10-15 minutes offering help and the support was in english (with no language barrier) so I'll give them bonus points for this. I would, however, be curious if the response time is the same throughout the day or whether there are time zone restrictions. There is also an FAQ on their site as well: https://binarta.com/#!/en/faq​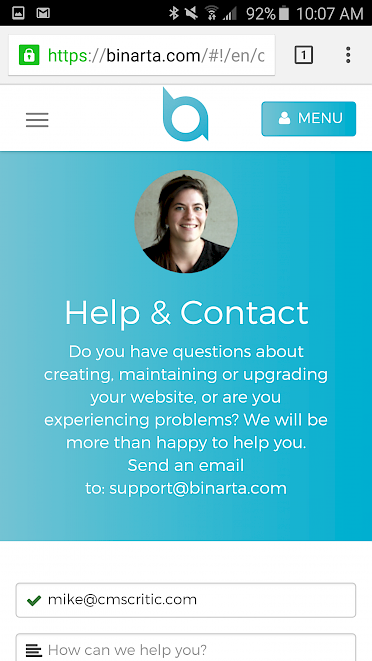 Conclusion
Binarta has tons of potential and is excellent if you want to develop websites on your phone, something not offered elsewhere that I can think of. I'd like to see more them expand their feature set a bit to justify the price but for those who need this type of solution, it's the best offering I'm aware of. Binarta has an opportunity here to really nail this if they listen to their users and add some more capabilities to their platform offering.
Check Binarta out for yourself.
What do you think? Leave your comments below.