BlackMonk, the CMS for online newspapers, magazine sites, business directories and community portals, has unveiled their "biggest release yet."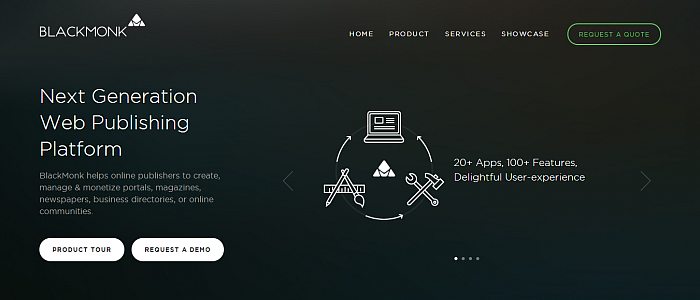 A range of modules and features have been improved, including publishing processes, galleries, stock images, and more. Let's take a closer look.
Editor's Pick & Improved Galleries
Authors now get their own profile pages with links to their posts, making it easier for readers to access more of their written content.
On top of article favoriting and author subscribing, an "Editor's Pick" page has also been introduced, enabling readers to browse through a select few featured posts.
New visual tags like "Breaking news" and "Top ten stories" have also been unveiled, so editors can grab more attention.
Furthermore, videos, audio clips, Tweets, Instagram photos and Vine videos can now be embedded anywhere.
Readers can interact with embedded media right from your web portal, too. For instance, readers can like, favorite and retweet Tweets without leaving your website.
Galleries & Stock Images:
Getty Images and Shutterstock now come integrated with BlackMonk, letting you browse through thousands of stock images for your articles and galleries.
You only need to configure your Shutterstock, Getty Images and Flickr API keys in the BlackMonk settings, and you are good to use millions of professionally snapped images on your web portal, without having to leave the BlackMonk dashboard.
Social Q&A & Design
BlackMonk's Q&A feature is now more social.
BlackMonk has enabled sharing of Q&A's on social media, which will amplify the reach of the questions. In addition, admins can prune out the questions and answers just don't cut the mustard.
Also, BlackMonk users can now configure custom themes, by swapping out fonts and colors.
Time to Talk Price?
This is indeed a massive update from BlackMonk CMS. It's great to see the platform progressing like this.
I personally reviewed BlackMonk CMS, and I know it's a capable platform. However, I always like to make a point about pricing when I can, especially when a CMS is aiming to dabble with startups and small businesses.
BlackMonk's lowest plan comes in at $80 per month. I can't help but feel the disgruntlement of those startups and small businesses that have to look elsewhere after deciding that $80 is simply too expensive for their project.
Perhaps a cheaper and further stripped-down plan can be offered, to give such potential users an access route into the platform. With features now flourishing, now might be a good time to explore such a move.
To find out more about this new BlackMonk release, check out their blog announcement.