Hannon Hill, creators of the Enterprise CMS Cascade Server, have announced today that Cascade Server 7.8 is now live and ready for users to begin upgrading to.
Cascade Server is a robust platform built from the ground up to help enterprising companies manage their websites in a professional, powerful manner. Recently, Cascade Server was nominated in the CMS Critic People's Choice Award for Best Enterprise CMS.
With Cascade Server 7.8 now released, users can look forward to a host of changes, particularly in regards to the way they interact with their assets and information. With this update, Hannon Hill claim to have satisfied over 300 user votes from their user idea exchange. So, let's take a look a what's new.
Relationships & New Permissions Interface
Cascade Server 7.9 brings about control over relationships between assets, which was one of the most voted on ideas in the user idea exchange. Now, users of all roles can see how assets such as page link to and refer to each other.
All assets that link to a particular page can now be viewed quickly and easily, so finding out what will be affected by a change to that page in now a faster process.

Additionally, thanks to one-click publishing, users can quickly re-publish all assets which link to a particular page, even when they rename, modify or move it.
The update also brings about a completely revamped permission interface, which allows users to take advantage of type-ahead search to quickly locate users and groups, along with faster load times in implementations involving large numbers of users and groups.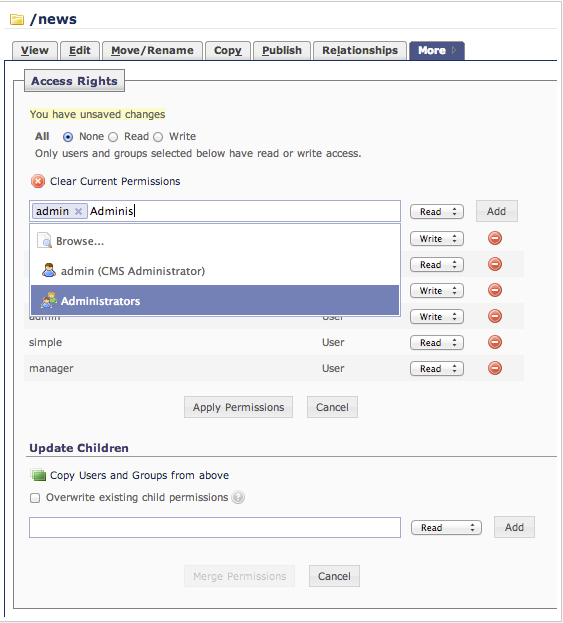 Users can now also assign and unassign permissions for other individual users and groups for specific folders and its contained assets, all whilst preserving other existing permissions on other assets.
Saved History & Assorted UI Improvements
Working in more than one place is now easier, thanks to all asset history now being maintained between sessions and browsers. This enables users to pick up where they left off whenever and wherever they log in. Additionally, when users log-in or switch between sites, the navigation on the left hand side will be expanded to the last folder they were working in on that particular site.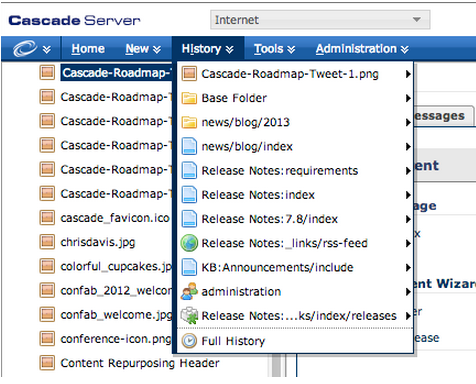 To top these updates off, Cascade Server 7.8 also introduces a number of UI improvements.
A new, more prominent version comments box has been designed to help remind users to use comments when submitting edits. Plus, the new smart version comments automatically populates the comments with a summary of which fields were changed.
There are also two new Data Definition field types, which are; an asset chooser field that allows you to select pages, files and external links, and a dropdown interface that supports user submitted values in addition to pre-determined values.
If you'd like to explore some of the features of Cascade Serve 7.8 further, check out the official release notes.
Additionally, you can find out more about Cascade Server via our CMS Directory.