In 1920, the Smithsonian Museum of Natural History hosted a famous debate between astronomers Heber D. Curtis and Harlow Shapley.
The researchers, both from respected observatories, gathered with their academy colleagues in Washington D.C. to deliver lectures concerning the scale and makeup of the universe. In other words, very light stuff.
The presentation, which earned the historic moniker of "The Great Debate," pitted the two men's opposing ideas on the structure of the cosmos. Shapely argued that the universe was contained in a single galaxy, while Curtis countered that it was comprised of multiple, disparate galaxies.
As it turned out, both men were correct. Sort of.
Taking a more progressive stance, Curtis suggested that the "spiral nebulae" observed by contemporary telescopes were large, distant entities outside our own Milky Way (this theory was later proven to be true by one Edwin Hubble). But Shapely's contention – that our own galaxy was much larger than previously thought – was also accurate.
While the debate did not produce a clear winner, it helped expand our understanding of the size and nature of our universe and where we fit into it.
A century later, a similar debate is taking place in the CMS galaxy, where DXPs and composable vendors are pitching their own astronomical views to the market. Through one lens, the all-in-one "monolithic" platforms offer a connected constellation of services that are bolted together for ease and interoperability. But the composable camp is jockeying a wider celestial view – one where decoupled systems connected by APIs provide greater freedom and control in an omnichannel world. 
This modern permutation of "The Great Debate" played out at the Boye & Company CMS Kickoff 2023, which took place last week in St. Petersburg, Florida. As the industry's only event that is hyper-focused on content management, the venue drew participation from CMS makers and users around the globe – all seeking to learn, connect and even debate the challenges confronting the industry.
Platform attendees ranged from small to large, representing some of the most noteworthy vendors in the CMS space including Contentful, Contentstack, CoreDNA, Kentico, Kontent.ai, Magnolia CMS, Optimizely, Solodev, Storyblok, Sanity.io, Umbraco, and numerous digital agencies and system integrators.
The speaker lineup also included several customers such as JLL and Johnson & Johnson, as well as a compelling session delivered by MACH Alliance president Casper Rasmussen.
Finally, a conference exclusively focused on CMS
Set against the backdrop of sugary-sand beaches and breathtaking sunsets, the CMS Kickoff 2023 was held at the iconic Don Cesar Hotel – a location affectionately referred to by some attendees as "the pink monolith" (it's worth noting that the hotel just celebrated its 95th anniversary). CMS Critic was in attendance throughout the two-day conference as a co-sponsor, along with multiple CMS vendors.
Janus Boye, the chief architect of the CMS Kickoff and an established authority within the content management community, conceived the experience based on numerous requests from his Boye & Company peer group members – many of whom were clamoring for a CMS-focused event.
"There are many conferences that deal in digital, but not a CMS-centric event dedicated to this industry," said Boye. "When you consider how important content is to every organization and how much change is occurring in the market, it was clear this was a major gap. The CMS Kickoff bridges that rift with a live, vendor-neutral conference that focuses squarely on CMS and goes beyond technology to enhance education and fuel connections."

Boye's long-time CMS Experts Group is regarded as a hallowed institution across multiple continents. It is a rare and passionate cabal of members that represent both early-stage headless players as well as leading cohorts on the Gartner Magic Quadrant for DXPs.
Boye translated the style and temperament of his live peer groups to the CMS Kickoff, which has been successful in places like Aarhus, London, Brooklyn, San Francisco, Toronto, and other locations. He also relayed his intent to bring a myriad of CMS voices together to explore what's ahead.
"As with a typical kickoff, we looked back at recent trends, but mostly towards 2023 and what is happening right now," he said.
An agenda packed with world-class speakers and sessions
While this year's CMS Kickoff was the first, it far exceeded expectations, drawing an ideal audience size and attendee mix to create meaningful group discussions and activities.
Conversations occurred throughout the two days as a bench of world-class speakers led engaging sessions on a wide range of topics – frequently stirring the debate around the future of composable, headless, hybrid, and monolithic DXPs through the lens of content management. 
Here's a breakdown of the event's top sessions:
"The Next Generation Content Engine"
Deane Barker, Optimizely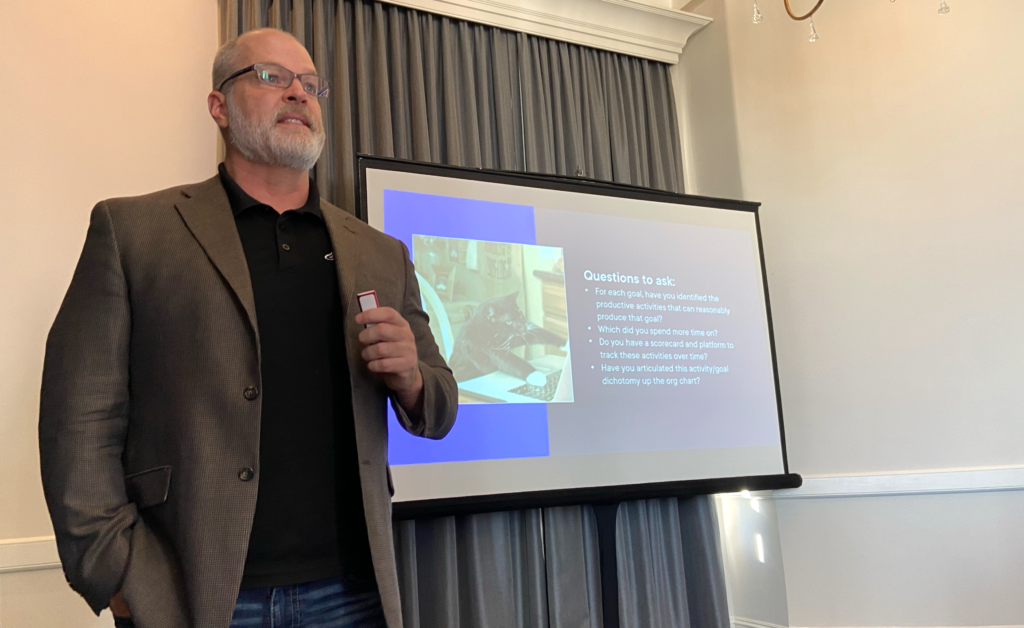 If you've ever attended one of Deane Barker's keynotes, there's an irrefutable urge to reach for a hymnal. He has literally written the book on CMS, and his retired Gadgetopia blog has become lore in the content management realm. He's also spoken across the globe at countless events about the past, present, and future of content.
Barker's deep experience on the integrator side – and now as Global Director of Content Management at Optimizely, an industry-leading DXP – has given him unmatched insight into the challenges and opportunities shaping the market.
During his opening talk at the CMS Kickoff, Barker focused on the content creation journey and what the next generation of content management will require. Using the comical motif of cats typing on keyboards, he pointed to the misguided perception many organizations have about how content is made, and how that shapes internal processes. He also delved into the importance of setting goals and tracking activities to help deliver success. 
One of his most pointed recommendations: store content in ways that allow it to be "remixed." This simple yet elegant concept was referred to by other attendees throughout subsequent discussions and evoked the idea of composable content being evangelized by other speakers.
Barker also ended his session with a thought-provoking question: why don't we care about content failures as much as code failures? This notable disparity prompted continuous conversation among attendees.  
"Our Users Deserve Better Content in 2023"
Danielle Caron, Liberty Mutual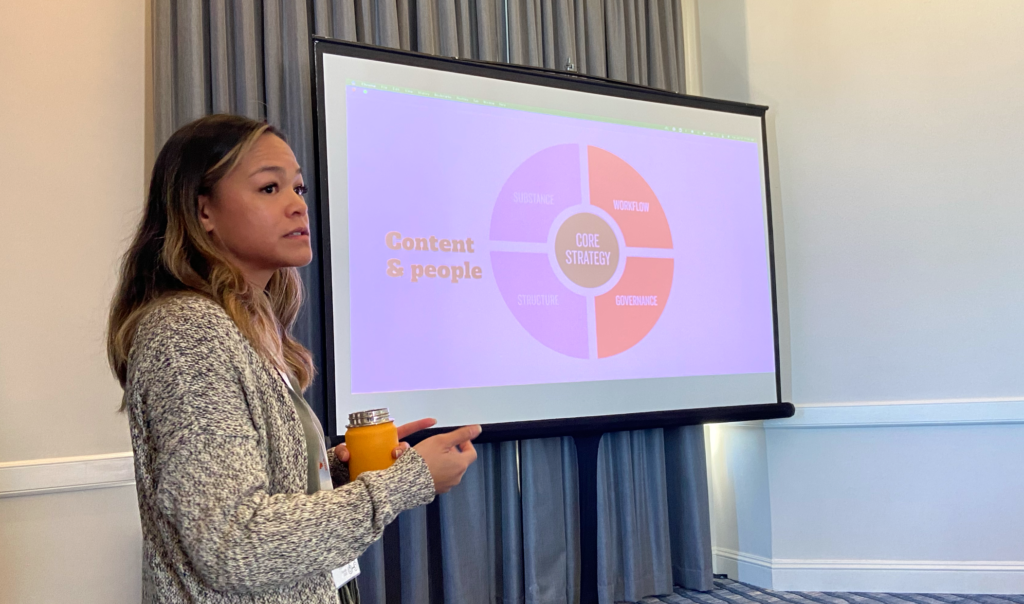 Dani Caron's previous roles in the app and gaming sector gave her a solid content foundation – and instilled some strong opinions on what works, and what doesn't. Her plea that everyone deserves better content was instantly relatable, and she provided a roadmap to help understand how content workflows impact users.
As a content strategist at Liberty Mutual, Caron has amassed a deep knowledge on what tools help achieve better content outcomes. She offered some actionable "dos and don'ts" on how to build effective content workflows, which spurred some discussion around the importance of audits and their relationship to content modeling.
One of the key takeaways from Caron's talk was the concept of content advocacy. Within that prescription, she reinforced the importance of using content calendars, leveraging quantitative and qualitative assessments, and ultimately setting clear goals. As she said during her session, the essential mantra for success is "failing, trying, and trying again."
"Service Design on a Mission"
Karolina Zimniak, JLL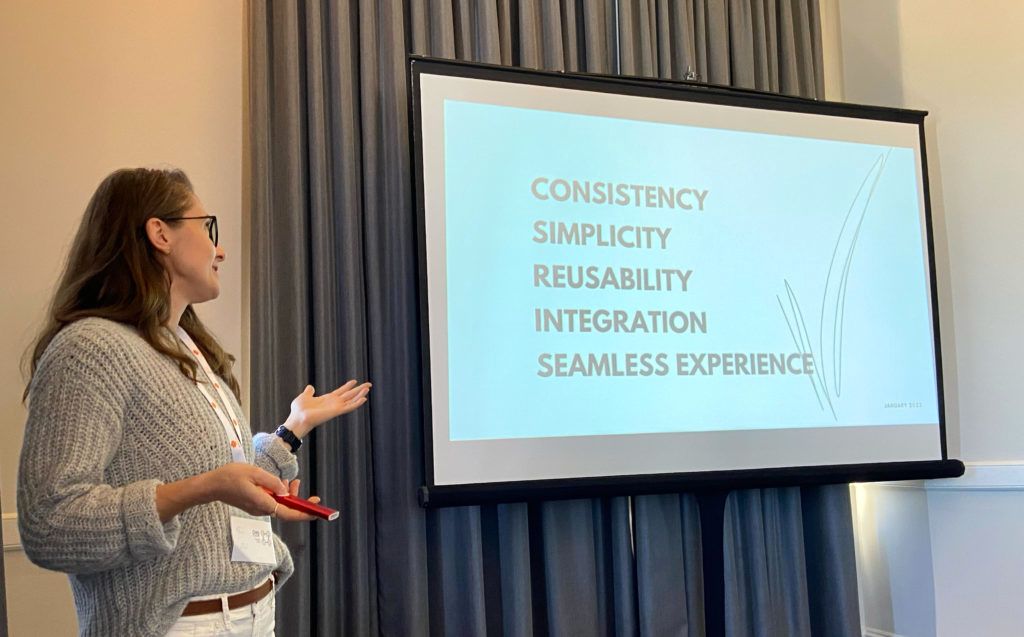 One of the most intriguing customer presentations was from Karolina Zimniak, Lead Operations Manager at JLL – a global real estate management and investment firm. In her presentation, she detailed her experience leveraging service design to help define key problems, quickly test solutions, and refine prototypes to improve delivery.
Zimniak's role at JLL is one of many where service design is being utilized, enabling teams to embrace experimentation and drive more creative thinking. In her five core steps, she cemented the foundation of empathy and the importance of understanding how a problem affects people.
Attendees openly discussed Zimniak's service design methodology as a mechanism for improving content modeling and delivery and how it might be leveraged in the CMS industry.
"To Design a CMS or Not to Design a CMS?"
Jennifer Snyder, Detroit Institute of the Arts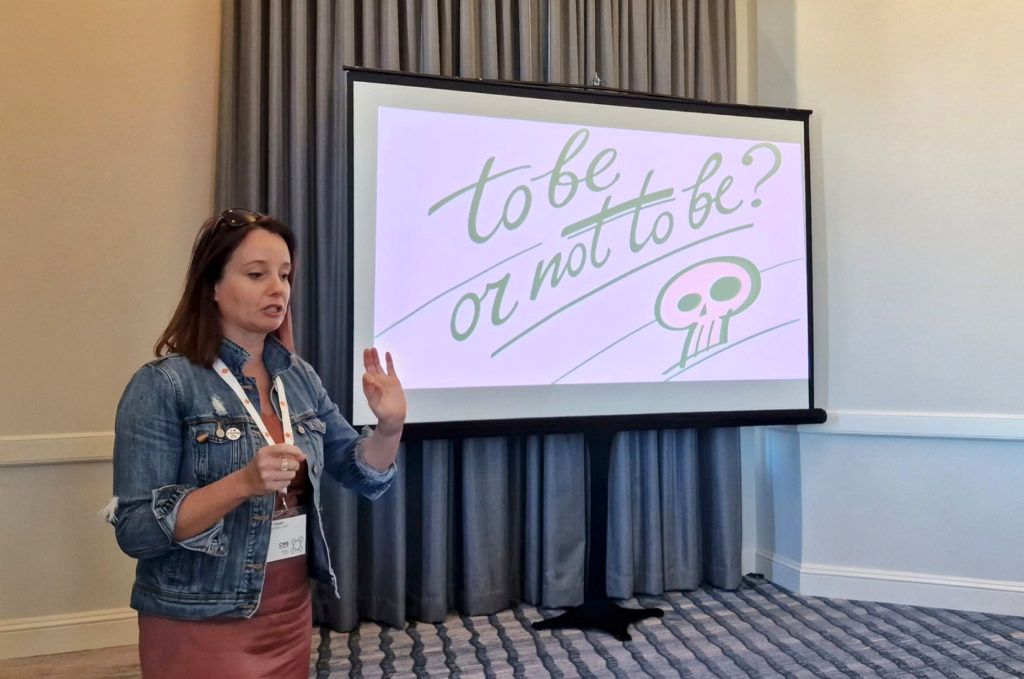 To answer the query: that is the question.
One of the most animated sessions was delivered by the incomparable Jen Snyder, Chief Digital Officer at the Detroit Institute of the Arts (DIA). Equal parts comedy and tragedy, Snyder recounted a CMS crisis of epic proportions after inheriting "WordPress on fire" during her first week at the San Francisco MoMA.
Snyder also reflected on the lessons learned from a nightmare implementation that caused a mass exodus by the entire digital team. While it was a cautionary tale on the challenges of technology and trust, it did result in the transformation of the museum's website into a "storytelling platform" that better served its goals.
As Snyder pointed out, fixing the CMS fixed the UX, but the legacy reliance on monolithic databases like TMS (The Museum System) posed significant challenges to scalability by limiting the landscape of options. In her new tenure at the DIA, she shared a bit of her roadmap and some of the challenges and opportunities ahead – and how the CMS strategy will build on her previous experience. 
"A Paradigm Shift is Happening in the CMS Market"
Bart Omlo, Kontent.ai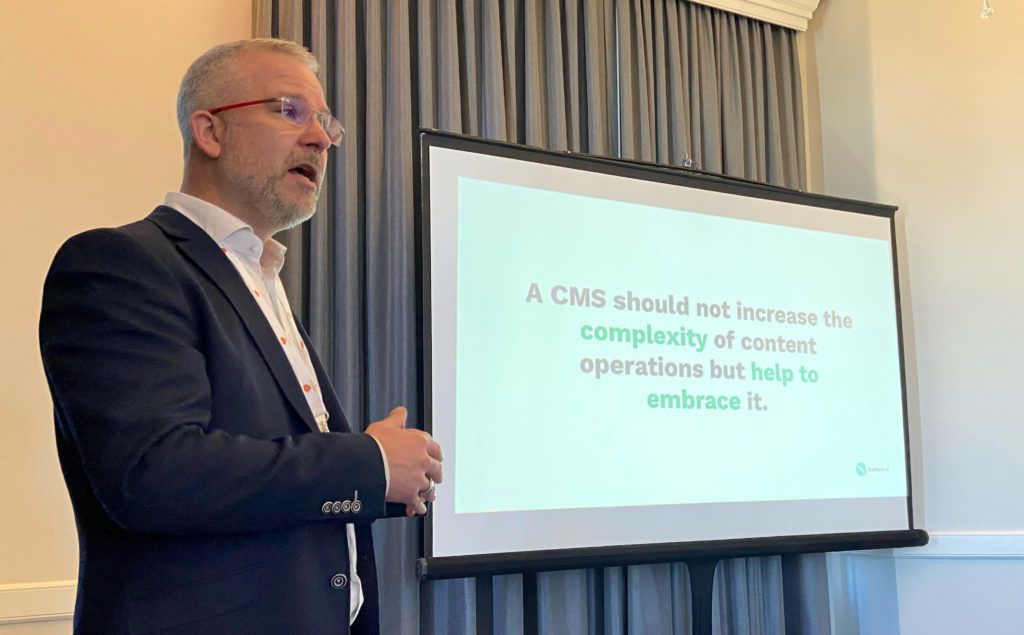 Bart Omlo is a genuinely gifted storyteller with a penchant for humor. Case in point: the opening slide of his CMS Kickoff presentation was an image of his first car, an early '90s Volkswagen Golf. "Older CMSes are like old cars," he said. "Adding small features and upgrades can be challenging."
The analogy was apropos as Omlo, the CEO of the newly minted Kontent.ai,  laid out the limitations organizations face when upgrading their CMS. As he noted, a content management system should not increase the complexity of content operations but help to embrace it – and this poignant statement became the fodder of discussion throughout the room for several minutes.
As more companies shift to composable CMSes, mitigating cost and complexity is a key factor in the equation. Omlo suggested that organizations should avoid overcomplicating tasks and instead focus on learning from each other to grow beyond these challenges.  
"MACH x Inclusive Tech"
Casper Rasmussen, Valtech and MACH Alliance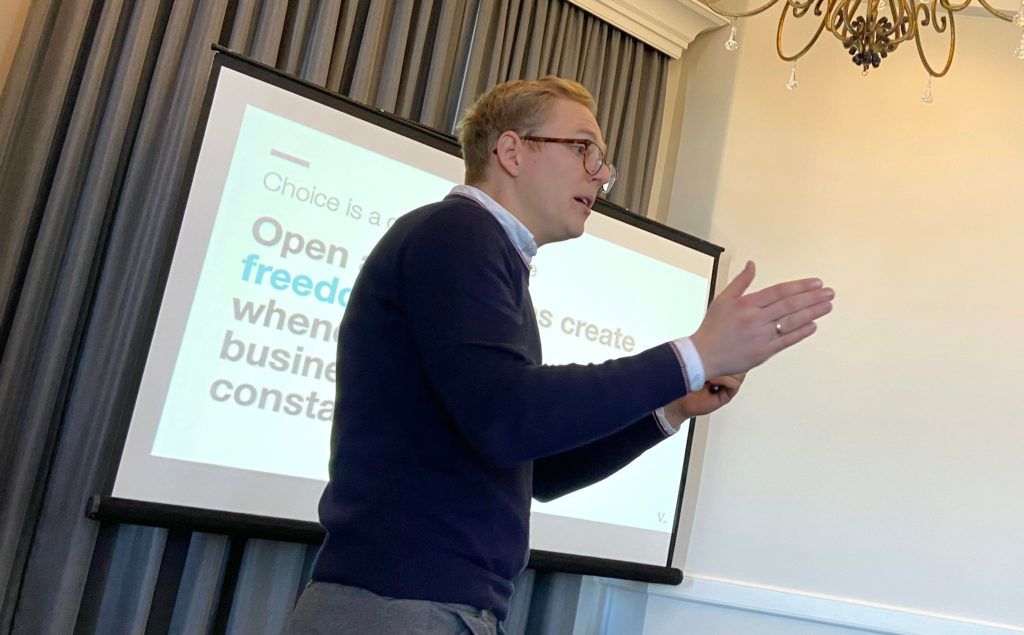 Casper Rasmussen is a road warrior. Arriving on the heels of his appearance at NRF 2023 in New York City, he waved off any wariness to deliver a thought-provoking and introspective session to the CMS Kickoff – one that focused more on people, and less on products.
Rasmussen's goal was stated from the first slide, framing his talk as more of an interactive discussion regarding social responsibility. As the Global SVP of technology for Valtech, a unique new breed of agency, his day-to-day is focused on digital. But it's the human side of his work – and the efforts he is leading around diversity and inclusion – that is evolving the mission for organizations like the MACH Alliance, where he serves as president.
Throughout his talk, Rasmussen repeated a simple yet elegant mantra: "What's not just best for me, but best for we." This seemed to wrap neatly around his call for modern businesses to make strong commitments to being open, sustainable, and "future fit" around goals that aren't just commercially motivated.
As he noted, the young consumers of today and tomorrow are hungry for brands that are responsible stewards of our world. To attract them, businesses should make strong pledges to support initiatives that embrace openness. According to Rasmussen, not only will this impact D&I and environmental goals but also result in business growth. While there was lively debate in the room about the challenges involved with implementing certain programs (such as reducing the carbon footprint of websites), it was Rasmussen's passion for the platform that elevated the conversation.
"Mind the Gap: How Can Content Technology Impact Businesses?"
Carrie Hane, Sanity.io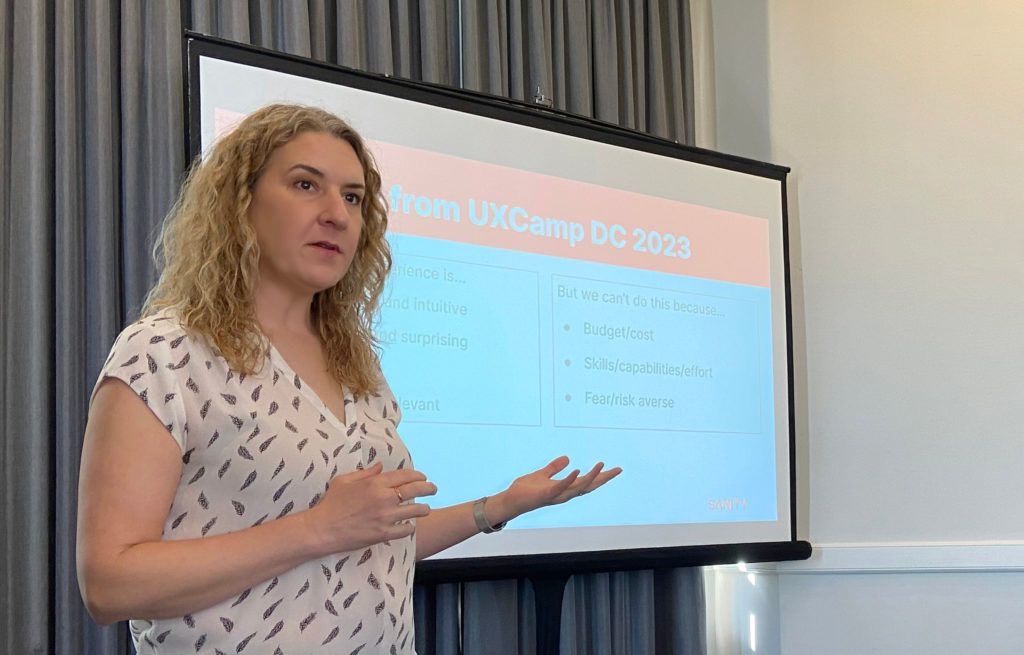 If there's one voice in the content community that always challenges the status quo, it's Carrie Hane. As principal evangelist at Sanity.io, an open source CMS and structured content platform, Hane has become something of a legend in the content modeling field. Her book, "Designing Connected Content" is a must-read for digital explorers looking to crack the code of the omnichannel world of content.
Hane began her session at the CMS Kickoff with a scathing but accurate observation: "CMS users think their CMS sucks." She went on to surface the many challenges that exist with content modeling, and how it's not just database schema or an audit of what you already have. She also spoke about the persistent existence of silos, and how in 2023, we shouldn't be opening developer tickets to make changes to a website.
In her closing remarks, Hane conjured Gerry McGovern, author and creator of the Digital Waste Audit. Much like his efforts to expose the environmental weight of data, she further noted that "content isn't free," and that everything we create is contributing to the quotient. While composable makes businesses more agile, it can also create more collaboration and streamline content – thus reducing excess devices, costs, and CO2 emissions. Good for business and good for the planet.
"Go Hybrid to Avoid the Traps of True Headless"
Dominik Pinter, Kentico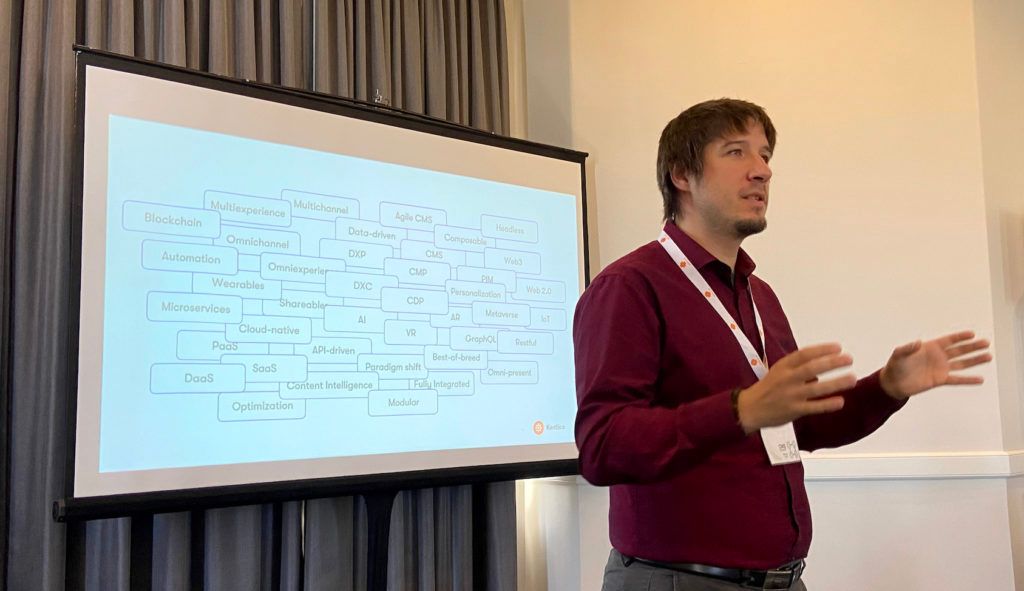 "Is headless a dead end? Is it just a feature?"
Providing contrast to the composable contingent, Dominik Pinter began his presentation with a chaotic slide of industry terms and asked the room what was missing.
His answer was simple: the client's needs.
Pinter, the dynamic CEO of Kentico – a leading CMS, marketing, and commerce DXP – took the group on a fun and lighthearted journey through the realities of headless and composable. As he stated, Kentico was providing API capabilities as early as 2010, making it a true hybrid solution that continues to serve clients' needs. 
While he admitted that composable is a good thing, it is nonetheless developer-heavy and requires a precious commodity: people. With a hybrid solution, he believes solving business problems is easier with an expansive set of features that include marketing automation, reusable content, and yes – hybrid headless capabilities.
"The Journey from Monolith to Composable"
Sana Remekie, Conscia.ai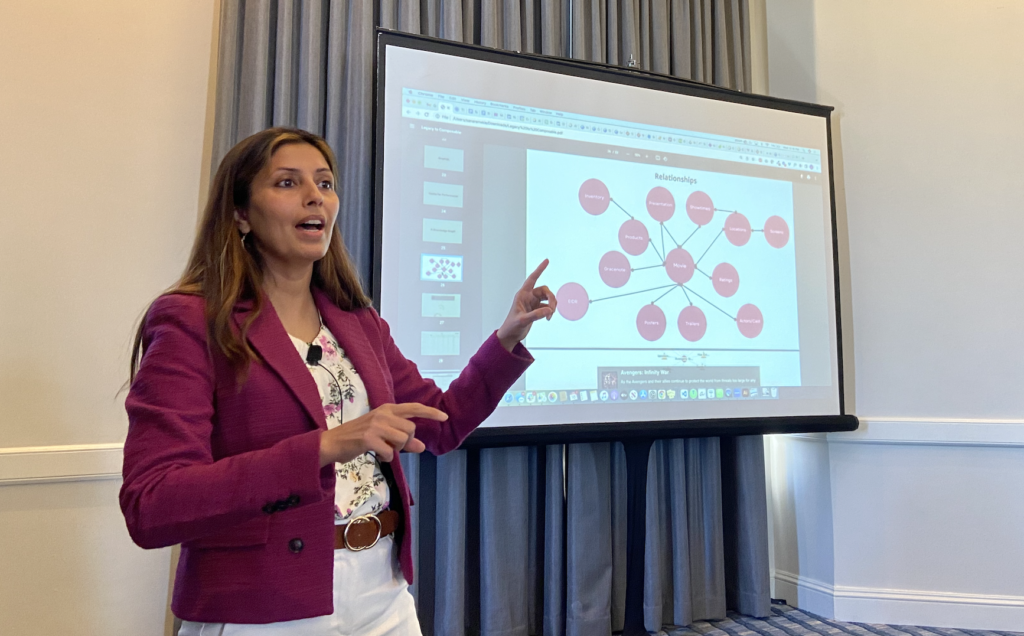 Sana Remekie is undeniable. As CEO of Conscia.ai, she is one of the foremost leaders and thinkers in the evolving space of digital experience composition (DXC) – and her fervent commitment to educating the market is boundless. Just follow her on LinkedIn and you'll see countless webinars and podcasts where she is carrying the water for the composable movement.
In her talk at the CMS Kickoff, Remekie once again championed the ideas of modernization and how composable is the activator. "The future is composable. It always has been," she said, backing it up with Gartner's recent codification of "digital experience composition" as a relevant and emerging concept.
While not yet fully blessed as a category, Remekie talked about the impact that DXC is already having as "the brain" in the experience stack, where other systems like CMSes fit, and how composable solutions can provide a path beyond migration and re-platforming.
By harnessing the "3 Cs" – customer, content, and context – organizations can modernize along the right vectors and leave legacy systems behind. But as she noted, there are other considerations in the move to composable. In her visual example of the Roman Coliseum, there is social and cultural value in certain artifacts. In that sense, legacy may not be something you want to eliminate immediately (or completely).
"Composable Content: Unlocking Creativity, Delivering Value, and Getting Things Done"
Nicole France, Contentful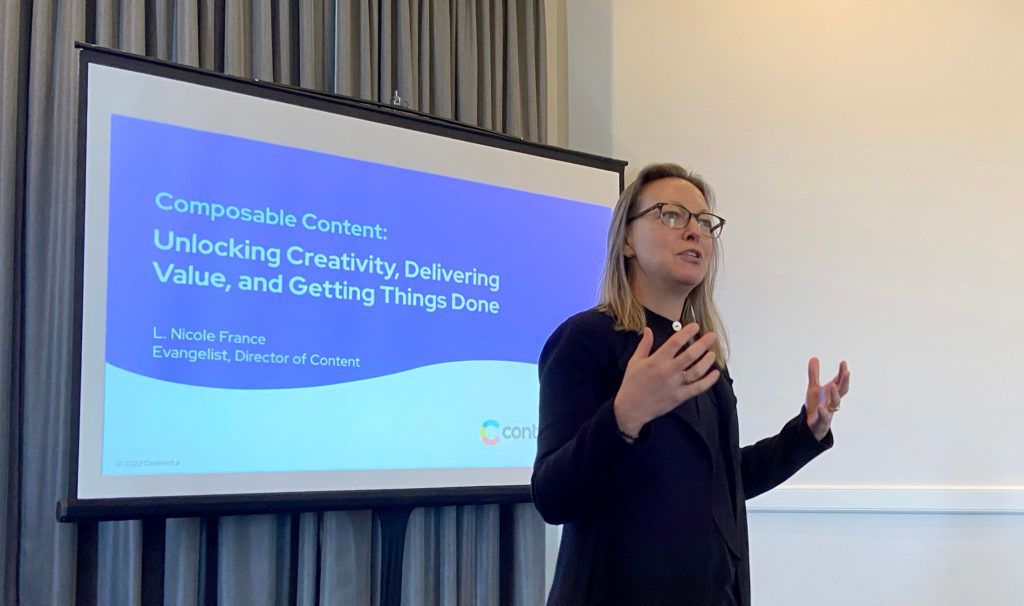 Nicole France is a powerhouse. As director of content and evangelist at Contentful, a leading headless CMS, she combines an analyst's mind with the heart of a creator – a rare blend for someone helping to shape the future of content.
"It's all about storytelling," she reminded the audience, focusing on the ways that digital works through different channels to communicate. As an advocate for composable, France prescribed the need to change the mental model and seek coordination – not codependence – when it comes to content.
One of the most interesting topics France explored was our relationship to productivity and focusing on things that deliver value. Freeing up marketers to focus on ideas instead of worrying about delivery is a critical goal – and embracing composable can be a path to unlocking that lost creativity and productivity.
A storyteller herself, France tapped several visual analogies to illustrate her ideas on composability and its potential to change the dynamics. As a pilot, she shared how an iPad in a cockpit can provide an accessible augmentation to existing technology. Like composable content, this add-on solution provided less friction than having digital instruments "rip and replace" older analog devices to improve the experience.
"How to Build a High Performing Content Team"
Michael Spenceley, Johnson & Johnson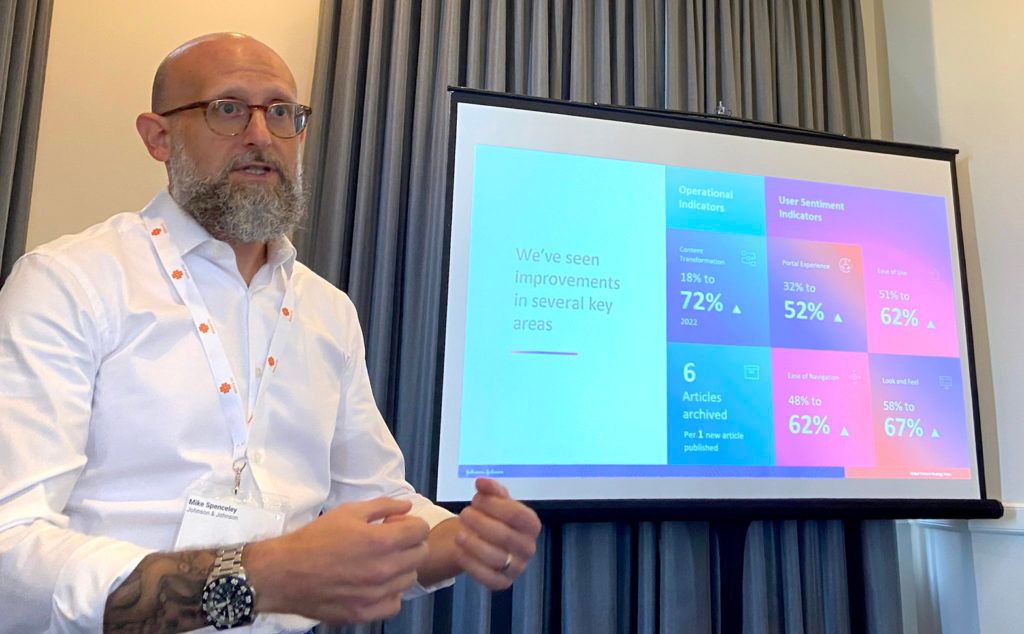 Managing over 20,000 pieces of content on a global scale is no small task, but Mike Spenceley does it with grit and grace. As Content Strategy Director at Johnson & Johnson, Spenceley leverages a corporate pedigree cultivated at PWC to help lead an international content team at the healthcare giant.
During his initial analysis at J&J, Spenceley focused on three key segments: the employee portal, process documentation, and conversational content (such as chatbots). What he discovered is that many pages across these segments weren't being seen by users. To address this problem of underutilized content, he and his team applied standards and guidelines to help transform their content ecosystem, reduce waste, and improve the overall experience.
Spenceley deftly guided the room through five pillars for building a high-performing, impactful content team. He then broke the audience into smaller groups, allowing pods to collaborate and discuss a single pillar relative to their own content teams, from core behaviors to UX to governance. Each pod shared its collective insights, leading to a lively and engaging discussion that wrapped up the event. 
Simon, tell us the winner of CMS Idol…
But first, answer this: can you actually demo a CMS in six minutes?
Janus Boye put that question to the test, and it was more intense than an episode of American Idol. 
At the end of the first day of the Kickoff, five CMS platforms agreed to go head-to-head in the event's signature "CMS Idol" competition. The performers – Contentstack, Magnolia, Solodev, Storyblok, and Umbraco – had just minutes to showcase aspects of their technology to a room of competitors and agencies, who would later vote for their top pick.
As Boye pointed out, "there's an art form to the live demo." CMSes have subsisted on these kinds of high-pressure demos, although typically with 60 or 90 minutes. By compressing it to an elevator pitch, platforms had to get scrappy with their delivery and focus on the essentials.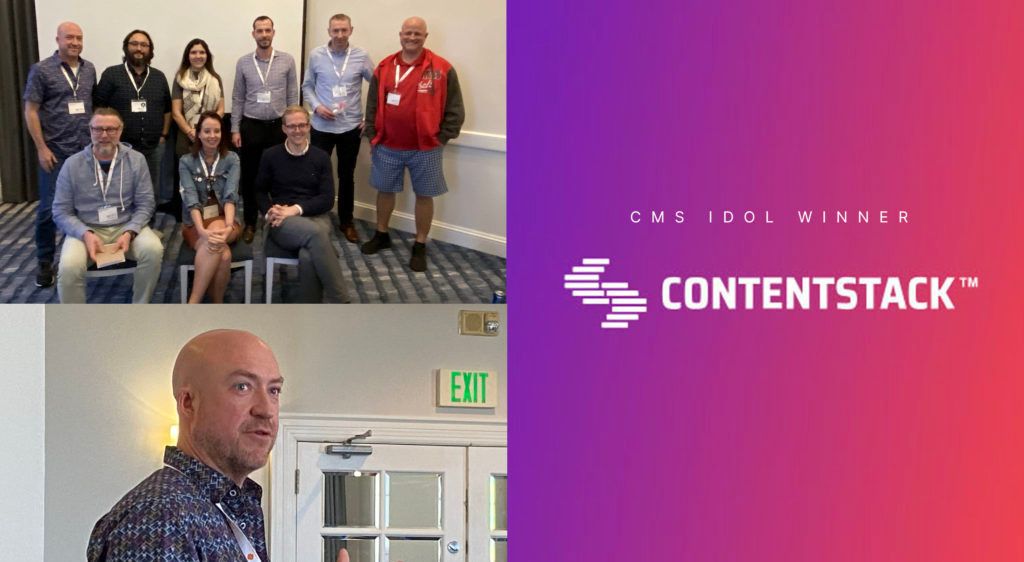 In the end, every CMS brought the rain, hustling through an impressive display of features. A panel of three judges from the audience provided objective feedback to each participant, and attendees cast their votes.
Congratulations go to Robert Curlette, Partner Solutions Architect at Contentstack, who brought home the gold.    
Are the stars aligning for composable?
While the battle royale betwixt monoliths and composable systems wages on, the CMS Kickoff proved that the industry seems far more interested in constructive dialogue than division. 
And yet... things are getting salty.
Case in point: Darren Guarnaccia, CEO at Uniform – a DXC player – led a session at the recent MACH Haus event titled "The Death of DXP." Audacious to say the least. 
It's abundantly clear that the composable movement has the wind in its sails, and no other area has reflected the market's zeitgeist quite like the burgeoning DXC space. While still nascent, it is driving palpable interest. In fact, a recent MACH Alliance webinar on LinkedIn featuring Conscia.ai, Occtoo, and Uniform attracted over 300 attendees.
But are DXPs down for the count? Not likely – and by every measure, they are embracing a more composable position. While the leadership at the MACH Alliance might chagrin at these attempts to "MACH wash," it signals a shift in strategy and an acknowledgment that the market is evolving. And composable and MACH, while on a growth trajectory, still represent a small sliver of the total market as brands continue to test the omnichannel waters. 
According to Justin Sanders, Vice President at BlueModus – a technology agency based in Denver – monoliths might be getting a bad rap. Sanders was at the CMS Kickoff and offered his own perspective on whether a composable CMS will really solve all your problems.
"Composable is often pitched as the solution to all problems in our industry," he said in an article posted on LinkedIn. "And while it does clearly solve some fundamental problems with traditional CMS systems ('monoliths,' as the composable crew calls them), I'm not yet completely sold on the concept."
Sanders makes some compelling arguments, but it also comes down to which telescope you're looking through – and how you see the universe expanding. Much like "The Great Debate," there are winning arguments on both sides. But thanks to these kinds of gatherings, we're all a little wiser and more informed about the considerations in an ever-expanding cosmos of confusion and choice. 
Despite a lack of perfect clarity about what's ahead, one thing remains in sharp focus: the CMS Kickoff 2023 was an astronomical success. And we can't wait for next year.