commercetools, a leading headless e-Commerce platform, recently announced the acquisition of Frontastic, a composable frontend platform.
The purchase comes just a few months after commercetools announced a $140 million Series C funding round – a plump investment, to be sure, and one that the company hopes will broaden the reach of its game-changing commerce technology for creating differentiated user experiences.
It's worth noting that commercetools was one of the earlier headless commerce platforms on the scene, helping to shape the modern standards for headless commerce. Their decoupled environment now enables a multitude of commerce capabilities across an ever-growing network of channels and endpoints. Like other platforms in the composable field, commercetools also embraces the MACH principles – providing a truly open, modular environment that enables businesses to quickly embrace innovation and respond to change.  
"We've been partnering with the Frontastic team since the very beginning and see a huge market opportunity for their Composable Frontend Platform around the world," said Dirk Hoerig, CEO, and Co-Founder of commercetools. "With this powerful combination, we're bringing the MACH (Microservices, API, Cloud, and Headless) movement to the mid-market as well as to digital business teams so that more companies can benefit from modern commerce experiences."
commercetools has enjoyed a strong presence in Europe and North America, but their global aspirations are clear. Their expansion will undoubtedly be bolstered by their "Leader" position on Gartner's 2021 Magic Quadrant for Digital Commerce – making this their second consecutive year in this coveted segment.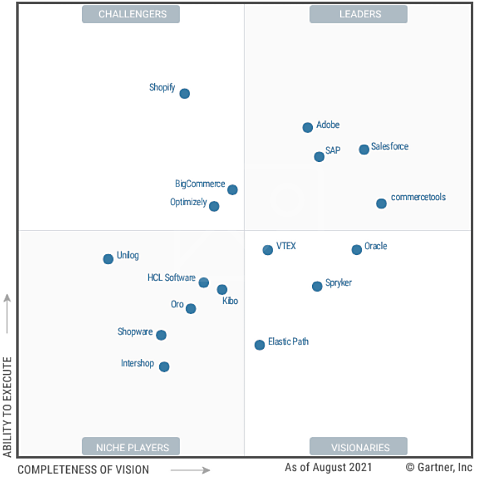 In a previous article, we featured commercetools as one of our Top Headless Commerce Platforms, so be sure to check that out.
What is Frontastic?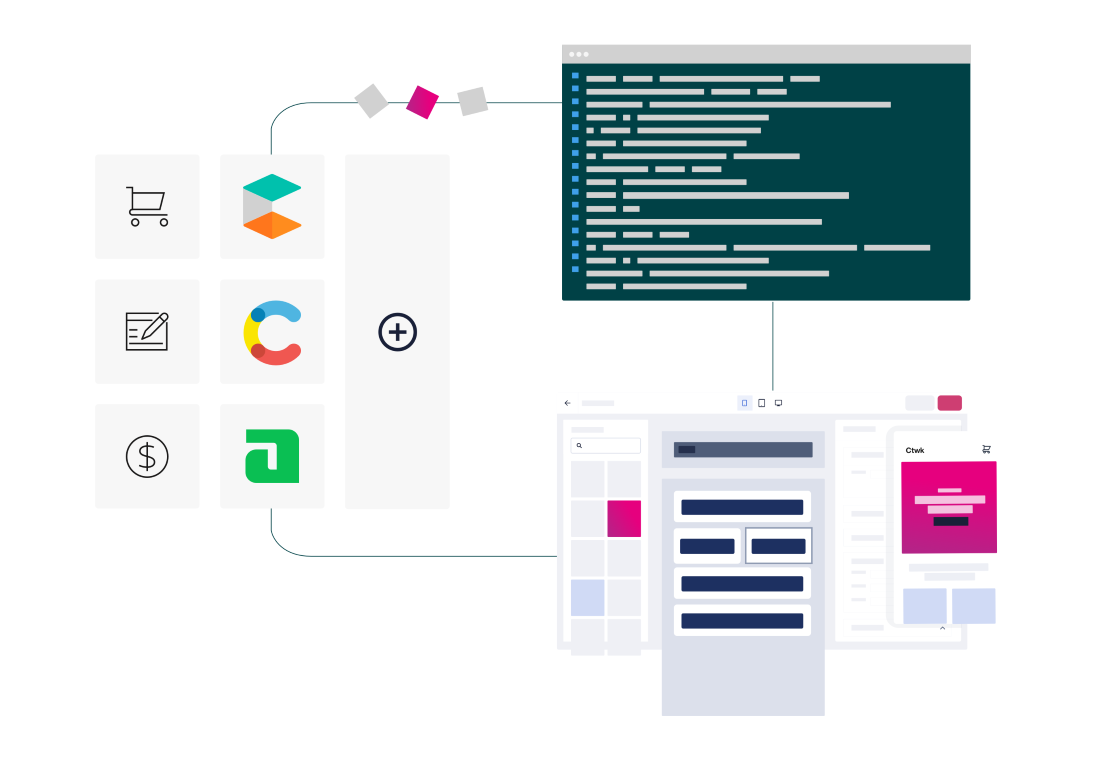 Based in Germany, Frontastic is a composable frontend platform for API-First e-Commerce and headless CMSes. It enables brands to build websites quickly and easily with headless capabilities by removing the complexity for developers – and giving business teams autonomy and flexibility. 
Frontastic combines four tools:
An API hub that includes standard integrations for commerce, content, search, and connectivity to any API.

Developer tooling that includes a CLI to manage components with a built-in workflow to go from development to testing to production.

Frontastic Studio, an easy-to-use interface that enables teams to manage pages, components, navigation, and layouts.

Frontend delivery via a Progressive Web App (PWA) – which provides great performance and an app-like user experience – and server-side rendering that ensures fast delivery and SEO-friendly pages.
While their combined capabilities have yet to be fully explored, the existing partnership between commercetools and Frontastic will likely enable a more efficient time to integration.
"We're excited to become part of the impressive commercetools growth story," said Thomas Gottheil, CEO, and Co-Founder at Frontastic. "We created Frontastic to help enterprises build the best shopping experiences – regardless of which commerce platform they use. By joining forces with commercetools, we can support even more brands on a global scale."
The impact of headless commerce and MACH architecture
As companies accelerated their digital transformation strategies throughout the Covid-19 pandemic, the retail industry – hit hard by the shutdown of brick-and-mortar storefronts – drove the leap to digital commerce. To be sure, many organizations already had an integrated strategy for selling in both physical and online stores. However, in the throes of the pandemic, those online stores became their only channel, and they invested heavily in e-Commerce solutions that could amplify their capabilities and be quickly deployed.
You've probably heard the buzz around MACH and the evolution of composable architectures. If not, let's start with the basics: MACH is an acronym for Microservices-based, API-first, Cloud-native, and Headless. While the MACH architecture is a relatively new concept, it's quickly gaining popularity due to its modular nature – allowing businesses to compose the best tools to meet their exact business requirements and scale their experiences rapidly. 
The headless approach has moved from niche to normal. While the "composable architecture" concept is much newer, it's also becoming more popular as digital transformation enters its next wave. And it makes sense: leading up to Covid, digital stacks were already becoming decoupled and less monolithic, all driven by the rise of the open API. Much of this investment in a composable enterprise is driven by the rise in composable commerce and its impact on the application landscape.
Gartner predicts that by 2023, organizations that embrace composability will outpace the competition by 80% in implementing new product features.
commercetools, which made the exclusive 2021 list of privately held "unicorn companies" worth over $1 billion, has experienced accelerated growth over the past year, with recent customer wins that include Alcon, Debenhams, Direct Wines, Express, LEGO, L.L. Bean, Screwfix, Volkswagen, and Zenni Optical. With the addition of the Frontastic composable frontend technology to the company's product portfolio, commercetools is building a broader set of commerce technology services to support global enterprises – and ultimately reinvent e-Commerce.
About Frontastic
Founded in 2017, Frontastic is a composable frontend platform that unites business and development teams to build amazing commerce sites on headless – fast. It connects to any API to unify tech landscapes and provides the necessary tools so commerce teams can focus on innovating new features. Within a short time, the company has successfully established itself as the new standard for commerce frontends, with its customers seeing up to 50% higher conversion rates and up to 50% faster time to market.
Find out more about Frontastic on www.frontastic.cloud, Twitter, and LinkedIn.