So I'm a big fan of IndieGoGo and Kickstarter. I tend to back interesting projects all the time and one such project was something I thought sounded promising, the CoWatch. I recently received and decided to share my experiences with everyone in this CoWatch Review.
Here's the video that, sadly, convinced me to back this device:
The CoWatch (not cow watch, although that would have been pretty funny) is a device that is powered by Cronologics OS (some kind of weird Android based OS that should have just been called "dumbed down Android"). The watch comes with a metal strap that is difficult to adjust and feels cheap and rough on the skin. It's claim to fame is the integration with Alexa (which is spotty and not at all useful in Canada, where I am located).
According to the CoWatch website:
"When you look at your CoWatch, the intuitive Cronologics Watch-Like UI shows you the information you need to see the most in a traditional but efficient watch-like interface, it even allows quick access to various watch apps right from your fingertips. Pair your CoWatch with your favorite mobile phone and unlock the full flexibility and power of the iMCO Hardware and Chronologics OS. CoWatch is compatible with both your iPhone (iOS v9.0 and above) or Andriod Phone (v5.0 and above)."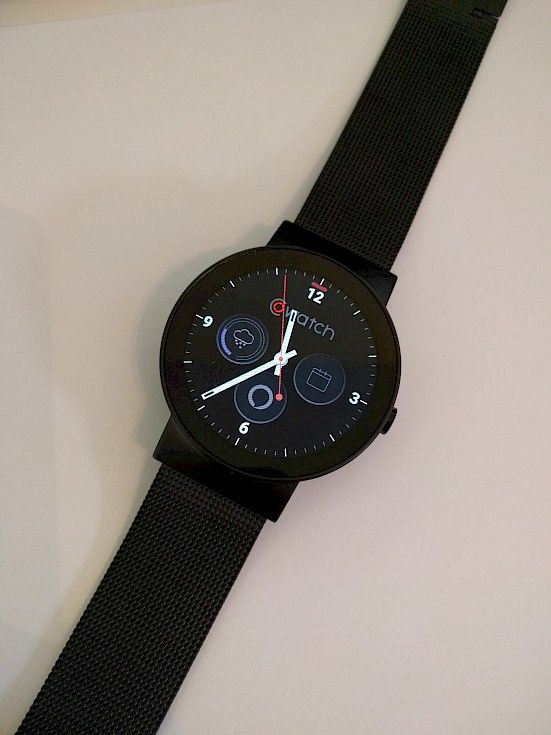 That's pretty funny because when I personally look at what they consider an intuitive interface, I expect to be able to touch the icons and have the watch respond. Unfortunately, that's not how this smartwatch is supposed to work. You have to either push the side button (but not too long or you'll launch Alexa) to enable the screen (which takes far longer than it should to respond) OR you can furiously smack the screen with your finger (should be a double tap but that only works some of the time and only if your double taps are timed JUST right.. hint.. double tap quickly). Oh and also, the screen timeout is super quick so if you wake the screen and don't touch it within a second or two, expect to wake it again as it quickly slips back into sleep mode.
To launch Alexa, as mentioned, you have to long press the side button. Setting up Alexa for the first time was a weird experience, during the set up process of the watch, I was asked in the CoWatch app to setup Alexa, which launched a browser window on my phone and prompted me to authorize CoWatch by signing into Amazon. Why was this weird you ask? Well mostly because I had to do this something like 3-4 times before the notification finally cleared and the watch responded. In fact, I still get these "Setup Alexa" notifications in the CoWatch app randomly and then they disappear as soon as I hit the Setup button even though I've already set it up numerous times.
Ok, I've authorized Alexa and paired the watch with my phone. I should be good to go now right? Nope. Launching the Alexa app will fail and ask you to login (or at least for me it does) because you apparently have no internet connectivity enven though you are paired to your watch. Even if your phone is connected to Wifi, your watch isn't "smart" enough to make use of this, instead it will ask you to enable bluetooth tethering on your phone. Wait.. isn't this thing already connected to your smartphone with bluetooth? Why yes it is but hey, CoWatch forgot to enable internet over bluetooth by default so now you have to enable bluetooth tethering every time you leave the house and suck your watch (and phone) battery dead. Yep, they must have paid their engineers extra for that spectacular "feature". Even when connected , however, Alexa will still fail most of the time because of a processing error. Your watch also isn't smart enough to connect to the same Wifi your phone is connected to, unliked Android and Apple watches, but instead you must manually connect to Wifi directly on the watch. So in a nutshell, the one killer feature of this watch, the Alexa integration, is generally useless unless you are at home or bluetooth tethered and lucky enough to not get a "processing" error. I was told by support that because Alexa is a cloud service, bluetooth tethering and / or Wifi are necessary and while the bluetooth tethering does have an "activate only when needed" option, it ends up making Alexa so slow that even if I could get it to work, it wouldn't be any quicker than simply saying "Ok, Google" and my query.
As mentioned, the key feature of this watch is supposed to be it's integration of Amazon's Alexa, the smart assistant akin to Siri on the Apple Watch. What they don't tell you is that outside of the US (or at least in Canada, I can't speak for the rest of the world) Alexa is pretty useless. So useless in fact that even their support doesn't realize how useless it is. In back and forth emails with support, I was told to "download the Amazon Alexa app and configure Alexa" but in Canada, this app is not available in the Google Play store. I was then told to configure my settings via the web at http://alexa.amazon.com but again, all of the settings only accept US addresses and nothing is available for Canada.
So with the default settings, when I finally did get Alexa to work, I asked for the weather and was given the weather in Seattle. That's great, except I live in Edmonton, Canada, nowhere near Seattle and considering there's nowhere on the watch to set my geography, nor can I use any of the configuration tools to specify Canada, that's not very helpful. I'd have expected Alexa to use the details in my Amazon account to know where I live, but it didn't. To get my local weather I have to specifically request the weather in Edmonton, which then works. From what I have figured out, this is also the issue with the Alexa specifically so not watch specific but still super annoying and something I would have liked to have been told BEFORE backing the watch. When I asked for the news, Alexa replied with "Here's your flash briefing. In NPR news from Tune-in" followed by nothing. Huh, I guess nothing is happening. Anywhere. At all. Good to know. As you can tell, Alexa is immensely useful to me and I use it frequently to reassure myself that the world is at peace and nothing is going on I need to know about.
The watch also has a built in heart rate monitor sensor with a vibro motor. What is a vibro motor? I have no idea nor do I understand why they felt the need to tell us it had one. Also, that heart monitor? It "monitored" my heart for 5 minutes without giving me a reading, it must have sensed my rage or couldn't count how fast it was beating). It's also apparently dust and water resistant and since I almost threw it in the toilet, that's good to know. I'll apparently have to use a hammer if I want to truly rid myself of this device.
Other features of this watch include: Alarm, Alternate Timezone, Calendar, Music Bluetooth Control, Notifications, Step Counter, Stopwatch, Timer, Weather, Speed Dial, and If-This-Then-That (IFTTT) Integration. Some of the apps work fine but the watch disconnects so frequently from my phone that most of the time I just give up and use it instead.
Notifications do come through and I can dismiss them by swiping to the right but I can't reply to emails or texts so it's basically just a notification device. To access notifications, you have to swipe down from the top. They look like this: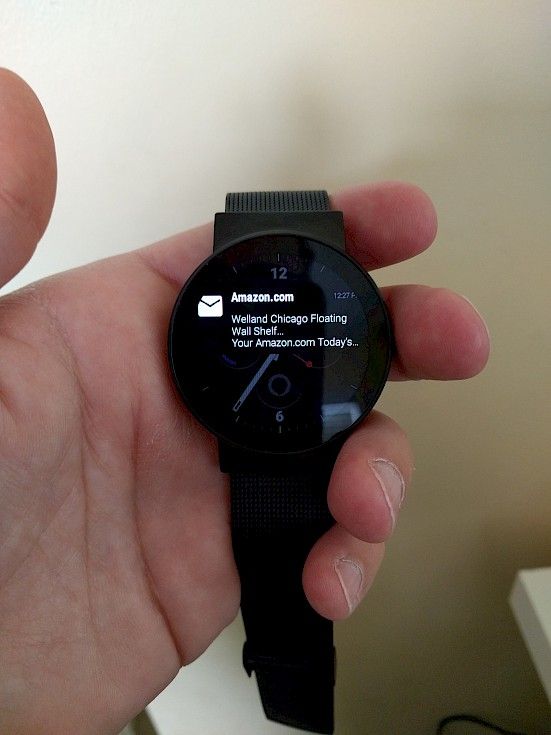 In some emails from Support, I was told that I could enable tilt so that I could view notifications when the watch vibrated simply by tilting my wrist. Even following all of their instructions, this did not work once. Not after a reboot, not after an update, not after a factory reset. Not one time.
There's also a settings menu which you can access from swiping up from the bottom.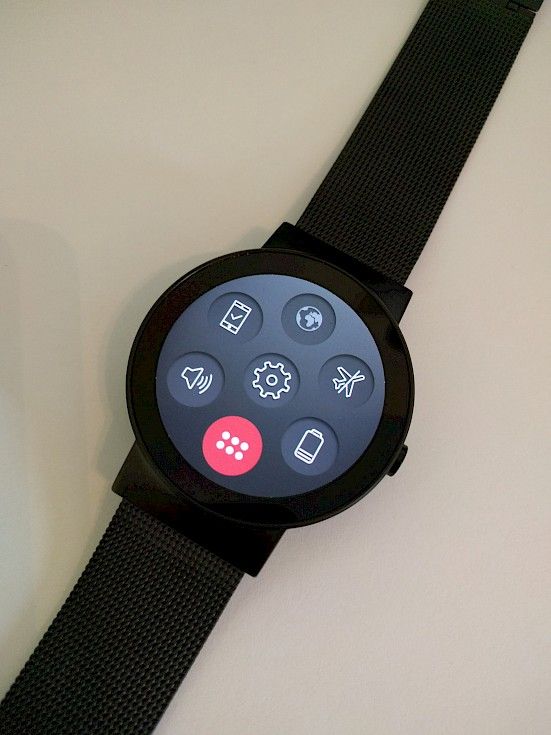 Within it you can access volume, battery level, put the watch in airplane mode (don't worry, most of the time it's not connected to anything anyway, so it's kinda like being in airplane mode permanently and yes, that is sarcasm) as well as settings and connectivity options.
That's about it. If you can't tell (which would be remarkable) I don't like this watch. The band feels scratchy and cheap to the touch, the watch is not very responsive to touch actions, it doesn't stay connected and it doesn't do me much good here in Canada whereas my Android Wear Huawei Watch does. I've gone through a ton of smartwatches since they came out. I've used all of the Pebble Watches, I was one of the first to buy and use an Apple Watch, the Samsung Gear S2 and I've had numerous Android Wear watches. My current favourite is the Huawei Watch which absolutely is night and day the best thing on the market. This watch, not so much.
Since I am clearly not a fan, I've decided to give it away to one of you. If you've made it this far and think this watch might be useful for you, then please leave a comment below letting me know why you should win it. I'll pick one (un)lucky winner at random and ship this feat of modern technology your way. I take no responsibility, however, for the watch or it's poor performance NOR do I know if it has a warranty of any kind since I'm now giving it away. Once it leaves here and gets to you, it's your problem. I will send it in the original box, undamaged and with the original stuff and charger. Again, don't complain if you hate it. I couldn't have warned you more if I tried.
*As a quick side note and in fairness to CoWatch, they did work hard to try to help me get this watch working but that doesn't excuse the issues. While I do appreciate their support and consider it very good and responsive, you can't fix the unfixable so sadly, none of my issues could be resolved.