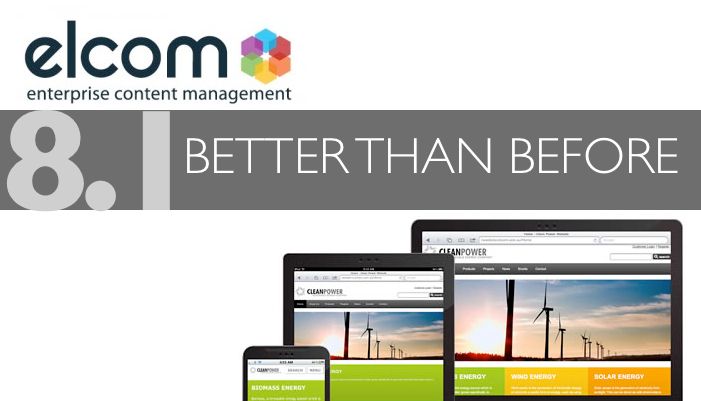 Elcom just announced the release of ElcomCMS 8.1, the latest version of their .NET enterprise web CMS. ElcomCMS is the Australia-based company's core product. In June of 2012, they launched version 8.0. This latest upgrade contains features that help users meet accessibility requirements, collaborate on projects, organize and protect content, and improve social capabilities.
Elcom is a powerful CMS platform that targets the needs of mid-enterprise organizations. As an enterprise-level solution, it's far more than just a web CMS. It also assists companies in the development and management of intranets, portals, eCommerce, learning management, and online marketing.
What's New in ElcomCMS 8.1?
WCAG 2.0 Level AA compliance
Perhaps the greatest benefit of the new version is that it allows organizations to better achieve WCAG regulatory requirements. ElcomCMS has many Australian clients. The Australian government recently mandated that all agencies must update government websites to acheieve level AA conformance by December 2014. ElcomCMS 8.1 offers as-you-type accessibility features and improved reporting functionality, making it easier for companies to meet the new regulations.
New Task Manager
The Task Manager Module is the core of ElcomCMS. Users can set deadlines, assign jobs, keep up with tasks, and better acheive progress from this centralized module.
Compare Versions Feature
Collaboration takes a big step forward in 8.1. For this reason, "compare versions" features is a great improvement. Users can view two versions at once, and see all highlighted changes at a glance.
Dynamic Widget Library
Dynamic widgets allows users to aggregate content feeds on their sites. Users can easily create news feeds, article feeds, document lists, image galleries, and asset libraries. The Dynamic Widget Library allows administrators to view all dynamic widgets that are used on a site, and modify their settings.
Taxonomy Management
ElcomCMS is a great tool for businesses that need high levels of content organization and structure. Taxonomy Management gets an upgrade with tag, edit, and reuse features.
Improved Social Capability
As social gains importance in CMSs, Elcom has stepped up the game. Version 8.1 improves upon the already-powerful social capabilities of version 8, and 7.5.
Overall, ElcomCMS 8.1 provides a greater degree of collaboration, compliance, and other features that will help organizations already using the product and attract more potential customers. To find out more about Elcom, visit www.elcomCMS.com.
View the official press release for ElcomCMS 8.1.
Register for a webinar walkthrough of the new version, hosted by Elcom.
The following video provides an overview of Elcom.
[youtube https://www.youtube.com/watch?v=AUNqeBLrjmc]