Commercial content management systems need to offer simplicity by default, but without leaving out technical options to help organizations customize and evolve over time. Envisage does a pretty good job on both those fronts.
Envisage are a UK based CMS, offering their commercial platform as on-premise, with easy and flexible editing in mind.
Their offering of a real-time WYSIWYG editor keeps things straightforward for those who need it, whilst full source code editing, multi-device previews, template creation and more, all provide technical users with the tools they need to go forth and create.
Real-time & Responsive WYSIWYG Editing
With a user friendly real-time WYSIWYG editor, even those with limited knowledge of web design can start implementing their ideas into web pages.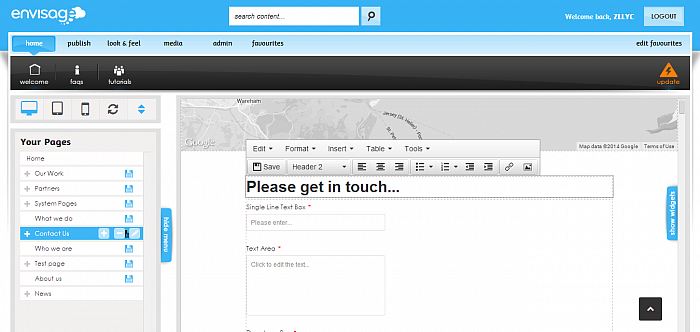 But the Envisage WYSIWYG editor also goes a step further. Thanks to Envisage mobile, you can always be on hand to approve new content, create new pages and insert new content right from the screen of your mobile device.
Furthermore, to ensure editing is done correctly and to the highest standard, Ensivage enables you to preview your website in three different formats; Desktop, Tablet and Smartphone.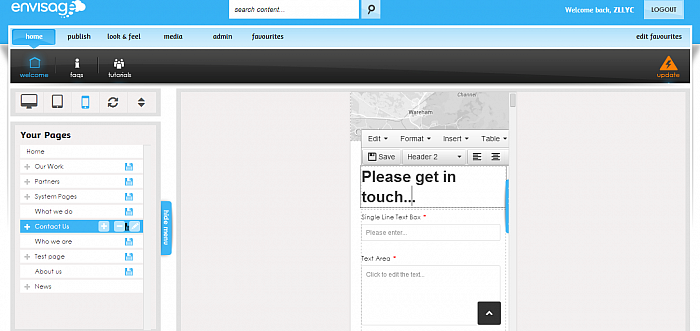 This intelligent multi-device preview option ensures that your content doesn't just look good on desktops,whilst lacking in quality on mobile devices. It enables you to tweak the design via the different mobile views in order to perfect it on all channels.
And yet, you never have to leave the comfort of the Envisage WYSIWYG editor.
Purpose Built Apps, Widgets & More
As impressive as the real-time and responsive editing options are, Envisage CMS goes even beyond that in terms of flexibility.
Built-in Envisage Apps make general use of the platform extremely dynamic. These include a feature-filled form builder, integrated Google Analytics, and more. Also, Envisage mobile, an app which I have already discussed, enables editing from any device on the move.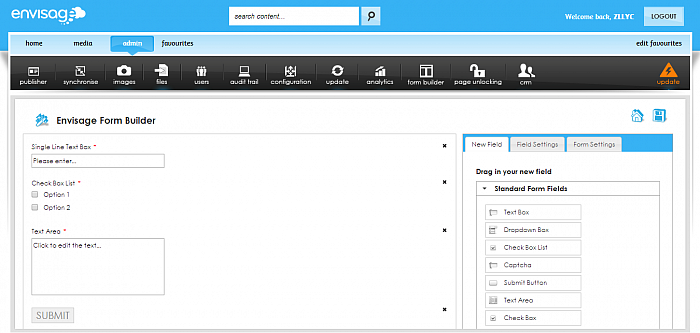 Envisage Widgets – which are all free for Envisage users, enable you to integrate elements like Google Maps, Vimeo, Twitter feeds, social buttons and much more into web pages, with a simple drag-and-drop function.
But Envisage doesn't stop there.
Their platform is highly compatible with search engines, and offers detailed search engine optimization configurations, including keywords and page descriptions, alt text and descriptions for images, links and so forth.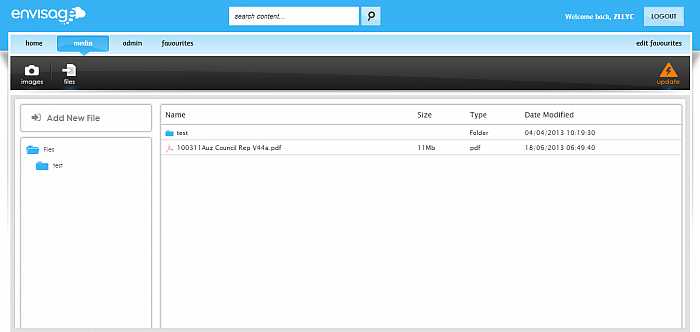 File management is also a key feature, with users being able to upload and manage web assets. Yet more drag-and-drop functionality makes it easy to add new files and folders, whilst folder management, search and categorisation ensures that your organization will never lose a file, or need to re-upload an image ever again.
To find out more about Envisage CMS, check out their official website, where a free online demo can be accessed.
Additionally, you can check out Envisage via our CMS Directory.