Fresh off the acquisition of Optimizely last September, Episerver – a leading content management and digital experience platform – has announced that it will rebrand its entire organization under the Optimizely name.
Episerver's move follows a string of jaw-dropping news from the top of the CMS and DXP industry. In the last two weeks alone, Sitecore announced that it had secured $1.2 billion in capital investment aimed at accelerating their growth and innovation. Just a few days later, Acquia introduced its Acquia Digital Commerce platform, the latest in a line of new products and partnerships that are driving their market expansion.
As a leader on the Gartner Magic Quadrant for Digital Experience Platforms, Episerver is already well-positioned within the DXP landscape. However, the acquisition of Optimizely has launched a new direction for the company, elevating "Optimization as a Service" to the forefront of their product and service stack.
While it's not uncommon for companies to change their name after a merger or acquisition, this is a bold move for Episerver. By adopting the Optimizely brand, they are changing the narrative and focusing on web targeting, testing, and recommendations to help power – and optimize – the customer experience.
The reason behind Episerver's decision
Episerver's roots date back to 1994. What began as web-based electronic mail system has evolved into a connected, multi-faceted platform that includes CMS, Commerce, and DXP. Over the years, they have acquired multiple technologies in an effort to expand their ecosystem and enhance the value of their offerings. This includes Peerius in 2016, a UK-based commerce personalization company, and most recently Optimizely.
Episerver has certainly established its brand on a global stage, competing with the likes of Adobe, Acquia, and Sitecore. But with such a long and storied rise to market leadership, why change their name?
In a statement from the company, Episerver says that it conducted thorough research with customers, partners, and industry leaders to gauge their overall brand perception. This led to the decision to adopt the Optimizely brand, which aligned more intently with their vision.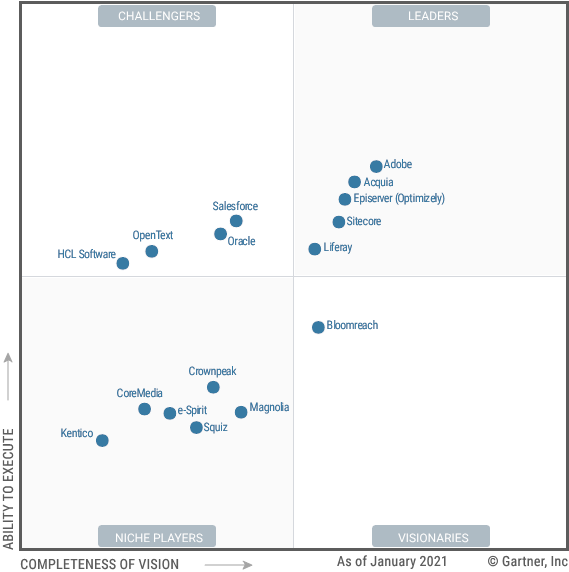 Positioning for greater competition
While Gartner's Magic Quadrant for DXPs remains relatively trim, the crowd has thickened in 2020. With players like Salesforce and SAP entering the fray by offering more complete solutions, traditional CMS platforms are struggling to find footing and compete at the enterprise level.
While the move away from monolithic services to custom stacks is still the general trend, leading brands and organizations are in pursuit of personalization – and hungry for real solutions. As CRM platforms like Salesforce and Hubspot bring CMS into their portfolios, stalwarts like Episerver are facing increased pressure to expand their capabilities in new directions.
The Optimizely acquisition gives Episerver an edge in the personalization category, allowing them to deliver on the promise of a truly complete digital experience platform for testing and optimization. This is reinforced by their concept of Optimization-as-a-Service, which combines the best attributes of targeting, testing, and recommendations from both Optimizely Web and Episerver Content Recommendations.
"We believe that every experience can and should be optimized," says Alex Atzberger, CEO of Episerver. "We all know the real work only starts when the site or digital experience goes live. Optimizely's name captures this ambition."
What does the change mean for Episerver?
The new Optimizely aims to deliver the most modern digital experience platform with headless CMS and commerce, experimentation, AI-driven recommendations, and many other market-leading digital experience components. As part of their mission, they endeavor to remove the "guesswork" and "gut decisions" from optimization, replacing it with data-driven insights.
"Digital experience is a journey without a finish line," says Atzberger. "Ultimately, our customers want to innovate and use data to confidentially create and optimize every customer experience based on actual outcomes. The Optimizely brand very much galvanizes this vision and uniquely positions us to define the future of the DXP market."
Bringing together robust capabilities for data, content, commerce, and optimization, Optimizely empowers brands to unlock behavior-based decision-making, confident creation, and outsized outcomes. Optimizely now offers an even more robust combination of user and site-level data, tied with omnichannel experimentation insights – giving marketers, merchandisers, and developers the advanced analytics they need to understand what is happening in each experience as well as how to continually optimize it.
"We're pleased to see Episerver make the shift to become known as Optimizely, elevating an already well-known brand with a benefit to create, connect and optimize the customer experience across a growing number of digital channels. This move represents a differentiator for the company in the digital experience market," said Marci Maddox, Research Director, Digital Experience Strategies, IDC. "The value optimization brings to the digital experience is often underestimated, and the new Optimizely brand gives the company an opportunity to marry creative personalization with data-driven optimization techniques. The digital experience services market is evolving quickly, and there is a significant opportunity for Optimizely to be a leader in the space with its data-driven approach to optimizing every experience along the customer journey."
In 2020, Episerver and Optimizely recorded double-digit revenue growth, supporting go-lives for more than 250 customer including Microsoft, Atlassian, KLM, and the Wall Street Journal. The fourth quarter marked accelerated growth for both companies and their DXP offerings in particular, with Optimizely B2B Commerce Cloud and Content Cloud seeing more than 20% growth. The new Optimizely plans to hire 40+ new employees per month through the first half of 2021 to fuel their continued growth.
What's next for Optimizely and the DXP Industry
There's no question about it: change and consolidation are rampant in the upper echelon of the CMS and DXP marketplace. In an increasingly digital world that's been forced to transform throughout the Covid-19 pandemic, opportunities are abundant – but competition is fierce. The winners will be able to offer more completeness of vision, not just single products or solutions. This is where Episerver and Optimizely have excelled and will continue to do so as a combined force.
While Episerver has strong awareness and a solid heritage, adopting the Optimizely name might be one of their smartest moves yet. It's still a slick, up-and-coming brand that's certain to give the aging CMS a shot in the arm – and allow them to shape the future of the digital customer experience.
About Optimizely (Episerver)
Optimizely (Episerver) is on a mission to help people unlock their digital potential. With their leading digital experience platform (DXP), they equip teams with the tools and insights they need to create and optimize in new and novel ways. Now, companies can operate with data-driven confidence to create hyper-personalized experiences. Building sophisticated solutions has never been simpler. Optimizely's 900+ partners and 1100+ employees in offices around the globe are proud to help more than 9,000 brands, including Toyota, Santander, eBay, KLM, and Mazda, enrich their customer lifetime value, increase revenue and grow their brands.