Flazio is an Italian website builder created by Sicilian brother and sister team, Elisa and Flavio Fazio. Flazio (a portmanteau of Flavio and their last name Fazio) is one of many DIY website builders on the market at the moment.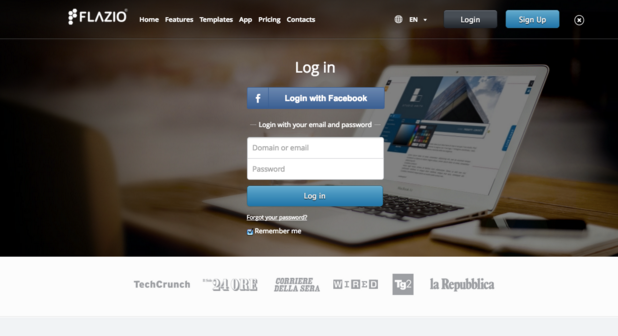 At first glance, Flazio have certainly set themselves an uphill battle. After all, in a market dominated by the likes of Squarespace and Wix, how is a small site set up in southern Italy going to compete?
I decided to check it out and see what Flazio has to offer.
Getting Started
Getting set up with Flazio is remarkably simple. The process takes just a few clicks and everything is crystal clear from the outset.
Everyone can sign up for free initially and the only information Flazio asks you to insert is your email and your chosen Flazio password. And that's it.
From there, you go directly to a website template page – where you'll find a selection of templates organized into various categories according to business type.
Whether you need a portfolio or a site for real estate, all you have to do is scroll and select.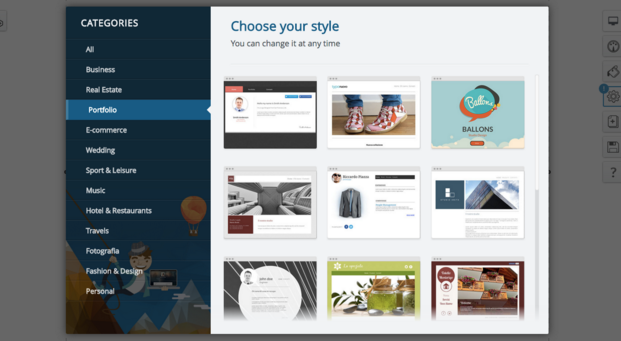 Once you've selected your theme (which you can easily change later) Flazio really kicks it up a notch with their excellent social media integration feature. Simply add your site title and description to start adding your content from Facebook, Google+, and LinkedIn.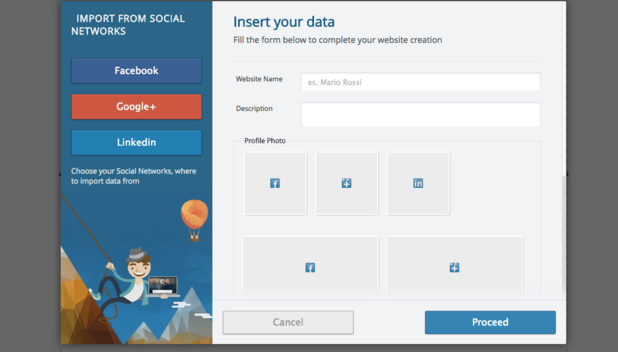 This feature is completely seamless and integrates with their templates perfectly. Flazio offers a beginner-friendly import feature, which allows users to pull entire swathes of photos, text content or video from their social media profiles with just one click.
Once you've completed this step, which is completely optional, you are taken to their powerful WYSIWYG editor where you can drag and drop dozens of elements into your chosen site template.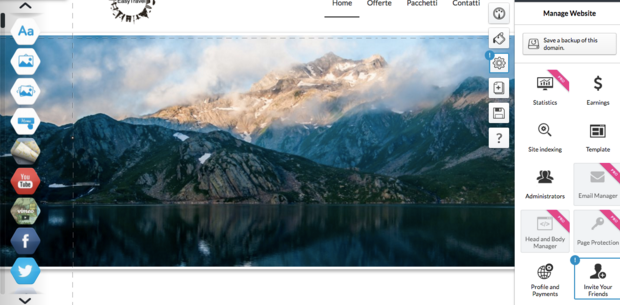 I was really keen to really give this part of the site a good shakedown, as this is normally where DIY sites like this excel or fail miserably.
Flazio passed with flying colours. The interface is smooth, intuitive, and easy to navigate. Unlike a lot of other CMS in this genre, they have made sure to keep the widgets/site elements in front of you at all times (on the left of the screen); if you want to insert a text box, you can just scroll down through the list and drop it in. Adding Facebook and Twitter 'like' buttons and boxes is just as easy and the interface is completely lag-free.
All of the site settings are arranged in logical fashion to the right of the screen, and everything is arranged in a way that shows you what is available for free users and what is premium.
This is a very easy site to get set-up and working on.
Ease of Use
DIY sites can often be difficult to navigate and even more difficult to use, but the Flazio team have skillfully avoided these pitfalls by focusing on the important stuff.
With Flazio, you can go from signing up to editing your site in less than 2 minutes flat. The site itself has a very gradual learning curve and you're unlikely to have any difficulties with it – whether you're a novice or a website building pro.
Design
The very first thing you notice about Flazio is how nicely designed it is. From the log-in buttons to the main interface, everything is presented in a visually pleasing and ergonomic fashion.
The WYSIWYG editor is cleanly put together and is extremely user-friendly. Although, that doesn't mean it's basic or derivative – quite the opposite – it's just very nicely set up to prevent any user confusion.
Front-end elements are to the left, back-end elements are to the right, and every element you see on your page can be moved to wherever you want it. You can also right click on some elements to lock them in place, bring them forward, or copy and paste.
If it falls down anywhere, it's that some of the WYSIWYG elements of the editor (like adding pages, or the menu) are still in Italian, so that might confuse some users. Everything is well laid out, though, and it's pretty obvious what's what.
Another thing worth mentioning is that some of the themes are presented in full English and some aren't; so looks a little messy at the moment.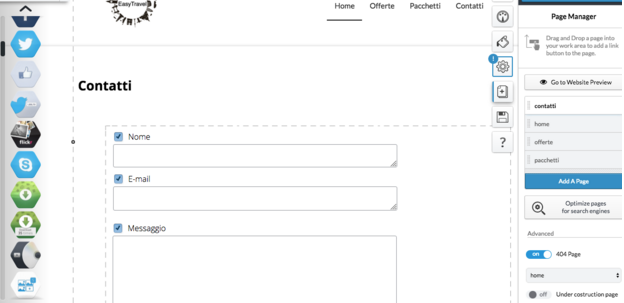 Features
Flazio really doesn't skimp out when it comes to features, but the social media integration is the standout feature for me. The site allows you to import all your content from Google+, Facebook or LinkedIn, so users can transfer all their business content over from a business Facebook page or their LinkedIn profile. It's a hugely powerful feature that will be standard practice everywhere in a few years.
Web Elements & Widgets
Flazio has an impressive list of web elements and apps. You can insert whatever you like – Skype, Twitter, Facebook, LinkedIn, Google Maps, Spotify, web icons, weather apps, Pinterest, raw HTML script – you name it, it has almost everything you could ask for.
All the apps, web elements, and widgets are easily added and completely customizable.
Themes & Templates
The site has a large selection of themes that are all mobile responsive as standard. The themes are all varied and have a sense of individuality that can be lacking in sites like this.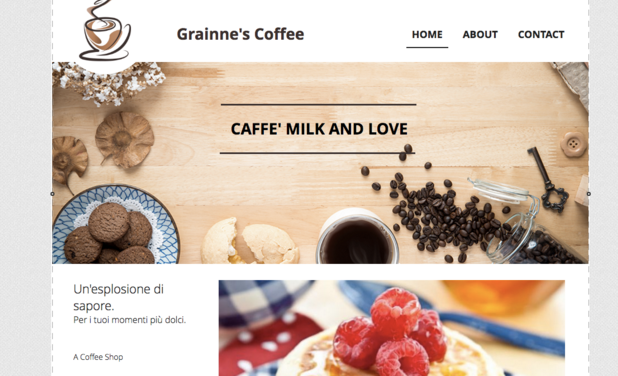 All of the sites come with preinstalled stock photos, which I thought was a nice touch.
Each theme offers a 404 Page or Under Construction element which can be enabled by simply pressing a button on the 'Pages' section.
eCommerce
The eCommerce section is excellent and is packed with features. Flazio accept all credit cards, have a really great shopping cart, secure all payments, and allow you to monitor all sales. This feature is only available to premium members but it's definitely worth the price.
Blogging
If you want to blog Flazio, it can be a little tricky. Some templates offer a blogging section and some don't, so you'll need a premium subscription to ensure that you'll have blogging functionality. It's a pretty good blogging platform with a good range of standard features; nothing hugely impressive, but nothing substandard either.
Customer Service
Flazio provide great customer support options and will offer to call you directly to go through any issues. They have a comprehensive FAQ section and a range of handy video guides. However, some of the FAQ are in Italian, which clearly isn't ideal for the English speaking user.
Pricing
There are 2 pricing options including the Free basic plan or the Premium option at €9 a month (or €99 a year). To be honest, while the Free option is perfectly fine – it has two major drawbacks.
The URL layout is pretty ugly and practically unusable in a professional setting. Here's the one that was generated for my test site – http://www.user-info_1358021757.flazio.com. Can you imagine that on a business card? I can't.
Their free sites also have an irritating 'Like this site? You can make your own here' button that floats in the corner of the site. You can close it (as a user) but it makes it very clear that you're using a free site. It also doesn't offer an eCommerce option.
You get a lot of good features on the free site (including the ability to get paid via their ad revenue service) but the URL structure and intrusive ads make it a difficult to recommend for a professional service.
That being said, their Premium option is fantastic value.
For €9 a month (or €99 for the year), you get all of their premium services like eCommerce, blogging, web stats, SEO, a custom .com domain, 5gb of email, unlimited server storage, and a lot more. It's everything you could possibly ask for. They only offer a .com domain, which may be an issue for some business users, but that's the only real fly in the ointment here.
This is a really good, affordable price and it renders the free version pointless to anyone who's serious about creating a professional looking site.
Overall
If you can get over the little bits of random Italian sprinkled here and there, then Flazio is the DIY web builder for you – as long as you pay.
The Free service is perfectly fine but it falls down when it comes to the unusable URL structure, the lack of eCommerce options, and the Flazio ads on the site.
The Premium service is as good as any website building service on the market and stacks up well with the likes of Squarespace, Weebly and Wix – it's that good. And for €99 a year, it's very competitively priced.
Flazio's strong range of apps, web elements, excellent editor, custom domains, wide range of visually interesting themes, and sophisticated design make it a top of the range option for any business looking to get online.
Pros
Excellent and intuitive WYSIWYG editor

Great range of responsive-ready templates

Great value on the pro package and a very simple pay structure

Powerful eCommerce options

Ability to make money via advertising
Cons
Free site URL structure is unpleasant to look at

Some site content is listed in Italian by default, which might confuse some users

No stats, eCommerce, or blogging on free version