Ghost, the newest and most exciting blogging platform, has just released version 0.5.
Launched in late 2013, Ghost has taken the blogging world by storm, offering users a hosted and self-hosted option with a remarkably straightforward, yet progressive user interface. In fact, questions have even been raised in relation to WordPress vs Ghost. But that's a discussion for another day.
In any case, this new Ghost release, Codenamed MSR1, brings about a huge host of changes. Labelled as, "a massive technical progression", Ghost 0.5 represents a total of 616 commits across 471 issues from 61 contributors across the globe. Let's take a look at the highlights.
Tweaks and Changes, Big and Small
First up, Ghost now has multi-user support.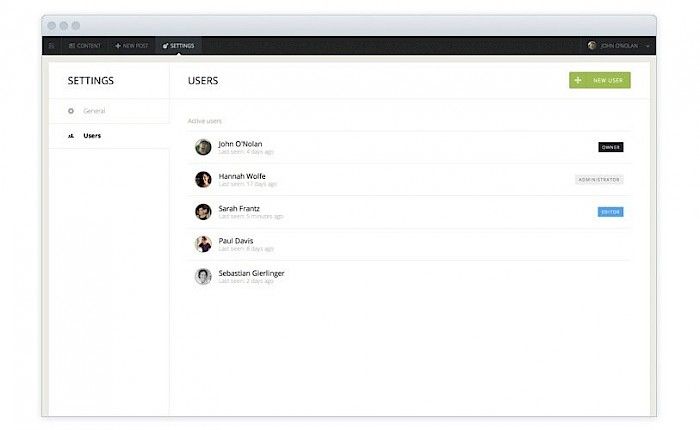 This means that multiple Authors, Editors, and Administrators can work together on the same blog, making life a lot easier for companies, communities and all kinds of collaborative projects.
Furthermore, Ghost has become the first and only open-source publishing platform to build a public JSON API. What does this mean? Well, Just like Twitter and Pinterest have an API which developers can build apps on top of, Ghost now has the same power. Now, iOS, Android, Desktop and even Web Apps can all be built on top of any Ghost blog.
The Ghost default theme has also enjoyed massive update with beautiful new user profile pages, full-bleed homepage cover images, restructured navigation, improved mobile styles, and a massive improvement to typography.
Also, thanks to a Ember.js conversion and a re-writing of the admin area, the Ghost team is now able to start building user-interface components which look and feel like what you might expect from a desktop (or mobile) operating system.
Here's some more of what Ghost 0.5 brings to the table:
Privacy.md  – Ghost has a new Open Source initiative called Privacy.md. They now ship a text file with a plain English description of every feature within the software which might affect user Privacy.
New Install Screen  – A refined UI when installing a new Ghost blog.
OAuth Support  – for extensible, secure authentication with less hassle.
Auto-GZip  – Theme assets are now automatically GZipped in production environments. This makes Ghost blogs load faster.
Improved Keyboard Shortcuts  – New navigational shortcuts and international (non-English) keyboard support.
Mobile Improvements  – Better support on touch based devices.
HTML Emails  – All system emails now sent in a beautiful HTML email template (with plaintext fallback).
And that's not all, either. For a full list of changes, check out the Ghost 0.5 changelog .
New, Faster Release Cycle Announced
Ghost has that, "Screw it, I'll do it my way" swagger to it, and this bit of side-news is a prime example of it.
Instead of following the normal route of releasing 2-3 major updates a year, Ghost have decided to do things differently.
From here on out, Ghost users can expect to see new features, improvements and bug-fixes every 2-3 weeks. Not only is that different, but it's also majorly impressive.
Ghost Pro users will get these updates automatically, without needing to lift a finger. However, users running Ghost on their own server might feel tentative about this announcement. Although they can update whenever they like, new updating each month to gain the latest features might get a little time consuming.
Personally, I'm looking forward to seeing Ghost become more organic with it's new plan of constant self-improvement. It will certainly be interesting to see how well it works out, and f other follow suit.
For more information on Ghost 0.5, or to download it, check out the official announcement.
To get started with your very own hosted or self-hosted Ghost blog, visit the Ghost website.