Hyland, an enterprise content management (ECM) and process management provider, has signed an agreement providing for exclusive negotiations to acquire Nuxeo – a content services and digital asset management (DAM) platform.
A leading ECM provider, Hyland is best known for its Onbase and Perceptive content management products, which securely centralize enterprise content and deliver relevant information to users across a wide variety of industries – including healthcare, finance, insurance, higher education, and manufacturing.
Nuxeo offers a cloud-native, open-source, low-code platform with content services and DAM capabilities, among others.
"We've innovated an entirely modern platform that provides both enterprise-class content services and digital asset management capabilities," said Eric Barroca, CEO of Nuxeo. "And we look forward to bringing these capabilities to the Hyland portfolio as well as leveraging Hyland's considerable global resources to deliver even greater success to our customers and partners."
A Leader on the Gartner Magic Quadrant for Content Services Platforms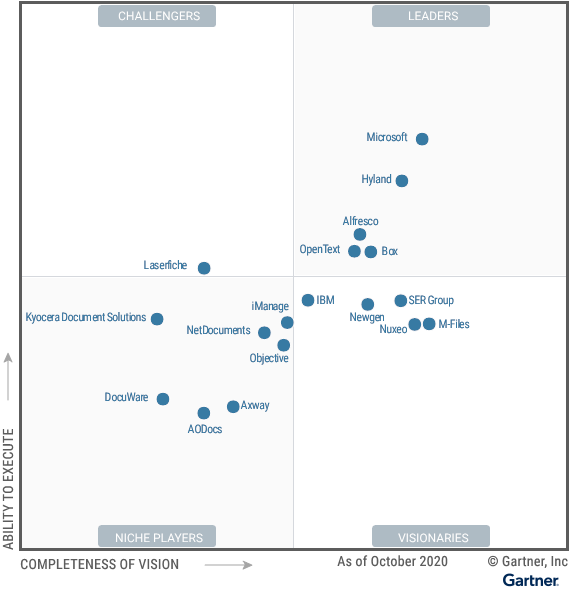 Hyland has been a consistent force in the ECM and content services landscape, commanding the second-place position in the Leader Quadrant of Gartner's 2020 Magic Quadrant for Content Services Platforms.
While Hyland has been trailing right behind Microsoft's 365 platform (fueled primarily by Sharepoint), they were also being followed closely by Alfresco, a fast-growing open-source content services platform that was gaining ground in the market but still viewed as a somewhat niche solution by large enterprises.
Following suit with many other CMS and DXP platforms in the last year, Hyland acquired Alfresco in 2020, eliminating their next closest competitor and changing the game in the leadership grid.
While buying a competitor is far from novel, Alfresco's low-code tools – combined with its ability to integrate artificial intelligence (AI) and machine learning (ML) services from cloud providers like AWS – were likely key factors in Hyland's decision, enabling them to accelerate their modernization efforts.
Adding Nuxeo's low-code AI service and DAM capabilities
With the Nuxeo acquisition, Hyland is consuming another competitor – this time from the Visionary quadrant of Gartner's MQ for Content Services Platforms.
Nuxeo brings some unique assets to Hyland that may translate into significant advantages against Microsoft and Sharepoint. First, it gains Nuxeo Insight – an AI offering that enables customers to use their own data and content to train custom ML models for a variety of business applications. This includes enriching content with metadata, classifying people, products and records, automating forms processing, and more.
The critical advantage with Nuxeo Insight is that it generates ML models that are trained with a customer's own data – rendering them far more accurate and insightful than typical AI services offered through public clouds (like AWS).
Nuxeo is also known for its strong enterprise DAM capabilities, which provide out-of-the-box solutions for enterprises. Additionally, its large-scale repository – which includes NoSQL and distributed file system options – provides storage and scalability support for organizations with a large number of documents.
In fact, last year, Nuxeo proved its scalability performance with an 11-billion-object benchmark test on AWS.
What does the Nuxeo acquisition mean for Hyland?
Considering some of Hyland's core industry verticals – specifically finance – Nuxeo may be well worth the investment. Along with its cloud-native, low-code solutions, Nuxeo's open source community and AI-driven capabilities address key gaps in Hyland's modernization strategy, and will likely be a source of continued product innovation.
The transaction is expected to close in April 2021. Until that time, both companies will continue to operate as two companies. Upon transaction close, Nuxeo's business will be integrated into Hyland.
About Nuxeo
Nuxeo, the developer of the leading Content Services Platform, is reinventing enterprise content management (ECM) and digital asset management (DAM). Nuxeo makes it easy to build smart content applications that enhance customer experiences, improve decision making, and accelerate products to market. Its cloud-native, low-code platform has been deployed by large enterprises worldwide. Customers like Electronic Arts, TBWA, ABN AMRO, and CVS have used Nuxeo's technology to transform the way they do business. Founded in 2000, the company is based in New York with offices across the United States, Europe, and Asia. Learn more at www.nuxeo.com.
About Hyland
Hyland is an enterprise content management (ECM) software platform, combining integrated document management, business process management, and records management in a single application. Hyland software allows organizations to manage, control, and share digital content with employees, business partners, customers, and other constituencies. Learn more at www.hyland.com