Igloo is an intranet you'll actually like ― according to its website anyway.
Companies and projects of all sizes need somewhere to keep all ideas, events and members organized. A place for everybody to congregate and collaborate digitally.
Usually, such software comes in the form of a fully featured professional intranet, like Igloo.


Igloo is a cloud-based intranet and extranet solution designed to promote communication and collaboration between colleagues and/or clients. It boasts a slew of apps and widgets, is compatible with MS Office, and can integrate with both Salesforce and Sharepoint.
Now without any further ado, let's find out if Igloo really is an intranet that you'll actually like.
Here's a short video to get started with.
Initial Thoughts
If you are familiar with my reviews, you'll know that I start my journey as any customer or client would; with the vendor's website.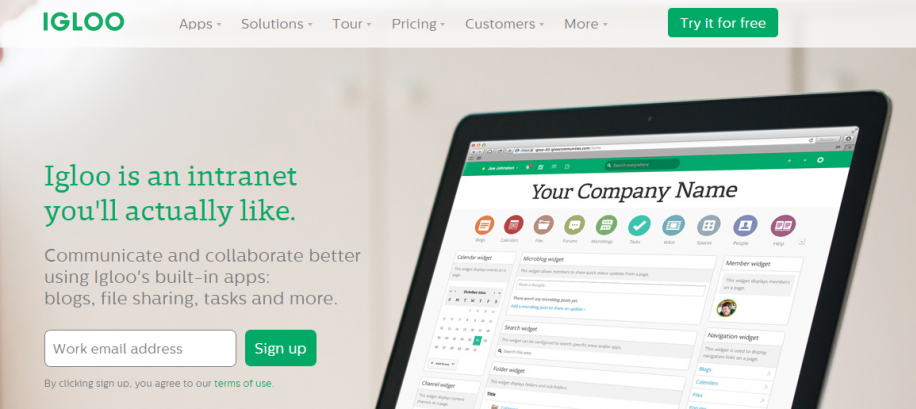 Igloo's website is pleasant, but doesn't do an amazing job at getting its message across.
The front page is easy on the eyes for sure, but apart from the video half-way down the homepage, there's little that actually tells you what Igloo does, or how it does it.
Clicking "Tour" on the menu didn't make matters much better. There were more videos waiting for me, and although I'm a big fan of video content for when it comes to explaining softwares, I don't see them as a substitute for good old short, simple core feature descriptions.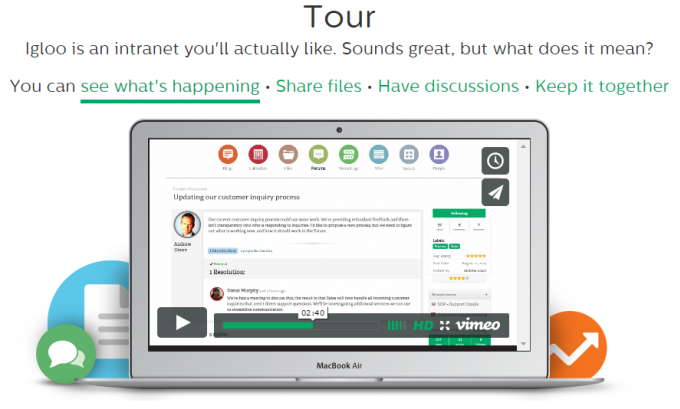 Igloo's website just wasn't drawing me in. I didn't feel like the software was going to be simple to use, simply because their website wasn't telling (or showing) me so.
Getting Started
Igloo comes free, so it's easy to get your hands on the platform before taking out your wallet. However, the free version will only get you 10 users, 3 team spaces, and 10 GB of storage.
To get myself started, I entered my email and signed up on the Igloo homepage. After that, I only needed to divulge my name and country of residence before clicking "Get Started".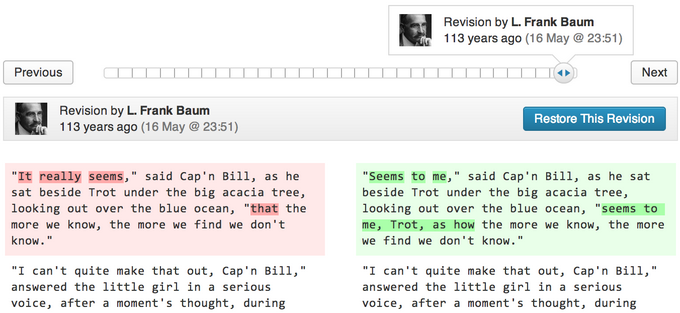 Igloo then welcomed me to their platform by instructing me to wait for an email. There was an introductory video to give me a taste of what was to come, but the potential 30 minute wait for an email seemed far too long for me.
In the end it didn't take quite 30 minutes, but I still had to wait longer than I would normally expect for an email to arrive.
But in any case, with the email now in my inbox, I was ready to dive in to my Igloo via the link they sent me.
When I got to my Igloo's homepage, a default logo stood adjacent to a menu containing; News, Files, Events, Policies and Staff. It was nice to have a foundation ready to build on.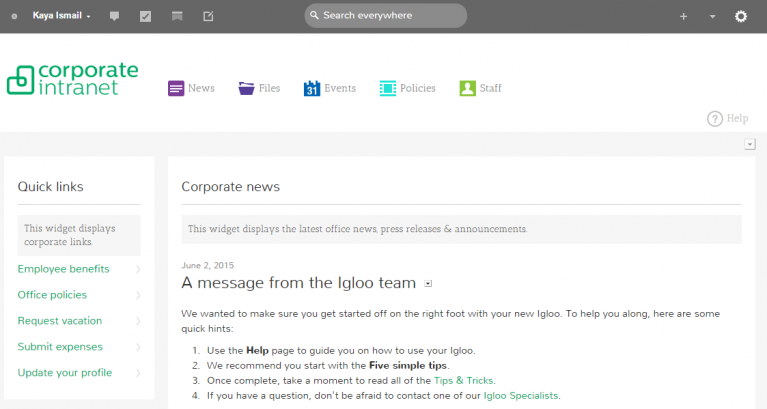 Further down, a sidebar offered "Quick Links" to different default pages as well as an avenue into my profile where I could update my information.
A calendar widget was also active, as was a welcoming message from Igloo on my new activity feed, prompting me to visit the help page in needed, and also to check out some of their tips and tricks for getting started.
I was more interested in feeling my way around, though.
The top menu bar gave my access to different sections of Igloo which would help keep me and my team organised. This includes areas like To-dos, messages, bookmarks, subscriptions, communities and more.


I was also able to set my status between online, offline, away and busy.
The real action though, was the small + button on the right side of the top menu bar. Here, as an administrator, I was able to quickly add pages, blog posts, calendar events, wiki articles, files and more.

This little + button was essentially the command center. One can only wonder as to why the + itself is so small and therefore so easily missed. A minor issue for sure, but one worth rectifying anyway.
Managing Pages & Spaces
To hone your Igloo, you'll need to spend time managing the front page, and all the other spaces within your intranet or extranet. Here's some insight into that management experience.
To modify existing pages, you need to click on a small arrow on the right-hand side of the page. It's a very, very small arrow. A drop-down menu then appears with a few options to choose from.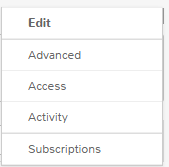 The "Edit" option is the one I'll be focusing on now, and I'll touch on the rest of the options later in the review.
Clicking Edit brings up a neat set of Igloo's widgets. Blogs, forums, wikis, polls, RSS feeds, slideshows and more widgets make up the library.
All I needed to do was drag and drop whichever app I wanted into place. I was also able to re-arrange the entire page via drag-and-drop interface. It was fluid and satisfying to use, just like any good drag-and-drop system should be.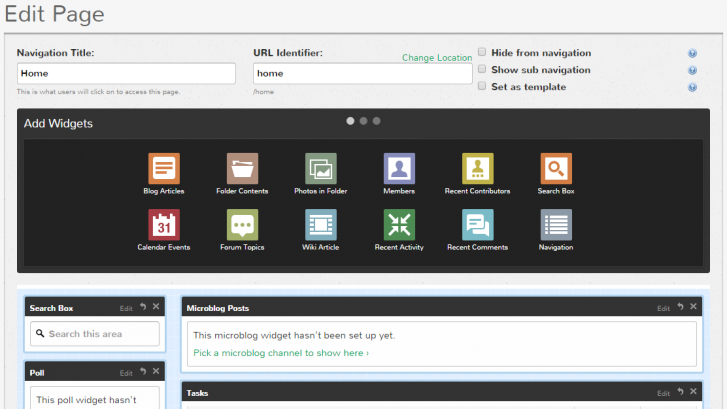 So, just as the small + button is the key to adding new pages and content, the small arrow button is the key to modifying it once it's in place. My only issue is the actual size of these two very important buttons.
Apps
Igloo Apps define the way in which you collaborate with other team members. Such Apps include blogs, calendars, file sharing, forums micro-blogs and more.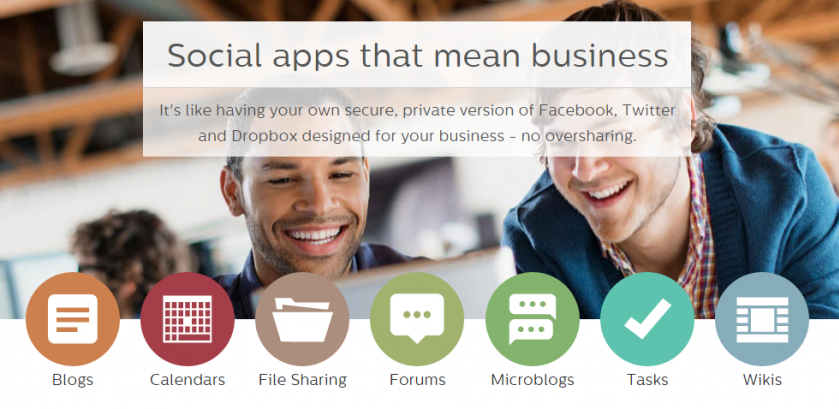 Apps like calendars, file sharing, wikis and forums on the other hand, are brilliant tools for scheduling tasks, streamlining workflows, asking questions and learning.
Blogging
Blogging and micro-blogging are features within Igloo which help team members give updates and spread news internally.
The blogging feature itself is as you would expect it to be. Users can make use of a WYSIWYG interface to type, insert images and format their content. Posts can then be published, saved for later, or submitted to a moderator to approve.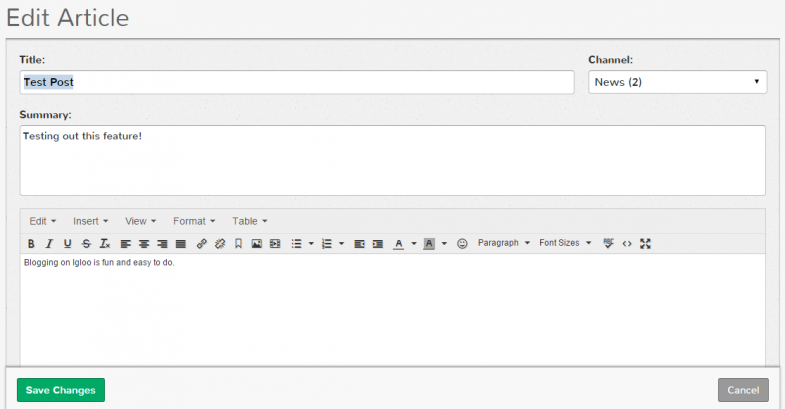 As for micro-blogging, it's a quick, easy and potentially playful way for colleagues to update each other.

Inline images can be used, and replies are in context. Twitter fiends will be happy.
Files
With the Files app, Igloo can be used as an asset management system.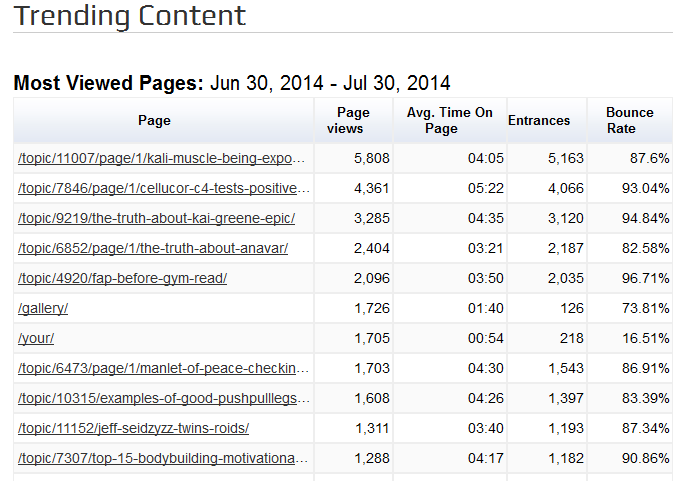 Files can be uploaded, downloaded, previewed, and locked. Plus, there's version control, update notifications and the ability to email files directly into Igloo. Not a bad little DAM solution at all.
Calendars
Events can be organized via the Calendar app. Members can receive invites from Outlook or Gmail, while the calendar itself can be updates with text and rich media.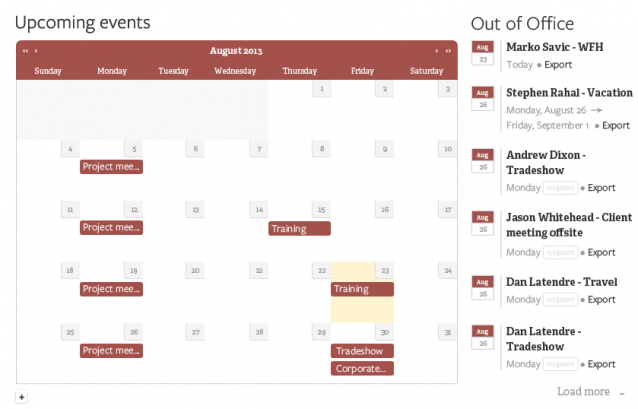 Events can be set to recur, while members can also choose to RSVP.
Forums
Igloo's forum app is there to ignite conversation. Ideas can be proposed, and problems can be solved.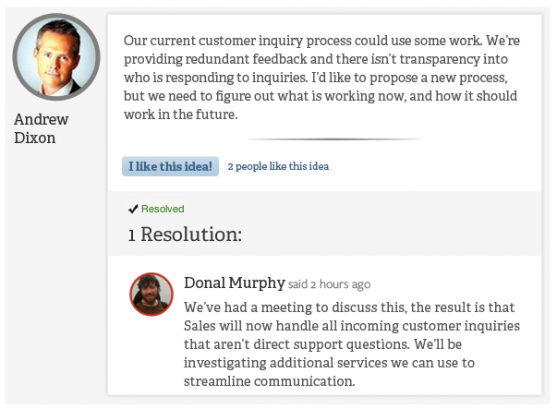 All posts can be upvoted or downvoted by members, and threads can even be concluded if a response receives enough praise. Threads can also be sorted and searched through in various ways.
Tasks & Wikis
Tasks can be set with both due dates and priority labels at low, medium or high.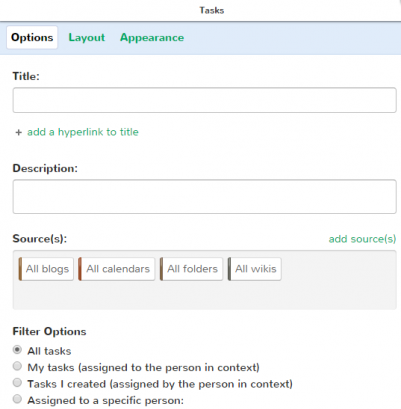 Tasks can also be given sub-tasks, and members can comment on them to keep everybody updated. Notifications will alert relevant members of any progress.
Igloo also lets users set up information and policy hubs in the form of Wikis.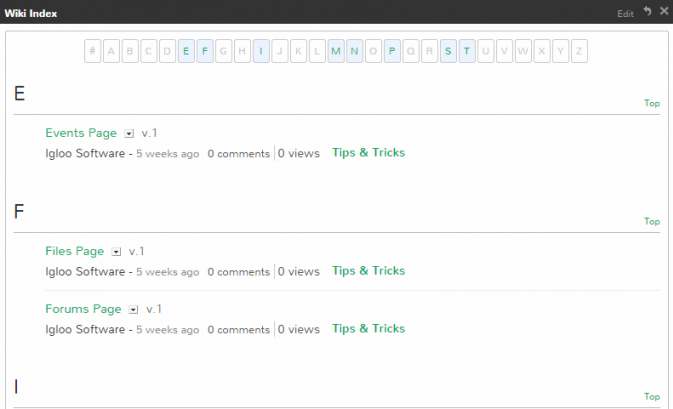 Members can continuously update Wikis and Wiki articles, rate them, comment on them and link to related Wiki content.
Extras
Igloo has a few notable extras worth mentioning, which come together to round off the user experience somewhat.
View Site As
Another handy option for administrators, is the "View Site As" feature once again accessible from the top menu.
Although the feature is still in beta at the time of writing, I found it worked quite well. It allows you to quickly switch between all group types, seeing the community just as they would.
The loads are extremely fast, and the feature is very easy to manage.
Advanced, Activity & Access
Clicking "Advanced" on the drop-down menu for page editing, will bring up SEO options.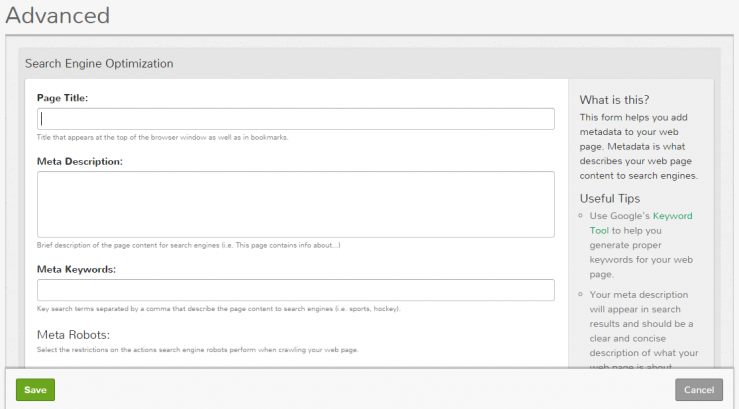 This page can be used to populate page titles, meta descriptions, keywords and robot access. All handy stuff.
Another interesting administrative feature is "Activity", also seen as an option when editing pages.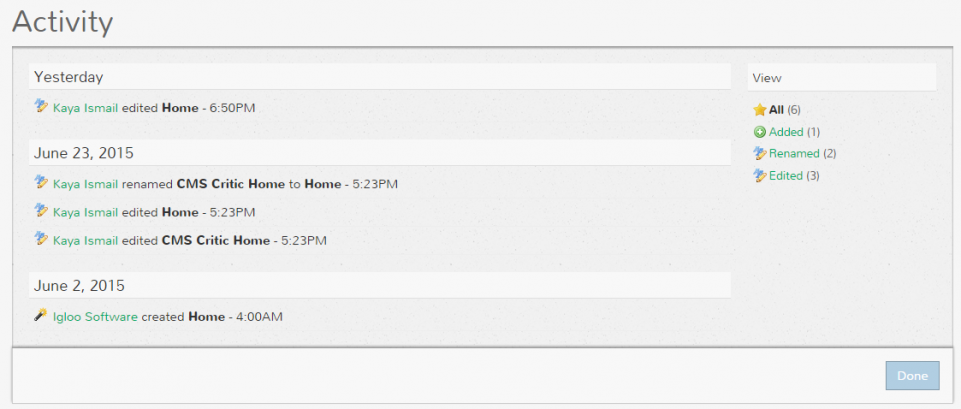 It gives you an overview of the changes made to the page you're looking at, as well as who made the changes. This helps keep tabs on other administrators or moderators who may have perhaps made tweaks the a page's appearance or functionality.
Access is also found in the same way, and allows administrators to set permissions per page. So, if you only want moderators having access to forums, this is the way to configure such a setting.

Site Manager
Within the admin panel is the Site Manager page. Here, Igloo displays the current setup in a tree, enabling administrators to add pages and re-structure the site.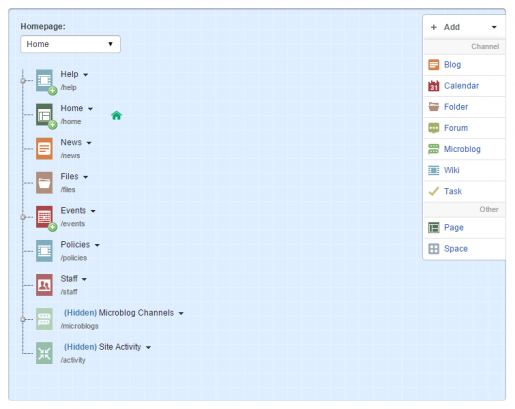 For example, a sub-page of a wiki can be dragged-and-dropped to become its own, standalone page. It's a neat way to view the entire site, and it works well as a page management tool.
Getting Help
Clicking the "Help" button (which appears on every page when you're browsing as an administrator), brings up a well-populated help page.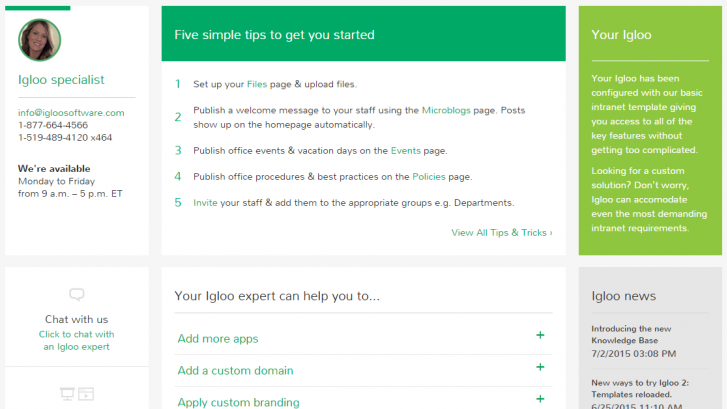 There's live chat, phone lines, and a community forum to help solve your issues. but most impressively, Igloo's searchable "Knowledge Base" is full of documentation as well as tutorial videos.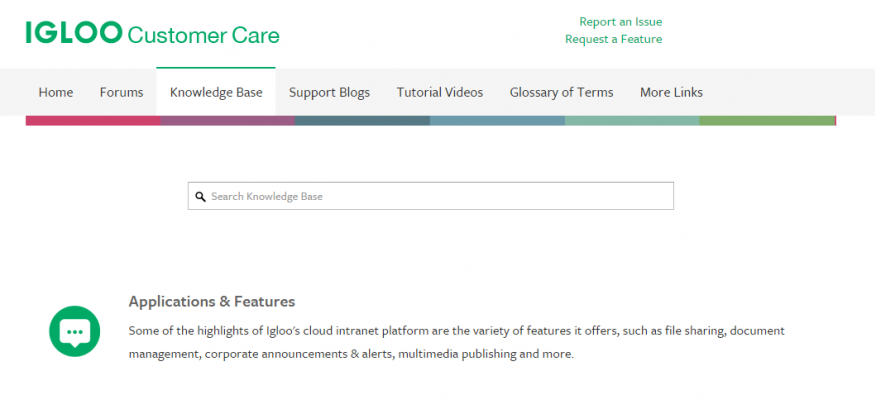 They also have premium support packages for companies requiring personalized assistance. The prices aren't available, but the details of each package are: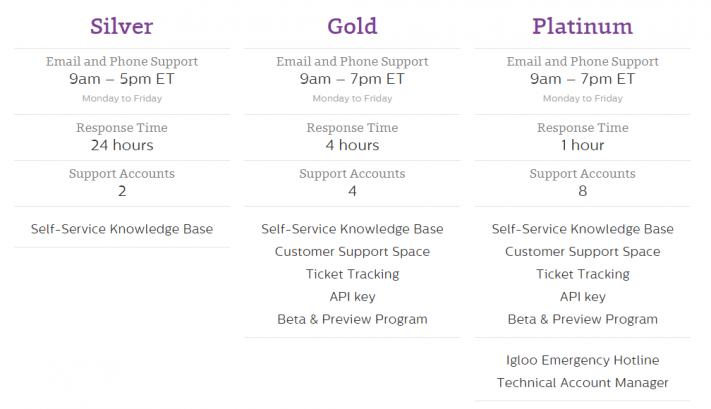 Plenty of premium support too then. However, I'm not entirely sure why the prices need to be hidden, though. I understand that varying user counts will impact the price, but Igloo should be able to provide more guidance here, as these packages may well be the difference between a company using or bailing on Igloo.
Pricing
As previously mentioned, Igloo offers up a free version of itself, giving you access to every app and feature. However, there are limitations.
With the free version, you'll only be able to have 10 users, 3 team spaces, and 10 GB of storage.
To upgrade, you'll need to pay up $3 per user for an extranet, and $12 per user for an intranet,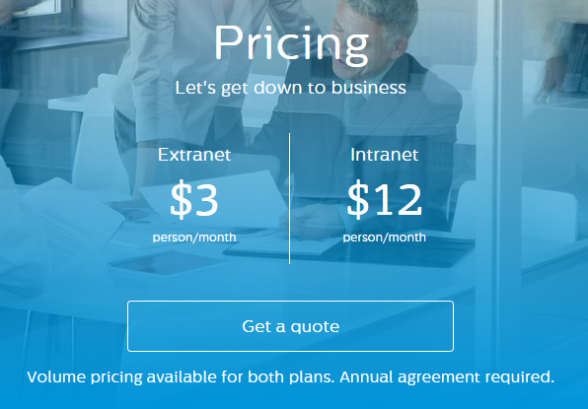 Also, it's worth noting that Igloo requires you to make a yearly agreement based on the above pricing.
Competitor Bitrix24 also has a free version, catering for up to 12 users, with support for another 12 for just $25 per month. However, they offer less storage and no extranet option at that level.
Yammer, another intranet providing rival, offers its services from $3 per month per user.
So all in all. Igloo have their pricing set out quite well.
The Verdict
Without a doubt, Igloo is a quality piece of software.
Unlike many other intranet solutions, Igloo is extremely quick and easy to set up. Plus, the average employee with limited tech skills will be able to learn the ropes pretty fast, and that's essential in my opinion.
A company could quite easily sign up for Igloo on Monday, and have a fully organized and in-sync office by the end of the working week. Igloo is that simple.
However, there is room for improvement.
I feel that there is a lack of control when it comes to design in particular. Companies will want to brand and customize their intranet, and apart from interchangeable backgrounds, there isn't much wriggle room, unless you delve into CSS coding.
Another gripe I have with Igloo, is that it doesn't make the administrative experience as enjoyable as the user experience.
The top navigation bar gives the admin features to tinker with, but to really configure Igloo on a meaningful level, users will need to delve further into the back end, which just doesn't serve up the same panache as the front end. The interface is cramped, dark and simply not as user friendly.
Igloo will be loved by employees and team members making use of the front-facing features like micro-blogging and file sharing, but I don't think the fun extends behind the curtain.
Pros
Igloo comes free, albeit with some limitations.
The drag-and-drop interface allows you to design the ways apps are displayed.
Blogging, micro-blogging, forums, wikis, file management and calendars all come together to make an excellent intranet solution.
Extra widgets like polls, slideshows, member lists and RSS feeds provide handy functionality.
The sign up and set up process is quick, and apps come pre-installed.
Igloo is very fast and responsive.
For (free) support, there's live chat, a phone line, extensive documentation and a user community.
Cons
The administrative user experience is lackluster. Igloo provides tidy options from the front end via the top navigation bar, but things get a little dark and dingey when you wander into the back end.
Statistics are there, but not in a particularly pretty or useful capacity.
Don't like the way Igloo looks? Well apart from the background image, if you aren't handy with CSS code, you can't change anything.
Final Remarks
As previously mentioned, the administrative user experience feels somewhat incomplete. The backend of Igloo simply needs more polishing.
On the other hand, it can be argued that the back of Igloo will rarely be touched. An administrator could configure the general settings, and then join the rest of the company in enjoying the front-facing features. The more technical stuff will only need to be set up once, and can then be forgotten.
Although this may be true, I still feel the need to point out the lack of fluidity when it comes to the administrative experience. It's something Igloo should see to.
Other than that, Igloo should think about implementing some templates and simple design options to give users more room to brand and personalise.
When it comes to the everyday Intranet features though, Igloo impressed me. There's certainly nothing incomplete about this far more important side of the platform.
Each feature, from micro-blogging to file sharing, is very easy to get familiar with. Employees and team members will enjoy the easy going nature of Igloo, as well as the handy features it comes boxed with.
All in all, I'm a fan of the platform. It may be a little finicky behind the scenes, but I take nothing away from its speedy, sleek and feature-filled Intranet offering.