In December of 2009, Kentico released version 5 of their flagship content management system for Microsoft .NET. Kentico has long been heralded as an innovator in the CMS market and since our preview review (read it here) we wanted to see what has changed.
So what's new in Kentico 5?
Optimizations
Optimizations to the way Kentico handles records in the database and preparations to make the CMS more enterprise-ready have been put in place. What does this mean? Well, to start with.. the CMS has already been optimized to work with 1,000,000 users and 100,000 documents in the database.
Batch Functions
One of the frustrations of previous versions was the inability to perform batch functions. Well, the developers listened, and now you can now easily copy, move, delete and publish multiple documents including all child documents.
SQL Server Replication
Kentico CMS can now use SQL Server Replication, meaning you are no longer limited to a single database but can copy your database over multiple SQL Servers to get higher performance and reliability from the system.
Improved UI Customization
With version 5.0, the administrator can enable/disable menu items or parts of dialogs to simplify the user experience and only show the features that the user really needs. It also allows you to personalize the WYSIWYG editor toolbar on an individual user basis.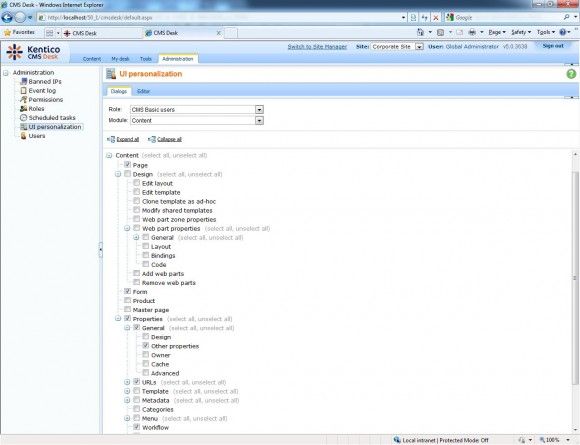 Kentico 5 New Design – Click to enlarge
Active Directory Synchronization and Importing
A huge new feature for Kentico 5 is the introduction of the Active Directory import utility. This allows you to periodically synchronize users from Active Directory into Kentico CMS and is a very welcome change. With such a large number of corporations using AD, it's great to see this new utility make it's way into this latest release.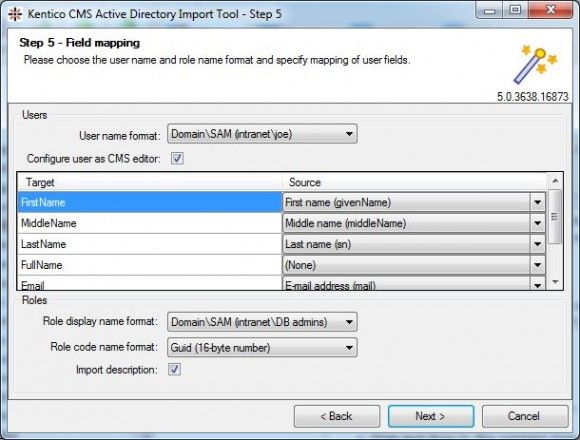 Kentico 5 Active Directory Import Utility – Click to enlarge
Kentico, as always, comes loaded with pretty much everything one can think of. It's fast, it's attractive and the learning curve is not as steep as some of it's competitors.
In a market where ease of use is almost always the number one priority for those considering implementing a new system, Kentico is poised in the top tier of systems.
Interested in trying this amazing CMS? You can download your copy today or try the online Virtual Lab.
Learn more at http://www.kentico.com