Kentico recently released version 4 of their ASP .NET CMS which comes with three different example sites to choose from: eCommerce, Personal and Community. We will be evaluating Kentico using their virtual lab which, if you'd like to try their product yourself, is accessible at http://www.kentico.com/Demo/VirtualLab.aspx
Kentico is an advanced system that offers extreme usability and point and click editing, but can they hold up in a market where so many other systems exist? Let's find out.
Version 4.0 cites such improvements as the integration of Social Networking and other improvements which you can read about here or at the following locations:
http://devnet.kentico.com/Blogs/Petr-Palas/February-2009/Kentico-CMS-4-0-Released.aspx
http://www.kentico.com/Company/News/Kentico-CMS-4-0-Brings-Social-Networking-Features.aspx
http://www.kentico.com/Download/Version_history.aspx
Today, we are going to examine this system and see what features it brings to the table.
Now, First off.. this is the Personal site template/theme: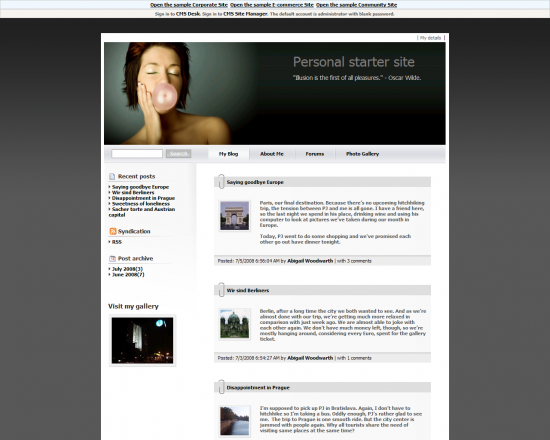 Nice isn't it? Pretty good considering this is a sample of what it can look like.
Here is the Corporate starter site: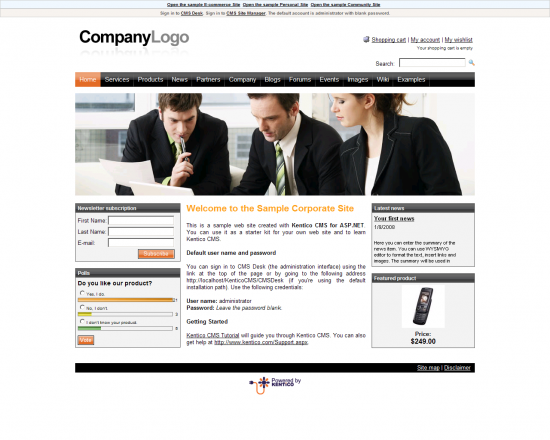 These are all very beautiful themes so far. Two more to go. eCommerce: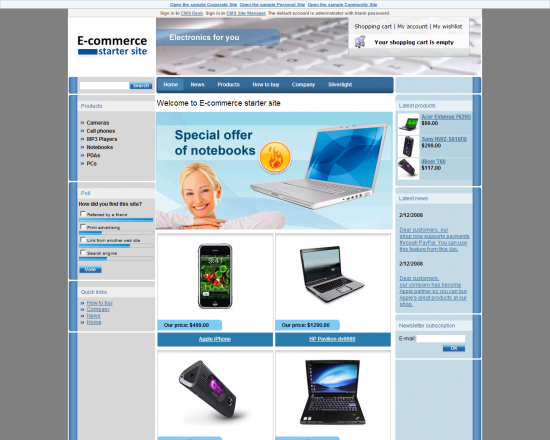 We can't say this enough times.. for starter templates, these are better than some professionaly designed ones we've seen. Finally, here's the one we've been waiting for…
The Community starter site: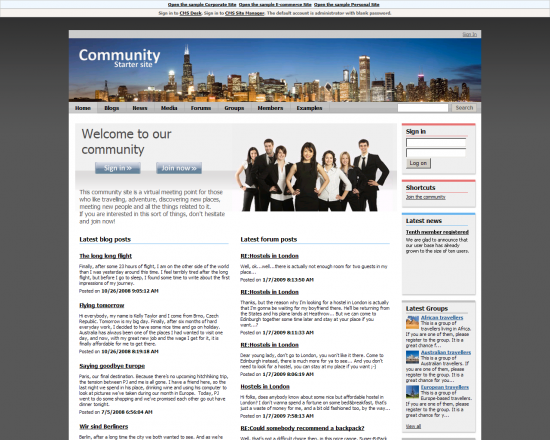 For the purposes of this review, we're going to test it out using the above Community starter site. It seems fitting since the latest
release focused largely on social and community enhancements.
When you first log in to the Community starter site, you'll notice some new menus appear in place of the Sign in box: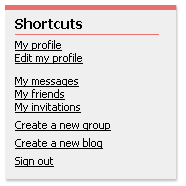 Let's explore these a bit. Click on My profile takes us to a pretty good looking profile page with options to view our blogs, leave us a
message, see what groups we're a member of, etc.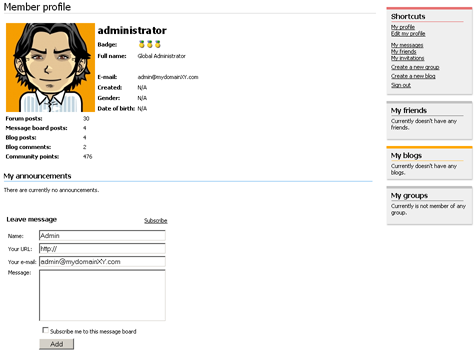 Clicking on the Edit my profile link lets us modify our avatar from a pretty decent selection. It also lets us upload our own if we choose to do so: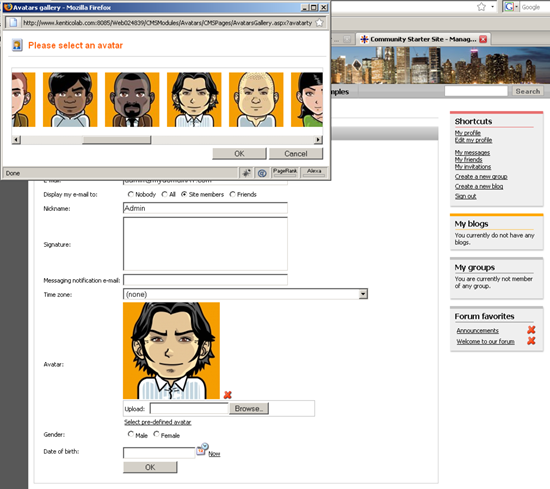 There are groups and blogs as well.. which look very nice: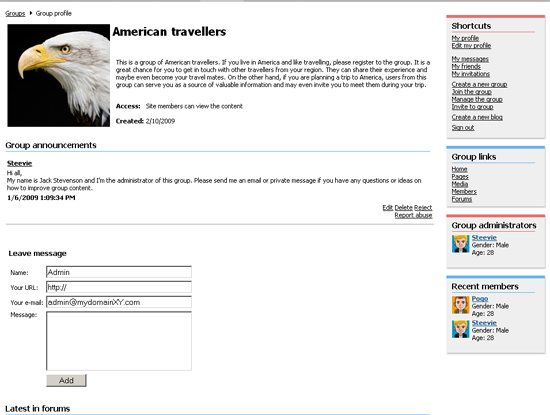 The abilities that Kentico has for developing a really nice social networking site go above and beyond what we've seen in similar
products. They've done an amazing job of integrating an attractive interface, ease of use and group membership functionality into one simple platform.
There are so many changes in this release that we can't even begin to cover all of them and this is just the tip of the iceberg.
Let's examine the administrative interfaces next.
Kentico has two different Admin panels so to speak. One, which is called CMS Desk allows multiple options such as the ability to
interactively design the site and the other is called CMS Site Manager, which we'll get to in a moment.
First the CMS Desk: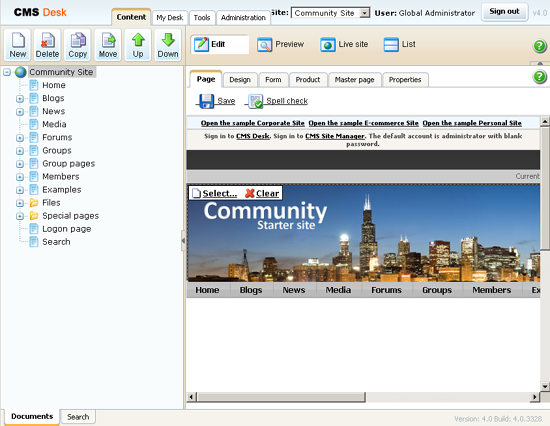 From here you are able to edit, preview and manage your site content from an easy to use and nicely laid out interface. By switching to design mode, you can edit and modify any of the elements on any of the pages with ease: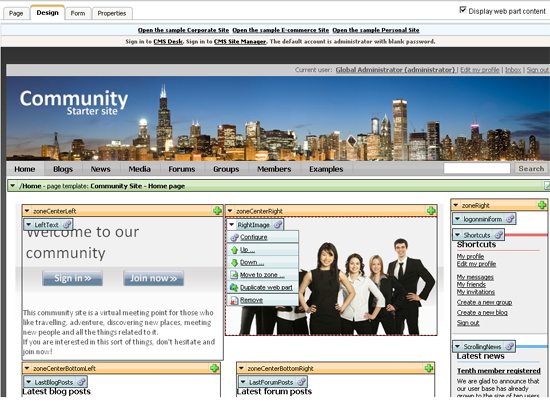 There are 3 other sections of the CMS Desk. You can switch the My Desk which allows you to manage your content, approve content that has entered the workflow process, etc. There is also the Tools section which allows you to managed Media, Create forms and much, much more: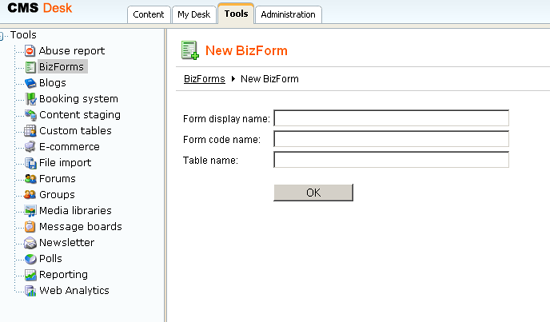 The Administration menu allows you to managed users, review your banned IP addresses , etc.
Ok. We're impressed. Let's see what their other control panel looks like shall we?
Switching to Site Manager you are immediately presented with all running sites in a simple list with quick management buttons: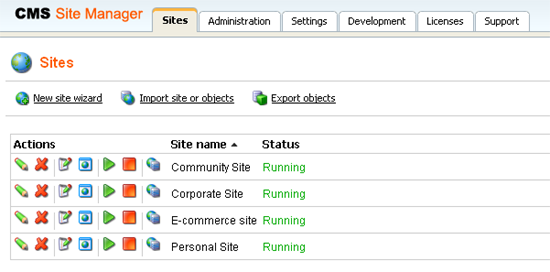 Then there is the Administration Tab, which provides you with the following management menus: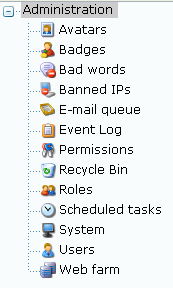 Followed by the Settings Tab: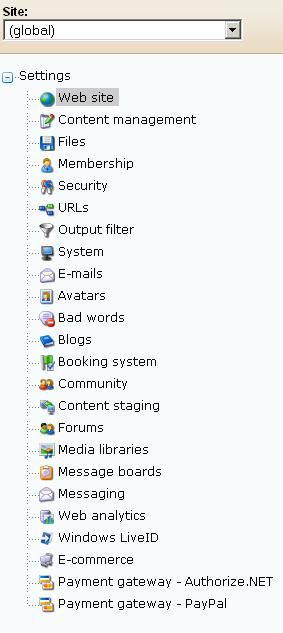 Just when you thought it couldn't get better… they added the option to allow you to manage payments with Paypal and Authorize.net.
It gets better. Are you ready for this? Check out the Development tab: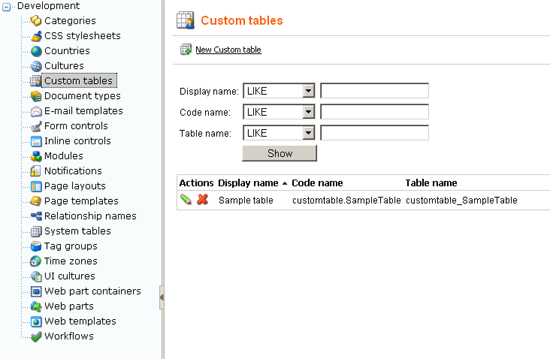 We think that's enough screenshots to get across the point.
In summary:
Wow. Kentico has done an outstanding job on this release. We're fairly comfortable saying that we don't think there's anything we can
think of that they missed. In fact, in our opinion, they've gone above and beyond. If you are looking for a CMS for any need, Kentico
definitely fits the bill. This is an amazing product at an amazing price.
You can find out more on the pricing at their website here: http://www.kentico.com/Buy.aspx
This was a great product to play with and has the potential of creating some incredible sites, we can only hope that someone takes
advantage of it and puts it to use creating the next big thing on the web.
Ratings wise, it's uncomparable. There literally is nothing on the market that comes close to touching this software as far as Social
Networking integration goes that we've tested to date. (If you know of something, definitely let us know.)
With the options it presents, we're very very excited to see what they could possibly improve in their next release.
The only thing that prevents Kentico from getting a 10 is that the help system built into the admin pages is lacking and needs to
be improved upon.
Our final score:
9/10