Website Builders have been growing in popularity over the last few years with ease of use and all-in-one solutions being a focus of consumers. We've put together this comprehensive overview of the key website builders currently available to help give you some insight into which may be best for your needs.
Weebly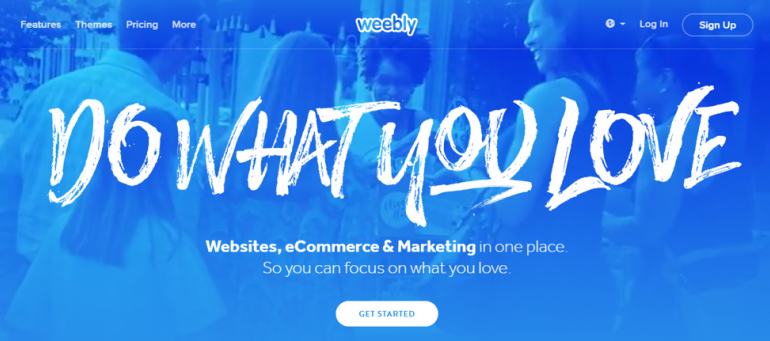 Weebly is one of the most popular web-hosting services, featuring a drag-and-drop website builder that makes it remarkably easy for both beginners and experienced users to create a stunning website.
Highlights
Simple drag-and-drop website builder with an intuitive user interface.
Mobile-responsive, professional-looking designs. Users can also access the HTML/CSS to customize the design of their website.
Includes pre-designed layouts that make it easier to start building the website.
Drawbacks
There is a limited amount of template customization options. Users can only change the font styles and overall color scheme for each one of the templates. While users can make additional modifications, they will have to know how to modify the template's codes. For beginners, this is going to very difficult.
New features are only introduces once or twice each year, though they are getting more impressive and advanced while still maintaining their user-friendly nature.
The blogging functions are pretty primitive when compared to other websites. One of the biggest user complaints is not being able to highlight related posts, most popular posts, or the most recent posts.
Pricing
Starts at the super low price of $8 per month and goes up to $25 per month. They also have free trials available, so users can try it out before committing to payments.
Who It's Ideal For
Weebly is a key website builder that is best suited for small businesses, users with personal websites, and eCommerce stores.
Overview
As one of the key website builders out there, Weebly is a highly user-friendly, reliable website builder with a whole host of features to offer its users.
It's one of the easiest code-free, drag-and-drop website builders available today. Users can build and design an attractive, intuitive website without having to deal with writing a single bit of code. Users just use their mouse to drag pictures, slideshows, products, and other elements into place.
With over 40 million websites under its belt, Weebly powers more than 2% of the websites on the Internet. Considering the fact there are 1 billion active websites on the Internet today, that's a highly impressive fact.
Their user interface is designed to be minimalistic, simple to use, and definitely not overwhelming to beginner users.
With its code-free interface, it's suitable for users that range from technically savvy on down to absolute beginners.
Wix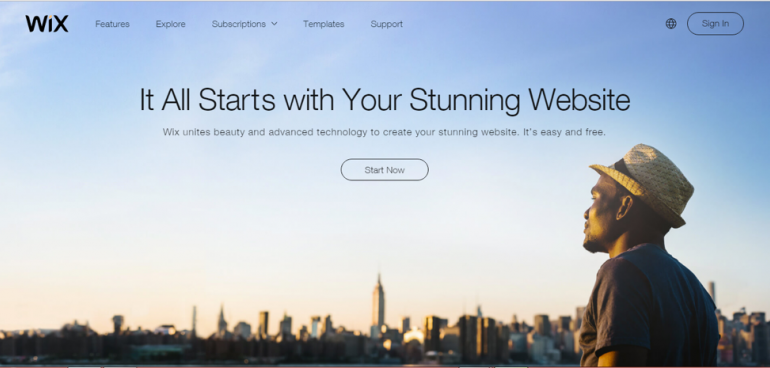 Wix is a key website builder that uses a cloud-based web development platform. Users have the ability to create attractive, effective HTML5 websites and mobile websites with simple online drag-and-drop tools.
Highlights
Wix offers users over 150 beautiful, professional templates that are suitable for a whole range of industries.
Wix is regularly updating its platform, offering advanced code-free features that are even easy for total beginners to use.
Includes comprehensive customer service support via email, phone, a knowledgebase help center, and forums.
Drawbacks
It's pretty difficult to change templates. While Wix does have a lot of pre-made designer templates from which to choose, users cannot switch to a different template without re-inserting their content.
There are visible advertisement logos on the side and bottom of the website for users with the free account.
It's not really capable of handling a lot of complex eCommerce needs. This isn't a deal killer, but it's a drawback considering how many eCommerce users there are. They do have better eCommerce tools than many of the other website builders out there, it does not offer the ability to automatically send out purchase confirmation emails, configure taxes and shipping costs, or the general management of orders, such as marking them as having been paid for or shipped out.
Pricing
As a key website builder, Wix does offer a completely free option. Other plans range from $5 per month on up to $25 per month.
Who It's Ideal For
Wix is best for those who don't have a lot of time to spend designing their website, or don't have a particularly large budget. Even the most premium plan is still under $30 per month.
It's also great for those who are not tech-savvy, as the drag-and-drop interface makes it possible to get a great version of your website up and running within less than a day.
It's best for those with small business websites or personal websites, but there are some drawbacks for eCommerce users, as mentioned within the above "Drawbacks" section of this article.
Overview
Wix is a key website builder that allows users to easily create a designer-worthy website, complete with gorgeous templates that look like they cost thousands of dollars. However, it is difficult for users to change templates and involves re-inserting or copy/pasting all of the previous content into the new template. When it comes to templates, though, Wix is definitely up there on the list of website builders.
It has a comprehensive support system, complete with a very active support forum, so help is always just on the other side of the keyboard or phone. This is especially helpful because most of its users are absolute beginners that do not need to be tech-savvy in order to use the platform.
Those with an online store will find the eCommerce functions to be a little problematic and in need of improvement, as previously mentioned. However, their eCommerce tools are definitely better than a lot of other key website builders out there.
SiteBuilder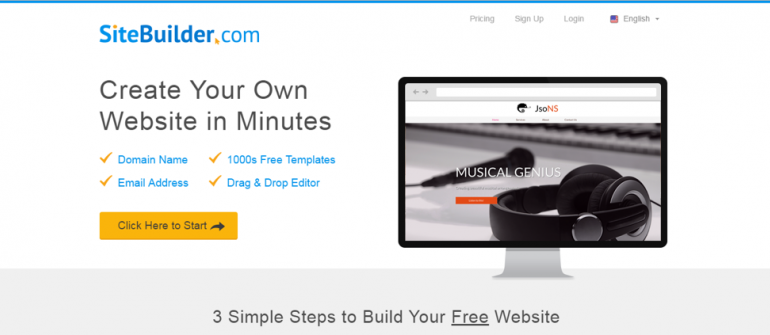 SiteBuilder is a key website builder that offers users thousands of pre-made templates from which to choose, organized by style and layout. If users don't find one that stands out for them – or suits their needs – SiteBuilder also has customization options.
Highlights
Offers thousands of pre-made templates, which make it easy for users to get a great website up and running in very little time. Customizable options are also available.
SiteBuilder offers its users $300 free ad credit that can be used for PPC marketing campaigns, usually done through Google AdWords or Microsoft AdCenter.
To help measure the performance of a user website, and to help increase search engine rankings, SiteBuilder has a good amount of SEO tools already in place.
SiteBuilder is very eCommerce compatible, making it easy for users to set up their shop and start selling their products online. It is also possible for users to take orders, receive payments from customers, and track orders.
Drawbacks
There is a lack of live customer support, which could be a real problem for those who need immediate assistance.
Even on fast computers, this website builder has a slow load time.
Pricing
As a key website builder, SiteBuilder offers a wide variety of plans with a big range of pricing options to suit different user needs and budgets.
There is a free plan, which gives users five pages on their website, but that is quite limited. The next step up is $8.99 per month and goes on up to $11.99 per month and includes a whole host of valuable features.
Who It's Ideal For
SiteBuilder is great for personal websites, those for creative services, and small businesses. The most expensive plan is specifically intended for eCommerce users, and includes a built-in store option.
Overview
SiteBuilder is a key website builder with plenty of pre-made templates to choose from, all of which are mobile friendly and come with mobile-specific template options.
It's a very easy-to-use builder that makes it easy to get a website up and running within a short amount of time – perfect for those who are ready to launch right away.
The customer support is lacking in live support, but makes up for it with tutorials and an exhaustive FAQ section where users can find solutions to their issues without needing to contact someone. When a care agent is contacted, they are highly knowledgeable, friendly, and eager to help.
GoDaddy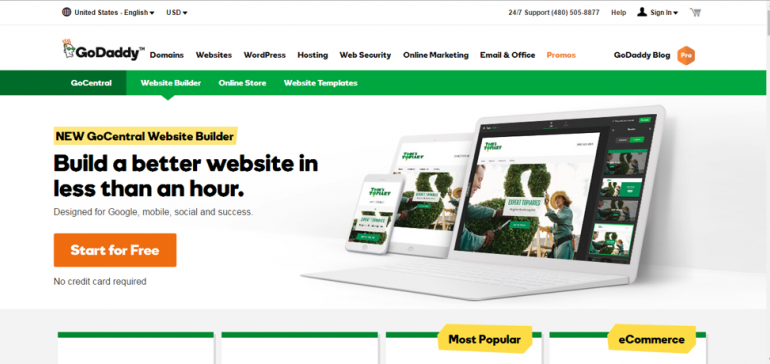 GoDaddy is the largest domain registrar available today and, with its comprehensive collection of website building tools, serves as a key website builder that is definitely worth investing in.
GoDaddy manages over 60 million domains, and offers a strong support system that is available 24/7 to its users.
Highlights
GoDaddy offers over 300 professional-looking design templates to choose from, with drag-and-drop tools that make it easy and quick for both beginner and experienced users to build an attractive website. The templates do come with their own content, but you can easily replace it with your own text and images and go from there.
It's easy to customize the templates and layout, since users can just drag the content to where they want it and add new pages. The interface is definitely user-friendly, without slow load times or lagging.
GoDaddy lives up to its reputation of providing strong support to its customers, offering 24/7 support by phone, live chat, and even email. When users call, they only need to wait and average time of about 5-10 minutes, which is phenomenal. Email support tends to return support tickets within about 10 to 15 hours, depending on how many tickets they are receiving. When it comes to key website builders, GoDaddy is most definitely the top of the list when it comes to customer support.
Mobile versions of websites can have certain content pieces hidden from the public, such as images or slideshows you would prefer to have on desktop-only displays. This flexibility can definitely come in handy.
Drawbacks
GoDaddy may be a key website builder with plenty of highlights and great templates, but users cannot switch templates without losing their content.
The mobile display is very primitive, even though this website builder does automatically optimize your website into a mobile-friendly interface. While it does have the features mentioned in the highlight section, the overall design is very basic.
Pricing
As a key website builder, GoDaddy has plans that meet a variety of different needs, from personal to eCommerce.
The most basic plan is intended for a personal website, which is $5.99 per month. At the top of the tier is the online store, which is $29.99.
All of their plans can be tried for FREE for an entire month, and no credit card is required.
Who It's Ideal For
GoDaddy is best for users who have personal websites or are small business owners, creative professionals, or offer professional services like legal services.
There is also a plan dedicated to selling products online, so users who run an eCommerce store will find this to be a key website builder with customer care support readily available to help.
Overview
The GoDaddy website builder has a fantastic drag-and-drop interface that makes it incredibly easy to insert content anywhere on the website, with an option to overlap the content if users see fit.
The inability to switch templates is a bit of an issue, but users can work around this issue by taking the time to really look at all the features and design options of the templates before committing to one. The mobile layout is primitive, as previously mentioned, but it's far from horrible.
The builder itself is visually appealing and user-friendly, with the tool bar keeping things simple and underwhelming. If users do have issues, the customer support is unbeatable.
uCraft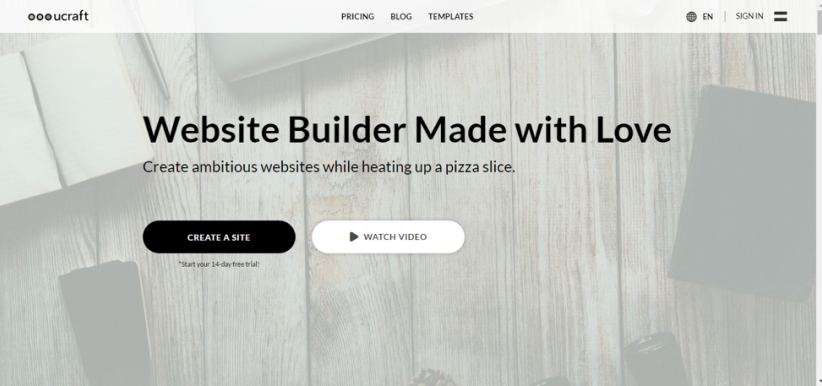 uCraft is a key website builder that uses a block-based interface wherein users build their websites by stacking content blocks vertically.
Highlights
uCraft offers its users a fantastic blogging platform that includes everything users would need: Disqus can be used for commenting, posts can be saved as drafts, posts can be scheduled for future publication dates, categories and tags can be added, and the slug can be customized. Plus, users can add a social media image to appear with the article when it's shared on social media platforms like Facebook or Twitter.
This website builder is highly user-friendly and streamlined, making it beyond easy for anyone to use. Everything is right where users can find it, and it's easy to add new elements or pages. Changing themes is also easy to do, unlike many other website builders.
There are almost 40 professionally designed website templates available to users for FREE. Unlike many other pre-made templates, these are beautifully designed and look as though the user paid thousands to hire a designer for their site. Functionality is top-notch as well.
Drawbacks
When it comes to building big websites, uCraft isn't the best option. It focuses on single-page designs, so users who need a page-heavy site should pick a different platform.
There isn't a proprietary eCommerce option available. Instead, it relies on the Shopify platform and many users have reported issues with the system.
uCraft assumes users will use the chat function for customer service, so they make it available at all times – hovering in the lower right corner of the screen. It's intrusive and can affect efficiency because it's distracting.
Pricing
uCraft is a key website builder with a different pricing plan than other builders we've visited throughout this overview.
The most basic account is free, but it's limited. The other option is $8/month and significantly less limited. After that, users can pay for different apps to add to their site, and these range from FREE to $2.99 to $29/month, depending on the app and the user's needs.
Who It's Ideal For
Users with small business websites that don't need a lot of pages, or those with personal websites, would benefit from this website builder.
Those who run an eCommerce site would be better off with one of the other key website builders in this overview.
Overview
uCraft is a key website builder that makes it easy to build an aesthetically pleasing, functional website in a short amount of time. However, the options are limited when it comes to pages on the website, and the support is a lacking.
eCommerce users wouldn't benefit as much from this builder, but it would definitely be great for small business owners or personal website users with limited budgets.
Duda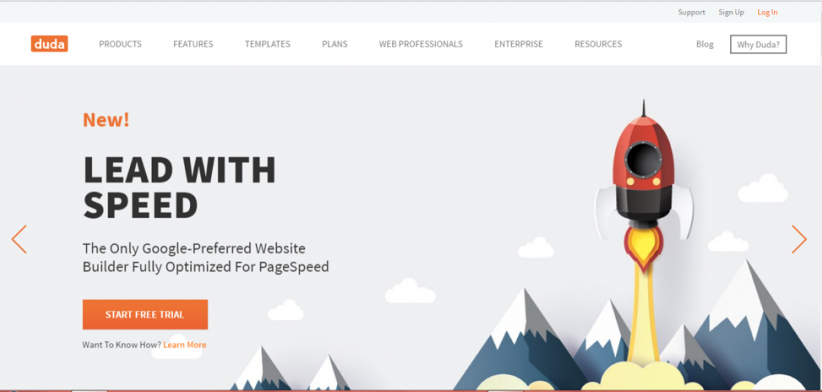 Duda is a key website builder that specializes in mobile-only websites, though they do have an option for sites that work on both desktop and mobile.
Highlights
Duda offers a feature that allows users to create multilingual sites, which is both inclusive and helpful for business.
There is a unique personalization tool that enables users to send their website visitors sales offers based on factors like their browsing history or geographic location.
It's a very easy website builder to use, coming with a menu that is both simple and user-friendly. The editor allows users to preview their site before publication, including previews for desktop and mobile devices such as tablets and phones.
There are lots of designs to choose from, all of which are mobile-optimized and come with previews for all devices. Those advanced users with technical gifts can create a site from scratch with an empty template.
Drawbacks
Duda does not offer domain names or email hosting, which can be problematic for business owners.
Users cannot pick a different theme once they've selected one.
There are no apps available, something other website builders offer. Considering the steep pricing, this is worth mentioning as a drawback.
Pricing
Users can try Duda for free, but this plan is fairly limited.
The next one up is called Business+ and is priced at $14.25/mo (annual plan) or $19/mo-to-mo or $299 for life, with a good amount of features.
The other one is called Business + Ecommerce and is priced at $22.50/mo (annual plan) or $29/mo-to-mo and also comes with plenty of features to run an online business or eCommerce shop.
Who It's Ideal For
Duda is definitely a key website builder when it comes to smaller projects, like a personal website or one for a small business.
Overview
Duda is at the top of the list when it comes to languages and making websites available to international customers.
Users looking to build a small website will do fine with Duda, but those looking for a website builder for an online shop would do better with a site like Shopify or Weebly. The prices are too high, and there is no app store available, which can make it harder to add new features eCommerce shops rely on.
Even so, for small or medium projects, this website builder looks and responds great.
Strikingly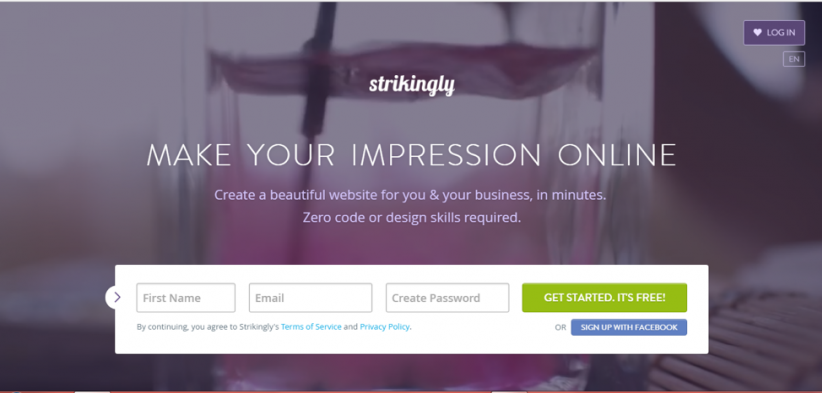 In addition to being a key website builder, Strikingly is also the best builder for one-page websites, with an easy-to-use interface and clean designs.
Highlights
The themes are contemporary, crisp, fresh, and perfect for startups and freelancing professionals.
The builder is pretty easy to use, but there is still 24/7 customer support available to users.
The mobile-responsiveness of the designs is top-notch, and they look great on pretty much any device.
While the blogging section is not the way most builders do things, it does work really well. The blog editor is a section that can be added onto the homepage, and it lists the user's posts and any links to individual pages there may be.
Drawbacks
This wouldn't work out very well for users with online stores. The eCommerce functions are incredibly limited. While users can set their product variations, shipping options, and coupon codes, there are no product categories, digital products, or tax system in place. While users can preview email updates customers will receive, they cannot be customized because the coupon code editor only permits users to set percentage discounts, and they cannot be set for only a certain type of product or a certain category.
The form builder is definitely lacking. Users can add a contact form to their site, but users cannot add new fields to the form.
The newsletter form is primitive and ineffective, as it does not integrate with any of the big mailing list providers, such as MailChimp. It just sends form results to your email list.
Pricing
Strikingly offers a free plan, though it is limited. Those who want to take advantage of the best features of this key website builder would be better off with the other two plans – priced at $8/mo and $16/mo.
Who It's Ideal For
While it does have great templates, mobile responsiveness, and an easy-to-use interface, Strikingly is best for those with startups, personal sites, or freelance businesses only.
With its limited eCommerce features, this would not be ideal for online business owners.
Overview
Strikingly is a key website builder for one-page websites, a growing trend in the business world.
It has fair pricing, mobile optimization, 24/7 customer care support, and fresh designs. However, the designs are limited (there are only 11) and it cannot handle eCommerce business.
That being said, if you're a startup, freelancer, or just want a personal website, this is a great option to try out.
And there you have it. If you are looking for a website builder for a specific purpose and aren't sure which one to pick, hopefully this list will help. If you can't find what you're looking for here, please leave a comment below and we'll do our best to help with a recommendation. The best way to figure out which one will suit you is to try them out. Most have a free trial period that you can use to help determine if the website builder fits with your requirements so give them a try and feel free to leave your feedback on favourites, good experiences and bad below so we can help others in the same boat.