Landing pages serve as an entry point for a website, and they usually have one goal:
To convert visitors.
Converting visitors may include selling a product, gaining email addresses, sending traffic to a different page, and so forth. But no matter what the end goal is, marketers across the web use landing pages to achieve it.
Without a well placed landing page or two on your website, you'll have to rely on your website's design to funnel your visitors towards your website's end goal. Now, although that's not impossible, the standard website will never match the conversion efficiency of a strong landing page.
What Does a Landing Page Look Like?
Landing pages come in many different forms, and brand typically design them to reflect the rest of their brand and website.
But even the biggest brands in the world use landing pages. Here's one from CodeAcademy: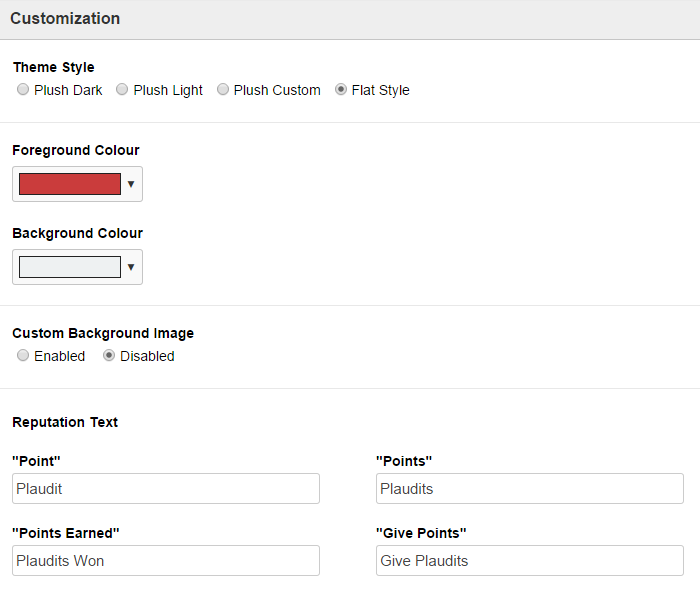 As you can see, their landing page (which also happens to be their homepage) is sleek, simple, and guides the visitor towards signing up. Classic landing page design.
Now that we've established what a landing page is, here are twelve of the very best landing page builders that you can use today:

Instapage is one of the most popular landing page builders on the list. It boasts responsive templates, drag-and-drop editing, over 5,000 fonts and 33,000,000 images to freely work with.  It also allows you to use widgets, parallax scrolling, and custom code.
Instapage can also build forms, carry out A/B testing, and display visitor statistics.
Prices From: $29 p/m

Wishpond is another big player in the landing page builder market. It offers some nicely crafted templates, custom code customization, analytics, Facebook publishing, A/B testing, forms, and social promotion features.
I recently published a Wishpond Review which goes into further detail on the popular platform.
Prices From: $44 p/m

Leadsquared is a lead generation platform that offers a whole range of features, all aimed at converting website visitors.
Landing page building is on the feature list alongside website widgets, marketing automation, analytics, email campaigns, SMS campaigns, mobile customer relationship management, and much more. It's one of the most feature-rich products on this list, and yet, the price is the most reasonable.
Prices From: $15 p/m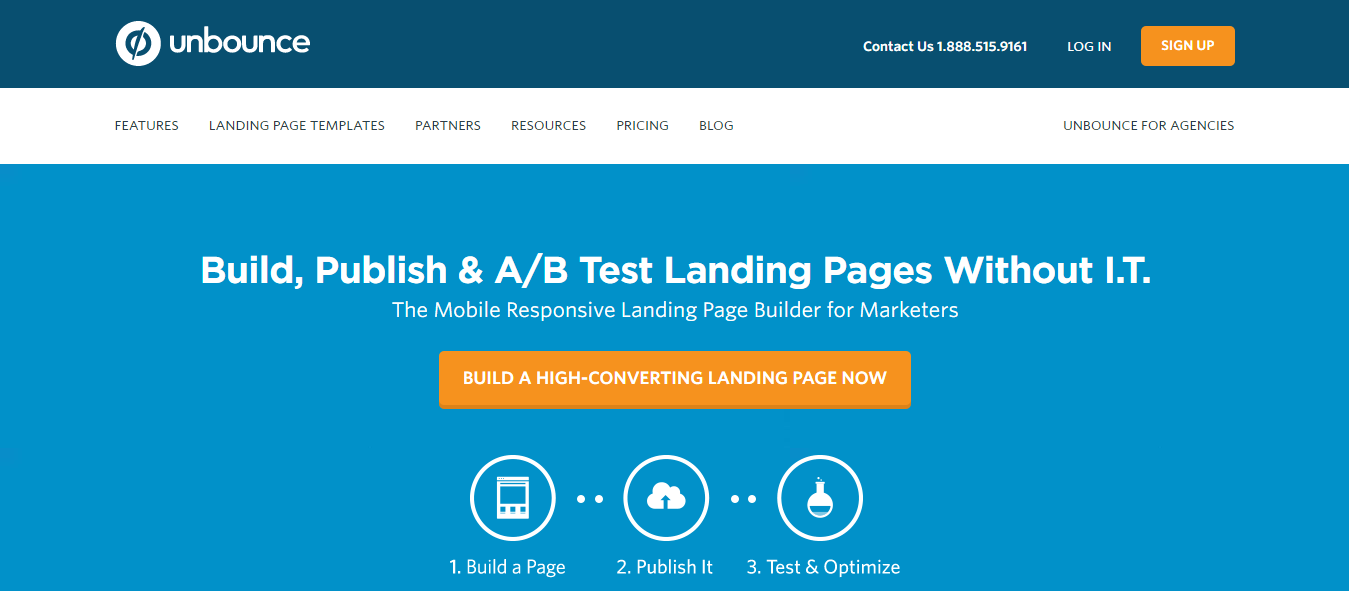 Unbounce offers some beautiful landing page templates, and integrates well with many popular marketing and CRM platforms, including Hubspot, WordPress, Salesforce, Mailchimp, and Zoho CRM.
You can publish an unlimited amount of pages on Unbounce's lowest plan, make use its drag-and-drop interface, use full-screen backgrounds, embed videos, and more.
Prices From: $49 p/m

Pagewiz is a solid landing page builder that lets you send captured emails to multiple places; so you can automatically add new emails to your email campaign system as well as your CRM.
Pagewiz also boasts widgets, real-time analytics, A/B testing, and the ability to manage multiple accounts from the same interface – making it ideal for marketing agencies.
Prices From: $29 p/m

Megaphone is a good old fashioned landing page builder that focuses on one thing: creating stunning landing pages.
Their templates are pretty darn good, catering for things like events, webinars, thank you messages, sales, and so forth. It integrates with a range of email campaign platforms, gives real-time stats, and lets you deploy your landing page as pop-ups, too.
Prices From: $49 p/m

Lander is a reasonably priced landing page builder with drag-and-drop page management, Facebook publishing, A/B testing, mobile landing pages, and PayPal integration.
Like Unbounce, Lander lets you create unlimited pages, even on its cheapest plan (which is relatively cheap indeed).
Prices From: $22 p/m

Not looking to commit to a monthly subscription fee? Instabuilder 2.0 may be for you.
For a one off fee, you can use the web app to build landing pages with its drag-and-drop interface and widgets. It's not as well polished as some of the other products on this list, but it's a lot cheaper in the long run.
Prices From: $77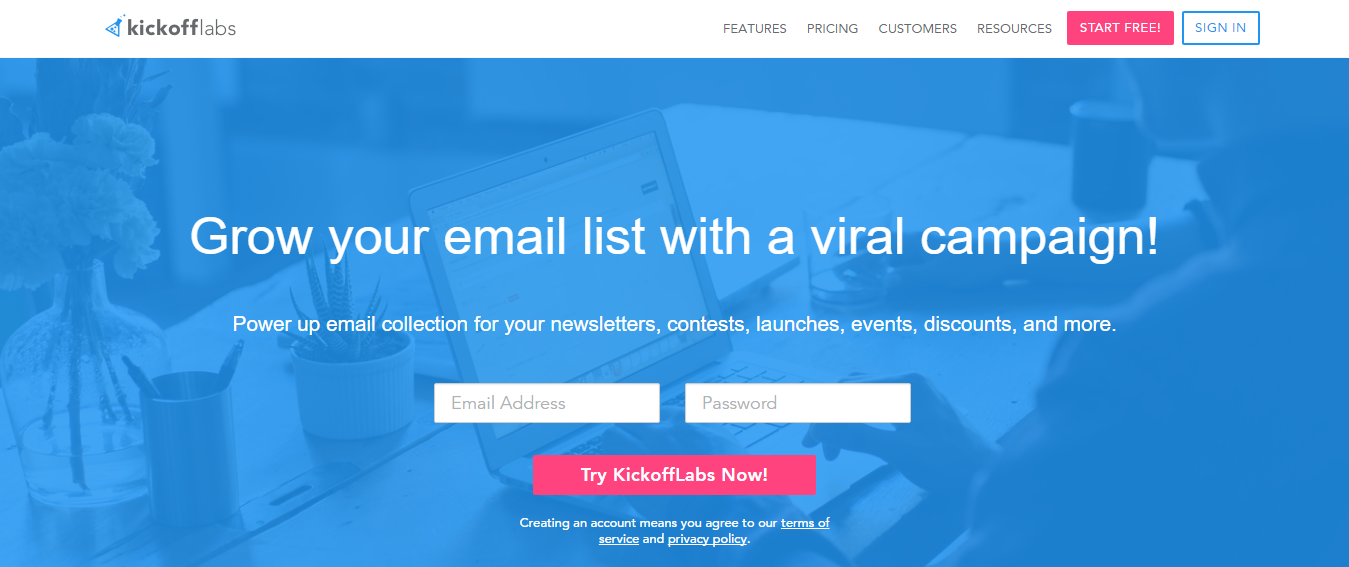 Kickoff Labs is another tools that is – once again – more than just a landing page builder.
Their templates are sound, and they offer features such as contest management, pop-ups, A/B testing, and automatic email responses. Interestingly, you can even import your own HTML landing pages into Kickoff Labs and integrate it with the rest of their platform.
Prices From: $39 p/m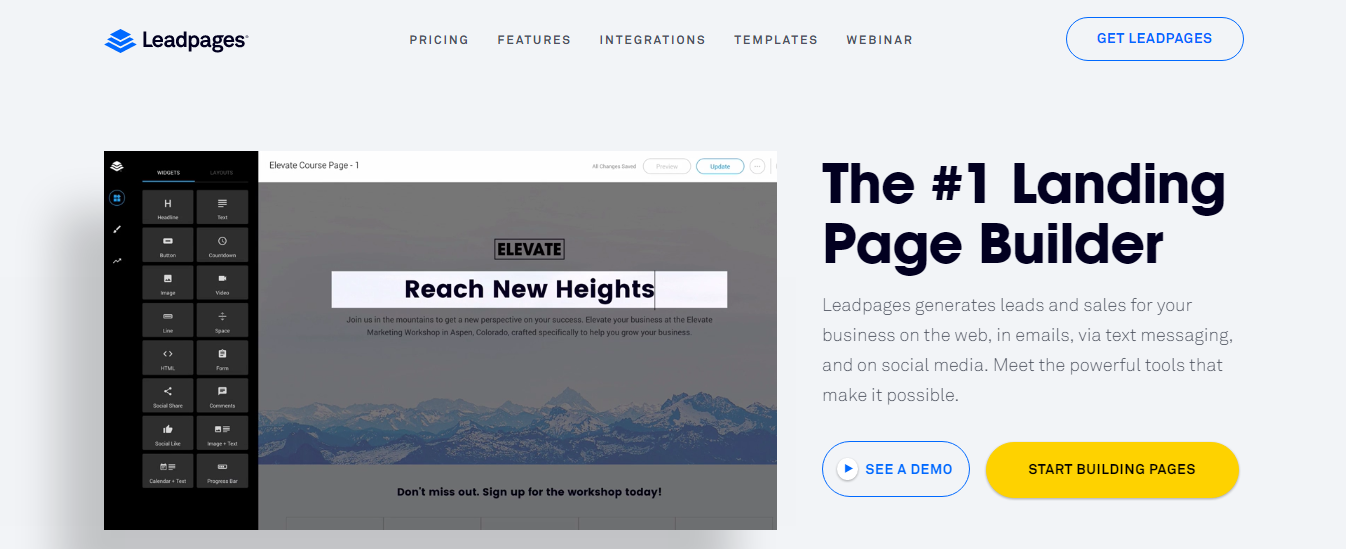 Much like the other products on this list, Leadpages offers mobile friendly landing page templates that can be customized without coding. The difference? Leadpages is able to complete visitor signups via SMS – which helps you expand your reach beyond just email.
Facebook publishing, exit pop-ups, video backgrounds, and HTML editing make up some of Leadpages' other features. Also, like Unbounce and Lander, there's no limit to the amount of landing pages you can publish.
Prices From: $25 p/m

As the name suggests, 1MinuteSites focuses on getting your landing page out into the world as quickly as possible.
You can use it publish landing pages on Facebook, on your own site, or on their domain. You can also use it to create pop-ups and notification bars, or hide content from a visitor until they share it on social media. However, it doesn't have the prettiest templates, nor is it the cheapest option.
Prices From: $39.95 p/m

Last but not least is Landingi. This platform offers up a seriously detailed customization interface that some may even find overwhelming. But if you're looking to finely tune your landing page, look no further.
Their templates are bright and airy, and it also lets you A/B test, build forms, and view statistics. Landingi also boasts a lead inbox that lets you manage all the leads you gather.
Prices From: $29 p/m
Start Profiting From Your Traffic
Your traffic may be flowing nicely, but a landing page will help funnel those visitors towards your product, your newsletter signup page, or any other place that you can profit from.
Do you use any other landing page builders? Tell us about them in the comments section below!