Building an online course will not only cement your reputation as an authority in your industry, but it can also be a source of passive income for you as well.
Got your attention?
With today's technology, you also don't require a full-on development team to build, manage, and sell online courses.
Platforms like Kajabi, Ruzuku, and Thinkific can let you do all of these tasks through an easy-to-use visual interface.
To help you decide which platform perfectly suits your needs, here is a closer look on each of the platforms' features.

First up is Kajabi — an all-in-one online course platform that has everything.
In addition to functions that can help you create content and manage subscribers, it's also equipped with features that can help you with the marketing facet of your online course.
Overview
Here's a quick list of things that you can do with Kajabi:
Theme-based website, newsletters, and landing pages
Lead generation pipelines
In-depth reports
Integrations with third-party services (PayPal, MailChimp, etc.)
Affiliate programs
Interface and Navigation
Are you a WordPress user? Then you'll feel at home with Kajabi.
The platform kicks off at a dashboard with all the navigation elements on the left-hand side. This should make exploring Kajabi and getting to know its features a breeze.
However, if you're completely unfamiliar with anything that resembles a content management system like WordPress, then you can take advantage of the "Kajabi Assistant" found at the top of the dashboard page.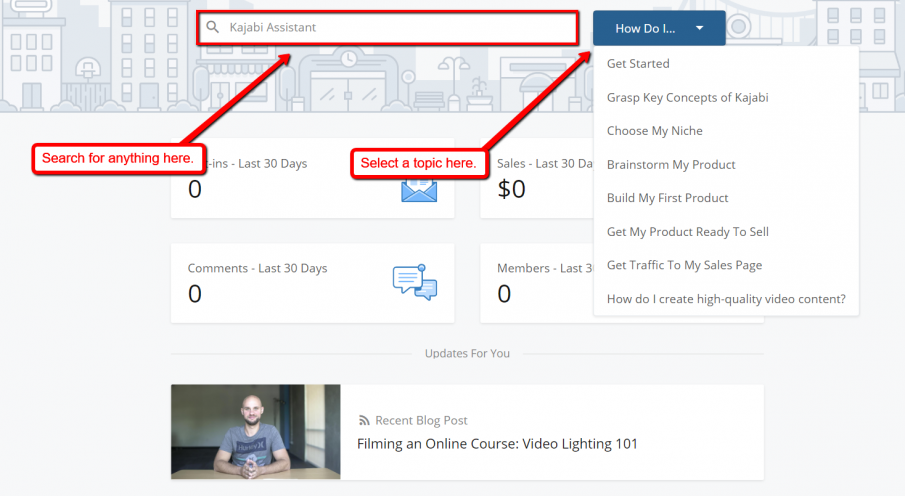 As far as usability goes, everything in Kajabi follows the same layout for each section; a submenu appears whenever you click on any menu item while the Kajabi Assistant remains at the top of the screen. This substantially smoothens the learning curve for new users.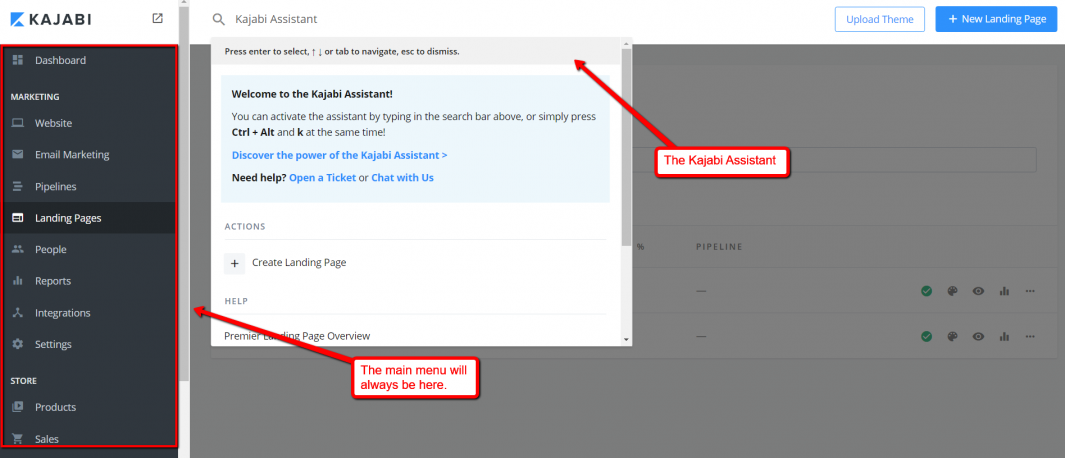 You'll probably find yourself relying on the Kajabi Assistant to get around, especially during your first few hours with the platform. Nevertheless, the search feature itself performs fluidly enough that it actually boosts your productivity rather than hinder it.
Tools and Features
The designing aspect of Kajabi relies on themes, which can be accessed by going to the "Appearance" section either through the "Website" or "Products" tab.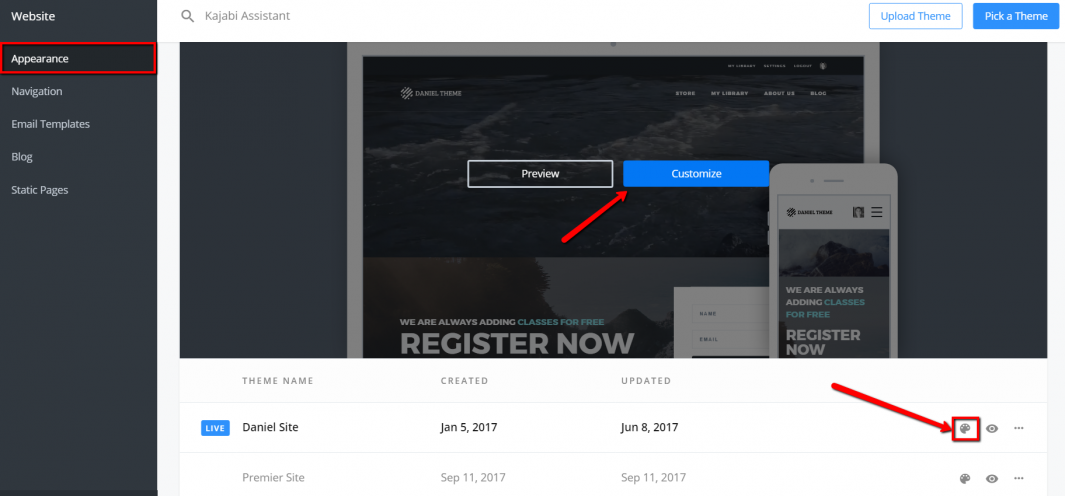 Of course, every theme has a host of customization options you can use to personalize your online course website.
To launch the editor, hover your mouse over the theme preview and click "Customize" or click the paint palette icon next to the site you want to modify.