Linux Mint is one of the most popular Linux distributions on the planet. It was originally started back in 2006 and is based on Ubuntu. It retains compatibility with Ubuntu to this day but has surpassed Ubuntu when it comes to ease of use. You'll be hard pressed to find a Linux user that doesn't agree that Linux Mint is a great option for new users and those who love the Cinnamon Desktop. Let's dig a little deeper in this Linux Mint Review.
Installing Linux Mint is very easy to do so I'm going to bypass that in this review. You can however, read my How to Install Linux Mint article if you want to see the process in depth.
The Cinnamon Desktop
No Linux Mint review is complete without screenshots and this one is no exception. My goal is to show you the basics and explore some of the functionality to help you make a decision as to whether it's something you want to try. The Cinnamon desktop is a very well put together desktop environment that is in version 4.0 as of the latest Linux Mint release.
Here's how it looks post-install: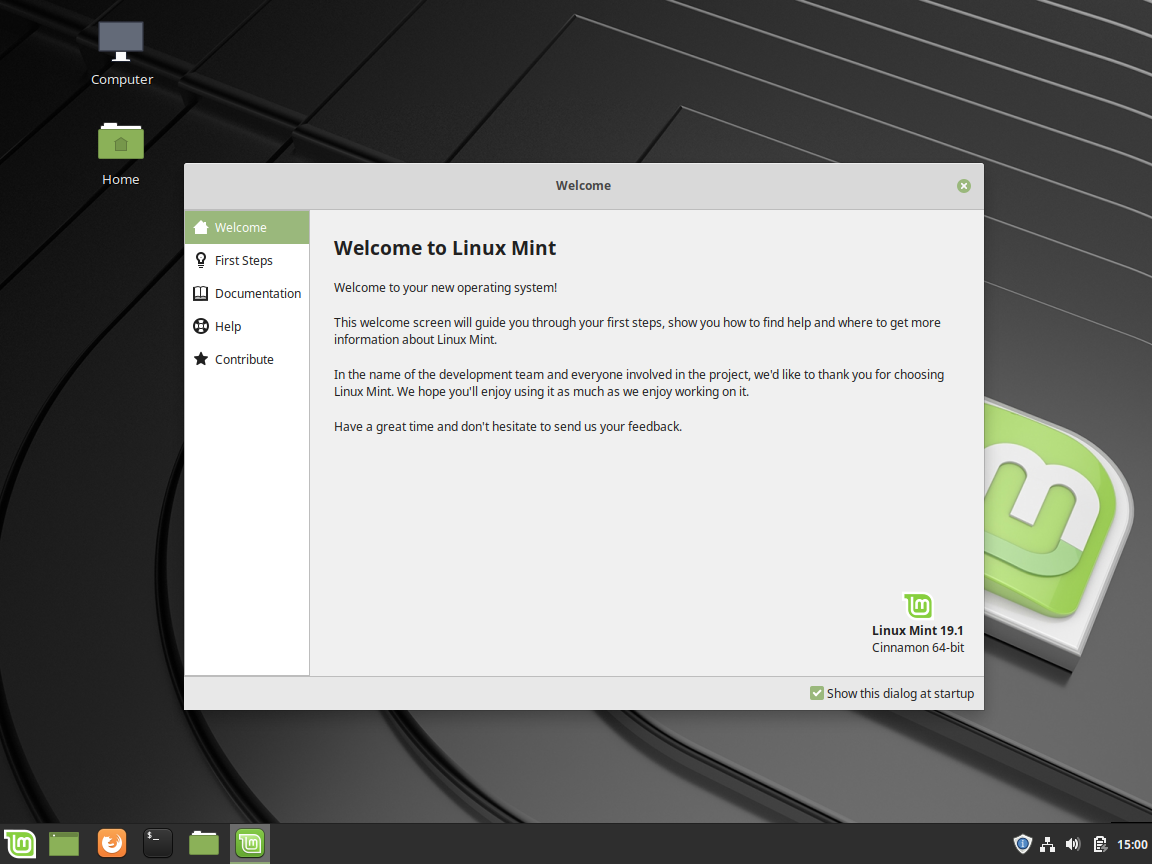 Linux Mint Review – Welcome Screen
You'll notice that the first thing to pop-up is a welcome screen introducing you to the system. This is also present in several other Linux distributions such as Ubuntu Mate and MX Linux.
The Welcome Screen
The welcome screen is intended to provide you with quick shortcuts to useful information as well as some things you should consider exploring after installation. Clicking on First Steps showcases some of the post-install tasks to explore.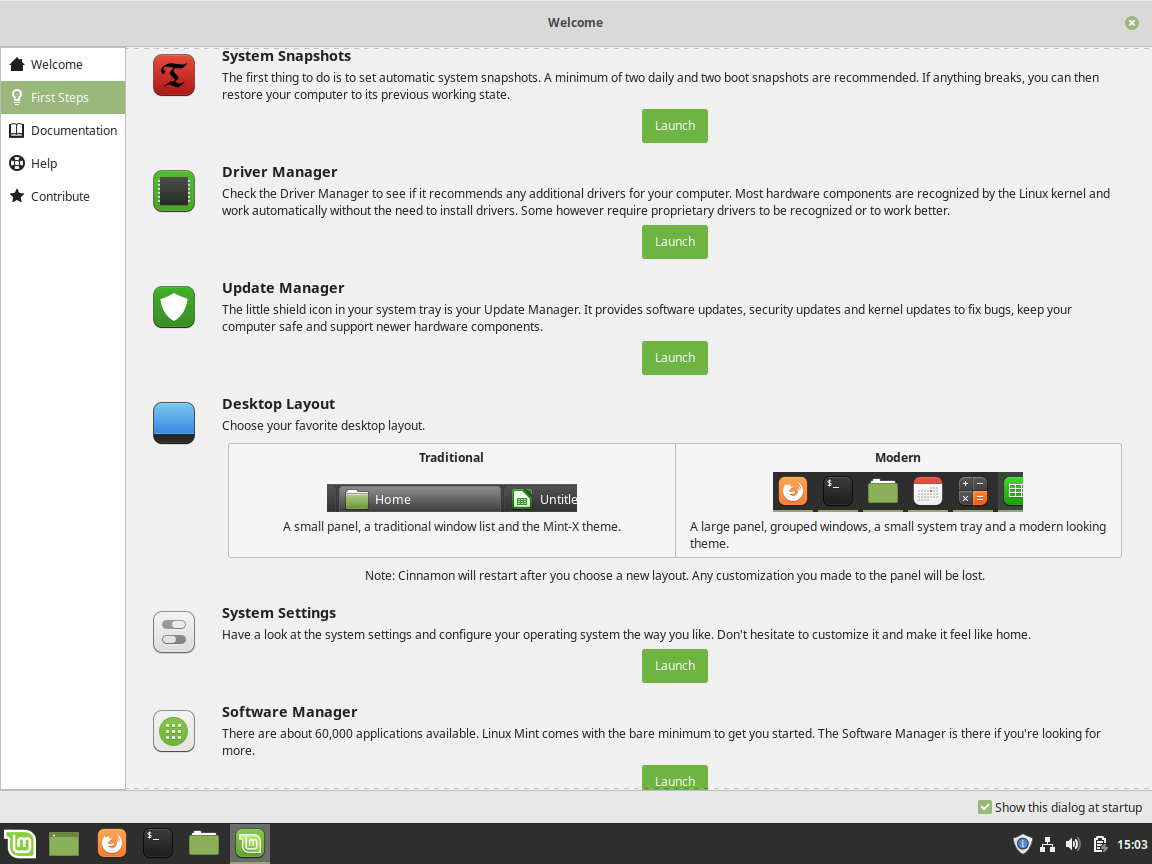 Welcome Screen – First Steps – Linux Mint Review
Here's a quick summary of each of the sections:
System Snapshots – this app is intended to help you set up automatic backups of your system that you can restore if something breaks.
Driver Manager – this driver manager provides you with a means of scanning your system to see if any drivers are available for any of your hardware.
Update Manager – this one speaks for itself, it checks for updated software in the repositories and initiates the updates.
Desktop Layout – New in 19.1 is a layout tool that allows you to choose between two different panel layouts; traditional and modern.
System Settings – Offers quick access to all of the settings for items such as appearance settings, preferences, hardware and administrative tools.
Software Manager – This allows you to manage software on your system and install new software from a massive repository.
Now that we've explored the welcome screen, which I feel is one of the best ones out there. Let's take a look at some of the individual components available to Linux Mint users.
System Snapshots
With system snapshots, you can choose either RSYNC or BTRFS for snapshots. If you aren't sure which one to choose, click the HELP drop-down for more information on each option. I typically choose RSYNC but if you formatted your partitions with BTRFS, then feel free to choose it. The choice is yours.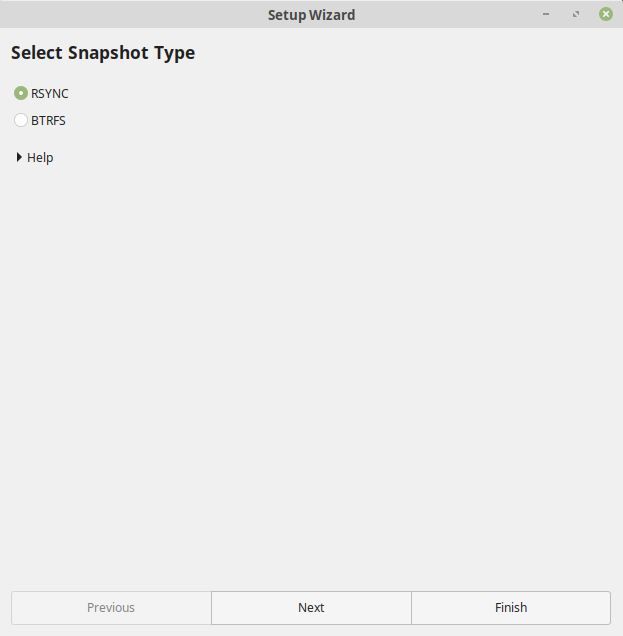 System Snapshots – Linux Mint Review
Once you've made a selection, Timeshift will load allowing you to configure your snapshots. For more information on using Timeshift, visit this link. The inclusion of Timeshift is a smart one. It's a very useful tool and given that Linux Mint is geared towards new users, it's a good idea to offer some sort of recovery option. This will not only bolster the confidence of new users to try new things with the system without fear of breakage but also offers peace of mind overall.
Driver Manager
The Driver Manager, as mentioned, will scan your hardware and check to see if there are any hardware drivers (third party Nvidia for example) that may be required. It will then let you choose whether you want to install them or not.
Opening the driver manager will kick off an update of the cache so that Linux Mint knows what's available.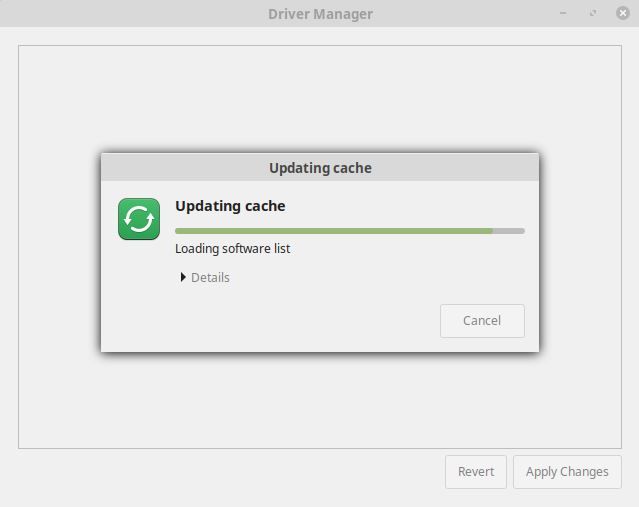 Linux Mint Review – Driver Manager
Once the cache update is complete, the Driver Manager will load and present you with the available drivers, if any.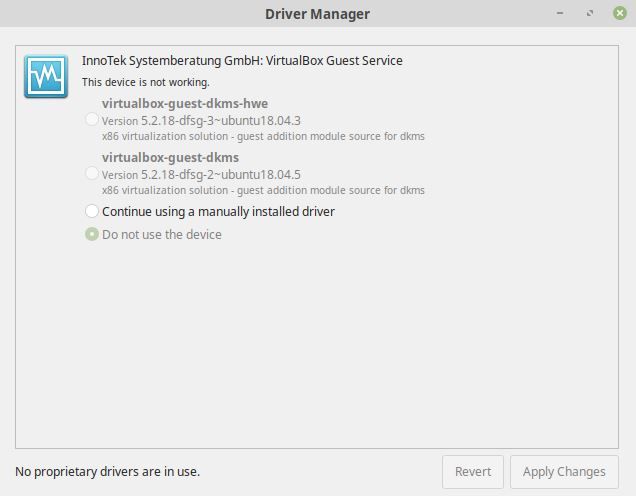 Linux Mint Review – Available Drivers
The driver manager is an essential app for Linux Mint and is similar to the one included with most Ubuntu derived distros. This simple offering helps make Ubuntu and related distributions such as Linux Mint stand out when it comes to ease of use for those being introduced to Linux for the first time.
Update Manager
The update manager allows you to check the Linux Mint repositories for updated software and security fixes. Launching it, you'll be presented with the following screen: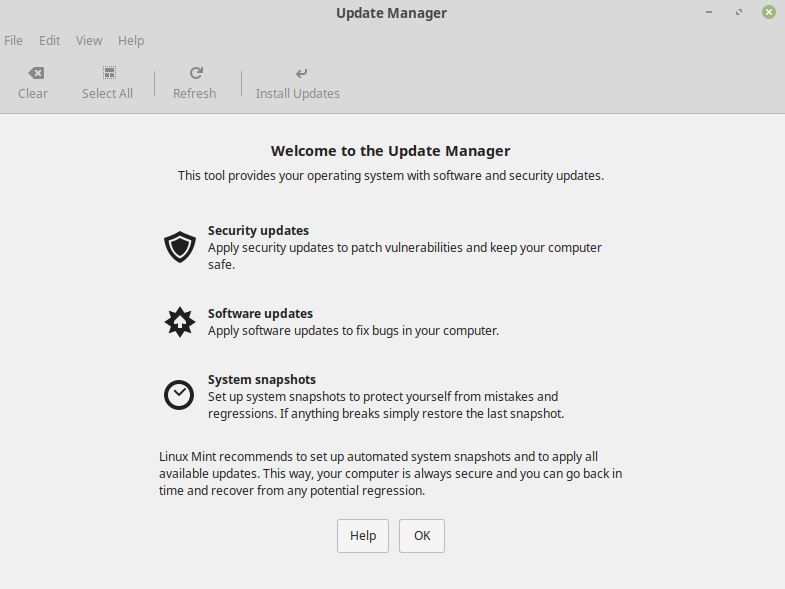 Update Manager – Linux Mint Review
Once you click OK on this screen, the update manager will do a scan of the repositories to see if there are any security or version updates that are available to install. You'll then be presented with a list of updates which you can either choose to install all of or select individually.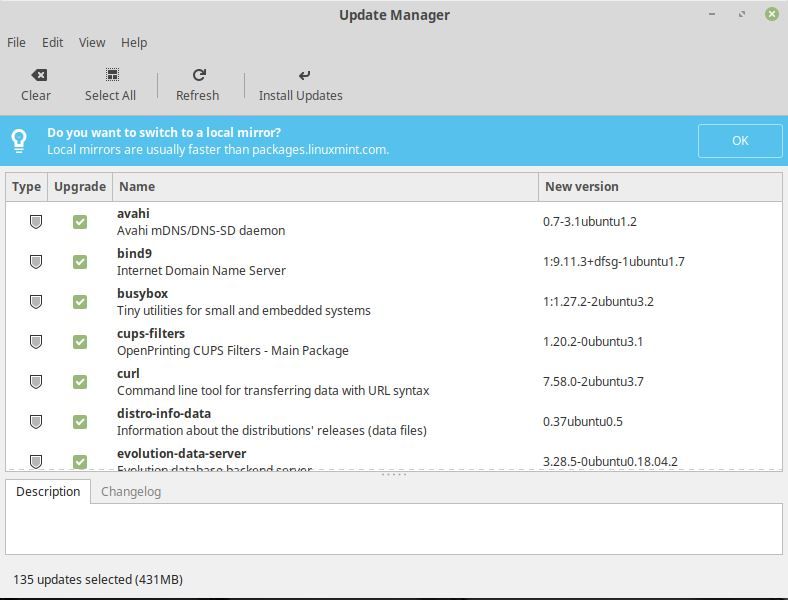 Update Manager – Available updates – Linux Mint Review
Like any good distro, there's multiple ways to perform system updates and Linux Mint is no exception. While the hardcore user will likely end up using apt commands in the terminal, the new user has an interface that's easy to understand and use until they begin to discover the wonders of the console.
Desktop Layout
This is where you can choose between either the modern layout which Linux Mint has by default or the traditional layout from older releases. Here's what the Traditional Layout looks like in comparison to the Modern Layout.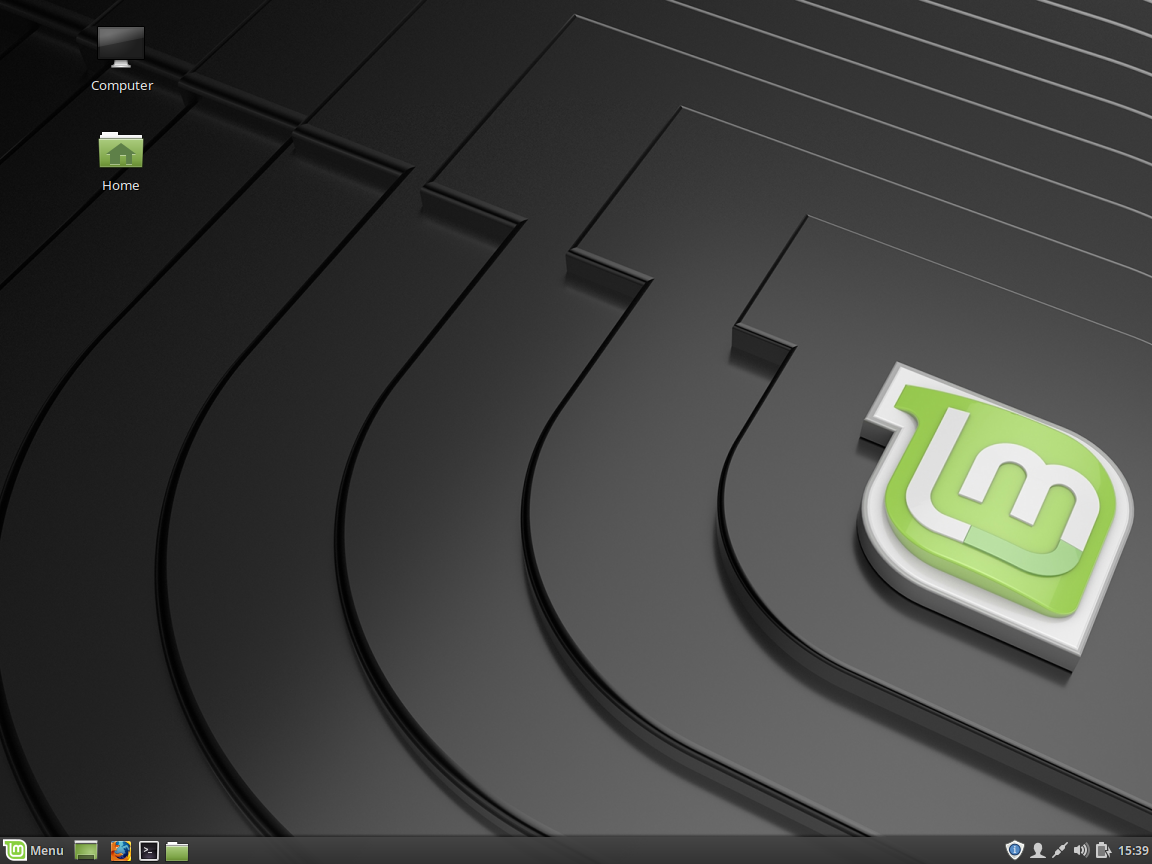 Traditional Panel Layout – Linux Mint Review
I like that the devs chose to include the previous panel layout as an option. For those who are old school Mint users, this keeps them happy and choice is never a bad thing. While I personally thing the new panel look and feel is better overall, I'm pleased to see that they are offering the choice to switch if desired.
System Settings
System settings is where you get access to all of the, well, settings that are available in Linux Mint. Launching it will present you with the following window: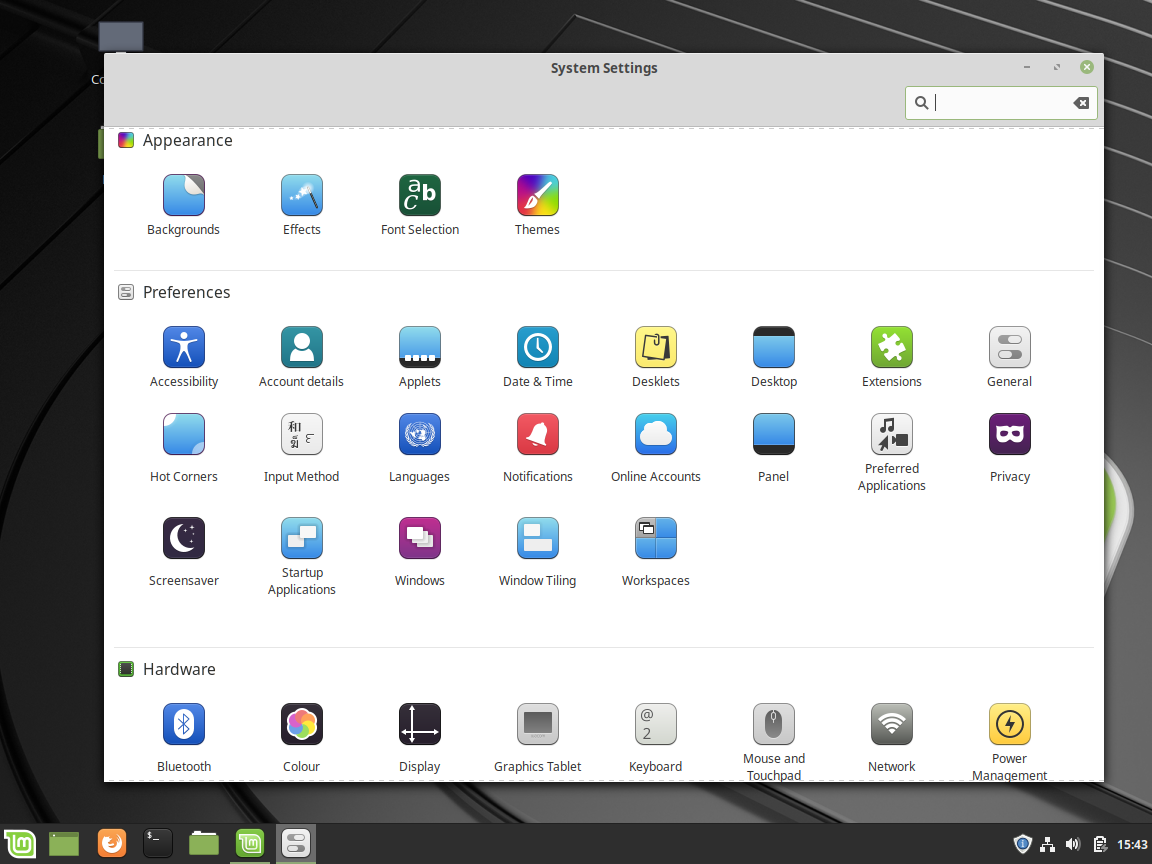 System Settings – Linux Mint Review
We won't get into every single option here as that would be very time consuming but what I will do is touch on some of the key items within this window that I think are worth pointing out in this Linux Mint review.
Effects
Cinnamon comes with numerous options for desktop effects. Within the Effects icon, you'll find two tabs.
The first tab presents you with ability to enable or disable effects for individual components of the desktop as well as choose from some pre-defined effect styles.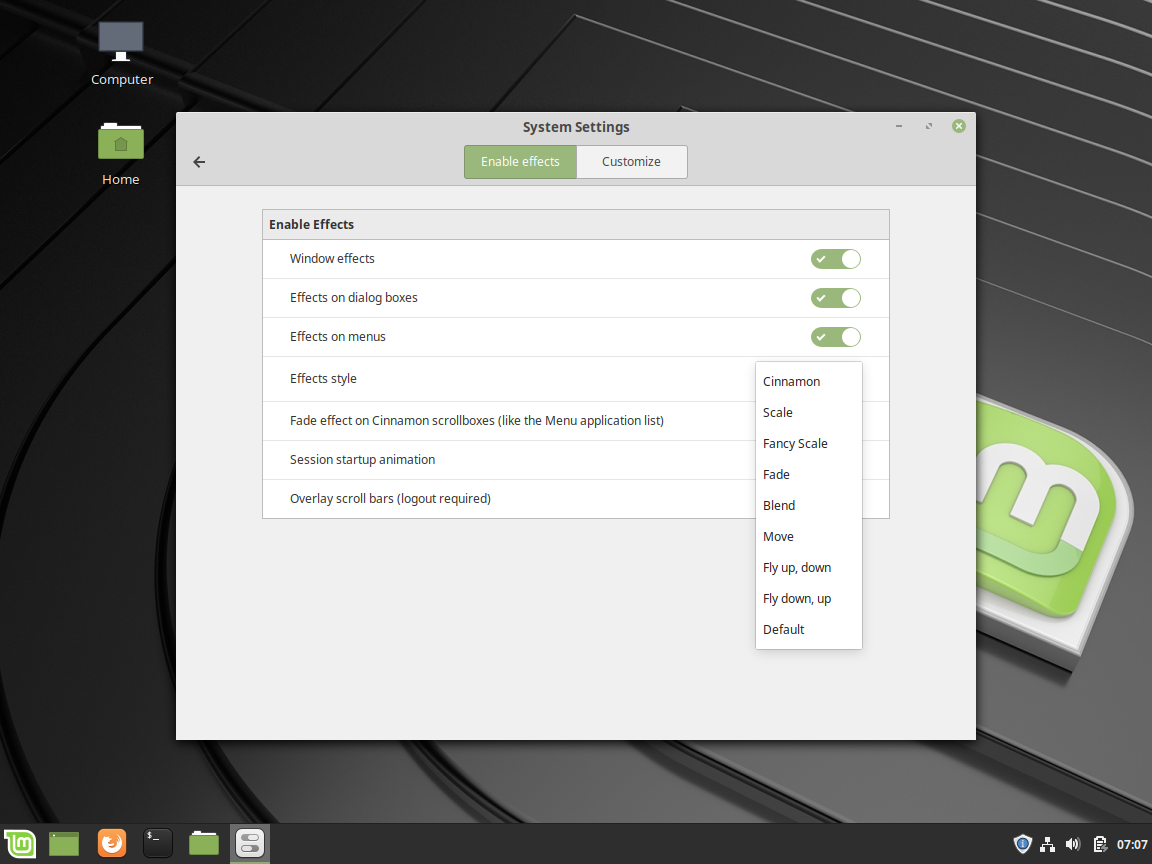 Linux Mint Review – Effects
The second tab offers you more granular control over your settings by allowing you to customize them individually.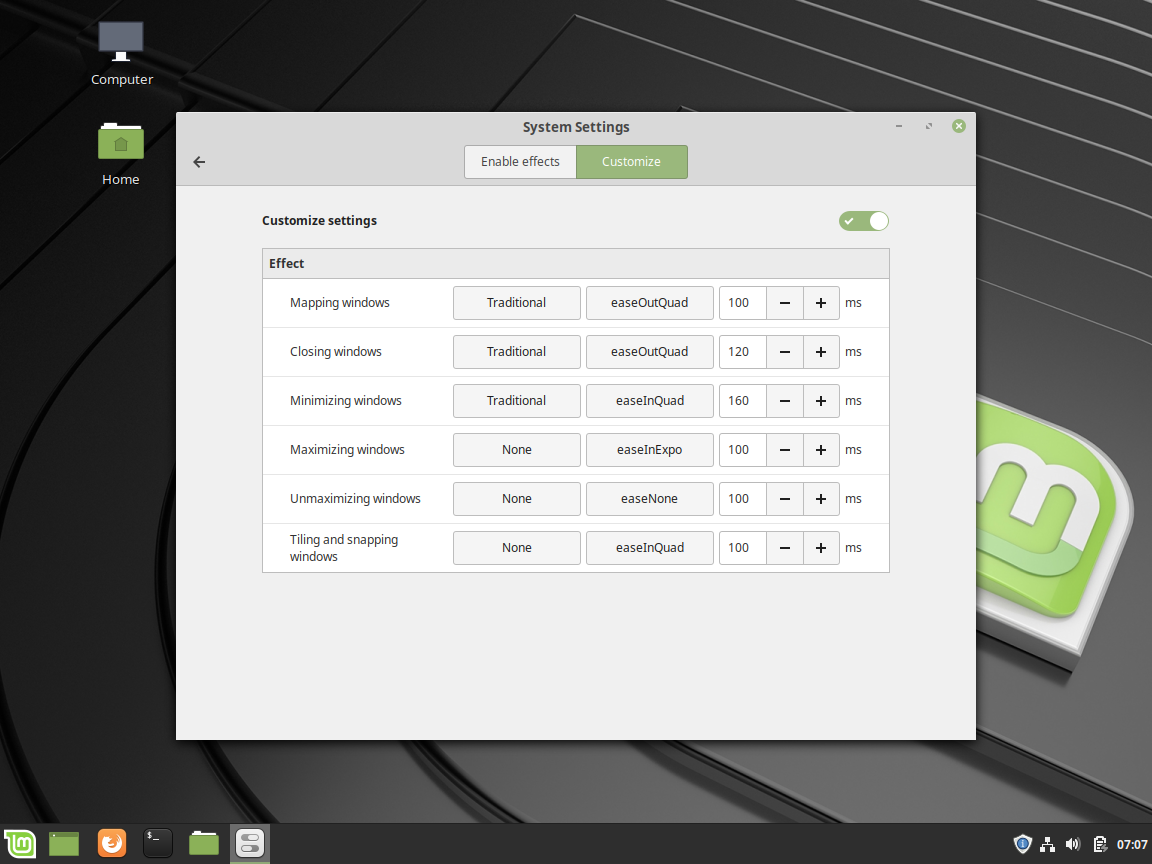 Linux Mint Review – Effects-2
Themes
While Linux Mint does offer a slick default look and feel, you can also change individual components of your theme or download new ones. Clicking on Themes will launch the related window so you can do this.
The first tab lets you customize the themes for individual areas of the desktop.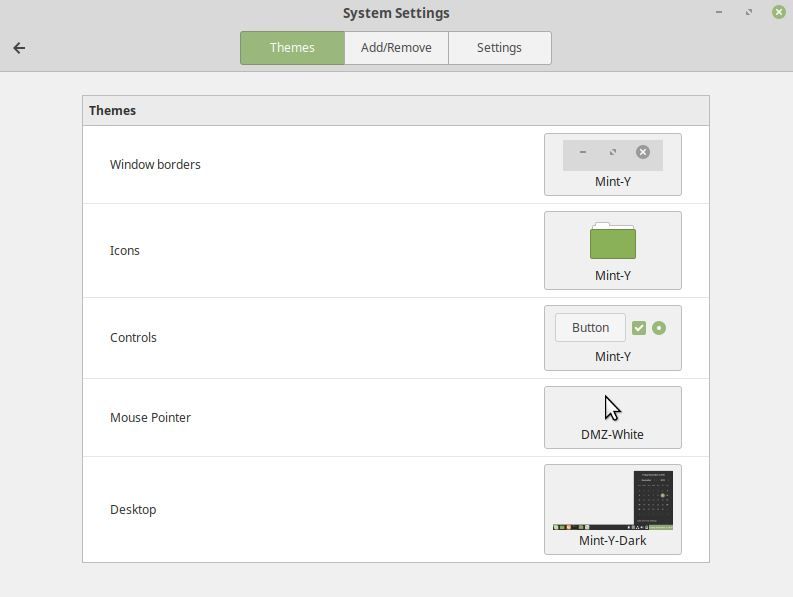 Linux Mint – Themes – Individual Settings
The second tab gives you the ability to add or remove themes that are available for download. Once you download a new one, switch back to the first tab to make your customizations.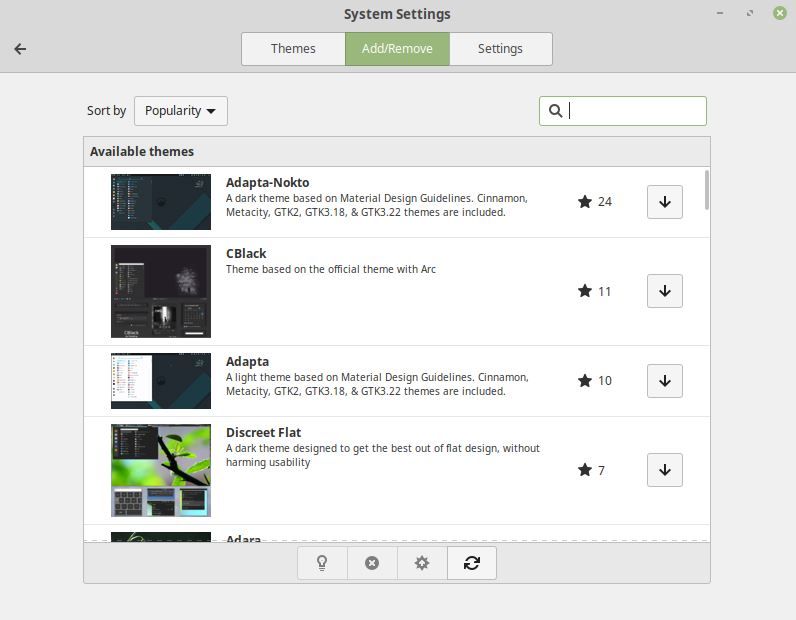 Linux Mint – Themes – Add and Remove
Applets
Applets are small apps that run inside the Cinnamon panel and offer additional capabilities or information. You can manage them by clicking on Applets inside the Settings Manager.
The first tab lets you manage your applets – functions such as adding and removing them from the panel, etc.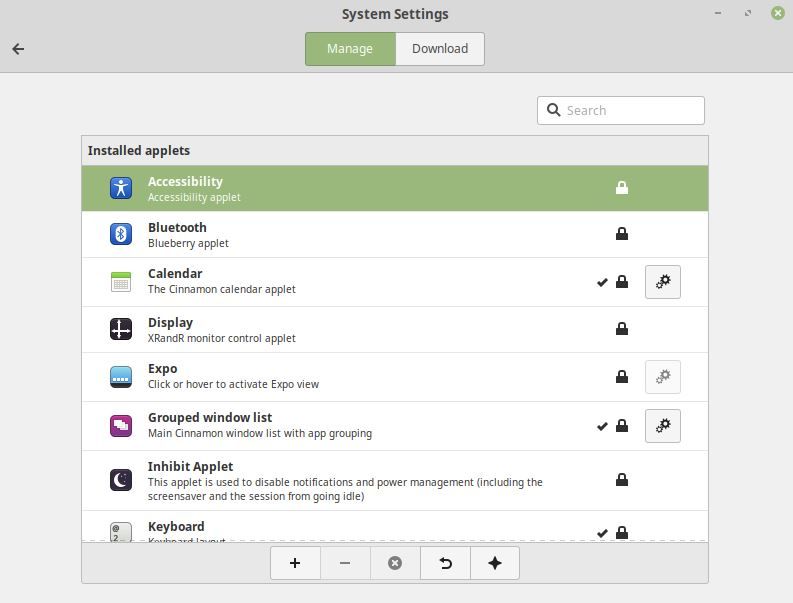 Applets
The second tab gives you the ability to download additional applets from the Linux Mint applet repository.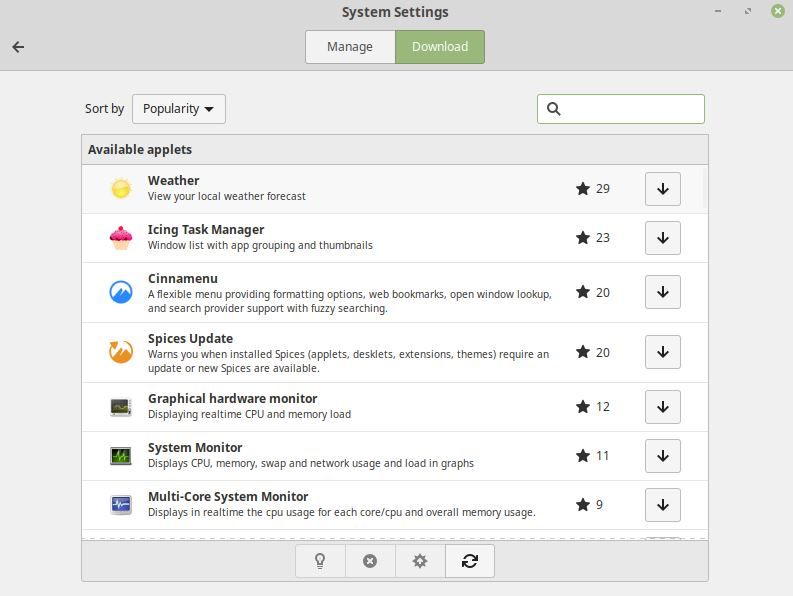 Applet Download
Extensions functions similarly to these as well, allowing you to customize and download additional extensions for Linux Mint.
The remaining settings dialogs are all pretty self explanatory and I encourage you to explore them each individually to ensure you have a solid understanding of what Linux Mint is capable of and what can be configured.
Applications
Be default, Linux Mint comes with numerous applications installed by default such as Firefox, Thunderbird, GIMP, Rhythmbox, VLC and LibreOffice.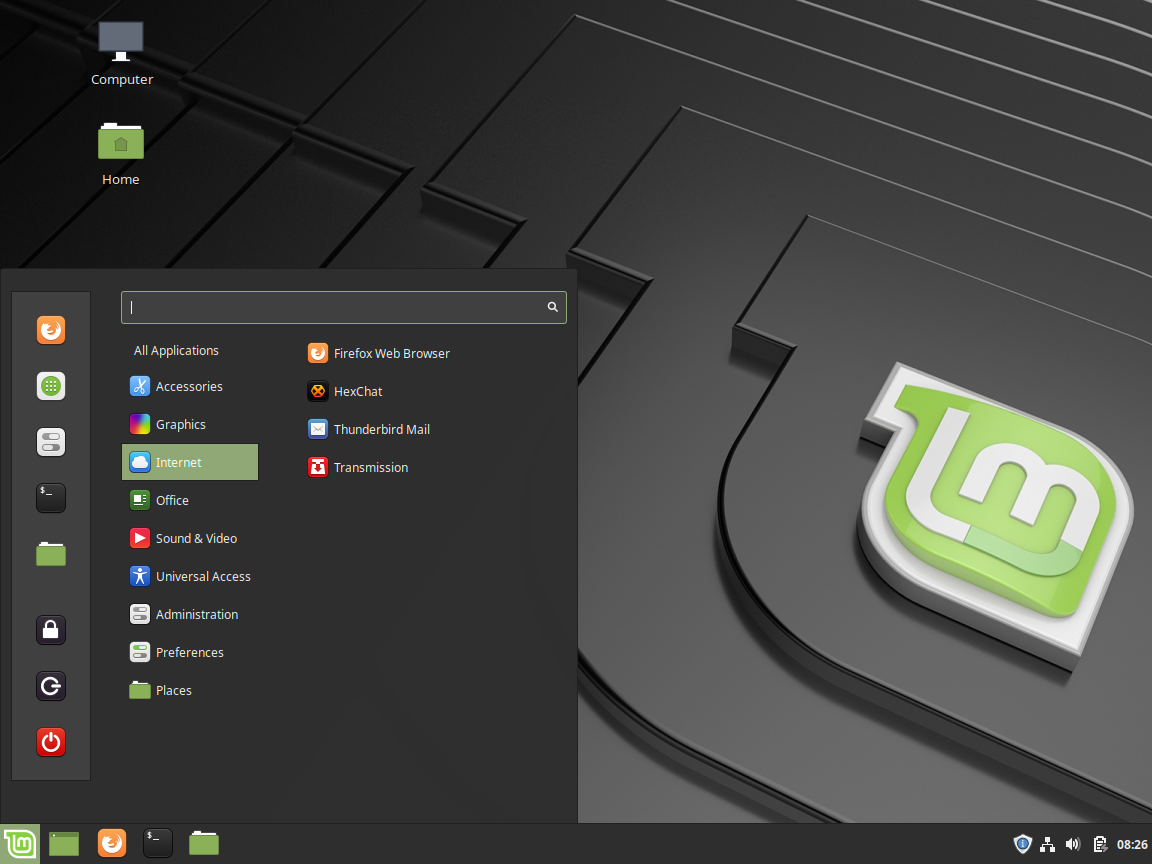 Applications
You can always download more via the Software Manager app.
Nemo
The file manager, Nemo, is excellent as well and offers more than just basic file management capabilities. You can also connect to servers and mount locations via various protocols.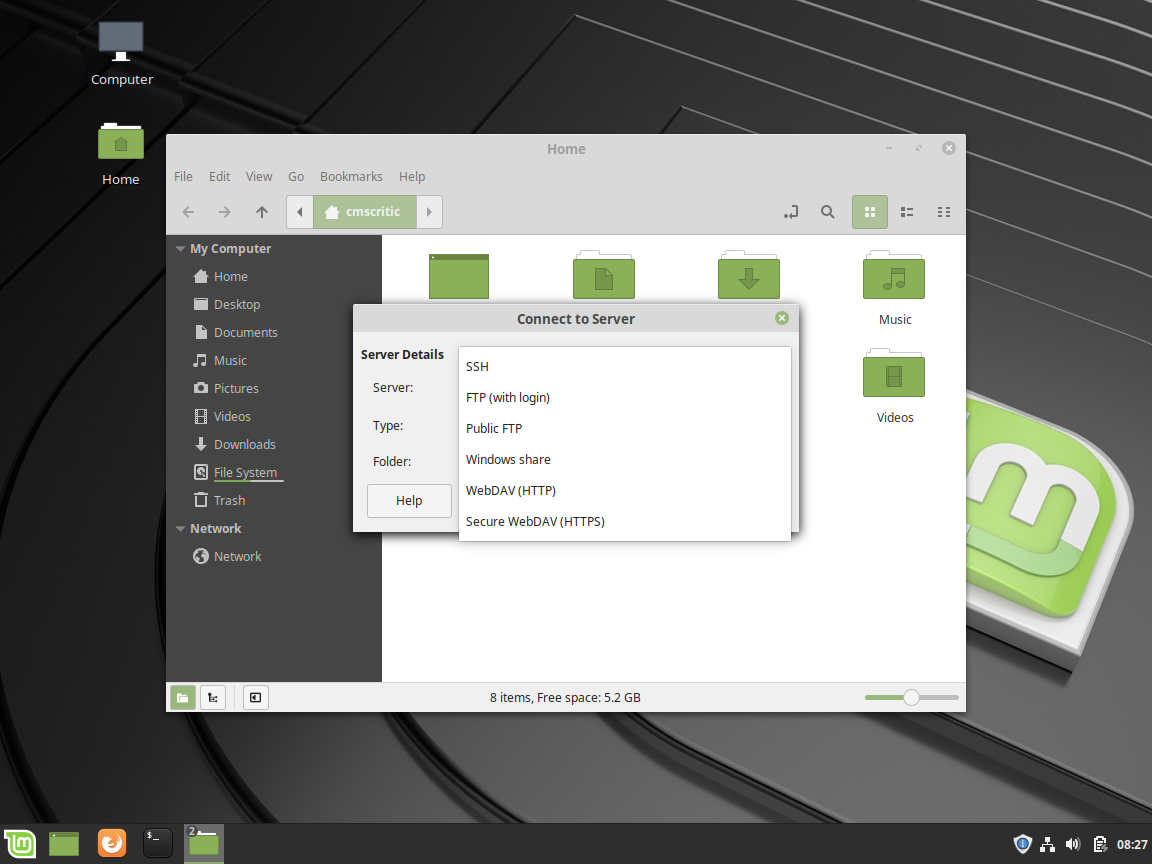 Nemo
There are also numerous plugins that can be used with Nemo, which you can access from the Edit menu.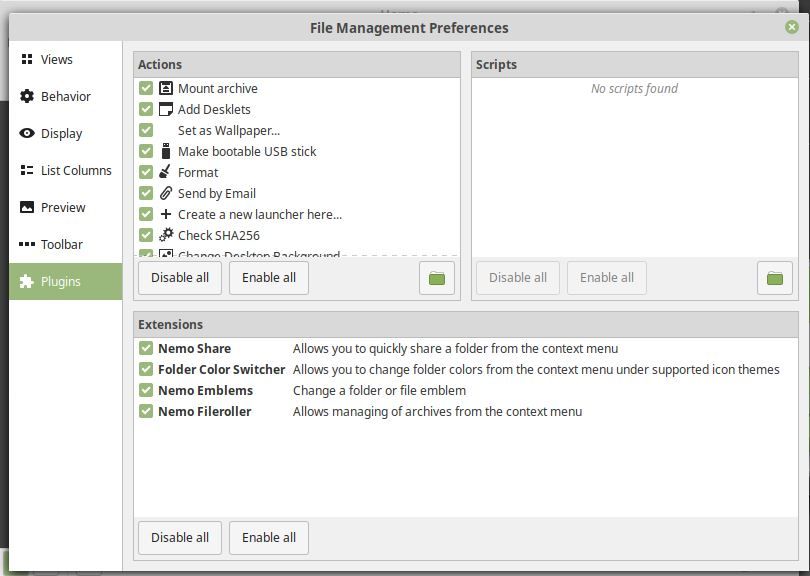 Nemo Customizations
Performance
Performance wise, Linux Mint is pretty good. With Firefox, Calculator, GIMP, Terminal and Nemo running, memory usage was pretty reasonable. The CPU usage was pretty high but I was also running all of this under a limited VirtualBox session.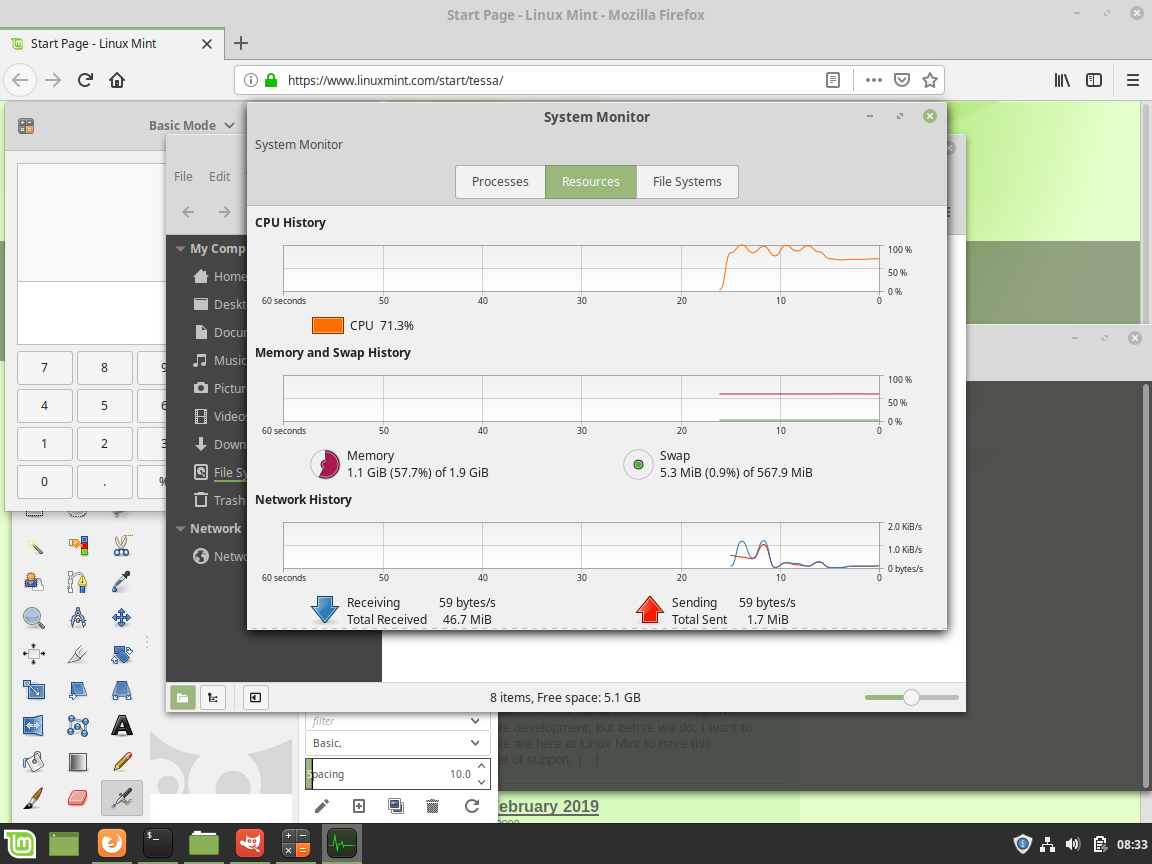 Linux Mint – System Monitor
Conclusions
Overall, it's easy to see why Linux Mint is so popular. It's visually appealing and highly customizable use of the Cinnamon Desktop lends itself well to new and old users alike. The choice of applications and ease of installing new ones is broad and well thought out. Little things such as an app for backups make it easy to recommend. I'm giving it a 5/5. What do you think? Are you a fan of Linux Mint?