If you are overwhelmed by Google Analytics or just looking for an alternative that offers heatmaps and shows you how people actually use your website, then you should consider taking a look at Lucky Orange.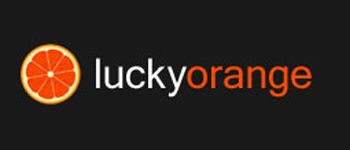 What is Lucky Orange?
It's an exceptional analytics platform that offers not just your typical users stats but something more. You can actually play back each individual session to see what and how a user surfed your site. Sound too good to be true? Must be expensive right? It's not. Not only do you get unlimited session recordings but you get a huge host of features for as little as $10 / month. That's a pretty amazing investment if you ask me.
To see how the live session recording works, check out this video:
Not only does Lucky Orange offer session playback (something that really is incredibly useful as a marketer) but it also offers user heatmaps and a ton of other features such as:
Form Analytics
Automatically calculate form metrics
Abandonment Rate
Conversion Rate
Engagement Rate
Time to Start Forms
Time Spent in Each Field
Which Fields are Most Often Abandoned
Which Fields are Repeated
What Order are Fields Filled Out
Watch Recordings of People that Abandoned, to Learn Why
Real Time Analytics
Accurate counts of what's happening right now on your site
Unique visitor count vs number of browser tabs opened
Top Keywords
Top Countries & Cities
Top Referrers
Top Pages
Realtime Related Tweets
Uses various available transports to create a cross browser/platform real time experience
Live Chat Software
Chat box stays on the page and follows visitor as they browse your site for a seamless experience.
Can watch visitors screen while chatting with them
Add Customized Pre Chat Questions
Customizable colors, text, positioning
Multiple Chat Operators and Operator chat room
Operators can have profile pictures and sub titles
Ability to transfer chat to another operator
See when a visitor is typing, typed, stopped typing
Simple dashboard lets you chat with many people at the same time
Ask a user to chat
Searchable Chat Logs
Visitor can Initiate Live Chat
Toggle chat on/off with one click
Visitor Polls
Ask simple questions with up to 4 responses and comments
Quickly gain valuable customer insight
Watch results in real time
Create country specific polls
Show polls on specific pages
Show polls to random sample
Show polls after certain number of seconds
Instantly add / delete / pause polls without adding any more code to your site
Graph and searchable log of responses
Can push poll results, views, closes, to Google Analytics
Visitor Recordings & Live Sessions
Watch in real time or automatically records visitor
browsing sessions
See exactly what your visitors did on your site
Ability to chat with visitor while you watch them browse.
Watch every mouse movement, keypress, scroll, screen resize
Works with dynamic html and member only pages
Saves the HTML that the visitor saw at the time of the recording
Works across multiple browsers / screen resolutions
See mouse paths drawn over the html
Watch Visitor Path accross site and jump to any page
Searchable recordings, including finding recordings that include a specific url
Stores visitor keywords, search engine, referrer information with recordings.
Heat Maps
Aggregate lots of click data to form beautiful heatmaps
Click heat maps
Mouse movement heat maps
Scroll Depth heat maps (see how far people are scrolling down the page)
Works with fluid layouts & different browser sizes
Create heatmaps based on date ranges, urls, browsers, location and more.
Accurately finds the actual div the user clicked on instead of just using relative mouse coordinates.
Live Visitor Map
Watch a real time visitor map of all your website visitors
Animated with custom effects
Plot line between points for neat effect
Can be launched in Full Screen for use with large monitors, or to display in a waiting area
Simple or Detailed Map View
See here for a full breakdown of features.
Pretty amazing sounding isn't it? The software really is a marketers dream and the price point is well within any budget which makes it even more tempting. The best part is you can get a free trial to play around with the system before making any firm committments one way or the other.