Previously, I managed to derive some important lessons regarding enterprise website deployment via a Magnolia CMS Whitepaper.
But Magnolia CMS has far more to offer than mere advice. 
Magnolia's powerful platform enables customers to create their own bespoke suites with all the benefits of Magnolia's enterprise-grade Java foundation – otherwise known as Magnolia's "Open Suite Approach".
The Open Suite approach keeps companies agile, enabling them to use state-of-the-art customer and communications management as the digital world continues to evolve.
This is all thanks to Magnolia's open architecture, which allows organizations to connect existing and future tools into an integrated platform for digital marketing, commerce and services. By allowing organizations to combine the best available tools for the job without any vendor restrictions, Magnolia helps to maximizing choice and future-proof digital investments.
The Importance of a Modern & Flexible CMS
With new technologies constantly changing the way everybody experiences digital content, flexibility is key to marketing technology.
Your analytics, social sharing features and customer relationship management (CRM) system, not to mention your other existing tools, all have to work together for the benefit of both your organisation and its customers.
This is no easy task, but a solid and open content management system (CMS) at the core of your digital presence is by far the most effective way to meet such a challenge.
Let's take the online retail sector as an example. With mobile devices becoming pervasive, it is no surprise that smartphones are a common starting point for multi-channel shopping experiences. According to Google Insights, 65% of such experiences (known as sequential shopping) are started on a smartphone and 67% of shoppers start shopping on one device before continuing on another. Companies must therefore strive to offer optimal customer experience across all types of devices.
To deal with these constantly shifting trends, your CMS must now enable you to deliver compelling and personalized customer experiences that are assembled from a range of content sources, data sets and services. Social media, device information, customer-generated content and back-office services must all be brought together across a wide range of devices to provide customers with a service worth their time. 
Magnolia's Open Suite Approach
Throughout the last decade, Magnolia has worked with forward-thinking organizations to develop an open, agile CMS that is able to integrate with marketing technology tools, third-party services and back-office systems. Magnolia's Open Suite approach enables its customers to build their own suite of tools and services, precisely targeted to their current needs and requirements. 
Thanks to the Open Suite approach, you can build your digital presence step- by-step, and at each step, benefit from what you have already invested. 
For example, you can begin by using Magnolia CMS to build your main website. You can then add micro-sites, mobile sites or country-specific sites as you need them, all from within Magnolia CMS so that you have less systems to manage and can easily reuse website assets. Later, you can integrate the CRM you already use, add a commerce engine and plug in analytics. You can also integrate it with existing bespoke back-office systems or with third-party services.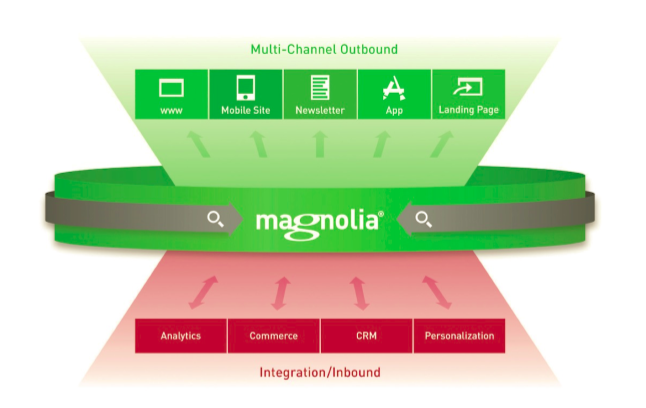 This approach enables you to gradually build your online infrastructure and focus on the most promising next step, while adapting to change by replacing outdated components with best-of-breed innovations as they come to market.
Magnolia's Open Suite approach stands in stark contrast to the "closed suites" offered by many vendors. A "closed suite" is one that comes pre-integrated with many tools which have to be adopted by an organization, increasing the complexity of transitions. In addition, such pre-configured suites are inherently less agile, because these types of software are not designed to easily integrate with new tools.
Wide Ranging Benefits, Enterprise Integration & More
Magnolia's Open Suite approach allows you to create a complete enterprise solution built with multiple tools. These tools span various categories, including ecommerce platforms, analytics, marketing automation, social media, document management and on-site search.
On the Web, persuasive content and personalized experience are key to repeat business. Magnolia CMS lets you collect information from across mobile, social and in-store channels and integrate it with world-class ecommerce platforms, to ensure that your customers always have the best possible shopping experience. 
Below is a quick overview of the integrations on offer: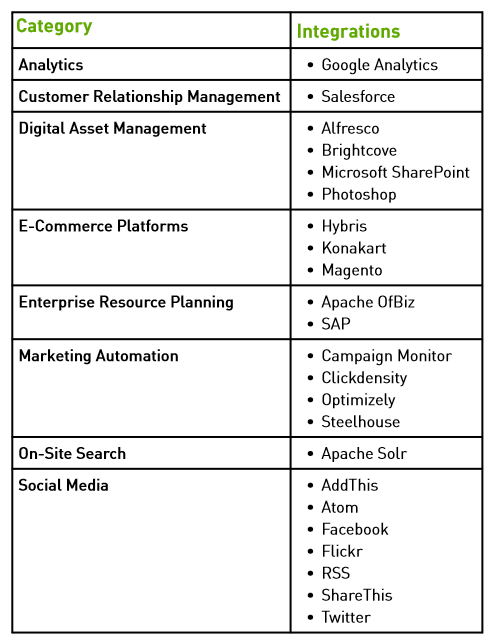 It's not just about integrating a number of external tools and services though. Magnolia's Open Suite approach allows you to enjoy a range of benefits.
Below is a list of just some of the benefits brough about by Magnolia's Open Suite approach.
Choice: Magnolia's Open Suite approach enables you to integrate your choice of best-of-breed tools in each category, instead of being locked into the tools a closed-suite vendor thinks are best (or happens to have acquired by the vendor and bolted together over time). This ensures that business needs will dictate technology and not the other way around. 
Value: Competitive marketplaces combined with diverse user needs, force vendors of most closed suites to offer all-in-one solutions encompassing a broad range of tools – at a high cost. When organizations purchase such a suite, they typically end up paying for components they don't want, need or plan to use. With Magnolia's Open Suite approach, users always only pay for what they need right now.
High Interoperability: For the Open Suite approach to be successful, there must exist the possibility of interoperability. Magnolia CMS supports many open standards for data exchange, including standards like Content Management Interoperability Services (CMIS), a specification for improving interoperability between enterprise content management systems. 
Dynamism: With Magnolia's Open Suite approach, you can keep evolving parts of the suite as your needs change, while keeping the rest of your tools as they are. The promise of our Open Suite approach is that it allows you to upgrade different parts of the digital marketing mix at different speeds depending on your current priorities. If your business priorities change, our Open Suite approach gives you the flexibility to change your technology to keep pace. 
Efficiency: With Magnolia's Open Suite approach, different products and systems optimization, analytics, CRM, ecommerce and more – work toether around the core publishing tools of the CMS. This helps create effiiencies within teams, departments and companies. For organizations, it's easier to react, by quickly launching new campaign microsites and landing pages. By using Magnolia CMS' built-in Apps provisioning to enforce access policies for staff and customers, regardless of how and where they log in from. 
Flexibility: Think of Magnolia's Open Suite approach as an option on future technology: it gives you maximum flexibility to move to different technologies and toolkits if existing ones aren't meeting your needs. Want to swap out your marketing automation tool for a better one when it comes along, or add new ecommerce functionality as your online store grows? With a closed suite, you'd need to start afresh, draining time and money. With Magnolia at the core of your Open Suite, on the other hand, your suite evolves with your needs.
User Experience: When other applications are integrated with Magnolia, it's done with a small, single-purpose App that behaves like the other Apps within Magnolia CMS. It runs across all browsers, users go to one place to find it, and data can be accessed in a consistent fashion. On the administration side, too, controls for integrated applications can be managed within Magnolia, allowing disparate systems to be part of the same workflow system. By providing a consistent user experience across platforms, Magnolia's Open Suite approach reduces the learning curve, raises productivity and fosters higher adoption.
All of these qualities are essential to deploying and running a smooth digital operation, where the needs of both an enterprise, and all of its clients or customers are met.  Magnolia don't just understand these needs, but they cater for them too. It's no wonder then, that Magnolia CMS is the choice of a range of enterprises around the world.
In fact, leading organisations such as aviation corporation Airbus Group, news outlet Al Arabiya and media company Foxtel all boast Magnolia's services, and all reap the assorted rewards and benefits listed above.
To explore the benefits of Magnolia's tried and tested open suite approach further, check out their highly detailed white paper, The Magnolia Open Suite Approach.