Be you a blogger, an entrepreneur or a web developer, you have probably thought about a possible perfect platform for your website. But what if there is a one single solution, versatile enough to power all types of websites on all possible topics?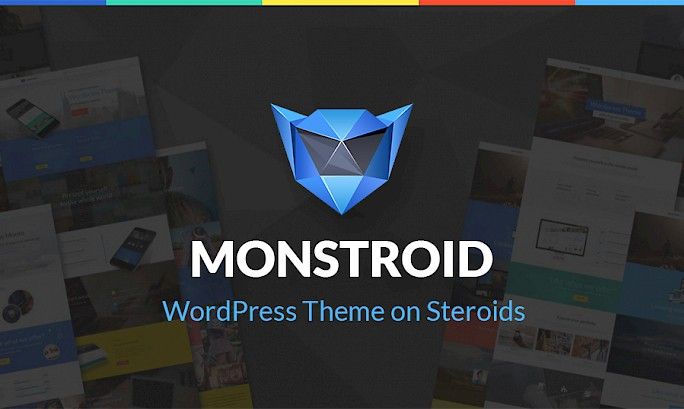 Today we'll draw your attention to the new player in the team of all-purpose WordPress themes – Monstroid by TemplateMonster. With its roots in Cherry Framework 4.0, the number of its functions is immense.
The framework itself is pretty impressive, and all the additions and tweaks of Monstroid make it even more diverse. Let's take a closer look at its features.
Styling Options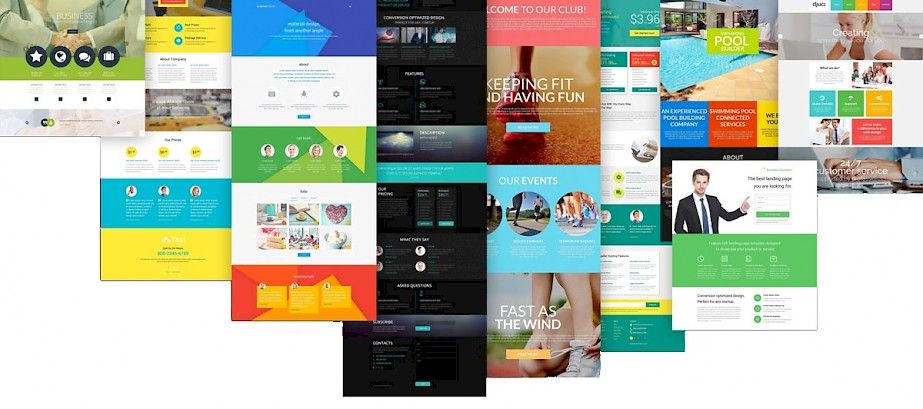 Evergrowing Selection of Subtopics
Monstroid's starting package includes five child themes – the core theme and 4 themes dedicated to the most popular topics – Finance, Education, Portfolio, Interior & Furniture. The core theme is highly versatile: it has neutral layout and can be used for any type of website. Additionally it has three color schemes and is ready to be used as a WooCommerce-based online store.
Every new child theme (it's over 15 themes monthly) will be available to Monstroid users for free. They will just have to download and activate them in the dashboard via Monstroid Wizard.
Monstroid Skin Switcher
This feature appeared in some of the recent TemplateMonster templates, now they decided to implement it in Monstroid. It allows switching between premade style schemes from the frontend of the site. You can choose between dark, minimal or flat styles.
Cherry Grid
Cherry Grid defines how your post list will look like.
You can choose from rows, columns or extremely popular masonry grid.
MotoPress Content Editor

MotoPress is a popular premium drag'n'drop content editor for WordPress which is available in Monstroid for free. MotoPress allows you to adjust the size, position and properties of the your website elements without touching any shortcodes.
Unique Features of Monstroid
Shortcode Template Editor
Dozens of shortcodes, available for Monstroid users, can be additionally customized via the Shortcode template editor. It is capable of changing shortcode attributes, element loading order etc.
CSS Compile / Minify
This trick is a lifesaver for coders. With this function compiling of multiple CSS files into one is just a matter of two clicks. How it works: you work with several style sheets and then compile them to get one optimized file at the output. This helps to decrease page loading time and contributes to website's performance.
Dynamic CSS
It allows changing CSS dynamically. You don't overwrite the existing file, but create new files each time you make changes.
Static Area Builder
You can completely redesign your header and footer by changing the positions of their elements – logos, widgets, banners, menus, etc. You can drag and drop these elements and adjust their position with Bootstrap grid classes.
Monstroid Wizard
This plugin is a combination of an installation tool and a showcase of available child themes. You can switch between them in any moment. Additionally it is used for installation of sample data.
Theme Settings
Backup All the changes made in theme settings can be rolled back with the help of this plugin. Simply set the checkpoint and continue experimenting safely.
Independent Module Structure
The Monstroid package includes 23 plugins; most of them have been developed specially for the theme. All of them can be used either with the theme, or separately. This feature gives unlimited possibilities to advanced web developers.
Powerful Plugins Coming with Monstroid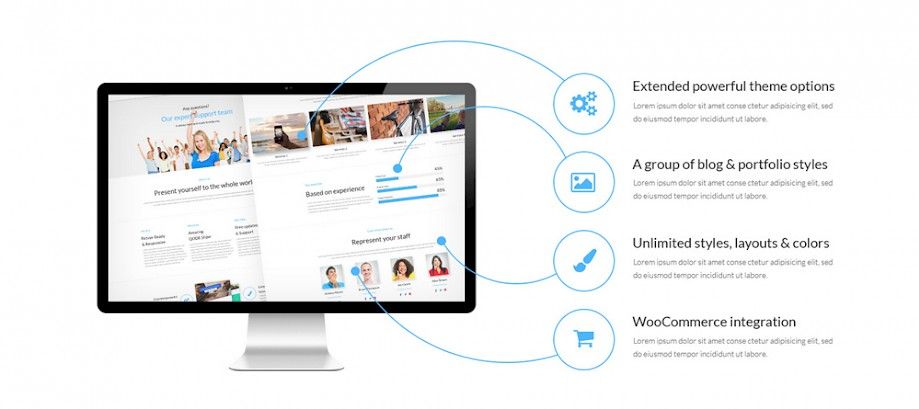 Cherry Mega Menu
This plugin is made to effectively manage sophisticated menus with complex structure and lots of assorted elements – links, banners and embedded YouTube videos. These menus have proven themselves in large multitopic websites and online stores.
Cherry Social
Cherry Social plugin incorporates social interactions on all levels. It includes social sharing, login and widgets of the most popular social networks.
Cherry Custom Sidebars
Sidebars are important for focusing the attention of your audience. For example, simply moving your sidebar to the left you can boost email subscription. Cherry Custom Sidebars gives you full control over this element of user interface.
Cherry Testimonials
The Testimonials editor will help you show the love of your customers to your potential customers. This is a powerful factor for acquiring trust, which is so important for every business.
Cherry Portfolio
If you want to present your works in a stylish way, this plugin is for you. Your portfolio will look awesome with Ajax-powered visual effects and customization options.
Cherry Services
The plugin is used to set up landing pages with your business information. Among the available functions are, for example, customizable price tables and blocks with address and phone information for better conversion.
Cherry Team
Cherry Team is probably the best way of presenting your team members. Profiles are created independently and can be later merged into one page. Then you can edit them and rearrange their order.
Cherry Charts
Now there is no need in external (often paid) services for creating compelling visualizations of your statistical data. Cherry Charts is created specifically for this purpose.
Cherry Blog Layouts
If you are going to build a blog, this plugin will be your main tool. Adjust elements of your blog until you find the layout that is perfect for you.
Cherry Ranking
With the help of "like" and "star" ranking systems you can insensibly call your visitors for expressing their opinion. Product rating is a very important factor when it comes to trust, so why not let your customers do a part of your job for you?
Cherry Data Manager
This tool serves as a "briefcase", allowing you to export and import your website data to back-up it or transfer to another domain. It is particularly useful for developers, who need to test their work on different servers.
MotoPress Slider
MotoPress slider is a premium plugin that can be used to add visual appeal to your layout. It is able to compose versatile complex slides of text, images and even videos, accompanied with transition effects.
Full WooCommerce Compatibility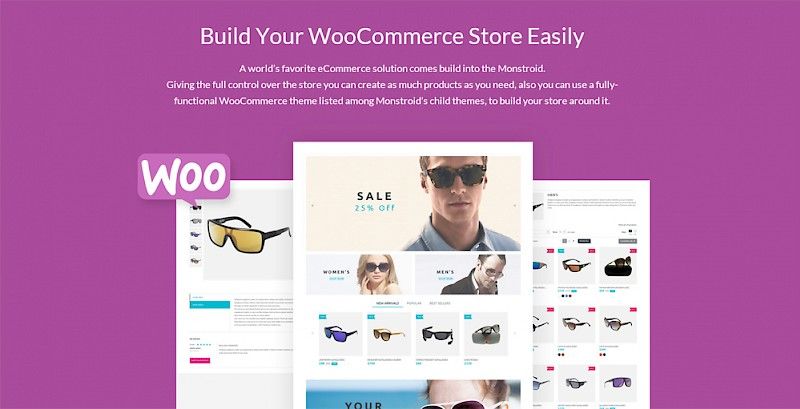 For merchants who have chosen WooCommerce as their online store platform (they account for 22% of the total number of online sellers), TemplateMonster have prepared several useful tweaks.
Firstly, all child themes of Monstroid are ready to use with WooCommerce.
Secondly, the core Monstroid theme is supplied with all possible ecommerce page types: product lists, product pages, checkout pages, etc., and is able to become a live store in a few minutes after installation. It also includes premade product templates, so you just need to change images and descriptions to start selling.
YITH WooCommerce Compare & YITH WooCommerce Wishlist
Two plugins from YiThemes are included by default to enhance the selling possibilities of WooCommerce – they add functions of product comparison and adding to wishlist with an option of social sharing of wishlisted items.
Support of Major WordPress plugins
If you've been with WordPress for a long time, you probably know these titles: BuddyPress, and BBpress. If not, it's high time to squeeze the most out of your website. The plugins above are complex solutions for turning a WordPress website into a social network (BuddyPress) or a forum board (BBpress). Monstroid supports them, so you can try them out right after the installation.
Other features
Lifetime Support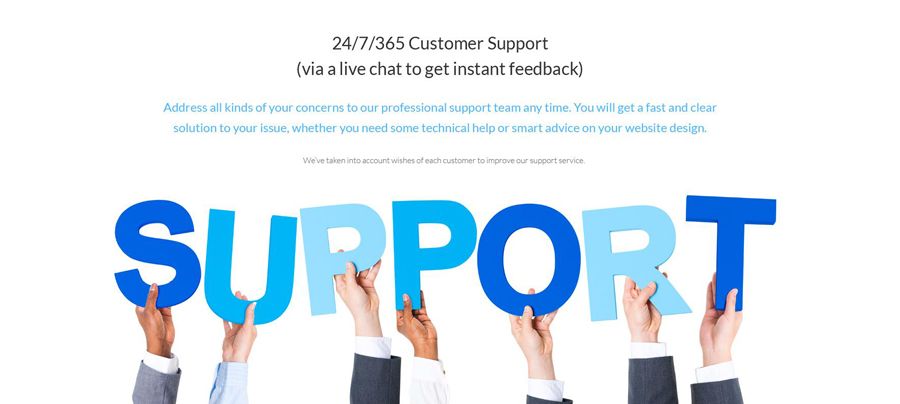 TemplateMonster is well known for its lifetime 24/7 support for every product. Monstroid is no exception. Moreover, you will get access to their support live chat from your WordPress dashboard. Another option is sending a support email, but "live chat with average response time of 2-4 hours" sounds very attractive.
Library of 500+ fonts
Monstroid supports the whole collection of Google web fonts. You may choose any of 500 for your titles, body text or interface elements, combining them as you wish.
RTL and WPML ready
This necessary function is, of course, present in Monstroid. RTL stands for "right-to-left" and grants correct display of such languages as Arabic and Hebrew. "WPML" means "WordPress Multilingual" and it allows hosting different language versions of your website on one domain.
Google-oriented
Despite the variety of native and external options, Monstroid is crafted with Google requirements in mind. It is not only fast, but is also SEO-optimized, including the support of Yoast SEO Plugin.
With Monstroid You Also Get:
Source PSD Files



Over 100 PSD files come with Monstroid as a separate downloadable option. This package includes pages for the main Monstroid theme and all the child themes, furthermore, new sources will be delivered with every new child theme every month.
50+ Licensed Images
More than 50 licensed royalty-free images are included in the Monstroid package. Whatever is the topic of your site, you will find pictures to your liking.
What's now?
Now you are probably going to see Monstroid for yourself. Seriously, if you are looking for a theme with possibilities of a framework, look no further: Monstroid has everything you may ever want from a WordPress theme, it has much more.