Optimizely (formerly Episerver), a leading Digital Experience Platform, announced today that it has acquired Zaius, a Customer Data Platform (CDP).
The announcement comes just months after the company's acquisition of Optimizely last September, which led to Episerver's rebranding of its entire organization under the Optimizely banner.
"At Zaius, we've always believed that having the customer's context was the unfair advantage to creating the most relevant experiences for customers," said Spencer Pingry, co-founder and co-CEO of Zaius. "Analytics, segmentation, predictions, and personalization fueled by this context lead to experiences that drive customer loyalty. We are proud of how that has created growth for our customers and partners, and look forward to joining Optimizely to expand that story."
The race for customer data
As enterprise content management (CMS) and digital experience (DXP) platforms battle for market share, customer data has become an almost essential component in the fight. With the purchase of Zaius, Optimizely is now positioned with a data-driven stack of services that will power digital experiences for customers – and elevate their competitive posture.
Breaking down "data silos" has become a critical objective for many organizations. According to Segment's 2021 CDP Report, 73% of companies say that a CDP will be instrumental to their customer experience strategy. Based on the metrics detailed in the report, 2020 saw exponential growth in customer data – and that only appears to be growing.
DXPs have recognized this problem, and are now making rapid progress towards unifying their data. For example, in the CDP layer of the stack, Segment is connecting customer data from fragmented corners of the ecosystem. This is why Twilio dropped a whopping $3.2 billion to acquire Segment for building and powering data-driven apps.
Likewise, Adobe has invested heavily in the customer data column, enhancing their platform capabilities for creating personalized, app-like experiences that leverage customer data from end to end. And most recently, Sitecore acquired Boxever – adding a proven CDP to their ecosystem.
Combining DXP and CDP capabilities
Optimizely lost little time catching up with the other big platforms (like Adobe), acknowledging that organizations can no longer rely on third-party customer data to personalize experiences. With Zaius, Optimizely will be able to bridge what has traditionally been disconnected data points and bring them into context with one another.
In addition to being data-driven, Optimizely aspires to be customer-centric. With Zaius, they will now be able to segment customer data in combination with their interactions, observe behaviors through experiments, and gain powerful insights. Having a complete understanding of all those factors will enable Optimizely's customers to create hyper-personalized experiences and maximize their ROIs.
Zaius's segmentation engine – coupled with Optimizely's behavioral data from experiments and transactional insights from its content and commerce platform – will provide a new level of agility. Powered by out-of-the-box AI/ML predictions, the combined platform can unlock even more value by providing visibility and guidance through the lens of the customer.
Zaius also brings 50 pre-built app connectors to Optimizely – including Shopify, Snowflake, and Zendesk – which are available as one-click integrations. These connectors rapidly streamline the data integration process and automate identity resolution with consent management.
A Leader on the Gartner MQ for DXP
Optimizely has been recognized as a Leader for the second consecutive year in the Gartner 2021 Magic Quadrant for Digital Experience Platforms, trailing right behind Adobe and Acquia.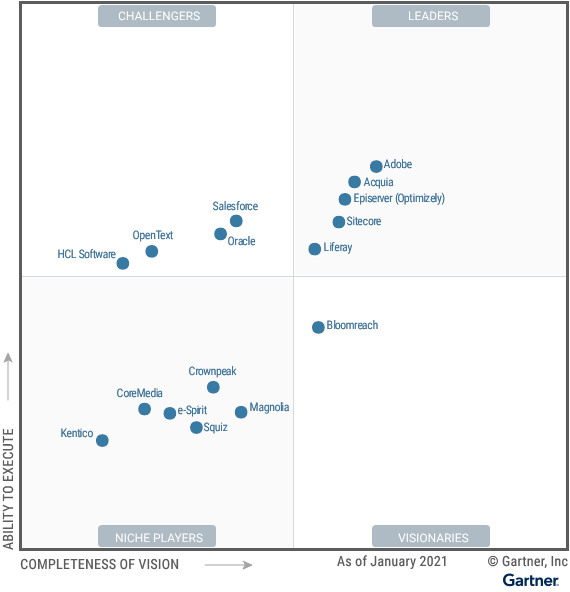 While the players have shifted positions from 2020, the crop of leaders has made significant investments or acquisitions in customer data platforms to compete more effectively.
On the opposite end of the spectrum, Salesforce has been gaining ground against DXPs in the Challenger quadrant. As the world's leading CRM and customer data platform, they have elevated their position by addressing key deficiencies on the experience and content management side – which includes the launch of their own CMS in late 2019.
What's next for Optimizely and Zaius
With the purchase of Zaius, Optimizely has fully stacked their deck – adding the all-important customer data piece to the puzzle. As they begin to integrate the core capabilities into their platform offering, it's conceivable that they may give Acquia and Adobe a run for their money in next year's MQ report.
As 2021 continues to unfold, we'll be watching the impact of this investment and how it continues to shape Optimizely's strategy.
About Optimizely (Episerver)
Optimizely (Episerver) is on a mission to help people unlock their digital potential. With their leading digital experience platform (DXP), they equip teams with the tools and insights they need to create and optimize in new and novel ways. Now, companies can operate with data-driven confidence to create hyper-personalized experiences. Building sophisticated solutions has never been simpler. Optimizely's 900+ partners and 1100+ employees in offices around the globe are proud to help more than 9,000 brands, including Toyota, Santander, eBay, KLM, and Mazda, enrich their customer lifetime value, increase revenue and grow their brands.
About Zaius
Zaius is the Activated Customer Data Platform that assists growing brands to achieve higher customer lifetime value by delivering relevance across the entire customer journey, from anonymous browsers to loyal shoppers. Zaius aligns entire organizations around customer data allowing digital leaders to create relevant customer experiences through harmonization of their data, understanding and action that differentiates their brand and drives customer loyalty.