Producing personalized experiences is something that's becoming more and more relevant to marketers across the Internet, no matter what their industry.
Optimizely has taken a step towards making personalization more accessible for a wider range of businesses.

Trusted by the likes of Sony, Microsoft and Skype, Optimizely is an experience optimization platform, built to work on top of existing content management systems. It empowers marketers to modify page elements, A/B test variations, segment audiences, set goals, track progress, and a lot more.
Back in June, I covered the announcement of Optimizely Personalization, which came with a release date of Fall 2015. It's good to see that date being stuck to.
"Personalization is the Key to Optimum Customer Experiences"
Below, Optimizely Co-Founder and CEO Dan Siroker, features in a video outlining the benefits of his product's latest release.
In essence, personalization means showing each individual visitor exactly what they want to see, in order to maximize conversions.
That means segmenting audiences, before targeting them with tailored content. A simple example, is website visitor from the United Kingdom wanting to see Winter clothing, while at the same time, an Australian visitor will want to be shown the latest Summer gear.
Here's how Optimizely plans to make such tasks easier for global brands.
"We built Optimizely Personalization to make it incredibly easy to connect data about your visitors — data such as behavior or information stored in your CRM — and use it to target experiences in real time."
Behavioral Targeting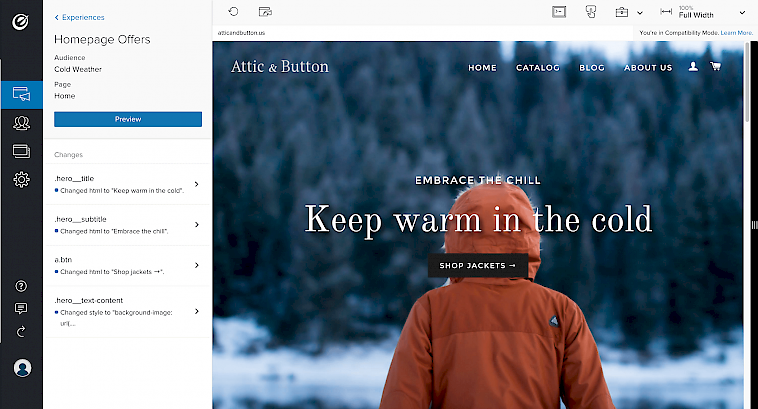 Optimizely Personalization makes it easy to manage behavioral targeting in real time.
Marketers can capture important signals, such as shopping for high-value items, or a customer on the verge of abandoning their session, and target relevant content accordingly, without needing to write a single line of code.
Key events and metadata can easily be identified using a visual, point-and-click interface. Behaviours can then be mixed and matched to produce a unique audience to target.
Uploaded Audiences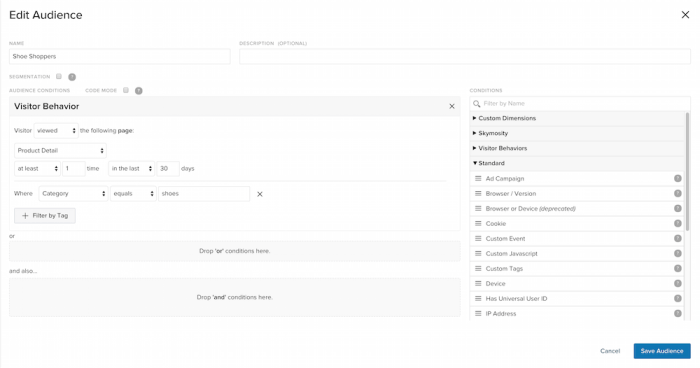 With Uploaded Audiences, marketers can create audiences out of a list of specific customers, such as loyalty program customers, repeat purchasers, or any other important group or set of groups.
Audieces can also be made up from the data from third-party integrations, such as DMPs like BlueKai or account-based marketing software like Demandbase.
Data-driven Personalization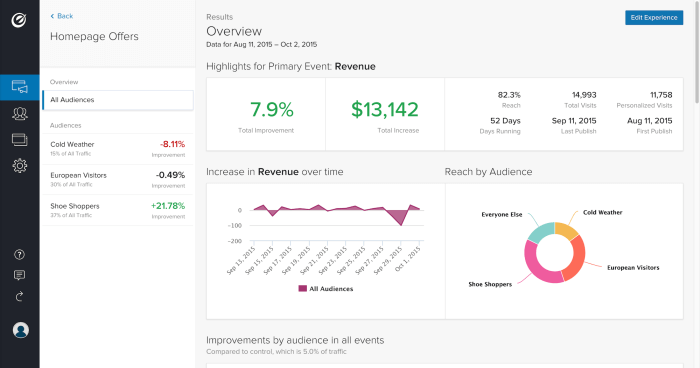 Then end game of personalization, is to increase conversions. But just as crunching numbers to identify audiences is best left to Optimizely, so is the maths for calculating the end game results.
All results are backed by Optimizely Stats Engine, which does the heavy lifting to measure revenue and conversion lift, determine statistical significance, and ensure that results are always valid.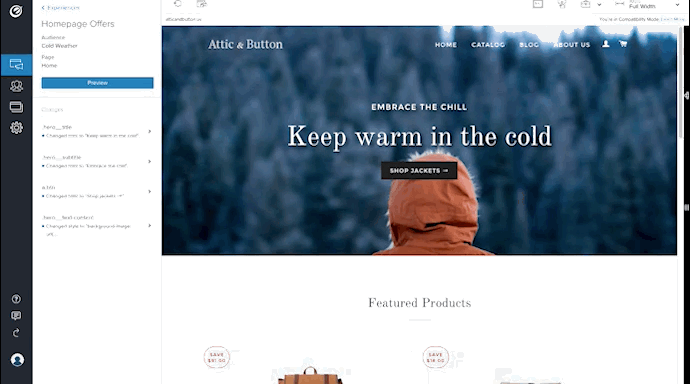 Further to these features, Optimizely Personalization comes with a revamped editor, so that marketers can plan and preview content for a range of devices from the same interface.
This looks like another slick addition to Optimizely's sucessful platform. The world's biggest brands will be taking note, but so should every other brand – as Optimizely makes itself extremely accessible to small-to-medium sized businesses with its totally free package.
Find out more about Optimizely Personaliztion.