Talk about welcome news.
Earlier in December, Optimizely – a leading digital experience platform (DXP) – announced a definitive agreement to purchase Welcome, a content marketing (CMP), marketing resource management (MRM), and digital asset management (DAM) platform.
Yes, that's a lot of three-lettered acronyms for one sentence...
While the DXP juggernaut is no stranger to acquisitions (they were, in fact, purchased by Episerver in 2020 but rebranded under the Optimizely name), this one provides a glimpse of the company's ambition to win the minds and hearts of internal marketers.
According to Welcome's press release, the combination will empower marketing teams at brands across the globe to drive real business value through better customer experiences.
"We believe a world-class customer experience starts with an outstanding marketer experience," said Alex Atzberger, CEO of Optimizely. "By combining Welcome's campaign planning, content production, and asset management capabilities with Optimizely's existing breadth of digital experience solutions, we empower marketers to rapidly launch campaigns and control the optimization of every digital touchpoint which results in growth for the business."
As the deal is set to close before the New Year, it's clear that Optimizely is making a 2022 resolution to focus more on the discrete needs of marketers, who are chiefly responsible for driving customer experience. With the rise of digital tools and hybrid work environments, marketers are becoming the "engines" of business growth by shaping consumer engagement. At the same time, they are being forced to adapt and respond to a fluid digital landscape, where a fragmented stack is arresting their ability to deliver personalized, relevant content and experiences at scale.
Bottom line: Optimizely aims to improve the marketer experience by adding Welcome's CMP, MRM, and DAM capabilities to their expanding ecosystem.
Combining marketing, content management, digital commerce, and personalization
As a four-time Leader on the Gartner Magic Quadrant, Welcome has carved a strong niche in the small but growing cadre of Content Marketing Platforms (CMP).
As Gartner noted in their most recent report, "Welcome's vision as a marketing orchestration software, combining the capabilities of a CMP, MWM, DAM, offers promise." This positioning certainly made the platform a more attractive target for Optimizely.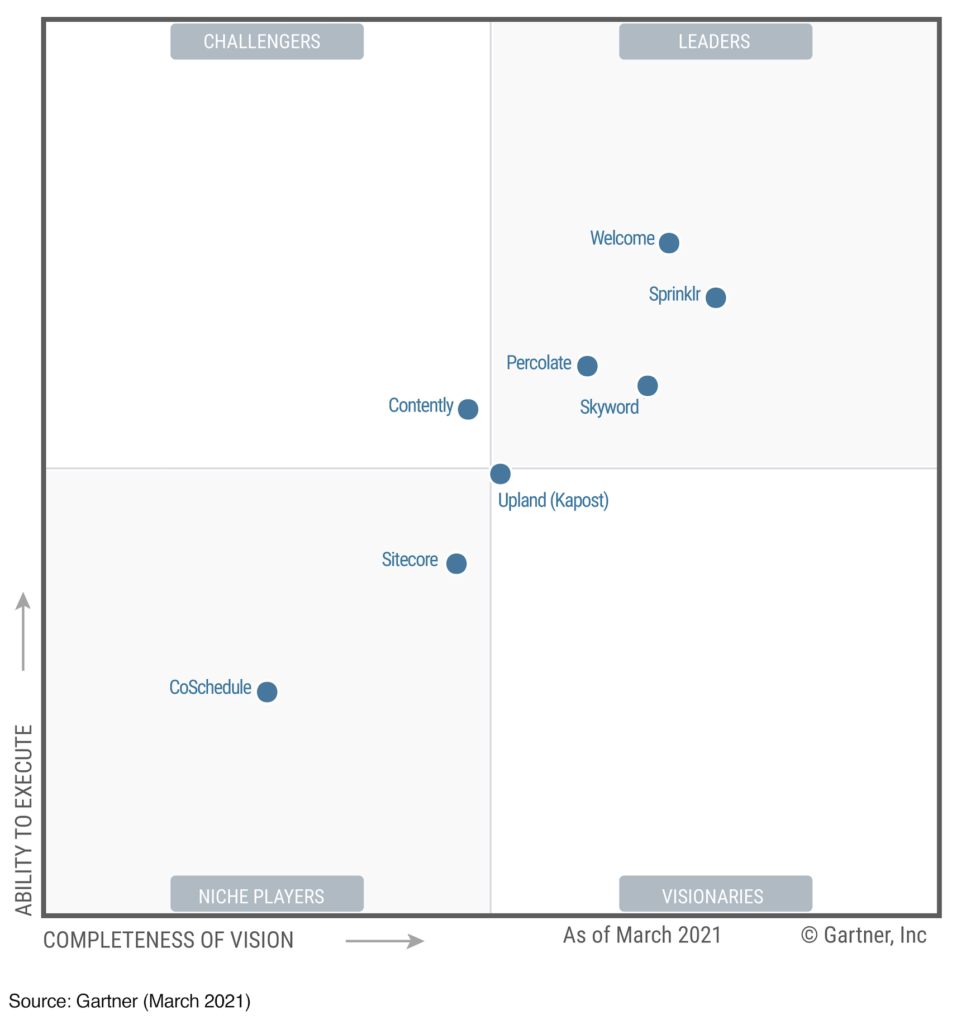 By combining Welcome's capabilities with Optimizely's suite of content management and digital commerce solutions, marketers will now have enhanced tools for a wide range of applications – all in a unified platform. This includes the "Holy Grail" of experimentation, personalization, and recommendations that have often remained elusive for marketing professionals and teams.
Under the Optimizely banner, marketers will be able to leverage Welcome's features on an evolutionary scale, allowing them to accelerate the end-to-end marketing lifecycle from concept to execution. This will allow users and teams to plan, create, and collaborate on campaigns and publish across multiple channels to reach the right audiences. They will also have unprecedented control and transparency to manage content delivery without relying on the support of IT or development.
The combined set of capabilities should be a force multiplier for Optimizely, enabling marketers to grow revenue by scaling best-in-class data-driven tools such as A/B testing and content recommendations, augmented by Welcome's content marketing processes. Marketers will also be able to easily share results across their organization, providing greater insight into the impact of their marketing investment.
"We could not be more excited to be joining the Optimizely family," said Shafqat Islam, CEO and co-founder of Welcome. "We've made it our mission to transform the way marketers work, by delivering a purpose-built solution to orchestrate all of marketing. Now, together with Optimizely, we believe we are unifying two category-leading solutions to see that mission through."
A string of strategic acquisitions
As the DXP category becomes more crowded, enterprise vendors are clawing their way to the top of the mountain. In Gartner's 2021 Magic Quadrant for Digital Experience Platforms, Optimizely found itself chasing the heels of both Acquia and Adobe in pursuit of the crown.
To enhance their DXP completeness of vision and gain competitive ground, all three platforms have been scooping up strategic technologies – including Optimizely's 2021 purchase of Zauis, a leading customer data platform (CDP).
Adding this all-important data layer gave Optimizely a needed edge, but the purchase of Welcome is key. Not only does it signal a renewed focus on the role of the marketer, but it repositions the power of the platform on the marketer's experience. Providing an integrated, end-to-end lifecycle solution for managing content, assets, and resources – and amplifying it with the commerce and optimization features of a proven DXP – could be a real gamechanger for Optimizely. We'll be watching as the next steps unfold.
About Optimizely
Optimizely is a leading digital experience platform (DXP), equipping teams with the tools and insights they need to create and optimize in new and novel ways. Now, companies can operate with data-driven confidence to create hyper-personalized experiences. Building sophisticated solutions has never been simpler. Optimizely's 900+ partners and 1100+ employees in offices around the globe are proud to help more than 9,000 brands, including Toyota, Santander, eBay, KLM and Mazda, enrich their customer lifetime value, increase revenue and grow their brands.
About Welcome
Welcome transforms how marketers run marketing. It is the leading marketing orchestration platform used by the world's most successful brands to strategically align teams, take the friction out of execution, and demonstrate meaningful results. Only Welcome offers a platform purpose-built for the complexities of modern marketing that can scale to support the largest teams in the world. It is a new layer of the marketing technology stack where marketers can work better together, connect other martech tools, and measure performance. Welcome unleashes the potential of marketing.