If compare rookies with no coding experience and web developers whose job is creating websites in a professional manner, you will come to a reasonable conclusion. Though both groups of users employ different methods to go online, they tend to achieve maximum results with minimum efforts.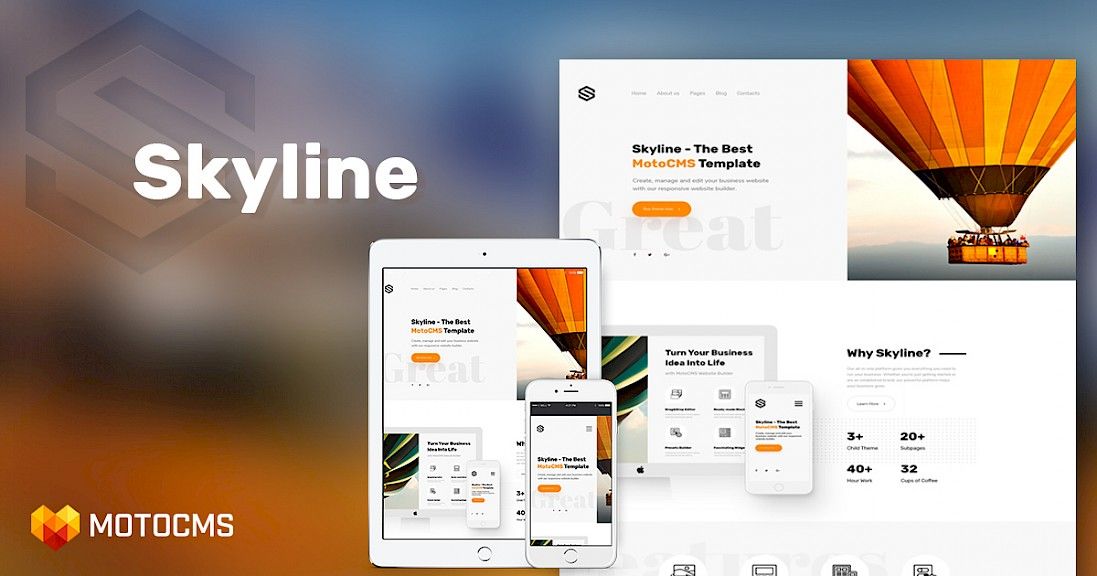 For this reason, MotoCMS released Skyline – a new website template that provides its owner with limitless functionality possibilities, requires minor expenses of resources and fits any possible business.
Drag & Drop Block Editor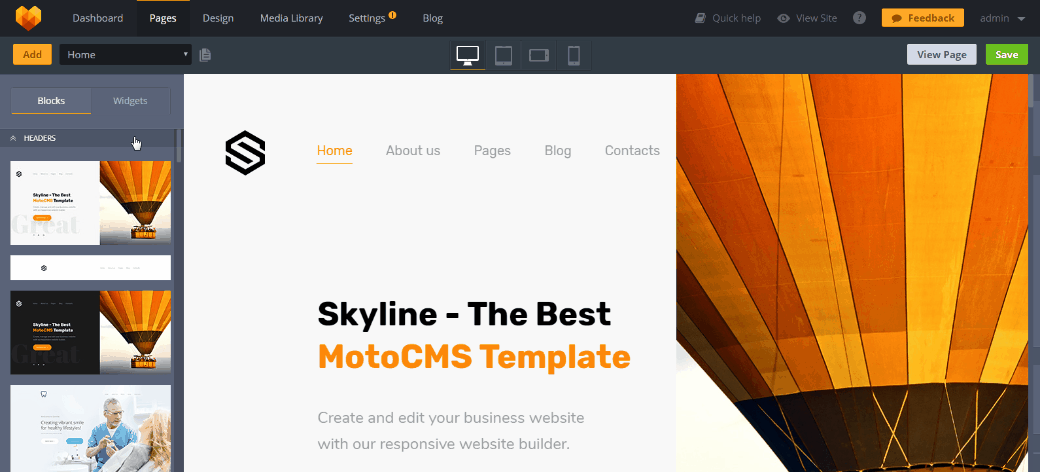 The primary feature that reflects the ease of a website customization process with Skyline is the drag & drop Block Editor in the website builder from MotoCMS. It will do good for an amateur who needs facility for creating a professional website, as well as for an expert who requires a simple tool to churn out several websites at the same time. Just pick any block in the list and drop it on a page to start customizing the layout.
100+ Content Blocks

Skyline combined more than one hundred blocks with ready-made content, so you could have dozens of possible layout variations to choose from. All blocks are divided into categories according their purpose.
20 Ready-to-Use Pages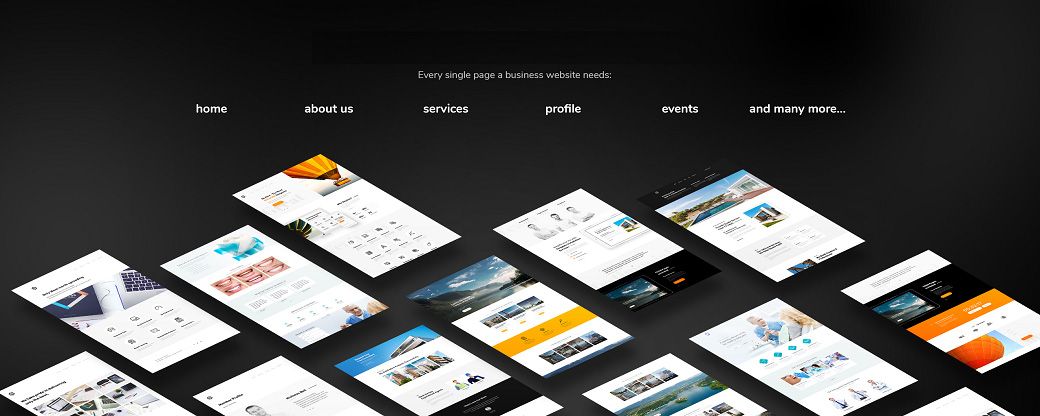 Skyline is a perfect website template for highlighting each part of your business because it is really hard not to find a particular page for a particular goal. Introduce your company to the full with the enormous number of pages:
Home

About Us,

Contact Us

Careers

Team

Profile

Services

Single Service

Gallery

Projects

Customers

Privacy Policy

Events

Single Event

Testimonials

Prices

503

FAQ

Blog

Contacts
4 Additional Home Pages
Another feature for both expert website creators and first-timers to benefit from Skyline is the set of extra home pages: Skyline Black, Dentist, House Construction and Travel.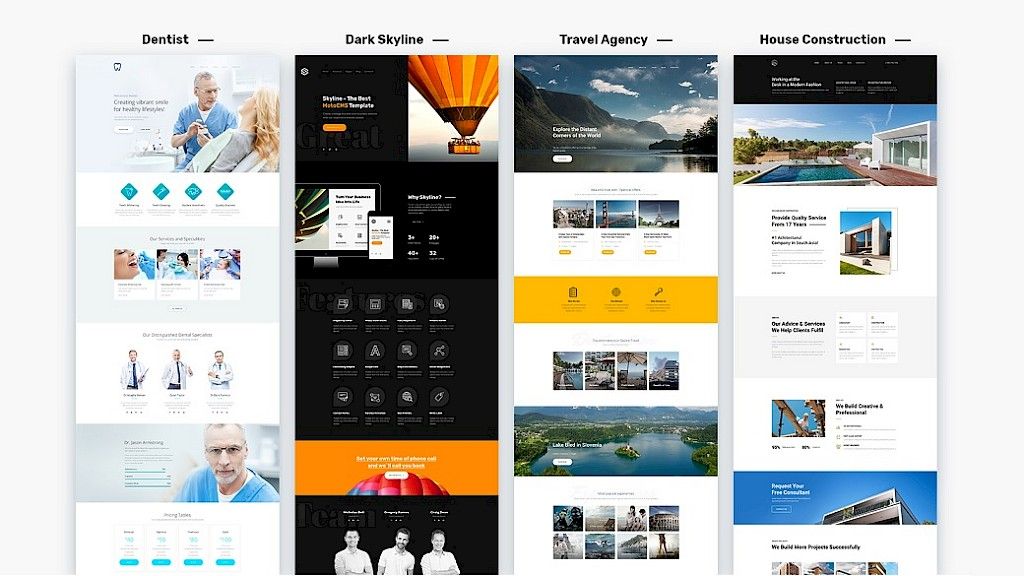 If you are related to one of the niches, do not be shy to set one of Skyline's additional home pages and, thus, create your website faster in many times. As for web developers, if you are among them, take advantage of these extra mockups to make websites for various businesses and save a tremendous amount of time you spend on completing the project.
Professional Blog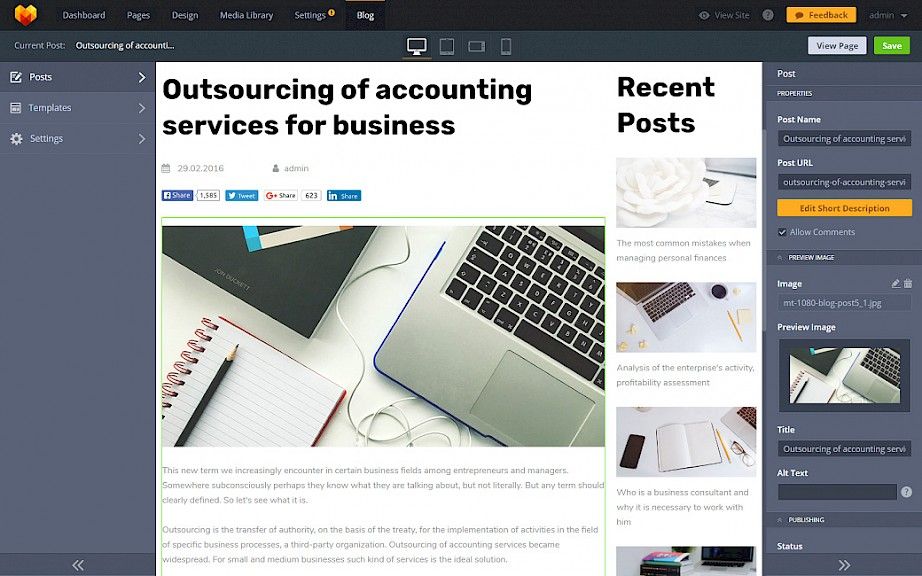 A blog is still a must-have for any website owner, taking the own job seriously. Skyline includes the ready-made functionality for creating a professional blog that have all the odds to bring the lion's share of traffic to your web resource. Add new posts, publish and edit them easily with an intuitive interface of the MotoCMS admin panel in your copy of Skyline.
SEO Settings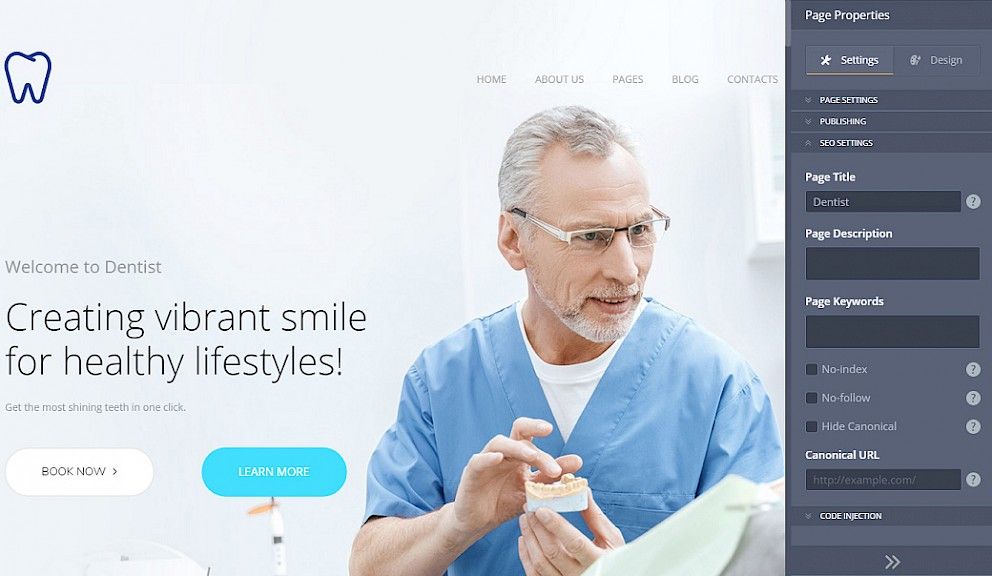 Get tools to optimize your website page by page. Enter necessary keywords, titles, descriptions and ALTs for images, add 301 redirects of any URL registered under your site domain, hide or reveal pages for search engines to index them, set Hide Canonical and No-follow attributes and more.
Responsive Design

To provide the audience of your website with a positive user experience, it should be available on each platform and web browser. Skyline is a responsive website template that automatically fits any smartphone and tablet. So you don't have to develop an extra version for mobile devices because you already got one that can guarantee the users of your web portal a high usability level.
24/7 Customer Support

Whether you need an expert advice, you are new to the website creation process or just want to get more details that concern your website and the admin panel from MotoCMS, contact the MotoCMS support center that is available 24/7 and free of charge during one year.
Skyline Free Test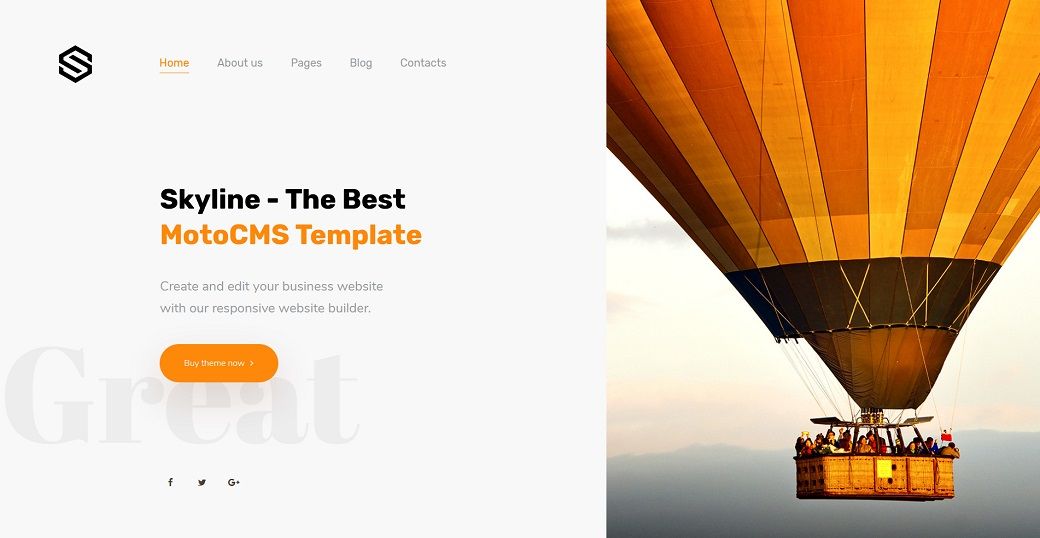 Became interested in Skyline? Go ahead and test Skyline free of charge. Log in to the MotoCMS admin panel with Skyline right now with your email or social media account. Test the CMS and the template before launching your website and if you like the final result, the specialists will transfer all demo progress for you to get a ready-made website.