DreamHost® has announced that its popular website builder, Remixer, has introduced a new tiered pricing structure that gets small businesses and individuals online quickly with engaging, professional-grade websites for just a few dollars per month. DreamHost is also debuting Remixer's newly available support for multi-page website creation – a highly requested feature among Remixer users – as well as a set of key new upgrades to the platform's capabilities.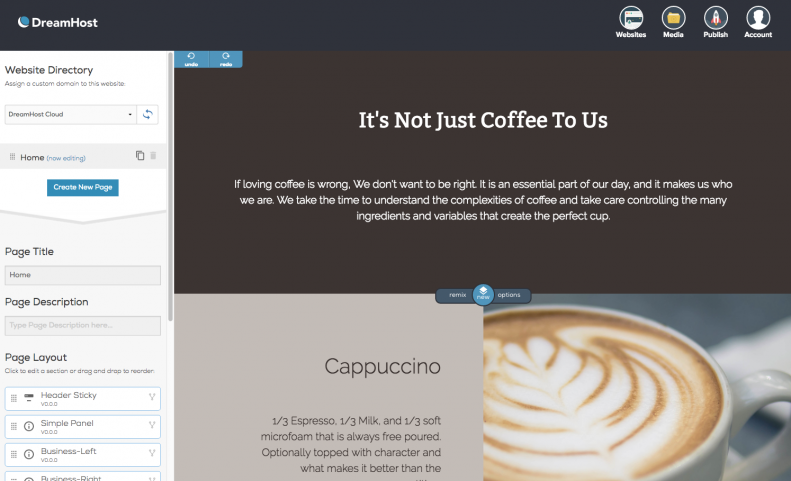 DreamHost users are now able to quickly and easily build multi-page websites for as little as $4.95 per month with Remixer. The new "Remixer All Access" plan, starting at $7.95/month, delivers Remixer's intuitive platform and also includes a full DreamHost managed web hosting account, domain email accounts, mail forwarding, and the ability to use other applications like WordPress. When billed annually, both plans include a free domain registration.
"It doesn't stop there," said Ralph Castro, DreamHost's VP of Product for Remixer. "We've added a host (no pun intended) of other improvements based on direct customer feedback. These include everything from the ability to conveniently select a website's domain from within the page manager, to one-click access for creating a new page that's pre-set with an established theme, to drag-and-drop page layout, to a streamlined navigation menu, to…well, plenty more. Nowhere else can you create a website this easily that looks as sharp as those made with Remixer."
Both Remixer plans come loaded with additional features designed to make website personalization and creation as straightforward as possible for small businesses, bloggers, and anyone else with something to say or sell online:
— Easy publishing to custom domains (no matter where the site is hosted)
— 70+ pre-designed themes and layouts to match your website's content
— Website hosting
— Seamlessly import images from an existing website or direct from social media
— A pre-populated, high-quality royalty-free image gallery
— Google Analytics integration to monitor website performance
— Video embedding from YouTube and Vimeo
— Audio embedding from SoundCloud
— No storage or bandwidth limits
— No ads, ever
— 24/7 email support
— Live chat support
"After ten minutes playing with Remixer, I created a brand new website for a hunting and fishing resort," said Mike Judge, troutntrack.com. "From start to (beautiful) finish, the build and publish process took less than half an hour. Remixer is as powerful as it is simple to use."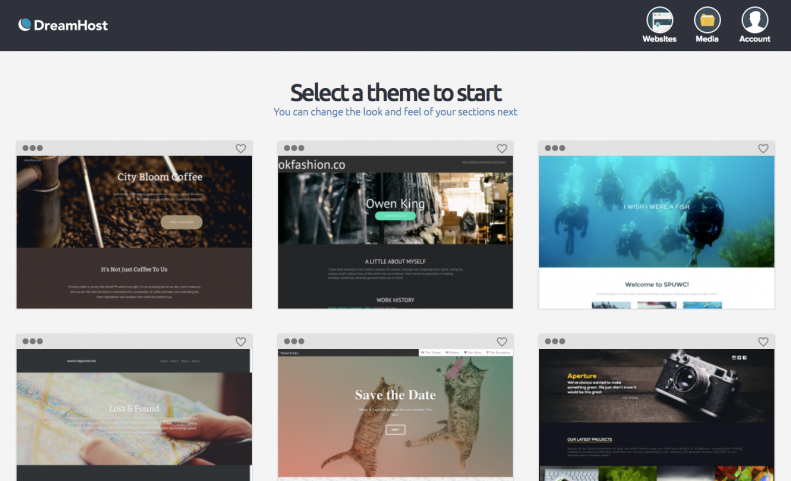 "Remixer's platform helped me quickly create a new, professional-grade website in just a few clicks," said Martha Lenio, marsgreen.ca. "Uploading my own content and photos was intuitive, and customer support was fast and helpful when I had questions. Using DreamHost's Remixer has given me one less thing to worry about running my small business."
To learn more or to begin building your website with Remixer, visit dreamhost.com/website-builder/.