In the wake of Gartner's 2021 Magic Quadrant for Digital Experience Platforms, one thing is abundantly clear: the growth of DXP is undeniable.
This shouldn't come as a shock. Gartner sunset their Web Content Management MQ in 2020, reflecting market demand for platforms that enhance customer engagement across a widening range of digital channels and devices.
But hang on – that's not the whole story.
What Gartner was really keying in on was the growing commoditization in a mature technology space, one where the line of differentiation between every CMS continues to erode. Features once viewed as strategic, from workflows to localization, were now par for the course.
What used to be, as Gartner described, "a foundational technology for every digital business," was becoming homogenized.
For CMS vendors, swimming in this sea of sameness has forced a rapid evolution, exacerbated by warp-speed digital transformation during Covid-19. Now, adding core features like testing, optimization, and customer data capabilities have become essential to compete, which has been evident in the slew of acquisitions over the past year.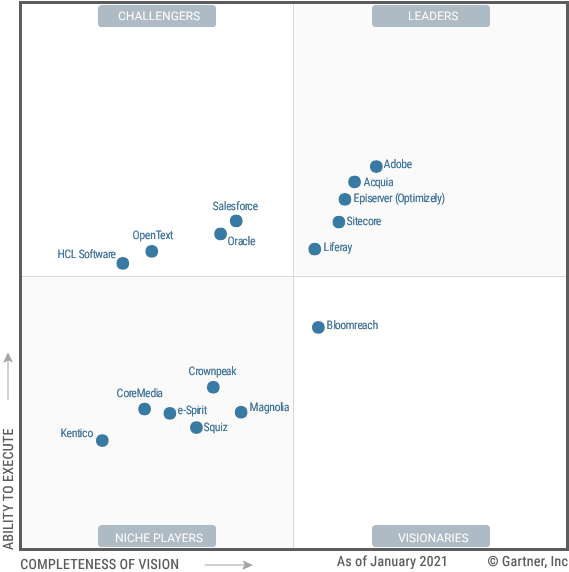 Amid this change and consolidation, hiding in plain sight, was Salesforce – a sleeping giant with money to burn and an entire stack to dominate.
With the acquisition of technologies like ExactTarget and Demandware, Salesforce has been steadily weaving their way into the DXP fabric, adding rich marketing automation and unified e-Commerce capabilities to create their own Marketing Cloud.
Now a leading Challenger on the Gartner 2021 MQ for DXP, it's clear that the launch of its homegrown Salesforce CMS in 2019 adds the missing piece to their digital experience puzzle – one that is infused by its mastery of customer data.
It's been a while since Salesforce introduced its CMS to the world, so we're taking a fresh look at it. We'll highlight some of the standout features, and explore how the world's most popular CRM is impacting the CMS and DXP landscape.
Why did Salesforce add CMS to its offering?
It's an uncontested fact that Salesforce is the world's number one customer relationship management (CRM) platform. A legacy powerhouse brand, Salesforce is used by over 150,000 companies worldwide – and 99 of the top Fortune 100 brands.
Founded by Mark Benioff in 1999 (a former protégé of Larry Ellison at Oracle), Salesforce was far from being the first CRM. The modern CRM software era began in the 1980s with database marketing solutions and platforms like ACT!, which claims to have invented the category (although there's some debate about who actually deserves the credit).
While the earliest CRM systems were a sort of "digital Rolodex," Benioff's big idea was to deliver a more advanced CRM experience 24/7 via the Internet – or more appropriately, the Cloud. This core vision has guided Salesforce's pioneering efforts across the SaaS (software as a service) frontier.
Over the years, Salesforce has added a complementary suite of enterprise applications, including customer service, marketing automation, analytics, and custom app development. Many capabilities have been "bolted on" through acquisitions of leading technologies like Tableau, Pardot, Mulesoft, Heroku and others.
As the Salesforce stack expanded, it was clear that Content Management was a missing link. Market watchers have mused for some time that Salesforce would purchase a CMS to "plug the hole" and provide users with a website builder and management tool in the same ecosystem.
But Salesforce was more ambitious in its pursuit of a CMS layer, reflecting their own data and research around omnichannel experiences and the need for seamless, consistent, personalized touchpoints driven by customer data.
By building their own hybrid CMS, Salesforce was able to focus on their own users with greater intimacy, empowering teams of novices and experts to take control of their omnichannel content strategies – and connect it all to their Salesforce customer data.
Competing in a crowded CMS market… or not?
There was no question that a Salesforce CMS would prove appealing to a wide range of customers. That's why the market assumed it was more a question of "if" and not "when."
First and foremost, the Salesforce CMS is "built-in," providing an integrated solution that's intended to work seamlessly with the broader platform ecosystem. It's also natively designed to leverage customer data within Salesforce, giving users more value as they build custom omnichannel experiences. And of course, it completes a full stack of digital tools, adding the all-important website layer to CRM, marketing automation, personalization, analytics, and more.
But then… there's the rest of the enterprise CMS market, which despite Gartner's deprecation of WCM, continues to march forward. Forrester charts the market leaders in its quarterly Wave for Agile CMSes, and in their Q1 2021 report, Salesforce is notably absent – validating that as a standalone product, its CMS has yet to make a showing.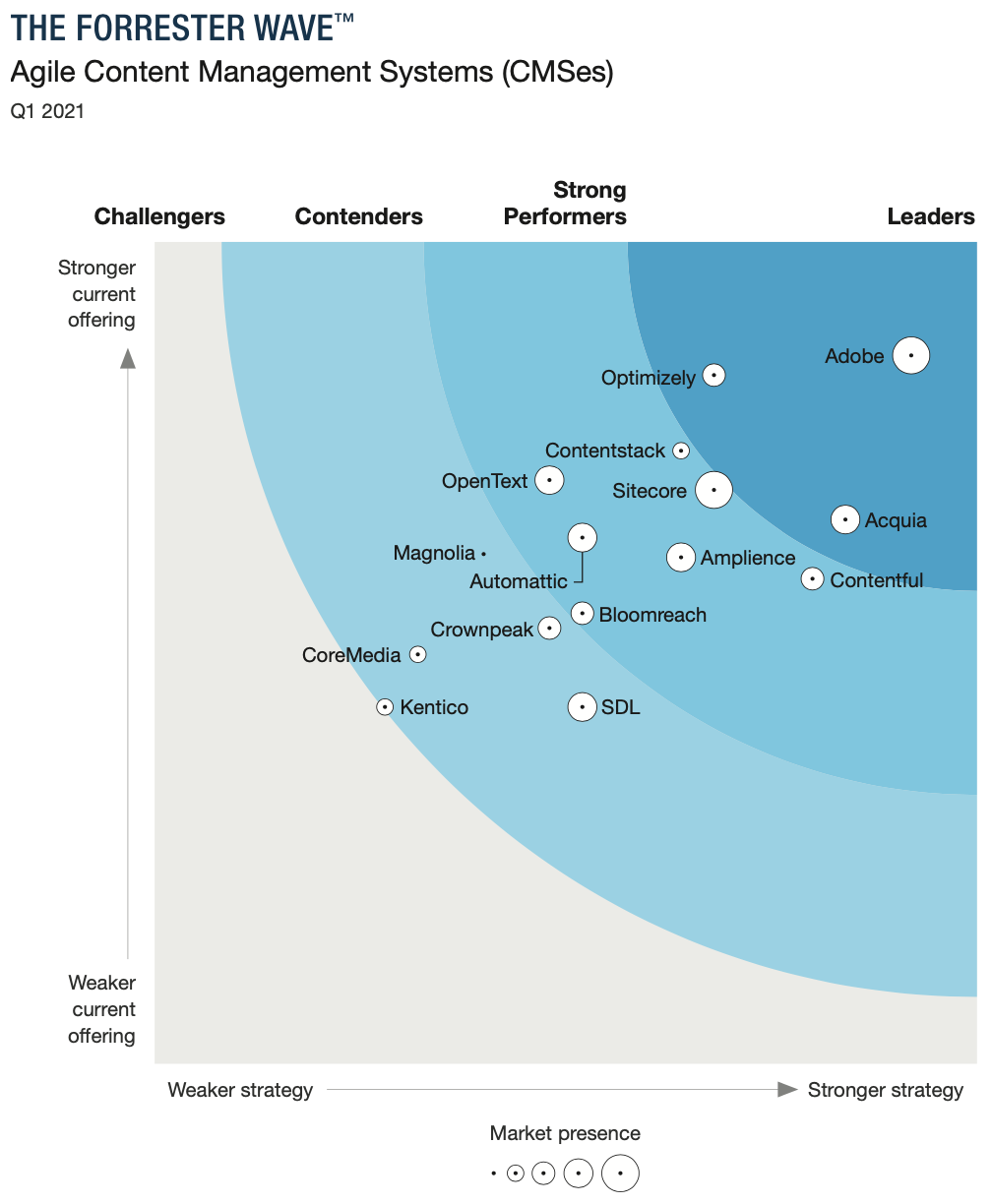 Which begs the question: is Salesforce trying to compete with other CMS vendors?
To answer that, we need to remember that every CMS and DXP on Gartner's and Forrester's radar is (likely) integrating with Salesforce on some level. It may be as simple as passing lead data from a form, or as complex as managing licenses for digital assets.
The bottom line is that wherever an enterprise CMS is being deployed, it's a safe bet that Salesforce is hooking up with it.
Knowing how deep this connection runs, Salesforce's previous dalliances crystallize their pursuit of a CMS solution. This includes investments in Bloomreach, an enterprise DXP, and Contentful, a headless CMS platform.
Most recently in 2019, Salesforce Ventures – the investment arm of their business – made a whopping $300 million investment in Automattic, the company behind WordPress. This happened a matter of weeks before they launched their homegrown CMS.
Why do both? For starters, WordPress is easily the most popular open-source content management system, powering over 30% of the world's 10 billion websites. By placing a stake in the company, Salesforce can explore new ways to partner with and integrate products to expand their reach across the largest CMS footprint.
But adding its own CMS to the mix gives Salesforce an offering at multiple levels in the market. Customers have a greater breadth of choice, and Salesforce can position itself as a real contender in the CMS and burgeoning DXP ecosystems.
At launch, it seemed that the Salesforce CMS was positioned for simple applications – and as the features will reveal below, truly designed for low-code/no-code building and management. Still, the possibility exists for enterprising users to build more prolific web and e-Commerce experiences that leverage the full power of the Salesforce products and its library of third-party apps.
Data-driven customer experiences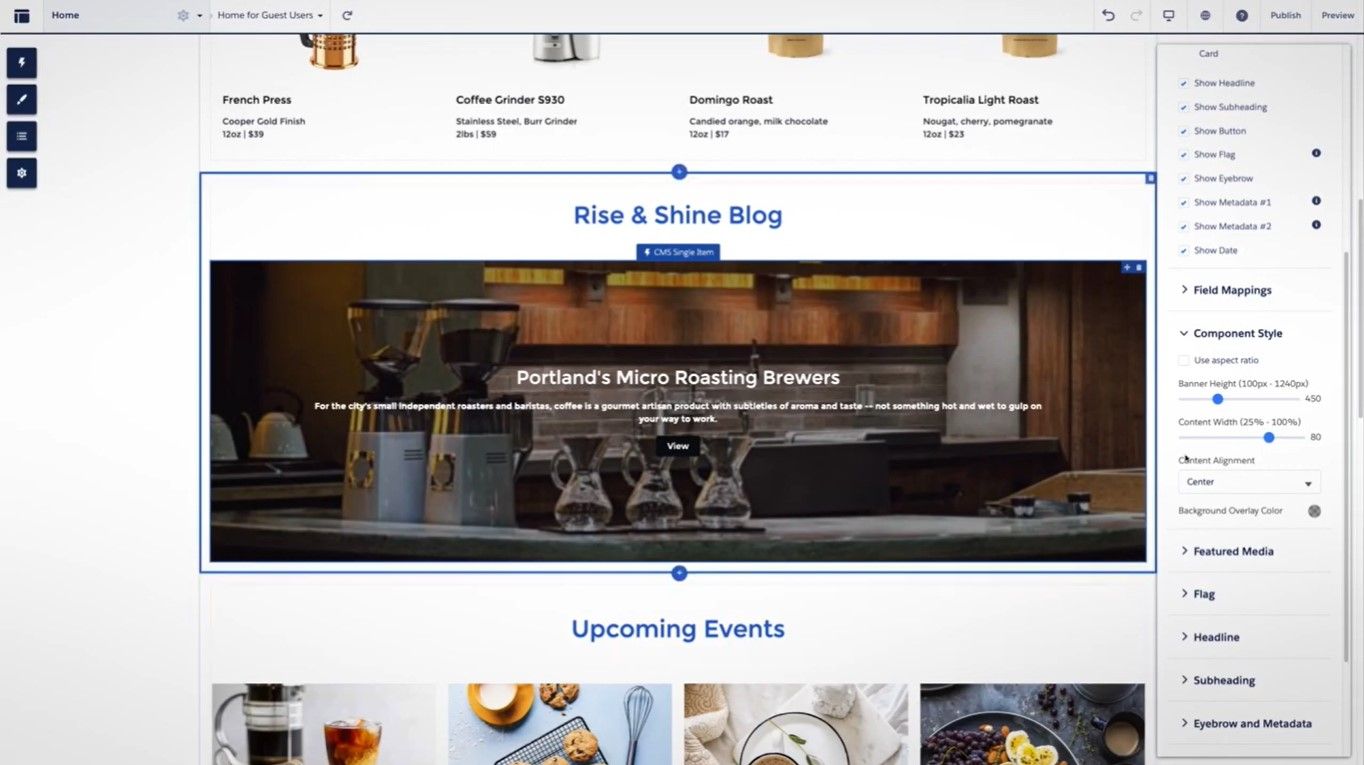 They say that "Content is King (or Queen)," and great content connects you with your customers. But it's also about delivering a great experience. How do you get your content to the right audience, on the right channel, and personalized to their unique needs?
To power the experience, you need customer data – and Salesforce CMS was purpose-built to leverage customer data.
All too often, organizations wrestle with siloed, fragmented data stores, making it difficult to create targeted, relevant content. Salesforce CMS empowers users to connect with customer data seamlessly, breaking the data silos that limit access from users, groups, or applications – and enabling more personalized, data-driven experiences.
Focused on communities
As previously mentioned, one of the most appealing attributes of Salesforce CMS is its native integration with the broad Salesforce ecosystem. This includes Sales Cloud, Service Cloud, Marketing Cloud, Communities, and Salesforce Commerce Cloud. The promise is that with Salesforce CMS, users can publish content and access a wide range of tools, all without ever leaving the platform.
There's also a tacit focus on community building within the platform. This highlights the most applicable use cases for the Salesforce CMS and reflecting what their customers actually need to build a successful content operations workflow and connect it with their customer data.
"This is less about a CMS and more about what our customers are trying to do," said Anna Rosenman, vice president of marketing for Community Cloud and Salesforce CMS. "Companies are trying to create a consistent customer journey and keep content moving. Everyone (in a company) is on a Content team."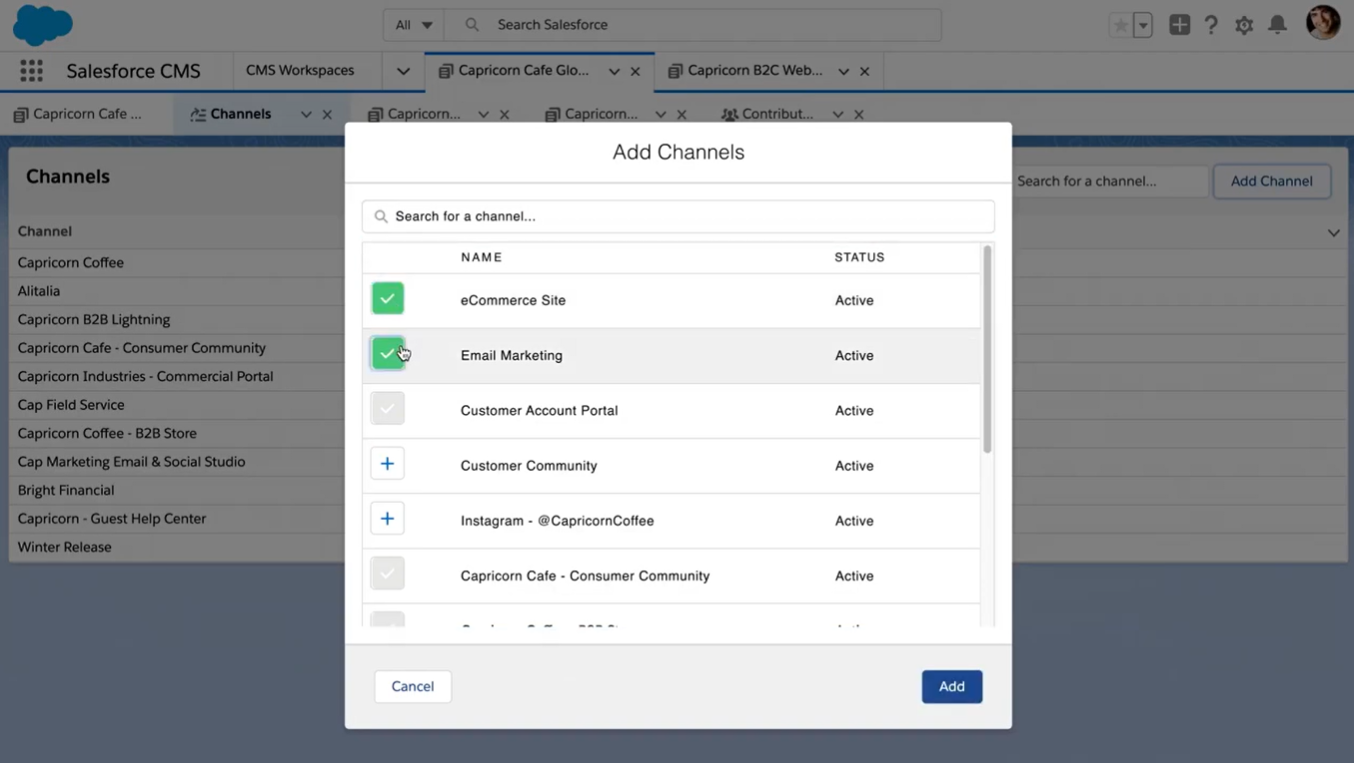 Centralizing content, teams, and touchpoints
Salesforce CMS provides a central place to manage your content and your team. Like other CMS platforms, you can assign permission-based roles to contributors and define who sees and does what. With their hybrid CMS capabilities, you can author content once and deliver it natively to commerce sites, portals, or mobile apps.
While one of the main selling points of the Salesforce CMS is its ability to pair seamlessly with Salesforce Cloud, it can also be paired with the third-party systems. Additionally, by accessing headless APIs, you can share content to any touchpoint across your customer journey.
Drag-and-drop interface
Salesforce CMS offers a slick drag-and-drop UI, so you can easily add content to your community website pages. These modern, low code/no-code interfaces have been gaining a lot of popularity over the last few years, and Salesforce is on the right track by offering customers a WYSIWYG that eliminates the need to tap developers for simple changes.
Salesforce also gives you the choice of two WYSIWYG tools: Experience Builder and Commerce Page Designer. Each lets you build experiences by dragging content components right onto a web page, portal, forum, or commerce storefront. Both tools are developer-friendly, too – which is perfect if your teams want to customize an experience with code.
Experience Builder
With the Salesforce Experience Builder, you can choose from a rich repository of components, themes, and templates for creating a community website. In just a few simple steps, you can build and publish a custom community website that's mobile responsive and renders beautifully on any device. Pick a template to start, and then style the pages to match your own branding.
Experience Builder provides a ton of granular control over simple, block-based regions on your page. This includes custom image sizes, buttons, and other components. As you compose your experience in the builder, the content itself is housed outside the community – so you don't need to republish your entire community every time you make an update.
What's great about the Experience Builder is that it goes beyond a simple page-level editor, allowing control and configuration of analytics, security, language, navigation control, devices, global settings, and more.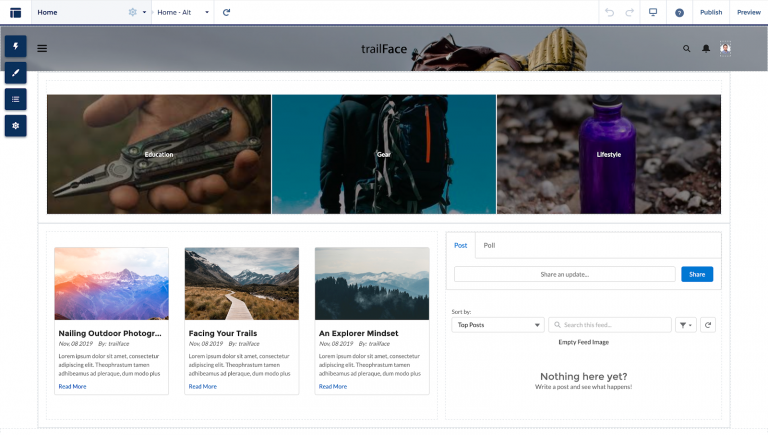 Experience Builder also sports some off-the-shelf in-app personalization capabilities. With the Audiences and Personalization features in Communities, you can surface unique content dynamically based on a logged-in user.
Finally, Experience Builder has a relatively short learning curve. Everything is based in dropdown menus and pickers, making it simple to use. You can get started even if you're a novice, no code/low code user, and get access to answers via community forums and other documented resources.
Commerce Page Designer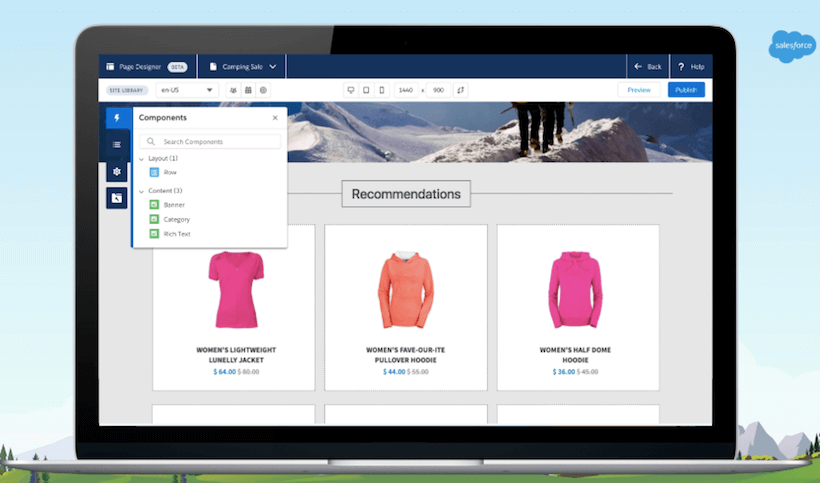 As a nifty low-code feature, the Commerce Page Designer enables companies to create and manage dynamic e-Commerce sites in a fast, highly visual manner. Here are a few of the key features:
Create: Simply click, drag, and drop components – like new products, banners, carousels, and more – into any digital storefront. You can also build custom components unique to specific business needs, including campaigns, seasonal offerings, and more. For example, if you're a retailer launching a new marketing campaign for a special event like a back-to-school sale, your business teams can use out-of-the-box, custom, or third-party components to quickly build campaign-focused landing pages on your site.
Preview and Schedule: Get a snapshot of your website content across desktop, tablet, and mobile devices, all in one place. You can also schedule website content on individual pages by date, time, customer group, and locale – and even populate content on your storefront at the right time and by the right customer group, device type, language, and locale prior to launching a new campaign.
Reuse: Quickly configure and update your pages by saving and reusing components and pre-built page layouts from any digital storefront. Out-of-the-box, third-party, and custom-built components provide you with the layouts and functionality you need to get up and running fast. For example, with reusable components and pages, a holiday event page that ran last year can be quickly updated and re-deployed with just a few clicks.
Headless API
If you're looking to distribute content to a third-party site, experience, or mobile app, the hybrid Salesforce CMS also offers headless API capabilities, much like Contentstack. You can use the headless APIs to deliver content seamlessly via API and expand your connections to a wide range of touchpoints.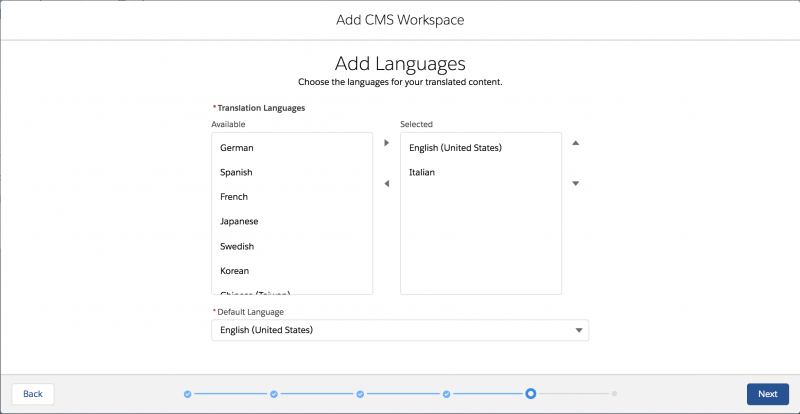 Translated Content
Salesforce CMS supports multiple languages, which are easy to set up in your Workspace as you set up your community site. Once in place, you simply manage your content through a translation lifecycle, from draft to publish, with access to translation assistance services as needed.
Bringing Content from Outside Salesforce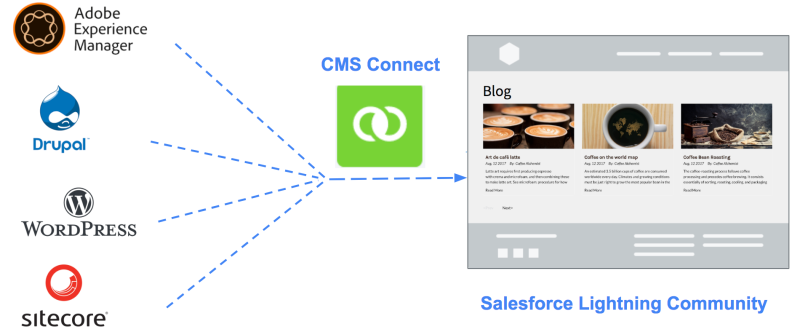 This is actually an exciting one. Salesforce has a great feature called CMS Connect, where you can dynamically pull content from other CMS platforms – and insert it directly into Salesforce CMS.
CMS Connect can pull content from Adobe Experience Manager, WordPress, Drupal, Sitecore, SDL, and others that support content structured as JSON or HTML fragments.
It's a common scenario where a business uses Salesforce for CRM but has a WordPress blog. With CMS Connect, you can ease the challenge of re-creating content on various systems and consolidate more of your content operations.
Personalization
Once you set up your content in your community – perhaps using the CMS Connect feature – it's time to personalize it. With Salesforce CMS, you can add personalization rules to your pages, branding sets, or specific elements, allowing you to show or hide components for certain users. For example, if you have a sports apparel business, you can target products and images for male or female segments.
Setting up personalization is relatively straight-forward. It begins with the Salesforce Community Manager in Community Builder, where you can create a custom Audience by defining rules based on specific criteria. Once you have your Audience defined, you can assign it to different elements.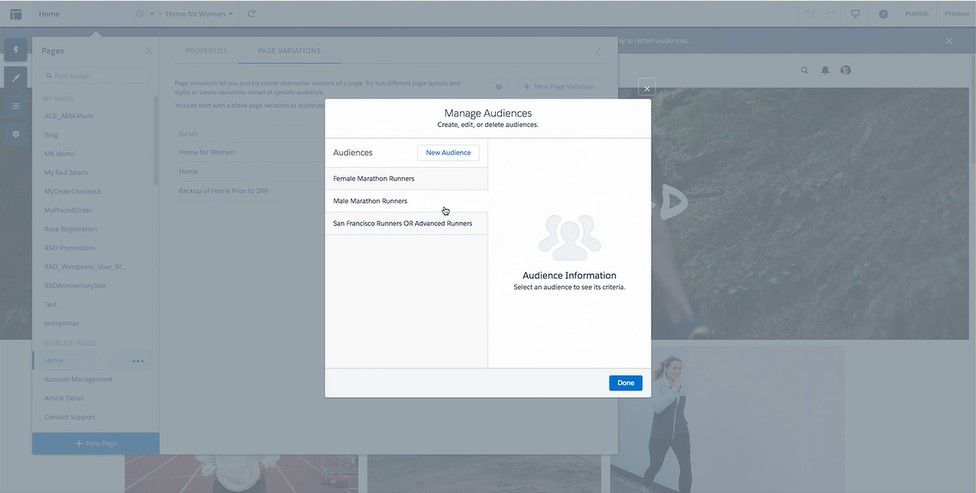 You can also edit your Audience by adding from numerous CRM data options for further customization, which makes the Salesforce CMS really powerful.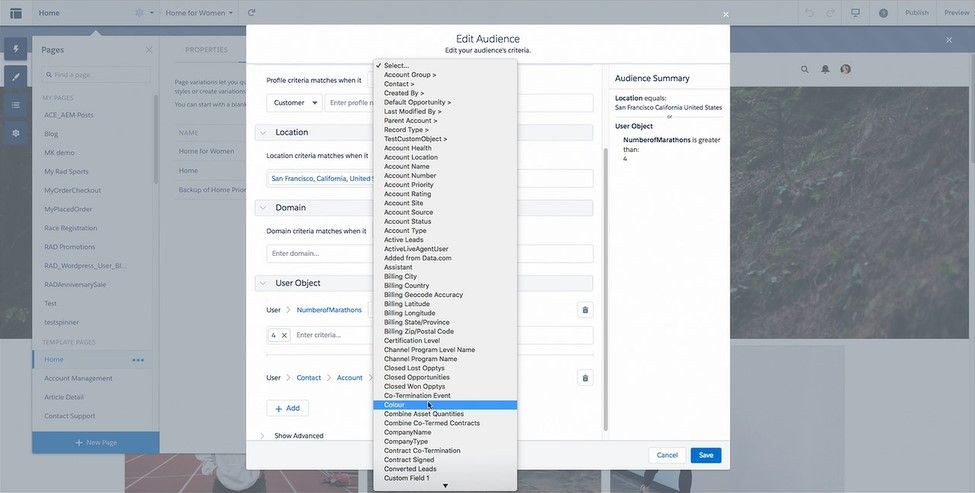 You can even assign your Audiences not only to pages but branding sets and components as well.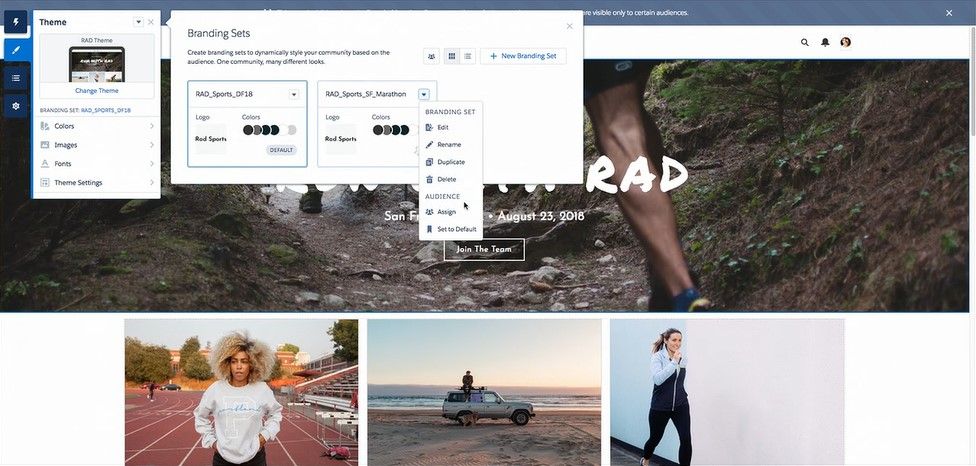 Conclusion
There's no question that the Salesforce CMS is a gamechanger. It expands their position in both the DXP and content management categories – and rounds out the ecosystem for users looking to build a complete stack with Saleforce's host of services and library of third-party apps.
Based on what we've seen so far, Salesforce CMS still appears nascent in a dense field of CMS and DXP players. Most of the functionality caters to CRM power users that need a CMS to complete the picture, and much of the experience is focused on simple community-based content workflows. That said, a user can still get creative with the low-code/no-code functionality.
With so many CMS and DXP options on the market – hundreds, maybe more – it's difficult to know how to select the right platform for your needs. Salesforce is clearly reducing the friction for their own users, but that may be a limitation for businesses that want to scale with rich, highly personalized experiences that are far more complex.
Security and ease of collaboration between teams are also of vital importance. Platforms like Adobe Experience Manager, Sitecore, and Acquia have spent years developing a deep, intimate understanding of the problems and challenges at the enterprise level.
While Salesforce's CRM is part of the stack, their CMS is not. Yet. It's still early days, and it remains to be seen how Salesforce might evolve beyond its initial charter. Will they stay focused on their own community of users – or will they compete head-to-head with mature CMS platforms?
Only time will tell.
About Salesforce
Salesforce is the global leader in Customer Relationship Management (CRM), bringing companies closer to their customers in the digital age. Founded in 1999, Salesforce enables companies of every size and industry to take advantage of powerful technologies—cloud, mobile, social, internet of things, artificial intelligence, voice, and blockchain—to create a 360-degree view of their customers.