Summer is (almost) here in the Northern Hemisphere, and headless is heating up.
Right on the heels of Netlify's Headless Commerce Summit, Sanity – a unified content platform for powering digital experiences – is hosting a unique conference that's focused on structured content. It should come as no surprise that the company's inaugural shindig has been aptly named "Structured Content," and will offer a global experience to content professionals at multiple levels across the industry. 
The event will provide live access at three locations in the U.S. and Europe: San Francisco from May 24 - 25,  and London and Oslo from May 25 - 26. If a live event isn't in the cards, you can also watch the conference online for free during the San Francisco sessions. 
While this might be Sanity's first foray with a conference of this kind, the company managed to attract some heavy hitters to sponsor its dance card, including Netlify, Vercel, Shopify, and Gatsby. According to Sanity, the three-day conference is expected to have more than 2,000 content strategists, engineers, marketers, and designers in attendance. Not too shabby for a first outing – and a testament to the platform's growing presence in the content space. 
To be clear, Structured Content is not a Sanity-focused event. This distinction is summed up quite elegantly by Carrie Hane, Sanity's Head of Content Strategy Relations: "Structured Content 2022 is not a Sanity user conference. It's not about our product. This is what we hope is the beginning of a movement. We created this event to educate and inspire the entire cross-disciplinary community of people who work on digital experiences."
What to expect at Structured Content 2022
According to the event's website, the program schedule includes a variety of workshops about structured content design, presentations about the future of digital experience, workshops on how organizations can harness structured content, and so much more. Some of the most noteworthy include: 
"The Future of Digital Experience Will Be Powered by Structured Content"

"Bridging Disciplines with Structured Content"

"How Publishing Organizations Harness Structured Content to Power Editorial Experiences"

"Design and Structured Content: Where We Are, Where We Could Go"

"Reflections on the Future of the Web"

"Content Makes Commerce Human"
"We've put together 14 wide-ranging sessions about the benefits of structured content, fresh approaches to solving problems, and thoughts on what the future holds for us as both consumers and creators of digital experiences.," said Hane. "You'll discover new ways of thinking about the potential of content and what it can accomplish."
And that's just scratching the surface. Check out the whole program at https://structuredcontent.live/program. 
So what exactly is "structured content," anyway?
While we have you here, let's get this whole "structured content" thing straight. 
One of the best analogies we've seen for explaining structured content is Legos. Just like the toy that everyone loves to tinker with, structured content is broken down into independent, reusable components, accessed from a single source of truth – and planned in a technologically-agnostic way. Structured content can be used across channels and delivered through APIs, and it's easier to prototype and iterate with – making development faster and easier.
As a platform, Sanity is uniquely designed for structured content. In addition to being open-source, API-based, and headless, the company has pioneered an entirely new approach to building websites with structured content as the mechanism for building pages. 
Sanity positions itself as a "fast-growing alternative to the traditional CMS." What makes Sanity different is that it treats content as data. By storing resources in its Sanity Content Lake, organizations can effectively "de-silo" their content – making it available for both collaboration and global distribution. By leveraging APIs, users can manage their text, images, and other media in a unified platform and build engaging digital experiences in real-time.
At CMS Critic, we talk about headless and headless CMSes quite a bit. What's interesting about Sanity is that it combines the power of a headless CMS with structured content, so its offerings go beyond the typical headless CMS. In fact, the company wrote a spicy post about the need to focus on structured content more the headless CMS itself, much to the chagrin of its industry peers.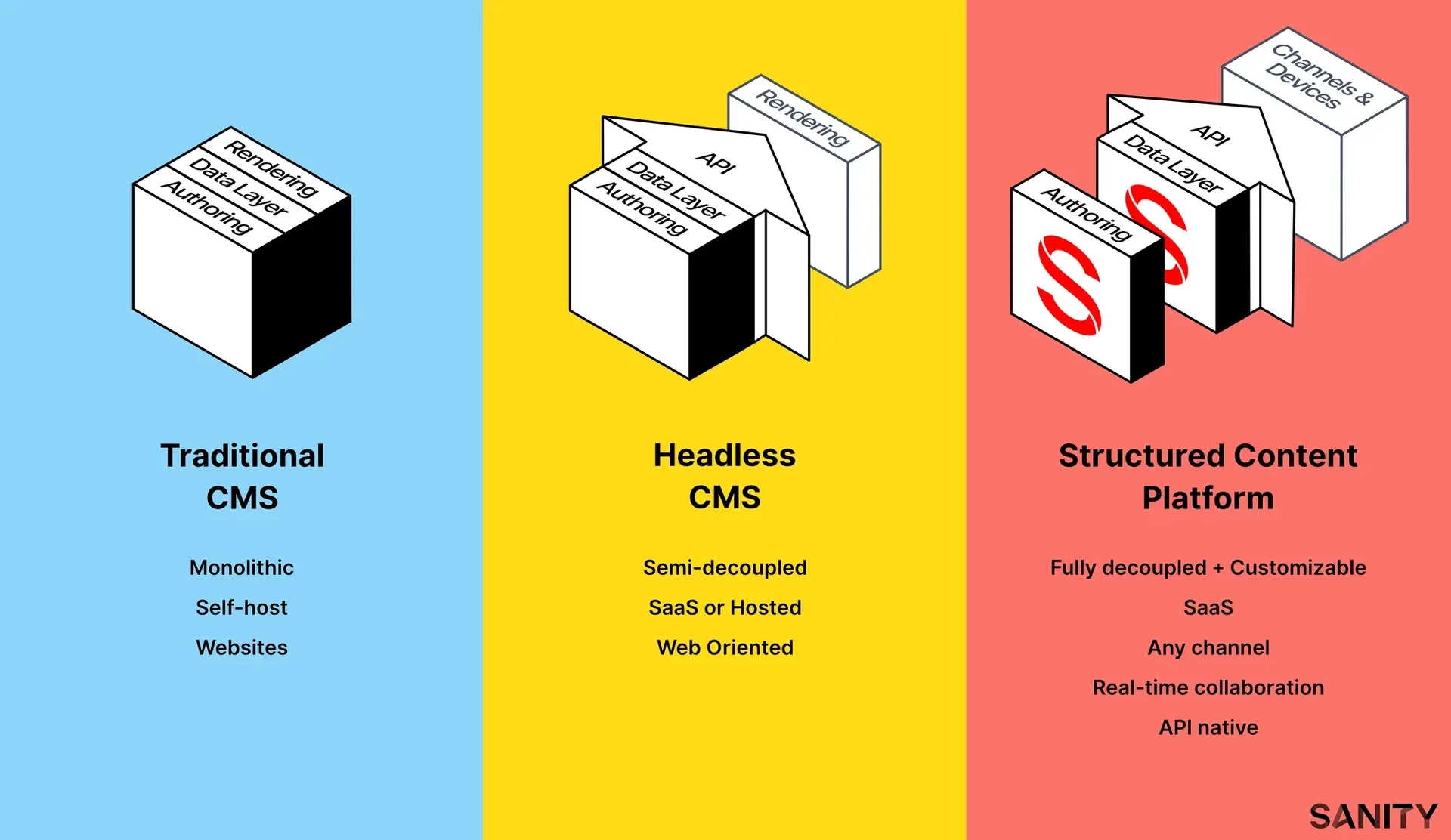 About Sanity
Sanity is the platform for structured content that en0ables teams to build exceptional digital experiences. By treating content as data, modern organizations use Sanity's APIs to build optimal editing workflows and share content between systems to increase digital velocity.
Sanity's unique model for orchestrating content is used by more than 100,000 developers at major brands like Conde Nast, Nike, Unilever, and Cloudflare. They use Sanity to shape and mold content to build multimedia-rich experiences both for their public-facing brand and the way customers experience their products and services firsthand. Our mission is to be the most versatile system for creating and distributing digital content to any device, application, or channel.