Selz, an eCommerce solution which integrates with existing websites, has released a handy content editor.
Thanks to its recently released Store Pro feature, Selz has expanded its functional scope past Facebook and WordPress integration, giving users a fully functioning stand-alone store with its own domain name.
The Selz team has been busy in recent months, improving things like its shopping cart app, Google Analytics integration, uploading power, and more. Let's take a look at what the content editor now brings.
Point, Click, Type
The new Selz Content Editor allows you to style your product descriptions just the way you want them. Now you can tidy things up with headings, bulletpoints and links. 
All you need to do is click on the example text and start typing. For further editing options, you can highlight a bit of text, which will automatically bring up a pop up text formatting editor.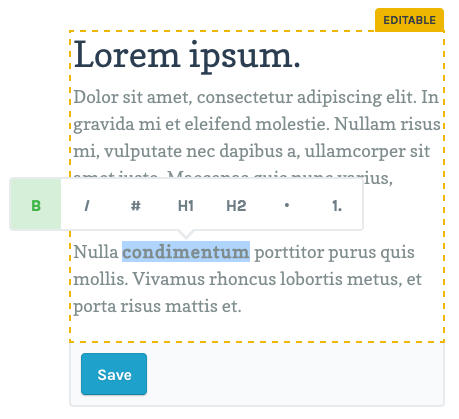 You can go bold, italic, add a link, use 2 different heading sizes and even bullet or number your points. The result? Clear product descriptions that are even more gorgeous than before.
Naturally, the main purpose of the contend editor is to give users more power over the look and feel of their product listings. It's not the most powerful content editor around, but it's certainly a start. Plus, it looks extremely simple to use.
You can check out the Selz announcement of this update via their blog.