If you are in the market for an inexpensive, yet powerful email marketing platform for your business (or multiple brands) then you are in luck. In this Sendy review, we'll provide you with all of the details about this low cost alternative.
Email Marketing platforms such as AWeber, Constant Contact and others are great solutions but they can end up getting costly as your subscriber count increases. Fortunately, there are alternative solutions out there. In our case here at CMS Critic, we found that as our subscribers grew, we were creeping up on over $100 / month for a traditional cloud based email marketing platform. We decided to explore alternatives and ended up landing on a great self-hosted email marketing solution called Sendy.
What makes Sendy great is that not only is it hosted on our own servers (and btw requires very little overhead) as well as using Amazon SES in order to send out the emails. The good thing here is that Amazon SES is extremely inexpensive and highly reliable for getting emails to the inbox rather than getting blocked by spam filters. Furthermore, Sendy itself is an inexpensive $59 one time fee when compared to the hundreds of dollars per month you could be spending on cloud-based email marketing. When you add hosting, Amazon SES costs together, you might be paying $1-10 monthly at the most for up to $10k subscribers.
Multiple Brands
Don't think that Sendy isn't powerful because of the cost either. You can set up Sendy to work with multiple brands easily so not only can you use it for your primary business, but you can use it for multiple brands for the same low cost of $59.

Custom Fields and Multiple Subscriber Lists
Setting up subscriber forms with Sendy is quick and easy as well. You can not only add custom fields but it will also provide you with passthrough URLs and embed codes for signup forms so you can quickly and easily add more subscribers to your mailing list.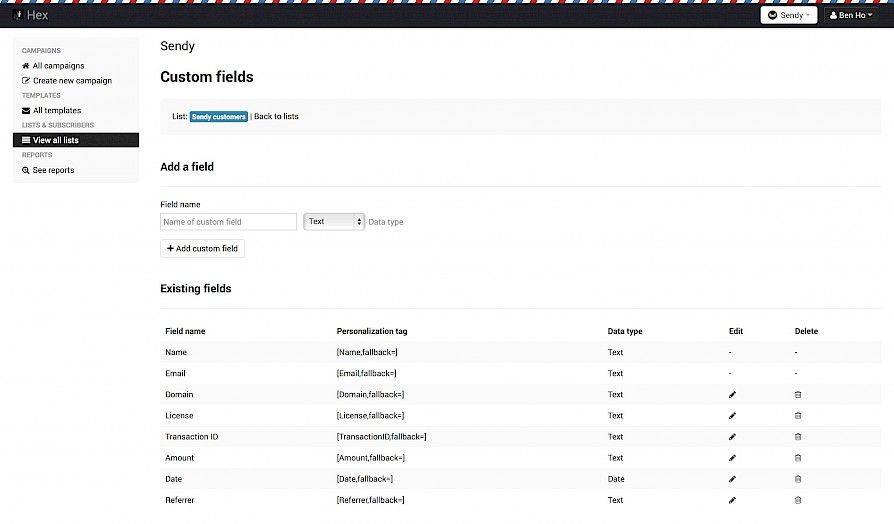 You can also have multiple subscriber lists allowing you to quickly and easily segment your subscribers. Sendy also supports a number of methods to add subscribers to your list. You can use the API or a subscribe form to pass users to your lists.
Automatic bounce, complaint & unsubscribe handling
Bounces, complaints and unsubscribes are automatically handled in real time once your newsletter is sent. There is no need for any manual post campaign cleanups.
Signup and activity reports
Subscriber signups are captured within a nice interface that allows you to quickly see what has happened recently with those on your list, if they have subscribed, unsubscribed or are pending confirmation. Another important thing to note is that Sendy allows you to enable or disable double opt-in so you can choose whichever you prefer.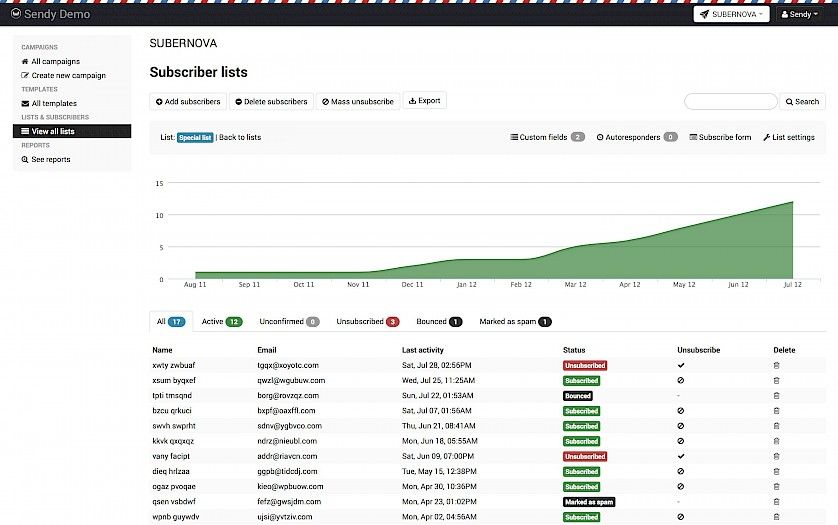 Designing your Newsletter
Designing your newsletter is very straight forward. You can use their WYSIWYG editor to build out what you'd like and insert images as well as some specialized tags so you can personalize things if desired. You can even use an html template builder or find some on the web and paste them into the editor while in "source" view to use them with Sendy.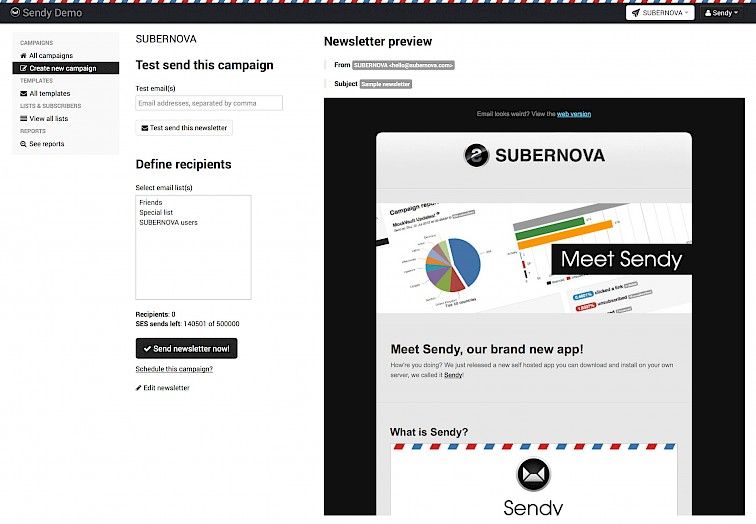 Send newsletters via Amazon SES
Sendy uses multi-threading to send emails via Amazon SES which is not only significantly cheaper than virtually all email marketing platforms on the market but also has a high deliverability rate. Most traditional email marketing platforms restrict you based on the size of your lists, but not Sendy.
Beautiful Reporting
Once you've sent your campaign, Sendy will show you a number of statistics about your campaign within the reports section. One thing we noticed here at CMS Critic is that once we started using Sendy and personalizing our newsletters, we saw a large boost in the open rate and click through rates on our newsletter. The reporting system within Sendy is excellent and presents the data in a great way.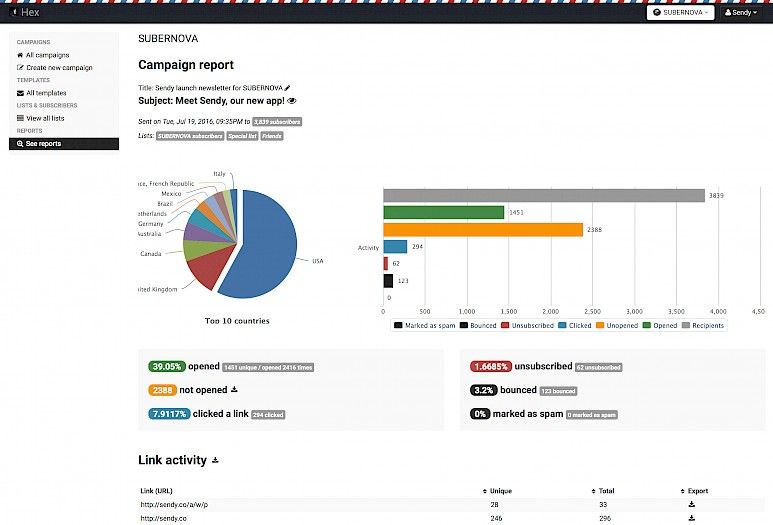 Autoresponders
You can also easily configure autoresponders to specific users.. an example might be to send them an email on their birthday (if you are capturing this). Sendy allows you to create drip campaigns to follow up with your subscribers, send an email annually or one off emails at a specific date.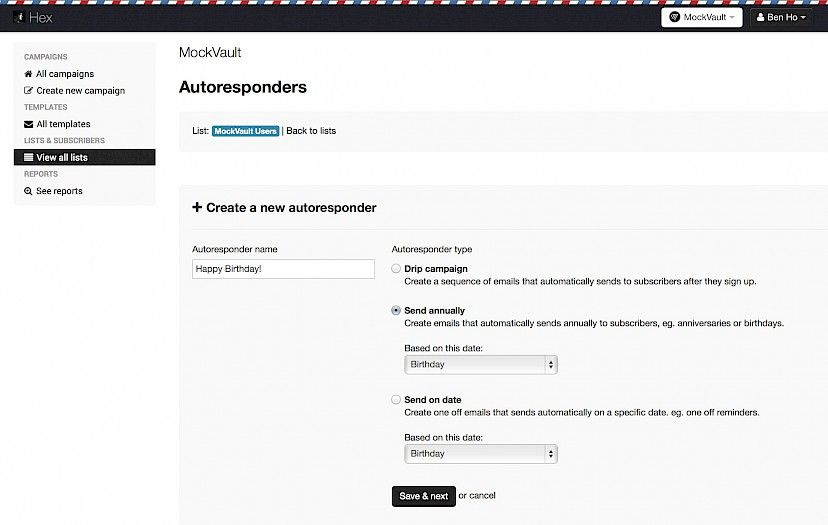 Give your client access and charge them to email your subscribers
Sendy has one very sweet feature that I haven't seen before in any email marketing software and that is the ability to white label the platform and allow your clients to login and send emails to your subscriber list for a fee. You can even set a monthly send limit for them.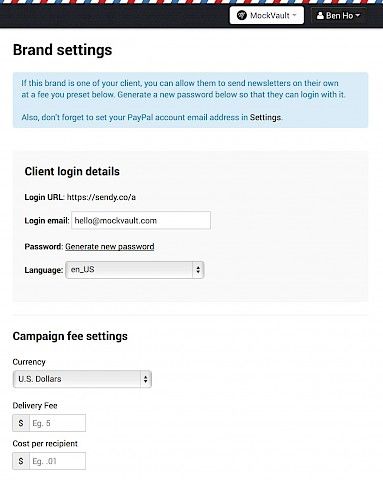 Conclusion
Overall, we've found Sendy to not only be an excellent alternative to MailChimp, but to blow it away as far as speed, usability and functionality are concerned. Sure MailChimp has drag and drop but Sendy is fast, reliable and cheap.
If you are looking for something that is powerful, flexible, and not based on subscriber list size like most cloud-based email marketing platforms, this is the software for you. At $59 you can't beat it. From me, it gets a 5 out of 5.