SilverStripe, originally cofounded by Sigurd Magnusson is a small CMS with incredible potential. Despite the amount of competition in the Content Management market, they have managed to continue to maintain a steady flow of new projects such as the Democratic National Convention which chose their CMS as its choice to host its website, as well as having recently won the 2008 Most Promising Open Source CMS Award. Today, we bring you our SilverStripe CMS Review!
In their latest release, they promise the addition of the increasingly popular Mollom (the SPAM fighting company founded by Drupals' Dries Buytaert) as well as some very nice improvements to its SEO functionality. We've been meaning to do a review of this system for quite some time, but chose to wait for this release.
The Installation
Ladies and Gentleman, be prepared for the worlds longest screenshot.
Beginning the SilverStripe install, we are presented with the following 'all-in-one' screen: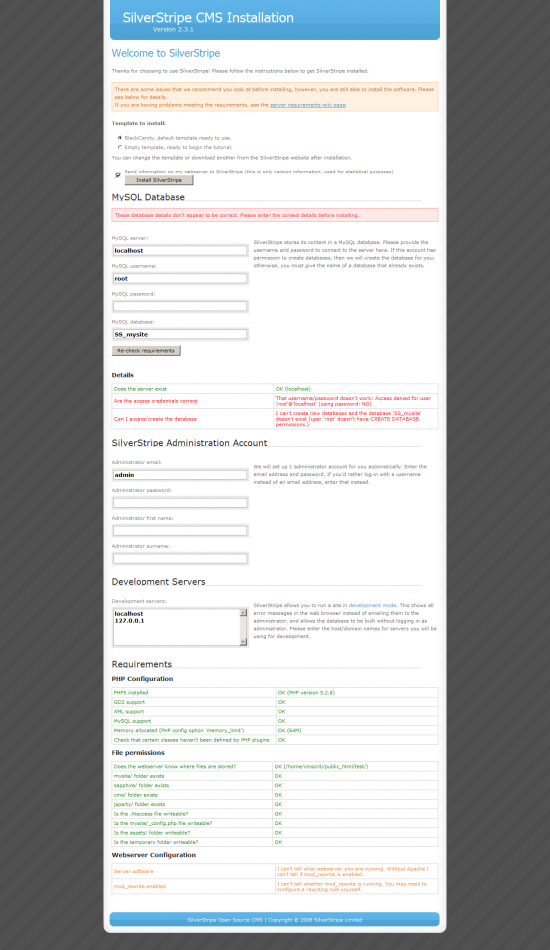 So we made our selections and clicked on the Install SilverStripe button and off went the installer:
And ladies and gentleman, thats all their is to the installation process. Amazingly, SilverStripe has managed to create the fastest installation we have ever seen of a CMS including that of the venerable WordPress. That is, indeed, something pretty remarkable. We can recall previous releases that we've tested being more involved but it's definitely nice to see that the SilverStripe team has put forth such a solid amount of effort towards making this an easy to install system.
Post Installation
There have been some other notable changes as well like the addition of the "click here to delete installation files" option, which is something we've been mentioning and asking for from all CMS' for quite some time. It would appear that SilverStripe has spent a good amount of time listening to people and their suggestions. Kudos to them for this simple, yet time saving addition: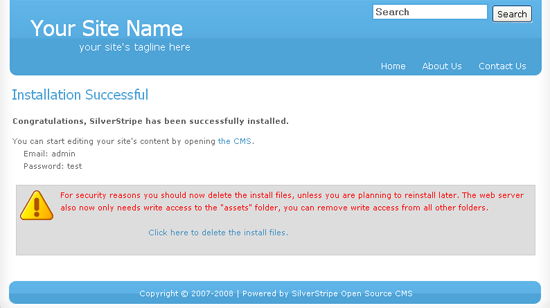 Once we chose to delete our install files, we were offered the option to enter the CMS itself and take a look at the administrative interface.Upon choosing this option, we also made note that it appears SilverStripe has worked to improve the load times required by their admin engine as it seemed faster than previous versions.
I've always liked the SilverStripe admin engine, I find it very appealing and well organize: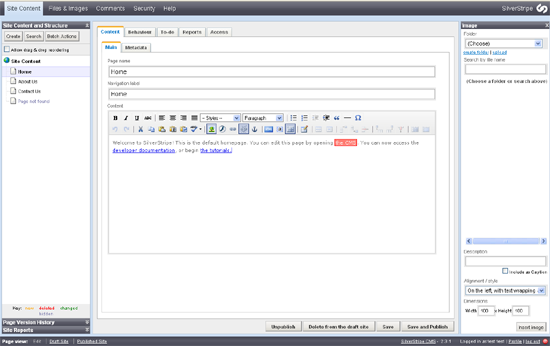 SilverStripe is different from other CMS platforms we've used in that it separates themes and widgets completely from the CMS. Meaning, installation typically involves grabbing an extension from http://silverstripe.org/extending-silverstripe/ and uploading it to your site directory and flushing the database. This may sound more complicated than it is, but believe me, it's very simple.Each page also has a tab for Metadata which allows you to instantly edit page titles, keywords, url and descriptions directly. You can even create redirector pages with the click of a button, which is another nice addition.Media management is also very simple, just upload your files from the Files and Images tab and you can change and preview details on each of them directly from there with a few simple clicks.Comments can be managed from their own screen and viewed by Approved or Spam flags with minimal effort.Creating and editing Security groups and individual users is very very simple with this system. It gives you complete control over individual permissions:
And it doesn't stop there, you can tell they have put a lot of thought into security because they've even gone so far as to add  restriction of accounts based on IP address, as you can see here: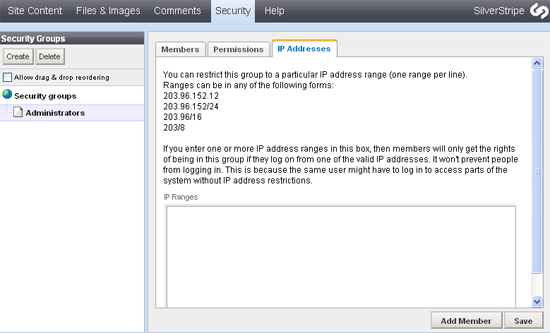 There help system is also very good with a quick click you are on their help site with a fully searchable database of instructions. The forum is well administered and active with fast replies and they have a nice, close knit community of users who don't just use SilverStripe, but promote it and actively engage in the forums.
Overall, it's an exceptional system worthy of the attention its been getting. SilverStripe is not just a the little CMS from New Zealand, but a strong competitor and with their continuing efforts towards improvements, it wouldn't surprise us at all if in a few years they became a top contender in the Open Source market.
Homepage: http://silverstripe.org
Corporate Presence: http://silverstripe.com