SimpleCMS is a product developed by Redmode Ltd that is available for those developers / designers who are looking to add a simple, easy to use and brandable CMS to their existing HTML based websites. It can also be used and easily set up by the average user without the need of a designer/developer. Today, we're going to take you through our SimpleCMS Review.
SimpleCMS is available for free or you can purchase an upgraded edition which provides additional functionality for around $80/year.
Adding a site to the system is very straight forward and is done through the following interface: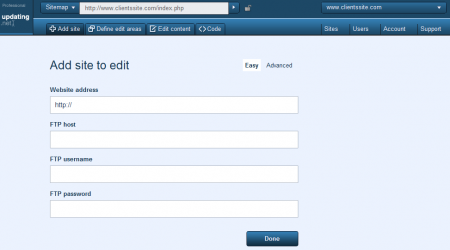 Once added, the site is instantly accessible from the CMS and you can begin to define which areas you wish to be editable.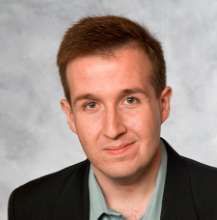 Doing so is painless and requires you simply hovering over the area and clicking to instantly define it as an editable area. Once done, content can be edited, pictures changed, etc.  SimpleCMS makes heavy use of Ajax and load times are quick and the system feels responsive.
Once you've defined each of your areas, you click on the Edit Content tab to move to edit mode.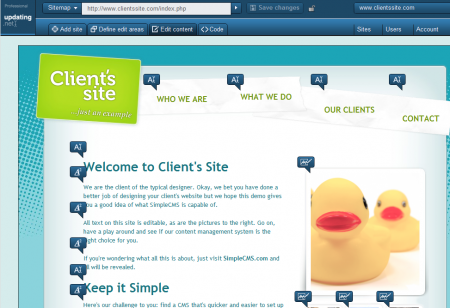 You are now able to simple select one of the icons and instantly edit your content in place.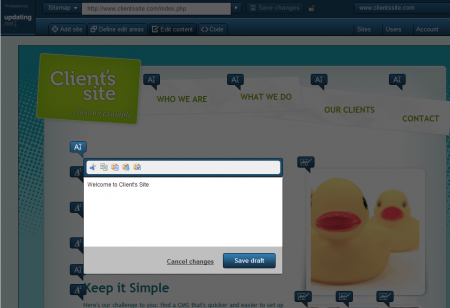 The rich text editor, shown above, works wonderfully and can also be modified to include additional buttons and functionality (we'll show that in a moment).
Adding and modifying users is very simple. There are a few permissions you can modify along with the accessible buttons for the rich text editor.

Last but not least, branding. It's as easy as adding your logo and making a few small changes.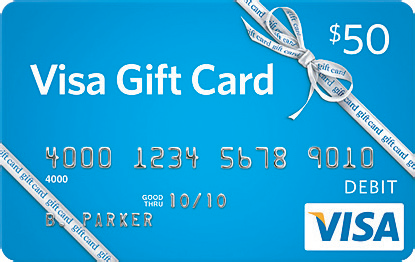 Conclusion
I found the system to be, as the name suggests, simple. It has everything the average user needs to maintain their site in an easy and effective manner. Performance wise, there was very little load time involved when moving between functions in the system. I found the editor and the ability to modify it to be refreshing and handy. I enjoyed using the product and the interface is visually appealing.
What would I change? Perhaps toss in some statistics functionality for the upgraded price and you've pretty much got the perfect setup for the average joe. Good job guys!
Interested? Check out SimpleCMS.